A Guide to Matching Men's Blazers and Pants
Published on May 12, 2017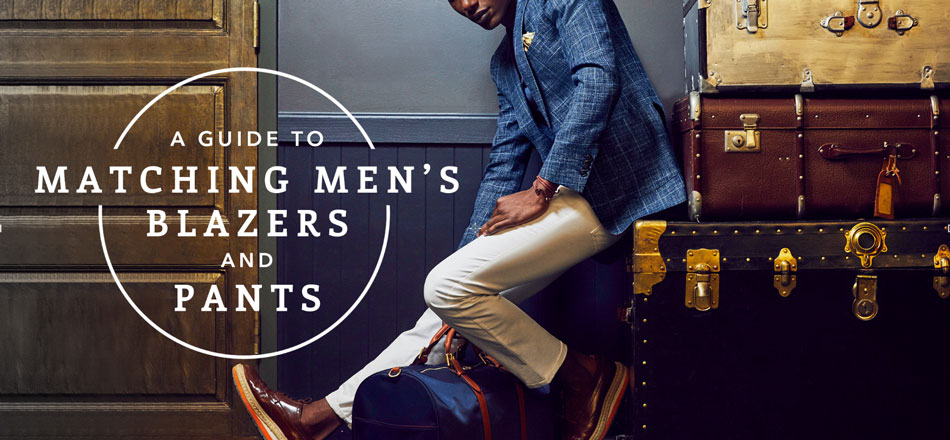 Blazer and Pants Color Combinations
When it comes to matching men's blazer to dress pants, most guys play it pretty safe, or don't play it at all and just wear single color suits. After all, there is a certain elegance to a coordinated outfit like a suit. But with so many men dressing for business casual offices, stylish men are learning to dress up with different blazer colors, instead of relying on singularity.
We've covered matching pants and jackets for the business casual office, now we're doing the work for you. Below we'll show you how we matched up a variety of men's blazer colors and pants to make some killer combinations.
Blue Blazer and White Pants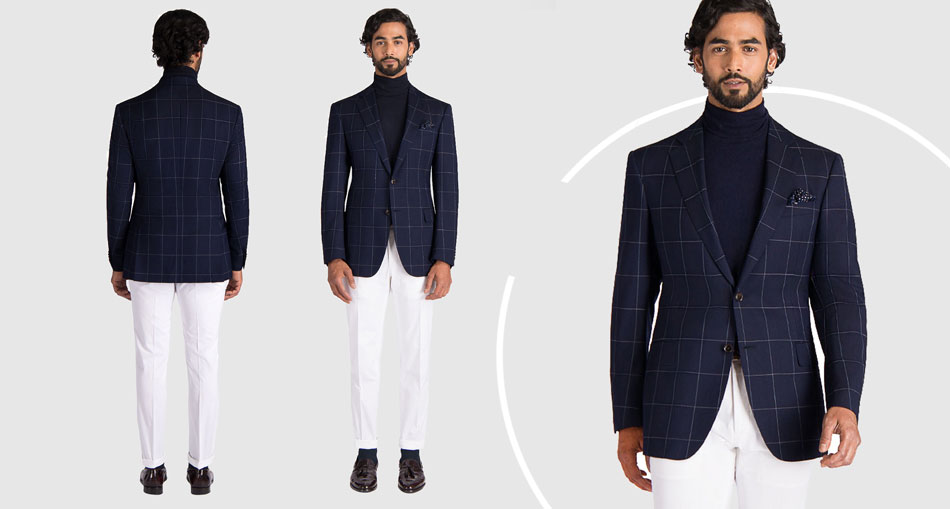 When it comes to pants, most men limit themselves to dark colors. Stand out in a sea of black and dark gray by pairing a dark blue jacket with a pair of light gray pants. This unexpected twist livens up your whole look and serves to highlight the subtle personality of this blazer.
Let us not overlook how stylish this navy windowpane blazer is. Few men's blazers combine breathable fabrics (this one fresco) with diverse patterns like windowpane. The fresco makes it feel special while the traditional navy blue color with windowpane pattern makes this a jacket one you can wear once a week all through the cooler months.
Top It Off
The finishing touches for this look play up the shades of white in the blazer windowpane. To make this jacket's pattern stand out you can pair it with white pants as we did here. And for some added color, you can put on your favorite pair of oxblood dress shoes to bring the whole look together.
Khaki Blazer and Navy Blue Pants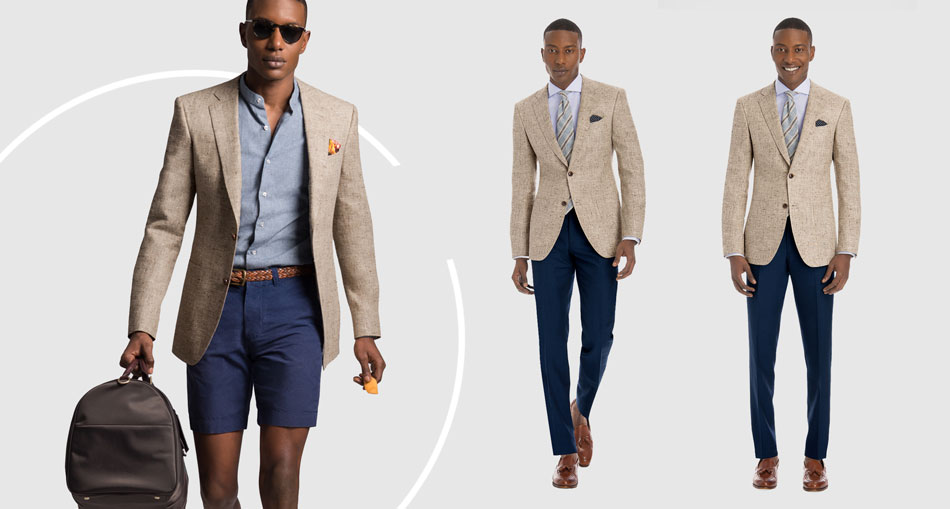 Back in the day, men's blazers were worn by members of the clubs that competed in regattas and signaled the refinement and class of the wearer. Jackets that were brown were considered more rustic than the jackets you would find on the banks of Thames cheering on Oxford. The no brown in town rule kept sophisticated urbanites from wearing so-called "sport jackets" in the city. But those days are over.
Today, men's blazers of all types can qualify for the description of fashionable and urbane if you wear them well. Take this outfit where the blazer's subtle pattern take center stage by pairing it with solid navy dress slacks or dare we say it: shorts. The result is the foundation of an extremely wearable outfit. The neutral color combination works for just about any skin tone and hair color. The subtle contrast between the blazer and pants colors means this outfit won't cut you in half visually. That makes this combination very forgiving to all body types. So whether you're long-legged and tall, short and stocky or anywhere in between, you can pull this one off.
Bring It All Together
During the day this look is office ready when paired with a solid blue shirt, and a knit tie like we've put together here. Need a look for your warm weather day out of the office? Go with some navy shorts and look casual cool. Have a dinner date after work? Drop the tie and you'll be ready to make an impression. When an outfit has this many solids in it, the shoes will get a bit more attention, so step it up and wear your best pair of browns (well-polished, of course).
Gray Blazer and Jeans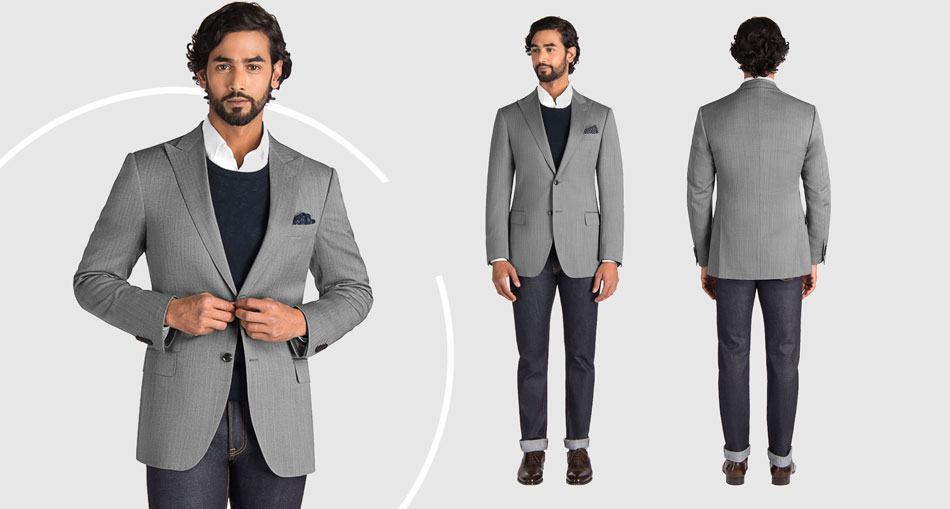 Like its underrated homophone, the bass guitar, the base color of patterned men's blazers is an often overlooked element of the whole. Refined men of style know how to amplify these elements. The choice of charcoal pants accentuates the base color of this light gray jacket on which the herringbone pattern lies.
Let this be a lesson to you when you pair any blazer and pants. Most stylish men's blazers have some understated element that you can play up. Whether it's a quiet color, a bit of texture, or a subtle detail like accent stitching on the cuff, there's usually some cue that can inspire a great choice for a matching pair of pants.
Finish The Look
Since this outfit accentuates the neutral base of this outfit, you can feel free to emphasize the accent colors of this outfit with accessories. Here we kept things pretty tame down low with dark brown shoes and navy socks. Then we rounded out the look with a solid gray, knit sweater to create contrast and match with the jeans.
Gray Blazer and Brown Pants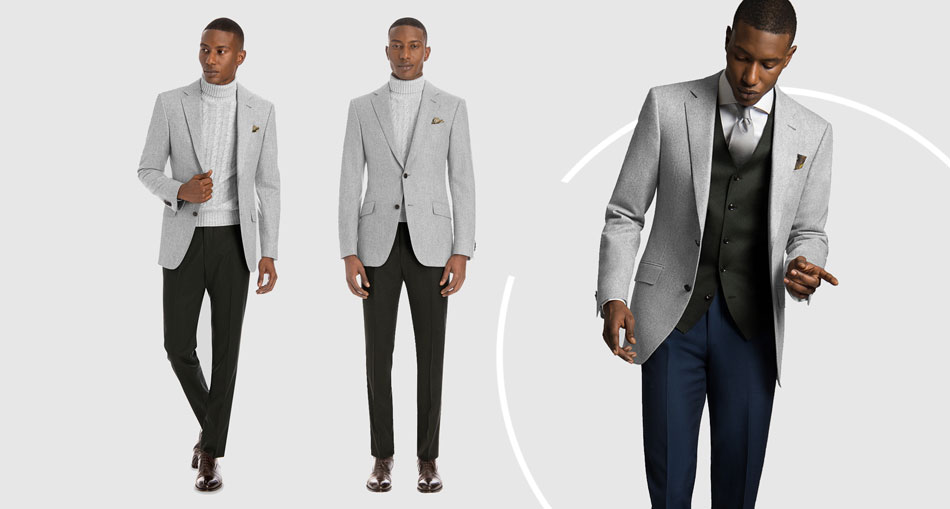 Last on our list of blazer color rotations, the soft sophistication of ash gray. Played up with a gentle, light pattern, this look can be easily paired with a dark pair of pants to show contrast and is even easier to find a shirt or sweater pairing for. Need to escape winter's bite? Turtlenecks all day.
Round It Out
Accessorize this outfit with a pop of color in your pocket square as we did, and if you need to dress it up further, you can pop a dark vest underneath with a light gray tie to match your blazer.
A Match Made in Heaven
So, we've shown you four killer combos to match up with your variety of blazer colors, but no matter what colors you wear, they're not going to look good unless they fit properly.
Lucky for you, all of the jacket and pants combinations you see above can be found at BlackLapel.com
---
Like What You See? There's More.
We'll send you style advice and intel for the modern man.
---