Slacks vs. Dress Pants – Is There a Difference?
Published on July 13, 2018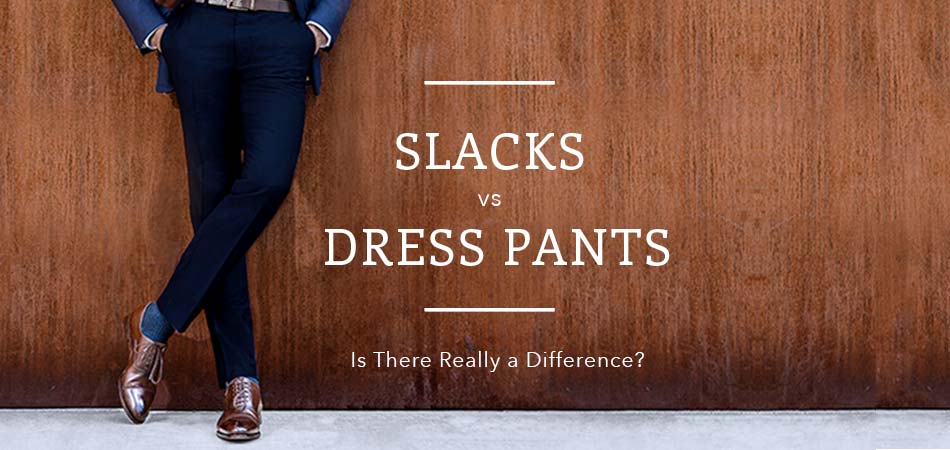 Slacks vs. Dress Pants
Ask anyone, "What is the difference between slacks and dress pants?", or "What are slacks?", and the most you're likely to elicit is a weak shrug. But isn't one preferable to the other? Are they not the same thing? Are you wearing the wrong ones? What's going on here?
Slacks, of course, are pants. But so are jeans, khakis, chinos, and (hopefully) the bottom half of your suit. All of these items also fall under the category of "trousers," which is the favorable term for "pants" said by our UK neighbors across the pond.
What Are Slacks?
In ye olden times, the old Saxon term 'slak' referred to things that were not tight, such as the loose end of a rope or a sail. Hence, when the term was much later applied to menswear, it came to mean pants that were not too tight and hung freely.
Cut to ye iPhone times and slacks generally refer to pants that are neither jeans nor chinos, but rather a pant made of a smooth, wool knit or a blended fabric that one would wear to look more dressed up than casual. So, just like with formal pants, they can be worn with your variety of suit separates, in combination with a matching blazer, dressed down with a T-shirt and matching blazer, and worn with or without a belt. Sounds a bit like dress pants, no?
Slacks vs. Dress Pants – Different?
No. To be quite honest, when it comes down to slacks vs. dress pants, the term "slacks" has simply become an outdated term referenced more commonly by generations born in the earlier half of the 20th century. This is simply due to the fact that language is non-concrete, and even the definitions we commonly associate with today will eventually change too. If you're a man of old-fashioned varieties, you may say slacks. If you're a millennial, you may tweet dress pants. Tomato Tomatoe.
Final Verdict: Slacks = Dress Pants
Well, there you have it! We have reached our verdict, and now you know the truth – there really is no difference.
---
Have another sartorial debate you need some clarity on? Drop it in the comment below!
Being stylish takes work.
We can help with that.
Stay in the know with style tips, how-to's, and so much more with our weekly newsletter.
---
Like What You See? There's More.
We'll send you style advice and intel for the modern man.
---