Slacks 101: Everything to Know about Slacks, Trousers, and Dress Pants
Published on July 13, 2018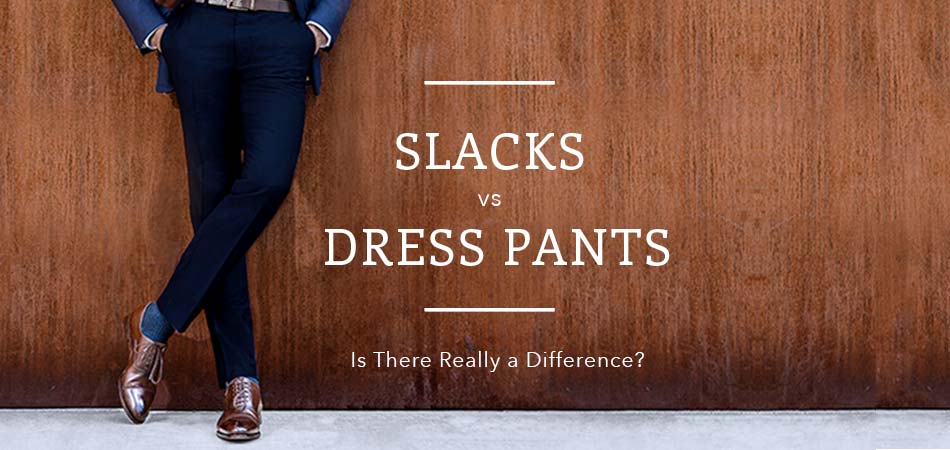 Wearing the correct pants for different occasions is a gentleman's duty. This post will tell you how to style your slacks like a gentleman.
However, many are still bewildered about what, exactly, to call men's dress pants. I've written all about slacks, trousers, dress pants, whatever you want to call the pants that men wear.
So in this post, I'll share my professional tips on styling slacks and much more.
Let's begin.
What Exactly are Slacks?
The word "slacks" did not just appear out of the blue.It comes from an old Saxon term ('slak') used to describe things that were not tight, such as the loose end of a rope or a sail. 'Slak' is exactly what menswear 'slacks' really are: pants that are not too tight.
Slacks have never gone out of style and are mainly worn with matching blazers, nicer shirts, or even comfortable tees. 
Usually made using blended fabric or wool, these pants look more dressed up than chinos or your regular jeans. 
What are Dress Pants, Then?
Coined in the 1950s, the word "pants" originated from either the Italian word "pantalone" or the French "pantalon." The funny thing is, these words refer to Pantaloon, a stock character of the 16th-century Italian commedia dell'arte, a Venetian merchant who wears tight pants.
Slacks versus Dress Pants: Is There A Difference?
There is virtually no difference between slacks and dress pants. However, more people prefer using the term "dress pants" over "slacks."Why?
Do you know the saying, "everything changes"? It applies to words as well. And the word "slacks" is no different. "Dress pants" is simply a relatively modern way of saying"slacks." Some people even favor the term "dress slacks" over the other terms.
Slacks vs. Chinos
The main difference between slacks and chinos is where you can wear them. If you're going to a formal event, you should wear a pair of slacks instead of chinos. They make excellent informal or semi-formal pants for important events, especially if paired with a nicer shirt and possibly a jacket.
Slacks vs. Trousers
The main difference between slacks and trousers is that slacks fall into the category of trousers. Khakis, chinos, jeans, pants, and slacks fall under the term trousers. And of course, if you're from the UK, you'll most likely refer to slack pants as trousers.
Slacks That Every Man Should Have: 4 Examples
Slacks are a foundational part of every man's wardrobe. They are essential to any formal event, interview, or fancy dinner.
Here are 4 of the best slacks that every man should have:
Example #1: Comfortable Navy Linen Slacks
Breathable and breathtaking, these navy linen dress pants offer premium comfort and are perfect for any occasion. These navy slacks are an excellent pick with great stretch and comfort, whether for birthdays, weddings, formal parties, or even daily office work.
Example #2: Versatile Charcoal Dress Pants
Are you looking for well-fitting pants? These charcoal slacks are ideal for any season. Dress up during the summer, fall, winter, or spring; these pants can elevate any shirt or suit pairing.
Example #3: Light Gray Traveler Slacks
If you're looking for comfortable slacks for busy days, these light gray pants should already be in your closet. These pants are made using comfortable and breathable fabric. This helps them fit like a glove, and makes them incredible all-day pants, ideal for traveling.
Example # 4: Black Dress Pants for All Occasion
Perhaps one of the most essential pieces of clothing all men should have at home is these black dress pants. Why? These suit pants go with almost every dress shirt, blazer, or suit.
How To Choose The Perfect Slacks For You
If you're asking how should dress pants fit, or if you're looking for a guide to dress pants break, then you're in the right place.
Here's how to choose the perfect slacks for you:
#1: Consider The Occasion
Every kind of event has its theme. When planning your outfit, you should always check the invite. Does it indicate a specific color to wear? Does it require a theme the guests should follow? Is it a casual event? Is it formal or semi-formal?
#2: Measure From The Waist Down
There are quite a few measurements that you'll want to get right when getting your perfect pair of dress pants. Here are a few of the biggest to consider:
The length should begin at the waistline up to the top of your shoes. Pants that are too long or too short can put off the entire outfit altogether. Not to mention, pants that are way too long can be a hazard when walking around or dancing.

Pants correctly fitting your waist is key to them being comfortable. To check for the correct fit around your waist, put them on and make sure that there's still space for two fingers to fit between your waist and the waistline.
#3: Style As You Go
Last but not least, no outfit is complete without adding the right accessories. Once you've picked out a shirt to go with your perfect pair of pants, the next step is to find a belt or a pair of suspenders to complete the look. You can also go for a watch that matches your belt buckle for extra pizzazz.
Other Important Tips
If you're allergic to a particular fabric or garment, check the fabric used in making the trousers you want to wear. There are cotton, polyester, and other hypoallergenic materials. Itching through an event is a consequence everyone should never experience.

If you know someone who has an eye for fashion and style, it's a great idea to ask for their opinion. You might get a helpful pointer or two to make yourself look dapper.

If you find a pair of trousers that fits your style but is too big or long for you, take them to the tailors and have them adjusted for the perfect fit.
Frequently Asked Questions
Have any more questions about slacks and how to style them? I'll answer the most-asked questions for you here.
Can you wear slacks casually?
Yes. Slacks, and other kinds of formal trousers, can be worn casually as well. Believe it or not, there's such a thing as a pair of summer business casual pants you can style along with a jacket for the perfect casual wear.
Do slacks fit on any shoe styles? 
If you're the type of person who asks, "can you wear brown shoes with black pants?" you're on the right blog. Dark-colored slacks can fit any shoe color or style. However, keeping our outfit pairing monochrome might be smarter when planning an outfit.
Can I wear slacks with a shirt?
The short answer is yes. Pairing slacks with a respectable shirt with no funky patterns and designs are always an option. But, as mentioned before, you should always consider the event you're attending. For example, if you're going to a black-tie event or another more formal occasion, you must dress appropriately.
Why are chinos better than jeans? 
The easy answer is that chinos are more comfortable than jeans. Compared to the fabrics used in creating chinos, Denim is less breathable and stretchy. Aside from that fact, chinos are great for both casual and formal wear.
More Interesting Dress Guide Articles
Want to take your fashion game over and beyond? These helpful reads can guide you to refine your knowledge and make that happen.
This ultimate guide to the

types of tuxedo shirt styles

can show you the best thing to wear at a formal gathering and spark a conversation.

Do you know the

7 types of dress shoes

all men should know?

This guide on

men's blazers and pants matching unsuits

is your perfect cheat sheet for planning outfits for special occasions and events.
Slacks All
See, figuring out men's dress pants or slacks is not as complicated as it seems. Now that you've read our helpful guide on slacks, dress pants and other types of trousers, you know what to look for in the custom dress pants you've always dreamt of.
Slacks vs. Dress Pants
Ask anyone, "What is the difference between slacks and dress pants?", or "What are slacks?", and the most you're likely to elicit is a weak shrug. But isn't one preferable to the other? Are they not the same thing? Are you wearing the wrong ones? What's going on here?
Slacks, of course, are pants. But so are jeans, khakis, chinos, and (hopefully) the bottom half of your suit. All of these items also fall under the category of "trousers," which is the favorable term for "pants" said by our UK neighbors across the pond.
What Are Slacks?
In ye olden times, the old Saxon term 'slak' referred to things that were not tight, such as the loose end of a rope or a sail. Hence, when the term was much later applied to menswear, it came to mean pants that were not too tight and hung freely.
Cut to ye iPhone times and slacks generally refer to pants that are neither jeans nor chinos, but rather a pant made of a smooth, wool knit or a blended fabric that one would wear to look more dressed up than casual. So, just like with formal pants, they can be worn with your variety of suit separates, in combination with a matching blazer, dressed down with a T-shirt and matching blazer, and worn with or without a belt. Sounds a bit like dress pants, no?
---
Like What You See? There's More.
We'll send you style advice and intel for the modern man.
---