Can You Wear Brown Shoes and a Black Suit: How to Rock the Combo
Published on February 14, 2020
Black suits and brown shoes are staples in a classy man's wardrobe, but do they work as a combo?
Most guys know the rules when it comes to matching their dress pants with dress shoes. Black pants go with black shoes, and khaki or navy pants go with brown shoes. Simple rules you've lived by all your life. 
But we're here to tell you – those rules are due for a grown man upgrade. Let's talk about a few less common combinations, like brown shoes with black pants, that don't just '"work'" but look stylish AF.
Today, we'll teach you how to combine suit and shoe colors. We're also going to answer the long-standing question: do brown shoes go with a black suit?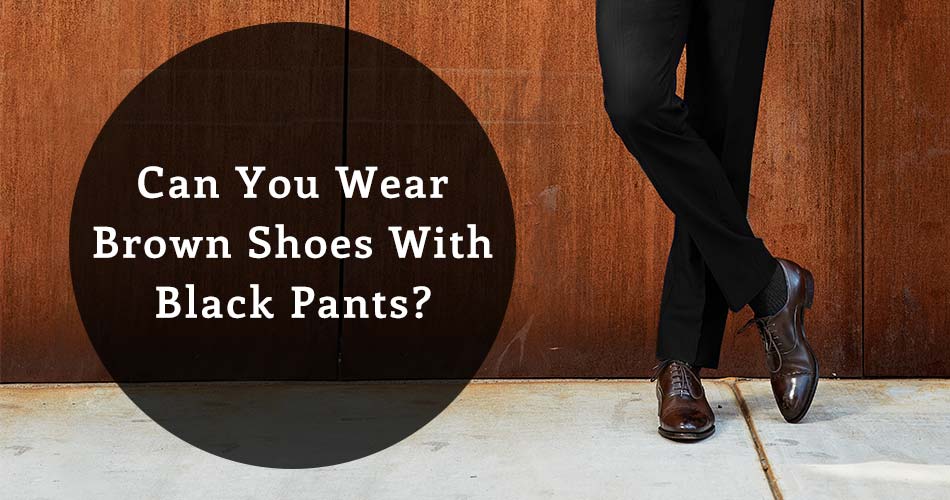 Can You Wear Brown Shoes with a Black Suit?
You definitely can. If you're a man who wants to keep it classy and timeless, you can amp up your black suit game and switch from the boring old black shoes to cool and fun brown shoes. It's sure to catch the eye of people you meet, and they will immediately think you have a good sense of style. However, there are a few rules you should keep in mind to wear them well. 
How to Wear Brown Shoes with a Black Suit
Step #1: Decide what outfit you're wearing. 
The suit has to come first, then the shoes will follow. If you're going to work or a corporate gathering, wearing a suit is best. With this, you can wear formal shoes, like brown loafers, brown leather shoes, or brown brogues. If you're just going out with friends, casual wear is your best bet. Brown sneakers or brown boots can be great options for informal events. 
Step #3: Try different shades of medium to dark brown. 
Darker is easier, but medium brown shades like walnut (pictured above) require a careful balancing of colors in the overall outfit. If you want to try a lighter shade of brown, make sure it's not for work or corporate events. Dark brown shoes are best for formal wear. If you're going to a casual date or get-together, go ahead and wear tan or caramel-colored shoes. 
Step #2: Try this look beyond just suits.
If you want to experiment with different outfits, you can definitely do so! Brown shoes work just as well with black or dark navy denim. I know we're on the topic of black suits and brown pants, but you can also wear brown shoes with brown, tan, or khaki pants. Just be careful with the shades of brown you're using. 
Step #3: Don't try this combination with tan or light brown shoes. 
The contrast is too high here, and it would be difficult to bring balance to your overall look, even with similar tones on your upper body. If you really want to use a tan or lighter color shoe, maybe wear them with light-colored jeans or white pants instead. You have to go with a darker shade of brown for black pants or trousers. Sorry, tan shoes, you'll have to take a back seat for this one. 
Can You Wear Brown Shoes with Black Chinos?
Yes, you can! Chinos are a great pair of pants to have for casual or smart-casual occasions. Pair this combo with a plain white or black shirt for a put-together and stylish look. There are a million different ways to style chino pants. 
Here are a few tips for wearing brown shoes with black chinos: 
How to Wear Brown Shoes with Black Chinos
Step #1: Wear a crisp white shirt. 
Black pants and a white shirt. It's the the perfect combination, isn't it? You can never go wrong with this white-black-brown combo. Now, whip out your best brown Chelsea boots and see how much better you look in them. 
Step #2: A black shirt works great too! 
You can opt for a black shirt, as well. I'd suggest wearing a beige or gray-colored blazer to break up the colors. Make sure you don't wear brown as it'll be a little hard on the eyes. 
Step #3: Wear brown sneakers. Who cares? 
As I said earlier, chinos are great for casual and smart-casual events, so, what better kind of shoe to wear than brown sneakers? If you want to look like a naturally stylish man, even this casual outfit will make you shine. 
Here are a few tips for wearing brown shoes with black jeans: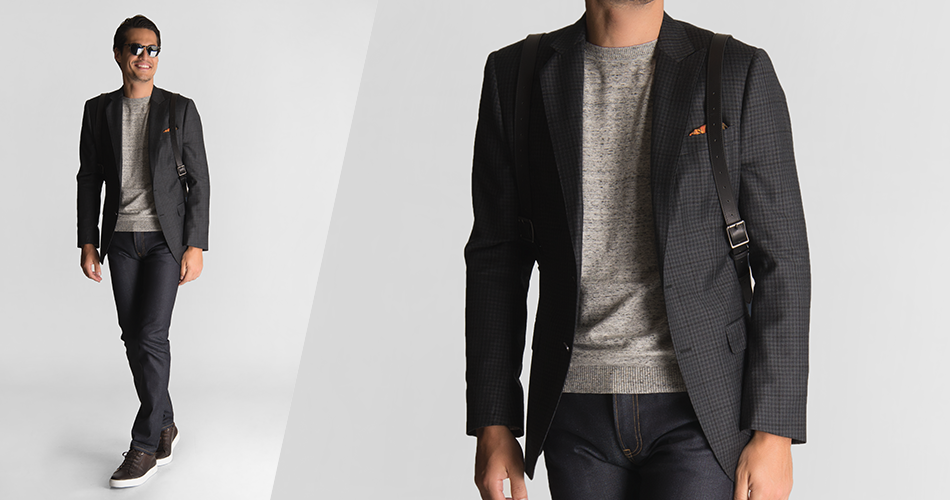 How to Wear Brown Shoes with Black Jeans
Step #1: Choose a non-pointed shoe shape.
Wearing black jeans usually means you're going somewhere casual, which means that you should wear brown shoes that don't look very formal. If you're wearing a pointed shoe, it's not going to go well with your black jeans, even more so if they're ripped jeans. The best shoe shape to wear when you're in jeans is a nice round figure. Boots or sneakers are the way to go when you're wearing jeans.
Step #2: Shiny? Not so much! 
If you're wearing jeans, it's best to consider the finish of the shoes you choose. Shinier shoes look more formal, so make sure you steer clear of those. Suede shoes or boots are some of your best options for black jeans. 
Step #3: Courageously colorful.
Wearing a lighter shade of brown makes your outfit look more casual, so it's okay for you to experiment with lighter shades of brown when you're wearing jeans. It won't look awkward or inappropriate, because jeans give off a casual vibe. 
Can You Wear Oxblood Shoes with a Navy Suit?
Yes, you can. Oxblood is somewhere between maroon and burgundy, which is perfect for dressing up for a special event. However, since it's so close to being red, it may pull focus from your outfit. This is why you should be careful when using oxblood shoes. 
Here are a few tips for wearing oxblood shoes with a navy suit: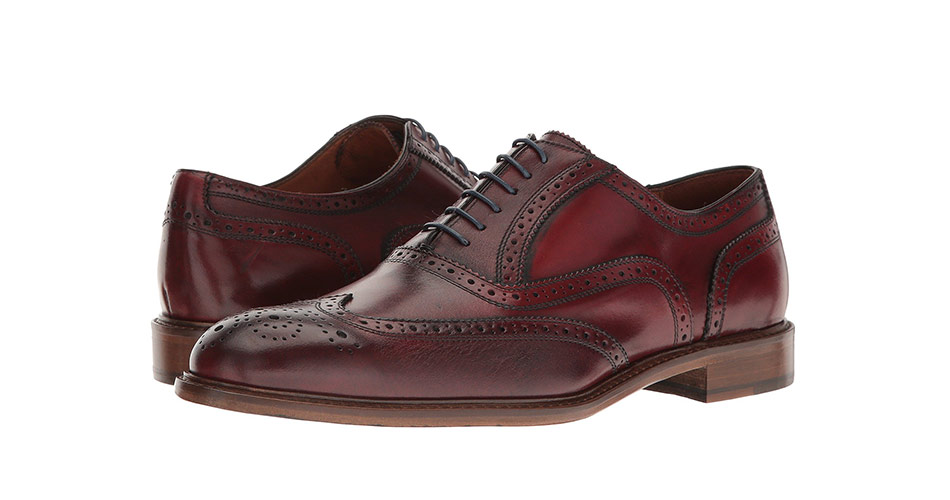 Step #1: Don't go overboard with a strong suit pattern. 
You've already got a winner on your team, so a simple solid navy will do well here. Introducing a highly visible pattern will come across as trying a bit too hard and will compete with oxblood shoes for attention.
Step #2: Mix some red tones into another part of your outfit. 
Oxblood has a natural affinity with navy, but if everything else is black and white, the shoes are going to stick out too much. Introduce another dark red color like maroon in a pocket square or tie, as we did with the look above.
Step #3: Keep your oxblood shoes in good condition with some proper care. 
Oxblood is a wonderfully unique and elegant color, which means it'll draw a few more glances than your run-of-the-mill dress shoe, so make sure your shoes are in tip-top shape or you'll look sloppy.
Step #4: Try this same look with charcoal instead of navy.
Most of what we say here applies just as well to charcoal or dark gray pair of pants.
Is it Better to Wear Black or Brown Shoes with a Black Suit?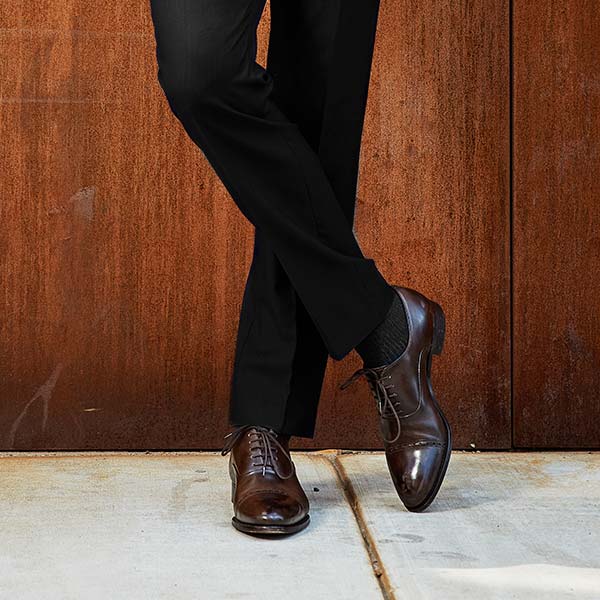 There is no one option that is better than the other. It all depends on the setting and the event that you're attending. 
Black shoes are classic formal wear. Choosing classic black shoes means you're going with timeless styles. It's definitely riskier to wear brown shoes when you know that the event is strictly formal. If you want to maintain a certain level of formality, you can never go wrong with black shoes. 
Wearing brown shoes means you're taking a bit of a gamble. If you're wearing a black suit to a semi-formal event like a gallery opening or a convention, brown shoes can be great alternatives to your classic black shoes. They can also add some flavor to your outfit. If you're going to an event where people don't expect you to be so dressed up, go ahead and wear your brown shoes. 
Frequently Asked Questions
Are you still a little unsure about wearing brown shoes with black pants? Here are a few frequently asked questions that might help you decide.
Can you wear brown shoes with a tux?
No. A tuxedo is strictly formal wear. This is why you should always wear black shoes with them, typically patent leather. If you insist on wearing brown shoes, ensure they're a deep brown with a shiny finish. 
Do brown shoes go with blue jeans?
They do. Go for more casual styles of brown shoes, such as sneakers and loafers. You can also wear boots with jeans for a stylish and courageous fashion choice. 
Can You Wear Brown Shoes With Black Suit Pants?
The answer, of course, is yes. Brown shoes with black pants have the go-ahead from us! It's a great way to diversify your looks and open up new pairing possibilities beyond the tried and true black pants and black shoe combo that can feel and look a bit tired. 
What can you not wear brown shoes with?
Tuxedos are at the top of the list. Dark brown pants that are too close to the color of the shoes are also a definite no-no. o Do yourself a favor and wear brown shoes with gray, blue, or denim pants. Khakis are great pants that go with brown shoes too. 
Which socks should you wear with brown shoes?
Choose a sock color that matches your pants. If you're wearing black pants, go ahead and wear black socks with them. It will retain the color combination of the outfit. If you wear loud-colored socks, it's going to ruin the color mix of the outfit. 
More Style Articles to Explore
Are you on the hunt for more articles that can help you up your style game? Here are some more posts you should check out: 
Are you in the market for great suits, but don't know what colors to choose? In this post, you'll find all the

best suit colors to add to your wardrobe

. 

Are you getting tired of wearing black and blue all the time? These

brown suit color combinations

can help you make a change and amp up your personal style.

An outfit is only stylish when you wear the right accessories. If you want to know

how to choose your accessory colors

, this post has got you covered. 
Conclusion
A black suit and brown shoes combo could be the best style choice you've ever made.
When you wear brown shoes with black pants, it shows people that you are adventurous yet thoughtful. It also shows that you are open to taking risks and showing your fun side. It's time to try something new when dressing up. You can wear colorful outfits if you want to. 
Remember the tips you've learned today, and I guarantee people will compliment you about your style in no time. They might even ask you how to combine suit and shoe colors. You'll be the resident style expert in your circle because of your appealing style choices. Come back to this post anytime to ensure you're wearing your brown shoes correctly
---
Like What You See? There's More.
We'll send you style advice and intel for the modern man.
---