Blue Suit Combinations for Every Occasion
Published on February 20, 2015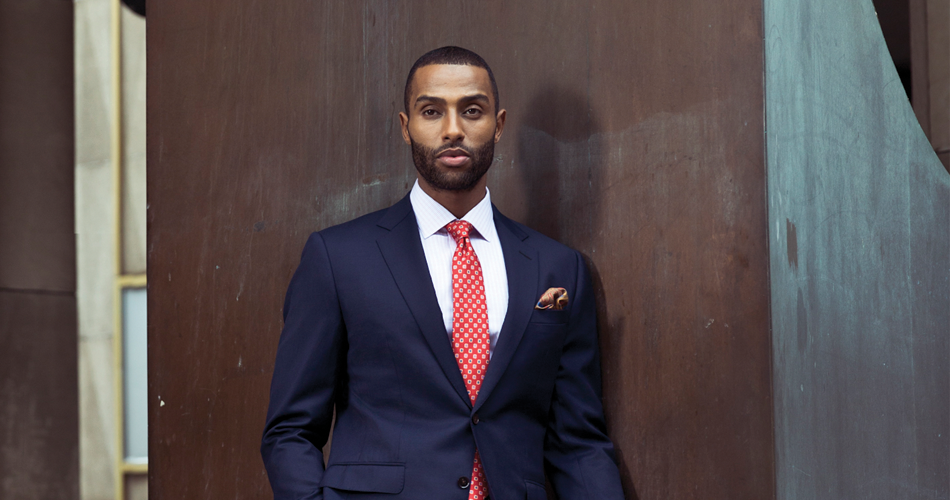 Recently we looked back at the best selling suits in the Black Lapel collection. To no one's surprise, the classic navy blue suit was our best seller of all time, and our best selling suit from our seasonal collections is another blue suit. Indeed, these two blue suits can be the foundations of a wardrobe, the kind of versatile, infinitely wearable, easy to pair outfits that we like to call Swiss Army suits.
So what makes these blues so popular? What draws us back time and again? Perhaps because it's just so damn easy to create stylish suit combinations with them. Keep going and we'll show you how.
Our Most Popular Suit: Navy Blue
The best selling suit in the Black Lapel world is a solid navy blue. It's a classic suit and the first suit in many guys' closets. What makes the Navy Blue Custom Suit a bestseller? Simply put, it's a great starter suit. If you're just getting started, you'll need a suit you can wear to a job interview, a wedding, and something you can build your work wardrobe around when you get out into the workforce. And at $449, a made-to-measure, completely customized suit is a smart start.
Ways to Wear It: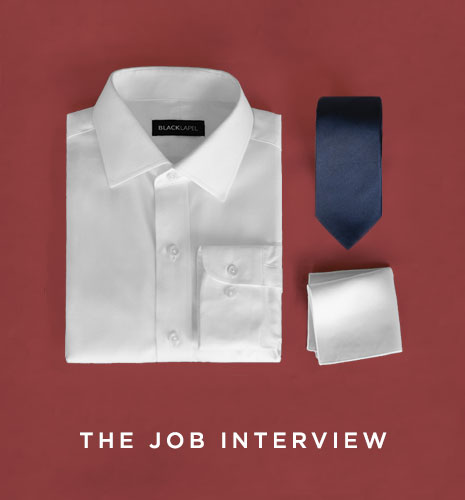 What to wear to a job interview? is a question we get asked a lot. And style is important for a job interview but early on in your career, don't let your look dominate your presentation as a candidate. Keep it conservative with simple accessories like the ones we're showing here and this suit will get you through even the toughest interview.
Navy Blue Custom Suit by Black Lapel, $449
White Solid Broadcloth Custom Dress Shirt by Black Lapel, $99
Solid Blue Tie by Black Lapel, $39
Solid White Pocket Square by Black Lapel, $39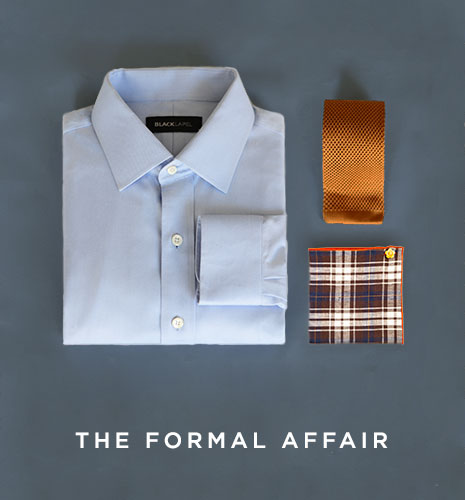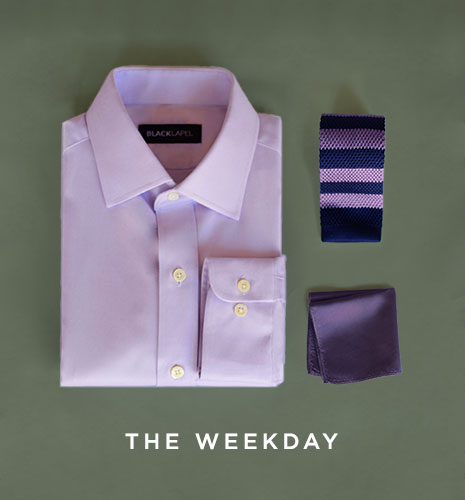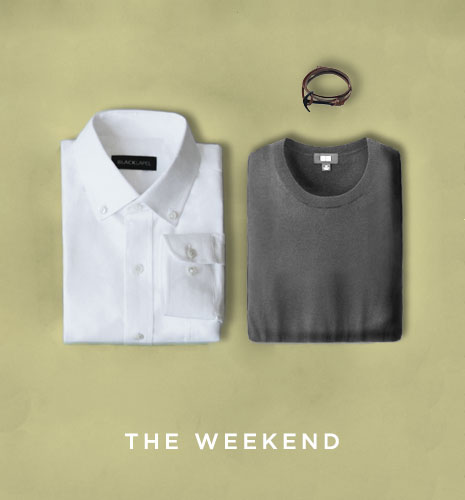 Madison Blue Micro Check – The Alternative to Navy

Every spring we release a mix of all-seasonal and summer weight fabrics. In every collection one suit stands out as the one everybody jumps on. After seeing how versatile the popular navy blue suit is, it follows that a dark blue suit with a hint of pattern/visual interest is the reigning champ of our seasonal bestsellers. Think of the Madison Blue Micro Check as a Swiss Army suit for the guy who's beyond basic blue.
Even if you're not actively looking for a job, it's a good idea to have a suit on hand that you can wear, should an opportunity come up. With a few years under your belt, you may have more depth of expertise than other candidates. Your closet ought to have depth too. Step up from the standard solid to a suit with a slightly textured look to it. Pair it conservatively and the barely noticeable check will add visual interest and refinement to your overall presentation.
Madison Blue Micro Check Custom Suit by Black Lapel, $549
White Solid Herringbone Weave Custom Dress Shirt by Black Lapel, $109
Wheaton Tie by Armstrong & Wilson, $69
Solid White Pocket Square by Black Lapel, $39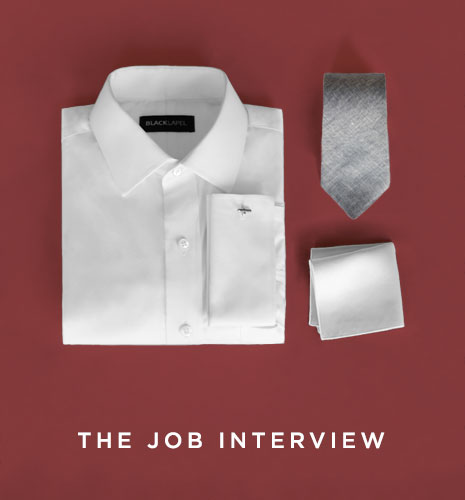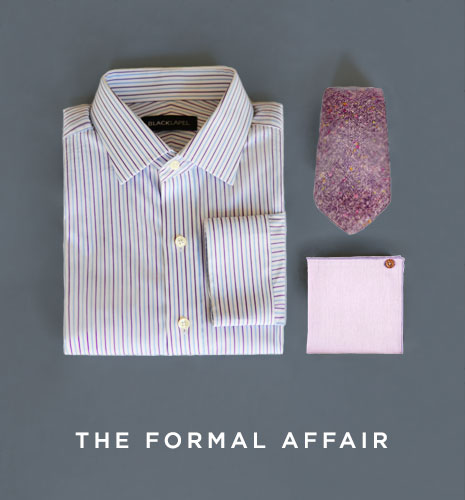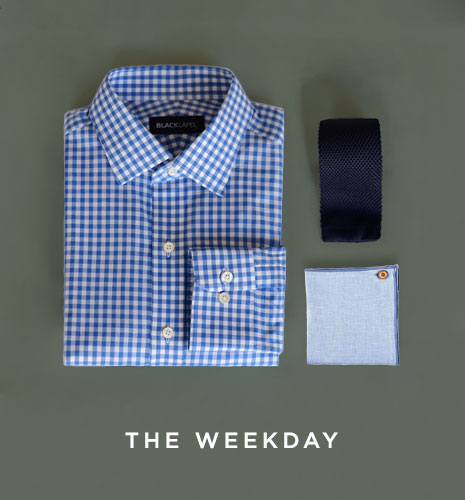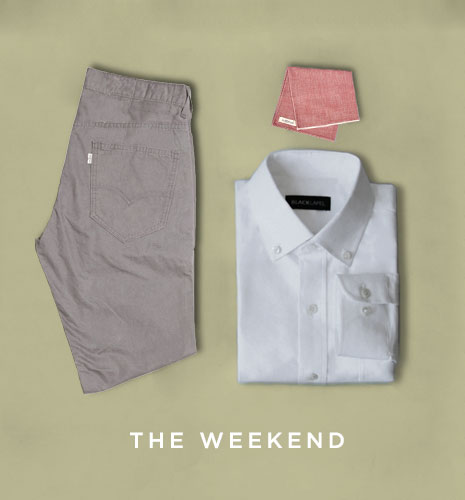 The above outfits are just the start. With these versatile options in your wardrobe you can pull off some of the best suit combinations and pair them with all sorts of shirts and accessories to look your best in any situation.
Stand ready, stay stylish, and for more style tips like this, sign up for emails
from The Compass and you won't miss a beat.
---
Like What You See? There's More.
We'll send you style advice and intel for the modern man.
---