How to Suit Up Like Gatsby
Published on May 9, 2013

---
If you want to dress like Gatsby, but don't have mansion money (yet), we've got you covered with our stylin' and affordable looks.
---
Suit Up Like Gatsby
While you're reading this post, we suggest you open up Spotify and listen to the newly-released soundtrack to The Great Gatsby (2013). If you're not already, it will get you pumped about the film's release on May 10th. We're definitely excited. And not just because of the killer threads all of the Gatsby boys will be rocking. If the previews and director Baz Luhrmann's previous work is any indication, the movie promises to be quite the visual feast. Plus, we get Leo DiCaprio as Jay Gatsby. In case you're still holding Titanic against him and haven't seen The Departed or Inception, Mr. DiCaprio can put on a show.
In the novel the movie is based on, F. Scott Fitzgerald describes Jay Gatsby as a total clotheshorse. In one scene, Gatsby shows two other characters his collection of shirts, which he keeps "piled like bricks in stacks a dozen high." He has "shirts of sheer linen and thick silk and fine flannel…shirts with stripes and scrolls and plaids in coral and apple-green and lavender and faint orange, and monograms of Indian blue." And why shouldn't he have a roomful of shirts? The man's rich – Tony Stark rich. So how can you, the modern man with Gatsbian ambitions, get that swinging Gatsby look? It's easy, and it doesn't require a trust fund or bootlegging. We'll explore four of the looks that Gatsby (as played by DiCaprio), Tom Buchanan (as played by Joel Edgerton) and Nick Carraway (as played by Spiderman, er…Tobey Maguire) will be sporting in the upcoming flick.
3 Great Gatsby Outfits
Look #1: Swanky Dinner Suit
Gatsby is the ultimate dandy. The guy's closet is bigger than most New York City apartments. As such, costume designer Catherine Martin instilled Gatsby's tuxedo with all kinds of non-traditional details that only a black tie connoisseur would notice. For starters, a classically styled tuxedo has peak lapels, a single button, piped pockets, and no vents. The vest, if one is worn, is cut low, with no more than four buttons, to expose as much shirt front as possible. Gatsby's tux on the other hand, has three buttons, flapped pockets, side vents, and gauntlet cuffs. His vest is cut high, with five buttons. The gauntlet cuffs are a tasteful touch; they're not traditional for a tuxedo, which makes them very conspicuous, just like Gatsby himself. Here's how to recreate the look: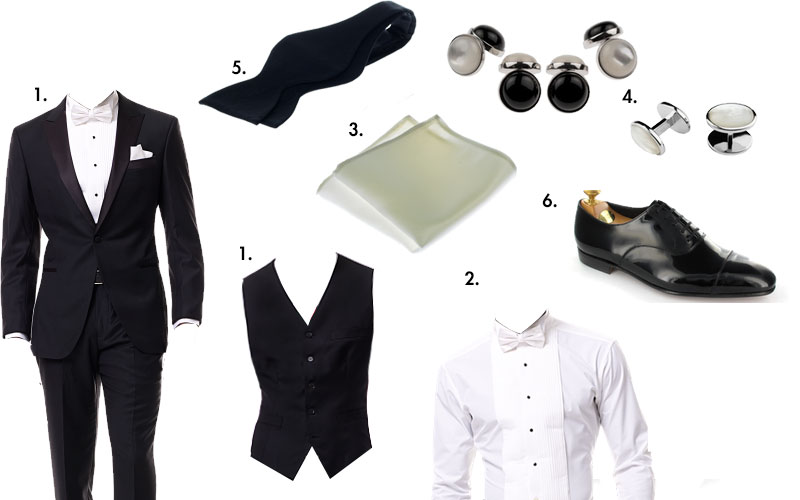 Black Custom 3-Piece Tuxedo with Peak Lapel by Black Lapel
White Pleated Front Broadcloth Custom Tuxedo Shirt by Black Lapel
Solid White Pocket Square by Black Lapel
Black Bow Tie by Black Lapel
Chatham Black Patent Leather Dress Shoes by Crockett & Jones
Look #2: Louche Long Island Linen
Here, Gatsby demonstrates that recovering from an all-night party is no excuse to dress down or slouch. This casual summer suit in ivory linen from Brooks Brothers's Gatsby collection comes straight from the movie. A linen suit with peak lapels can be dressed up, for a summer wedding, or down, for a casual day in the park. Here, Gatsby wears it with an odd vest (that is, a vest in a non-matching fabric) and spectator (two tone) shoes, both of which add a casual touch. The yellow tie is a perfect summer accessory that really shines (pun sort of intended).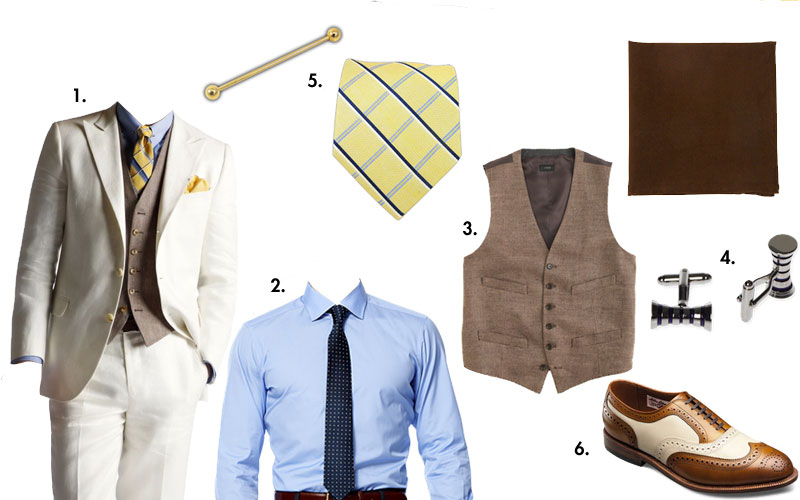 The Great Gatsby Collection Ivory Linen Jacket & Pants by Brooks Brothers
Light Blue Solid Broadcloth Custom Dress Shirt by Black Lapel
Concentric Hammer Cufflinks by Black Lapel
Butter Pastel Linin Plaid Tie, Dark Chocolate Pocket Square, and Collar Bar by The Tie Bar.
Broadstreet Spectators by Allen Edmonds.
Look #3: Prohibition Power Suit
Tom Buchanan is as close as the novel comes to having an antagonist. He's everything Gatsby wants to be but isn't. Tom's a true Blue Blood, coming from an old money East Coast family. He attended Yale, where he was a member of the Skull & Bones Society. You might have heard of them. The Society's membership roster reads like a who's who of power players in American politics and business: Presidents William Howard Taft, George H.W. Bush, and George W. Bush, Secretary of State John Kerry, publishing tycoon Henry Luce, and Harold Stanley, co-founder of Morgan Stanley. The list goes on. The bottom line is that Tom Buchanan possess money and power in abundance and he dresses the part. Double-breasted three-piece suits in navy and gray and french-cuffed shirts with gold cufflinks. Getting into Yale is hard. Being asked to join the Skull and Bones Society is even harder. But dressing like Tom is easy. Here's how to get the look: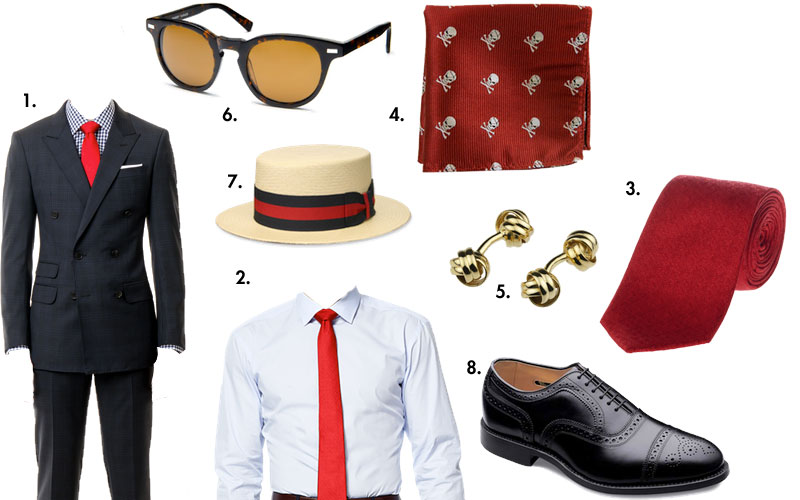 Midnight Blue Custom 3-Piece Suit by Black Lapel
Light Blue Solid Broadcloth Custom Dress Shirt by Black Lapel
Red Patterned Tie by Black Lapel
Skull & Crossbones Pocket Square by The Tie Bar
Knot Gold Cufflinks by Kent Wang
Jasper sunglasses by Warby Parker
Straw boater by Gentleman's Emporium
Black McAllister Wingtip Lace-ups by Allen Edmonds
---
UPDATE: The Elusive Sweater
Many of you have asked where to get the exact sweater Leonardo DiCaprio wore in the film. This sweater was not part of the Brooks Brothers tie-in and we haven't found it for sale anywhere. Still, by popular demand, we thought we'd present this Aquascutum Pullover ($329) as a suitable alternative. This IS NOT the same sweater as the one in the movie, but it can help you achieve a similar visual effect. The big difference between this sweater and the one in the movie is that the knit makes vertical ribs, while the movie one features horizontal variations in the ribbing. Since most guys benefit from the slimming effect of the vertical ribs (see bullet 1 of the warning below), this isn't the worst thing in the world.
WARNING: Do not think that if you run out and go buy one of these you will look like Leonardo DiCaprio did in the movie. If you want to look like Leo in this sweater you'll have to do the following:
Go to the gym..often.Seriously, dude is trim and the sweater fits him snug. There's no hiding any love handles in there. Part of the reason it looks so good on Leo is that he's got a strong V-shaped upper body that's accentuated by this slim fit sweater. The only way to get that matinee idol body is to work out, eat smart and have some help from mother nature (or your actual mother and her genes).
Be white, have a tan and have golden blonde hair.Don't get us wrong, you can look good in this sweater no matter what your race, skin tone or hair color, but another part of the reason the sweater looks so good on Leo is because it is in harmony with his natural coloring. This is an important lesson for dressing in general, always consider your hair color, eye color and skin tone when deciding on colors. In this case the filmmakers bathed Leo in a golden light that mimicked candlelight, in a room full of harmonious creams, tans and golds and he looked like he a bronzed Adonis. If "bronzed Adonis" are unlikely to show up in any description of your looks, this sweater won't make you look like Leonardo DiCaprio in Gatsby, but you can find one that does work for your coloring if you start with one rule of thumb, frame your face by wearing a color in the same family as your hair color in your shirt/jacket.
Lose your shirt.The snug fit of this sweater works because there's no shirt underneath it bunching up and creating weird wrinkles. The only wrinkles are from the sleeves being rolled up. Get this sweater in your true size and wear it like a shirt to achieve the true Gatsby effect.
---
If the clothes are anything to go by, the latest iteration of The Great Gatsby promises to be amazing. And while dressing like Gatsby and co. might seem a bit daunting at first, these tips will have you looking like the 1920's Prohibition era dandy you've always wanted to be.
Trying to master your Gatsby look? Start with a flawlessly fitting suit the evokes the era and add throwback accessories and styling to nail the look. Get started here.

---
Like What You See? There's More.
We'll send you style advice and intel for the modern man.
---