Create Your Own Shirt Style in Three Steps
Published on October 14, 2014
If you tell the average guy "you can create your own shirt style," he'll likely give you a perplexed look.
But you're not the average guy, are you? The average guy wears an average dress shirt and comes out looking…well…average. Don't let this happen to you.
So what do we mean by "create your own shirt style?" What follows is a guide to defining your own shirt style by making choices that you get when you get custom shirts. But even if you haven't yet made the switch to custom dress shirts, you still have choices when you shop off the rack and most of what you'll see below applies to any dress shirts you're considering. So what should you be looking for? See Below
1. Create your own shirt fit
Getting a good fit is one of the toughest things to do when you buy a shirt off the rack. Sure you can find dress shirts in a neck size that's comfortable and with sleeves that are pretty close to your arm length, but since most dress shirts are made based on the FCD (fattest common denominator), the one that fits your neck and sleeves will likely resemble a tent when you put it on. That is, assuming you're not too tall or short or, God forbid, you have one shoulder that sits slightly lower than the other like most men do. If so, you'll have a tough time getting a good fit out of any dress shirts you find in stores.
The solution to these problems, of course
is a made-to-measure shirt that is crafted to your exact size specifications.
Made-to-measure shirts allow you to define your fit. Want to show off that sweet V-shape you've been working on in the gym every morning? Get yourself a slim fit shirt that hugs your waist and highlights your shape.
Maybe you don't have abs of steel but you're just looking to get rid of the fabric-bunching muffin top effect you get from most shirts. A tailored fit shirt is the way to go. Even if you've got a bit of a spare tire, don't accentuate it with a shirt that leaves you with excess fabric everywhere you look.
2. Choose your shirt color wisely
Most guys should spend less time trying to match colors in their shirts and ties. Instead, they should be focusing on choosing shirt colors that complement their own coloring. As we highlighted in our How to Build a Suit story, stylish dressers match the intensity of the contrast in their clothes to the amount of contrast in their faces and hair.
So if you've got light skin and dark hair, create contrast between your shirts and jackets. The easiest way to do that is to wear white shirts that create contrast with every jacket in your suit wardrobe (unless you happen to be wearing a white suit, in which case, you should probably be heading out to make a guest appearance at your local KFC instead of reading this story).
If you've got less contrast in your look, choose shirts that will contrast less starkly with your suits. Got rosy cheeks and reddish brown hair? Match your own contrast with pink shirts. Got light blue eyes and light hair? Try saturated blue shirts. Coordinate your complexion with your shirt and jacket colors and all other color coordinating becomes much easier.
3. Create your own shirt details
So you've got a shirt that fits and you've got a shirt color that looks great on you. Now it's time truly make the shirt your own. One of the easiest, and most stylish, ways to customize your shirt is to add a monogram. We've discussed adding a monogram to a suit before. Unlike suit monograms, shirt monograms have very utilitarian roots. In the days when men regularly sent all of their shirts out to laundry services, a monogram served as a label and ensured that you got back the same shirt you sent to the cleaner. Today many dry cleaners have robust systems of tracking clothing, yet they still manage to give your shirt to the wrong guy from time to time. So, we'll keep monogramming our shirts, thankyouverymuch.
Aside from monograms, there is one more practical thing to consider when you create your own shirt style: the right collar type for your face. Choosing the collar that works best for your face will go a long way towards stylishness.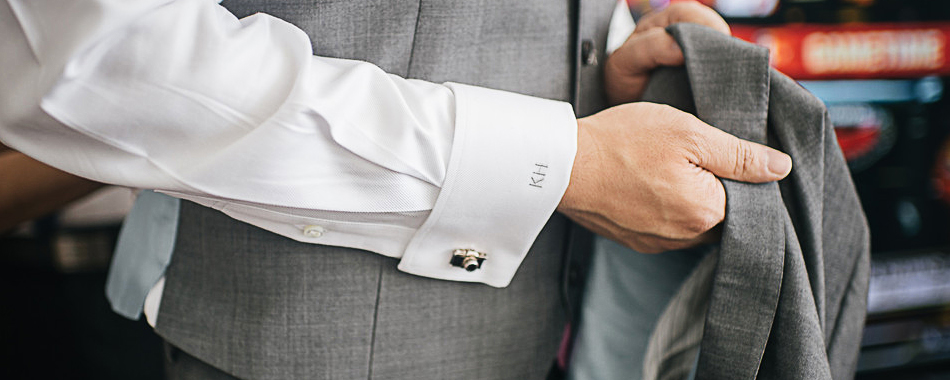 The Perfect Dress Shirt
Following all of the guidelines we've laid out here is about more than just following a set of rules to create the perfect shirt. That's because style is less about getting it "right" as it is about getting it right for you. A great dress shirt ought to frame your face and accentuate your positives. If you create your own shirt that fits your body, harmonizes with your coloring and includes a touch of your personality, you'll have a shirt you'll want to wear everyday. It'll look great when you wear it. It'll feel great when you wear it. In short, it will be, the perfect dress shirt for you.
Got a question about how to create your own perfect shirt?
Ask us about it in the comments below.
---
Like What You See? There's More.
We'll send you style advice and intel for the modern man.
---