What To Wear To A Wedding: Decoding The Dress Code
Published on April 26, 2019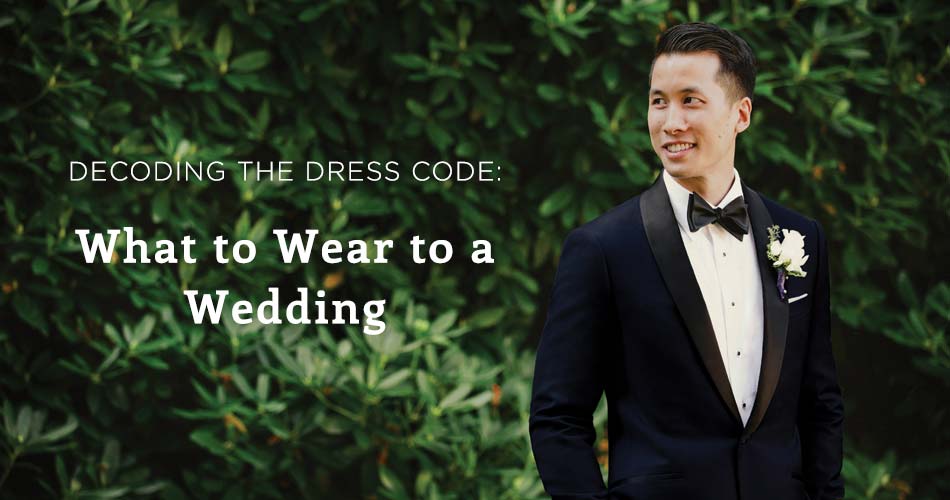 Breaking Down The 6 Wedding Dress Codes
The weather is warming up, and you know what that means, wedding season is right around the corner. With all the save-the-dates and wedding invites you received in the past year, you know you've got some planning to do.
You've saved the dates and booked your flights. You've secured your plus one and you've chosen the chicken or the fish from the reception menu (tip: never choose the beef, it's always overcooked, plus the best food is always served during the cocktail hour). You've even gotten the happy couple a gift from their registry. Except, as the weekend approaches, it suddenly dawns on you that you don't really know what to wear to a wedding. Is it okay to wear one of your work suits? Or that old hand-me-down that you wore to graduation?
Learning What To Wear To A Wedding Is Simple
What is usually a simple task—picking out what you're going to wear—now seems like the most complicated challenge of your life. What does cocktail attire or black tie optional even mean? Is this suit appropriate or do I need to get a tux? Does this suit and shirt combo go with my favorite tie? Can I wear the same suit to back to back weddings? Do I need to learn some new dance moves?
We can't help you with the last one (that's what Youtube is for), but we can help you take the stress out of figuring out what to wear to a wedding. Most wedding invitations will include a dress code intended to guide you on what to wear. If it doesn't, you can safely assume cocktail attire is the de facto dress code. It's one of the most common options couples choose and one of the easiest to dress for – we'll cover it in detail below.
But if your wedding invitation does contain a dress code, it will invariably fall into one of the six main wedding dress codes below, and we've decoded each one further, just click the dress code you're ready to learn more about!






---
We've got your back…
Still not sure what to wear to a wedding? Are you attending a wedding with a dress code we haven't covered here?
If you'd like more one-on-one advice about what to wear to a wedding, the Black Lapel stylists can make personal recommendations and, if necessary, guide you through the process of choosing and getting a custom made outfit.
Email us at concierge@blacklapel.com.
And, as always, to discuss this article just leave a comment below.
---
Like What You See? There's More.
We'll send you style advice and intel for the modern man.
---