The Ultimate Guide to Business Casual Outfits for Men
Published on February 27, 2015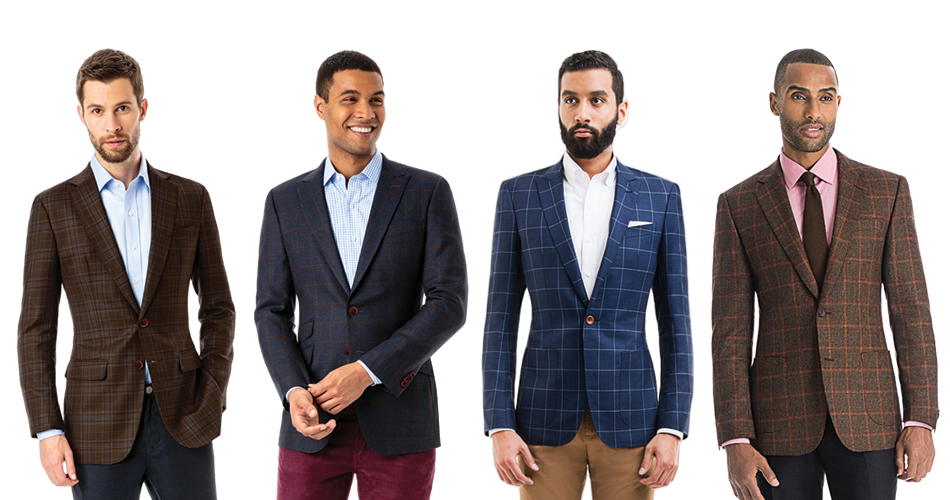 ---
How do business casual men dress for success? How can you get that relaxed, yet professional, look? The answer is simpler than you think.
---
It's no secret that professional dress codes have been trending more and more casual for years. For many guys the suit has become a special occasion item reserved for weddings and graduations. Still, you want to look professional.
We're living in a world where the professional dress codes at some of the world's biggest corporations on the planet (Google and Facebook) consider T-shirts and flip-flops acceptable office attire. Don Draper would look out of place in most ad agencies today.
So what's a guy to do if he seeks a professional, yet modern look?
Enter the blazer, decidedly less formal than a suit, but dressy enough to look professional. To show you how versatile and useful they are, we've taken four different types of modern men and given them each a blazer. Then we took each guy and made a couple of business casual outfits built around the blazers. There's bound to be something for you in here.
---
The Business Casual Manager
We broke down the outfits by archetype. We started with The Manager, an affable man. We gave him a down to earth blazer and two approachable, yet stylish outfits.
---
The Business Casual Boss Man
Next, we took on The Boss Man. Even in a casual outfit, he doesn't need to strut around like he owns the place. People will assume that anyway when he dons the cashmere blend blazer we featured in his outfits.
---
The Business Casual Upstart
At the other end of the spectrum, we outfitted The Upstart with a versatile, workhorse of a blazer and pants that he can repurpose and reuse throughout his week and even away from work.
---
The Business Casual Creative
Finally, we got our creative juices flowing for The Creative. For his outfits we highlighted some unexpected color and texture combinations that will set him apart.
---
There are tons of ways to mix and match the elements of a fresh business casual look. How you do it is up to you, but you can start by choosing the above archetype that best describes you and trying out one of the looks we laid out for you.
Need a hand decoding your own dress code?
Leave a comment below and we'll help you nail down a look.
---
Like What You See? There's More.
We'll send you style advice and intel for the modern man.
---