A Guide To Mixing Patterns With Confidence
Published on March 18, 2016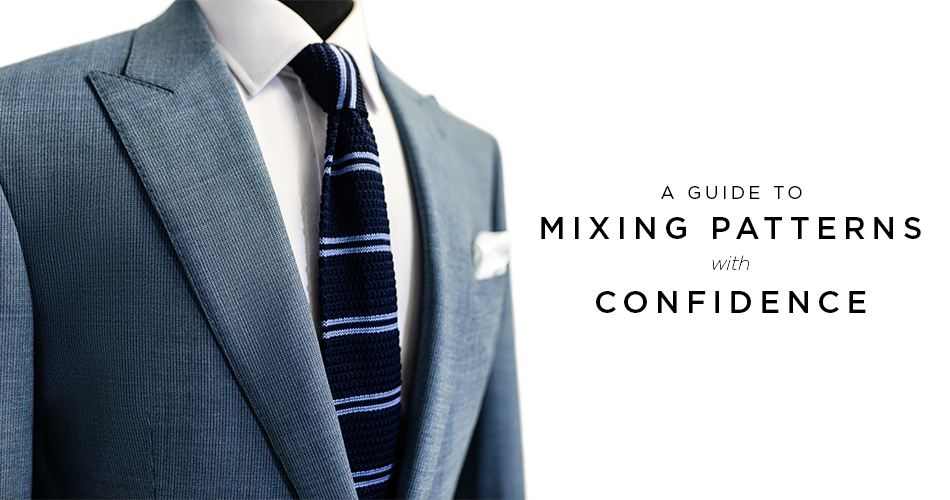 A recent study revealed that after public speaking and death, most men's biggest fear is combining two or more patterns in one outfit.
Okay, full disclosure, the study was conducted using a handful of Black Lapel suit customers, but we feel they are representative of the average men's suit buyers.
So what makes men so worried about mixing patterns? Men, by and large, are seekers. It goes back to our hunter-gatherer days. Most men don't like anything too ethereal. We want firm solutions, we seek empirical answers. And it seems, to most men, like mixing patterns is some sort of black art shrouded in mystery. Partially we have the pattern mixing practitioners to blame, since many of them keep their secrets well-guarded. Ask a well-dressed man how he puts together his combinations and you're likely to hear: "I just have a feel for it." That may be true, but it's hardly helpful. To feel confident enough in your own pattern combining capabilities you need a set of guidelines. Think of the following as your cheat sheet for mixing patterns.
---
What about 1 pattern combinations?
We've covered this in articles like Why You Shouldn't Be Afraid of a Plaid Suit. This doesn't really count as pattern mixing, though. It's more like incorporating a pattern into your outfit.
---
Check the Scale
One basic rule of thumb should govern your choices when you're combining multiple patterns—the rule of scale. If you learn one thing from this article let it be this: when two patterns are the same (like stripes and stripes) make sure the scale is different (like a suit with pinstripes that are about a quarter inch apart and a tie with stripes that are about a half inch wide).
When the patterns are different (like stripes and checks) the scale should be roughly the same (like a suit with pinstripes that are about a quarter inch apart and a tie with a crisscrossing lines that roughly form quarter inch boxes). Keep scrolling to see this in action.
---
Mixing Two Small Patterns
The unifying theme in this outfit is the color blue, but the small check in the shirt and subtle, small herringbone elements of the suit complement each other and make the whole look cohesive.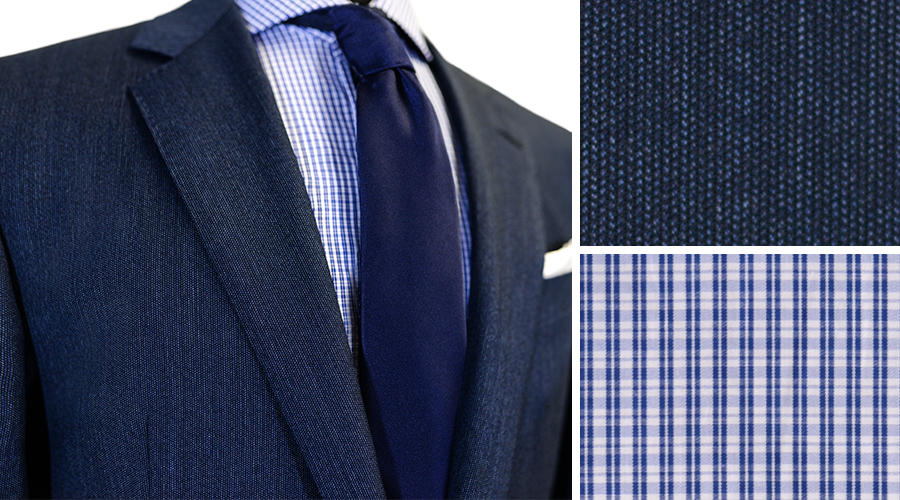 Blue Mini Check Broadcloth Custom Dress Shirt
Rivington Dusk Blue Custom Suit
---
Mixing Two Large Patterns
Bigger doesn't always mean bolder. Take this glen plaid suit with a large gray on gray pattern. From a distance it appears almost solid, but close in and you'll see it's a plaid suit. To balance the subtlety, we paired it with a more noticeably patterned tie that matches the scale of the plaid.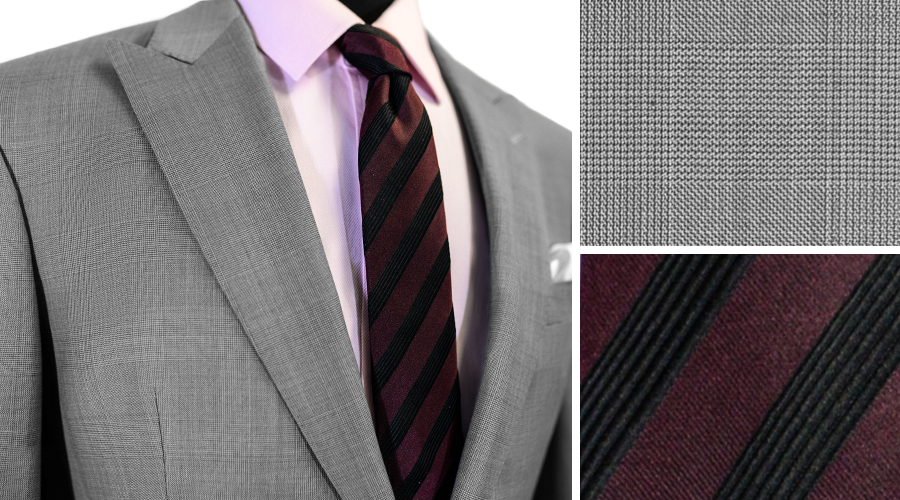 Pink Solid Twill Weave Custom Dress Shirt
Light Gray Glen Plaid Custom Suit
---
Mixing One Small Pattern & One Large Pattern
The two stripes in this outfit go in different directions, which would be a no-no if the stripes were both big and prominent, but since the suit's stripe is small it works. Add the unifying element of blue and you've got a strong two-stripe look.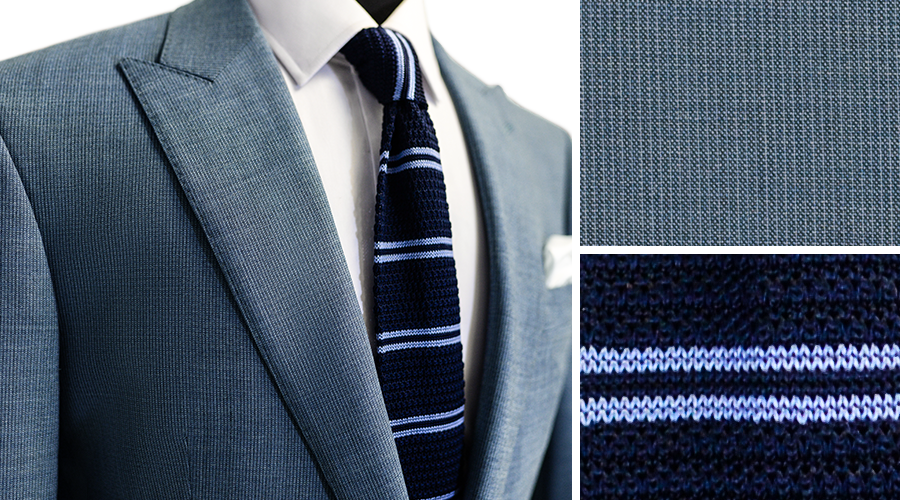 White Solid Broadcloth Custom Dress Shirt
Navy Silk Knit Tie with Light Blue Stripes
Light Blue Fine Stripe Fresco Custom Suit
---
Advanced Mixing & Matching
These are just a few easy ways to put patterns to work for you. Once you've mastered the two-pattern combination, the next step is adding a third or even fourth pattern. The general rule of scale still applies, but it gets progressively more difficult to pull off as you add patterns.
We hope that the above has freed you from the confines of solids on solids. When in doubt, trust your gut. Put on the outfit and take a look in the mirror. Like what you see? If so, you can throw out the rulebook. If not, you can always ask us for advice in the comments below.
---
Like What You See? There's More.
We'll send you style advice and intel for the modern man.
---