Build a Suit That Helps You Stand Out
Published on January 20, 2017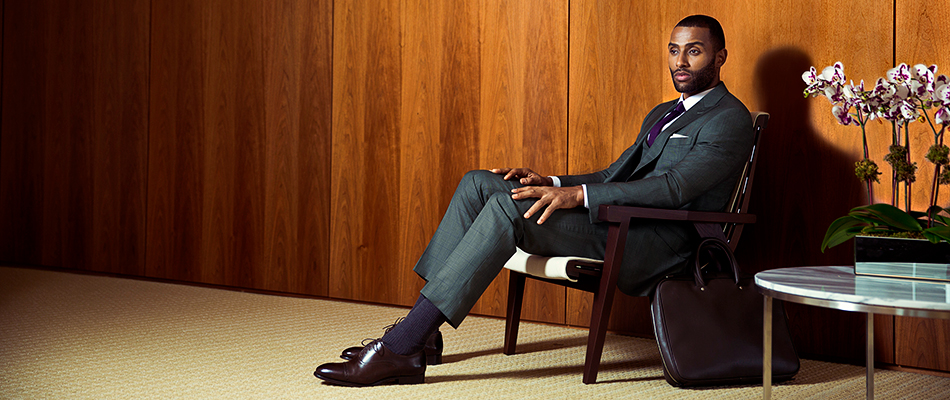 4 Things You Need to Know When You Build a Suit
lling somebody a suit isn't usually a compliment. To many, anyone in a suit is interchangeable, like a corporate uniform. But being well dressed doesn't condemn you to this fate. When you build a suit from the ground up, like a custom suit, you can design your own suit to make you stand apart from the crowd.
Right from the outset, you can choose a fabric in stark contrast to your surroundings (i.e. not dark blue or gray) or you can be more subtle choosing details that distinguish your look. Whether you're an iconoclast or simply looking for a way to personalize your look, start here…
---
1. Know Thy Self
Before you start clicking through fabric choices and picking out colors, take a minute to take stock of yourself. Get in front of a mirror and look, really look, at your face. How much contrast do you see between the color of your skin and the color of your hair? For example: George Clooney, with his dark mane and medium complexion would be an 8 on the contrast scale. His Ocean's movies co-star, Brad Pitt, with his light hair and light skin and eyes would be a 4.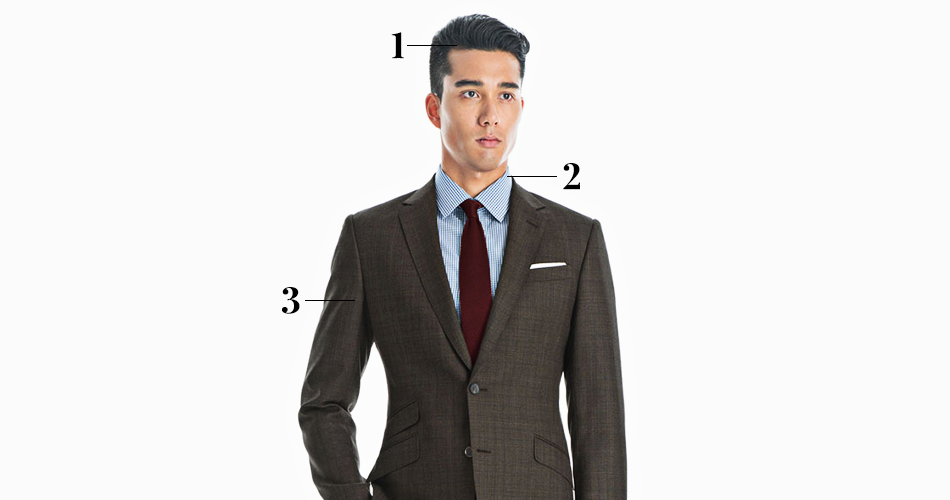 High contrast here
Means you can wear light shirts like this
With dark suits like this
The higher your physical contrast, the more contrast you can wear in your clothing. Those with lower contrast levels ought to stay away from starkly contrasting clothing combinations. Here, the model's dark hair makes for a high contrast look. Lots of colors look good on him and he can wear a dark suit and light shirt without taking attention away from his face. When you start out knowing your own coloring, you'll be able to pick the fabrics and color combinations that work for you.
---
2. Know Your Size
When it comes time to build a suit, knowing more than "I'm a 42 Regular" is crucial. That's where a custom suit comes into play. So, when you build a suit with a custom clothier like Black Lapel, you'll need to record your measurements.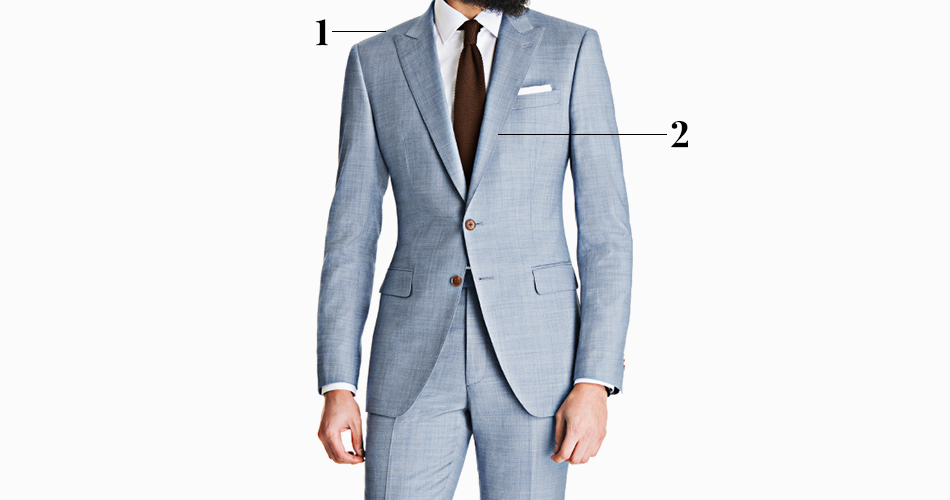 Getting your shoulder measurement right will result in a smooth line here
And helps the rest of the jacket to drape properly here
You don't have to get all meticulous and record things like the number of microns between your thumb and forefinger, but you should get your key measurements as accurate as possible. Especially your shoulder measurement. It's the most common area guys screw up and they end up wearing suits with shoulders that are too big. Get the shoulders right and you're already better dressed than most men.
---
3. Know The Situation
Now that you've got the basics down, you're ready to make some decisions about the type of suit you're looking to build. Certain suits might work better for some situations than others. Where do you plan on wearing the suit? To work? To a wedding? To job interviews? A versatile suit can handle all of the above, but if you're looking to build a suit for a specific use, it's a good idea to keep that use in mind.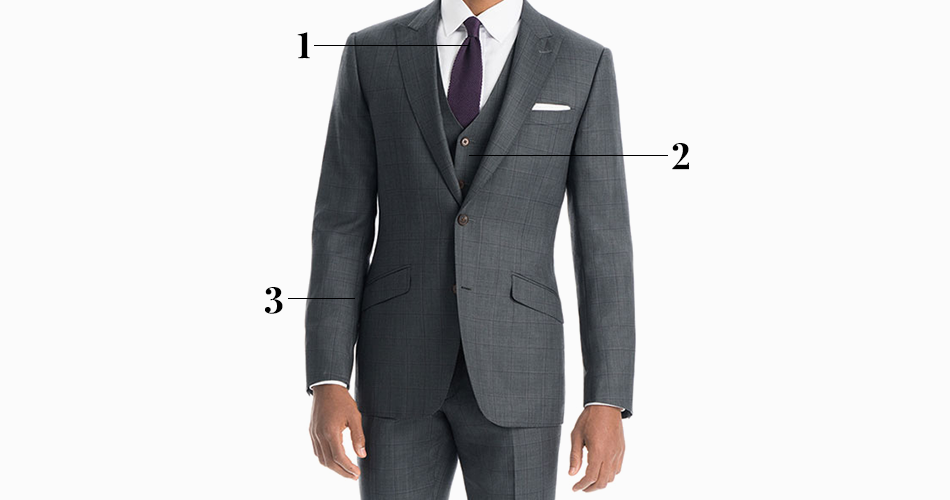 A medium gray suit like this is the workhorse of your wardrobe, pair it with a

purple tie

like this for added contrast.
Wear all

three pieces

like this for a business formal event or

drop the vest

for a less dressy look.
The purple in the tie brings out the hints of color you see in the suit
For example, a dark gray, double-breasted pinstripe suit might make you look like a baller, but wearing it to your buddy's wedding might make you look like you just stopped by the reception before heading over to a board meeting. Know how you intend to wear a suit before you invest in a custom suit and you'll get more use out of it in the long run.
---
4. Know Your Style
After all is said and done, you decided to build a suit because you wanted something that showed your personal style. What is that style? Are you a by the book guy who's looking for a better fitting uniform to wear to work? Are you a corporate rabble rouser, looking to shake things up around a style unconscious office? Are you hitting the wedding circuit hard these days and looking for something to play Rachel McAdams to your Owen Wilson?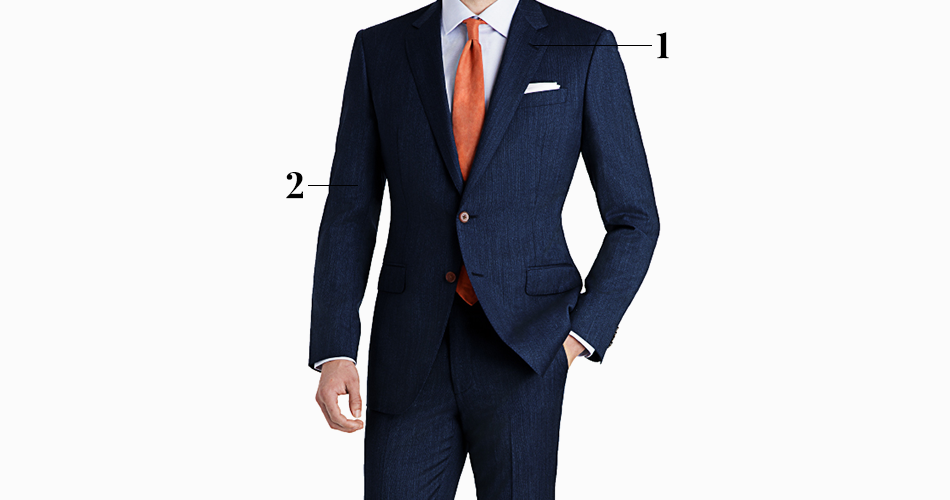 Whatever your style, when you go custom, you get choices from fabrics and colors to details like

monograms

or even how your

jacket sleeve buttons

are aligned.
Most guys' styles are somewhere between conservative solids (like navy blue) and more adventurous patterns. Split the difference with a suit like this Rivington Dusk Blue that has a pattern atop a modest base.
---
Build The Fully Customized Suit
They say the devil is in the details. Nowhere is this phrase more apt than in a custom suit. If you've taken into account all of our advice above you're off to a great start. Now come the special features that can truly make a suit stand out.
Jacket Buttons
Sure, a two button suit is the go-to look for many men. But if your goal is to make your suit special, a double-breasted jacket is a great way to turn an otherwise plain suit into a showstopper.
Accent Stitching
Little touches of color on the boutonniere hole or sleeve cuffs can don't scream for attention, but certainly help set you apart from the off-the-rack suit wearing crowd.
Inner Lining
No, the world will probably never see your inner lining. But when you slip off your jacket at your desk, or reach into an interior pocket to pull out your card, a little flash of, say, burnt orange inner lining will let everyone know you're wearing something special.
Your Turn
These are just a few of the ways you can customize your suit to stand out. Got more? Tell us how you customized yours to maximum effect in the comments below.
---
Like What You See? There's More.
We'll send you style advice and intel for the modern man.
---