Pick The Best Suit Colors For Your Wardrobe
Published on November 2, 2018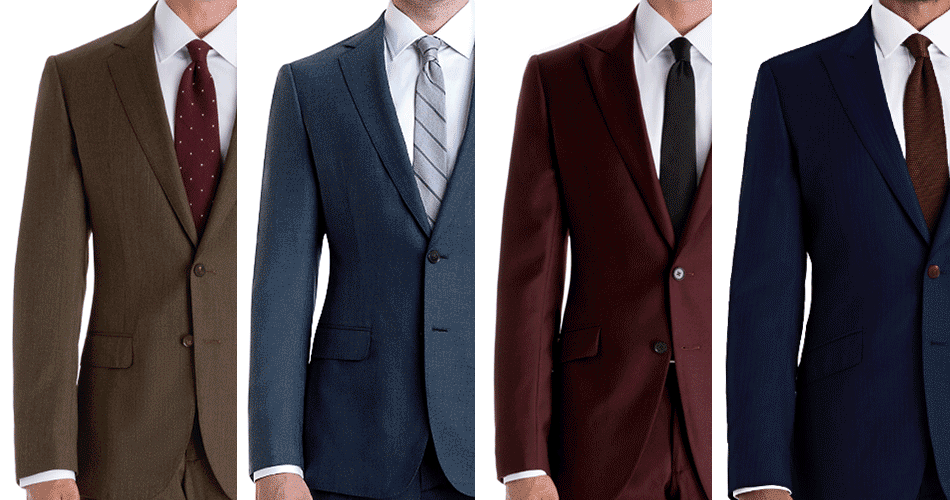 Picking Suit Colors: The Basic Rules
There are so many choices when it comes to picking suit colors but when it comes down to it, there are three main categories: shades of blue, shades of gray (including black) and shades of brown. When building your suit wardrobe, you don't want it to rely on the same routine color. This will make your day-to-day look boring and overly routine. On the other hand, you don't want to fill your wardrobe exclusively with vibrant, exuberant colors. While it is okay to wear these overtly stylish suits from time-to-time, in most cases the dress-code and context won't allow it.
---
The Suit Color Breakdown
So, what suit colors should you be building into your wardrobe? We recommend a mix along the lines of the below chart. You can think of your suit collection in increments of five (a typical work week). The percentages below will apply best to a collection of 10 suits (we dig suits okay?) but feel free to round up or down based on your target number.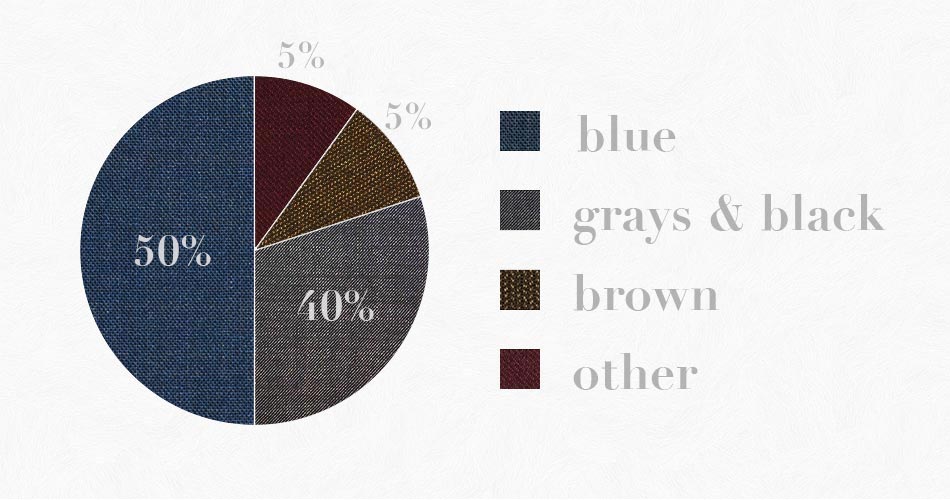 As you can see, we clearly favor blue. In fact, we recommend you deploy up to 50% of your suit collection to varying shades of blue, from a classic solid navy blue suit to a mid-range blue herringbone all the way to something spirited like a blue toned windowpane. Why do we love blue so much? For one, a navy blue suit is a great foundation piece. Second, it's perfect for special occasions including wedding attire. Blue is extremely wedding friendly because it pairs well with most popular wedding colors and bridesmaid dresses of many shades. So, you not only have your foundation piece, but you have a suit that can be utilized in multiple situations. It's universally appropriate, and for guys reading this post feeling a bit overwhelmed because you've yet to purchase your first suit, the navy blue suit should be your first.
After blue, you will want to make sure you have a healthy stock of gray suits, and at least one black suit. This is because just like navy, gray and black suits are foundation pieces. For the men who work in strict business-formal offices, gray suits fit the dress criteria perfectly and are a neutral palette on which you can style virtually any colored shirt and tie combination. And in regards to having a black suit in your arsenal, there will be solemn occasions in life when the dress code calls for a black suit, so make sure you are prepared.
Lastly, your suit wardrobe can have some character too. A brown suit can elevate your suit game and help break the monotony of the navy and gray rotation (oh, and it's easy to wear, too). And if you really want to add some zest, you can opt for a more colorful suit like olive green or burgundy. However, we would always recommend you build your wardrobe around foundation blue and gray pieces first.
As you've probably already noticed, the rules of dress codes have been changing as of late, but the rules for building a collection of suit colors that will have you sharply dressed in any occasion still remain the same.
---
Rules of Thumb For Picking the Best Suit Colors
Rule #1 – Always pair your suits & your hair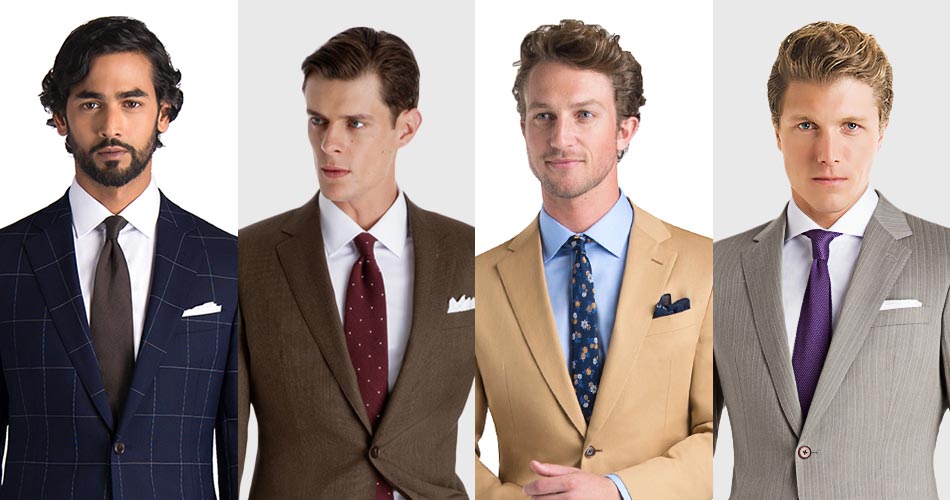 This is the number one rule for a reason. This rule yields great results. But interpreting this rule is the trick. It DOES NOT mean that if you have brown hair you must wear only brown suits. Instead, focus on matching your hair's shade to your suit's shade. If you've got dark hair, dark suit colors naturally frame your face and will look better on you than someone with light hair. It also doesn't mean you can't wear lighter shades – only that darker ones will look better on you in comparison. So if you've got dark brown hair, a dark brown suit will work best for you, but so will a dark gray suit or a dark blue suit. The key word is dark.
---
Rule #2 – Go in order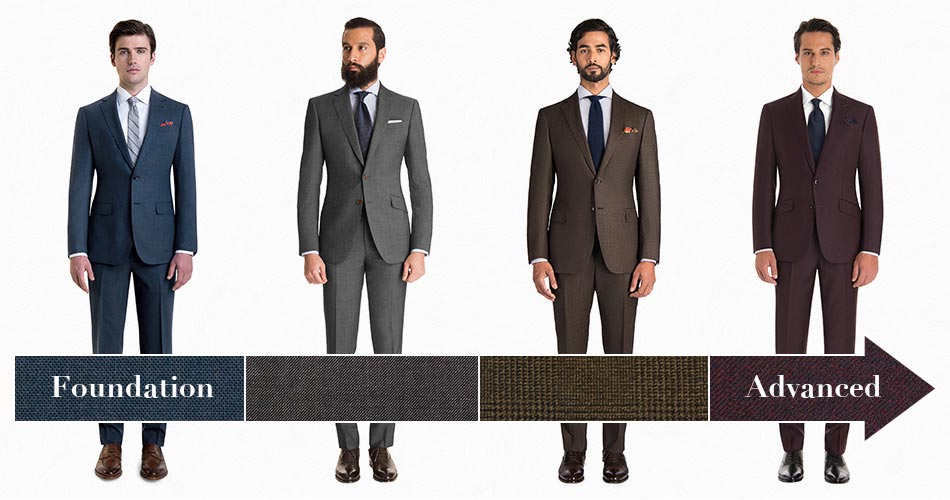 As we covered above, when you are first building a wardrobe, start with foundation colors like the classic blues and grays. As you build, push further toward the edges with less expected colors.
---
Rule #3 – Play to the base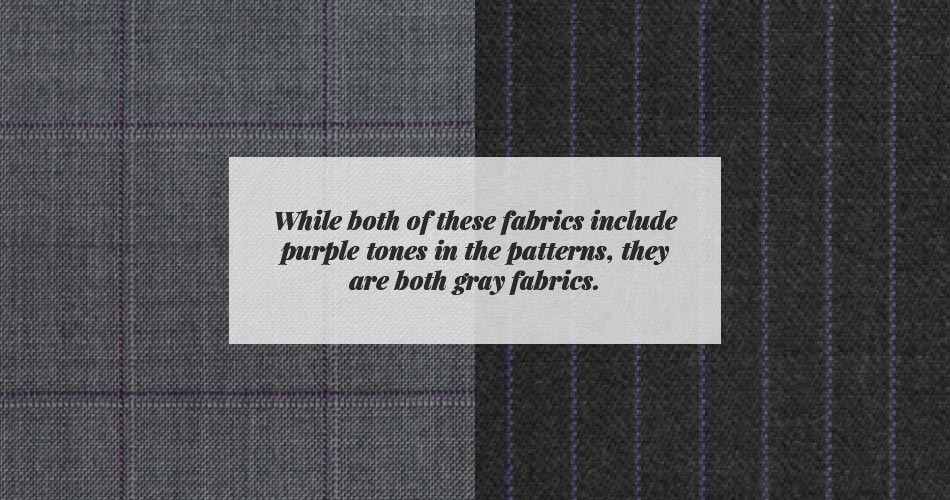 This advice isn't just for politicians. When considering patterned fabrics, many men get hung up on the fact that there are multiple colors in the fabric when all you need to focus on is the base color. A gray plaid suit is still, all-in-all, a gray suit. Does the windowpane pick up the blue on your eyes? Great. The pinstripe hue is in your favorite color? Perfect. But there is almost always one dominant color in a fabric. That's the one to focus on when you're building your collection.
---
Rule #4 – Don't overthink it
Remember a suit is just one ingredient in the dish called an outfit. Your choices in shirt colors and accessories like ties, pocket squares and socks can all take their chromatic cues from your suit colors. So the simpler your palette, the easier it is to dress well.
Our Favorites:
Now that you know how to pick your suit colors accordingly, here are our favorite suits inspired by the rules.
---
Like What You See? There's More.
We'll send you style advice and intel for the modern man.
---