Dos and Don'ts of Dressing for a Dinner Date
Published on January 8, 2016
According to the National Restaurant Association, we Americans spend 47% of our food dollar, the total amount of money we spend on food, at restaurants. You can infer a lot from that statistic. Remember, this definition of a "restaurant" is not just a fine dining, sit down place, but also includes McDonald's, Burger King and, for our West Coast peeps, In-N-Out Burger.
Still, 47% of our food budget means we're eating out a lot. Often when we're eating out, we're taking a date. Go to any restaurant and look around and you're bound to find someone on a date. It's a tried and true date.
So the question you have to answer is: do you want to look your best the next time you have a dinner date? If you don't really care, that could be a sign of how you feel about your date. But if it's somebody you want to impress (whether it's your first date or your wife of 30 years), take our advice below and you'll nail the look.
Dinner Date #1 – The Tough Reservation
So you called to hold a table back in 2014 and the earliest you could get was this Friday night. You know that the meal is going to be epic. Now you have to match the dinner with your outfit. This calls for a full suit (Do you have to wear a full suit? No, a blazer will also do the trick. If you're not a suit guy, skip to Dinner Date #2). Not only will it match the occasion, but dressing to the nines will also help ensure that you get a good table, instead of being stowed away by the bathroom or the kitchen where they hide the less stylish clientele.
Do…
…wear something that makes you stand out. If there was ever a time to strut your stuff this is it. Why? Dressing to impress can impress your date in more ways than one. Obviously, showing that you put some thought into your look tells your date that you want to look your best for her. but it also sends the signal that you're looking to be seen with her. Dressing to be seen suggests that you're proud of how great SHE looks too. That kind of unspoken compliment will serve you well as the night progresses.
Don't…
…go all peacock with the colors. Unskilled dressers think "dress to impress" they immediately pull out every bright color and loud pattern they own and try to put them all together into one intense outfit. The result is one hot mess of a look that reeks of trying too hard.
Kill the sartorial pyrotechnics. Most guys look their best with a maximum of two colors in their outfit. Some simple patterns are optional, but varying textures is mandatory. Mix things up with a textured knit tie and a smooth sharkskin suit.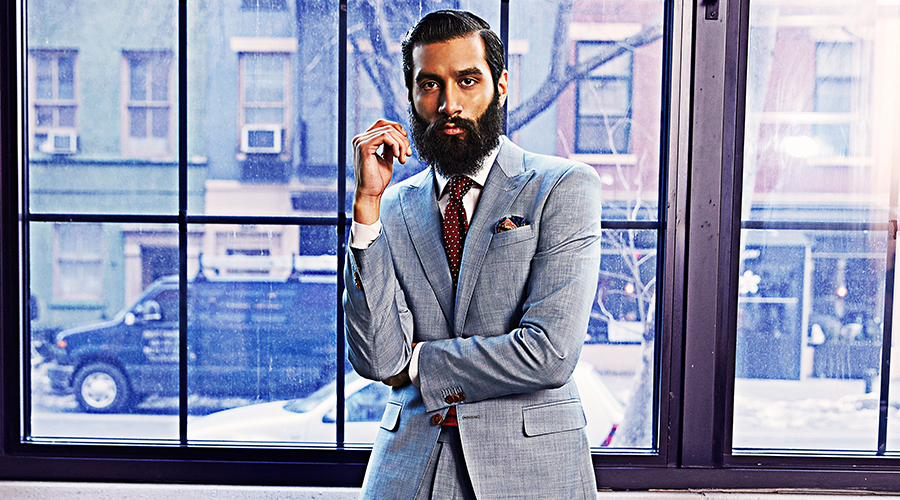 Though it's light in color, this all-seasonal fabric can adapt to cooler weather when paired with autumnal colored accents like a maroon tie and oxblood shoes.Most guys' tendency is to stick with dark suits, but we say break away from the boardroom look and go with a lighter colored suit that you can wear night or day and is a little unexpected, like this Light Blue Gray Sharkskin.
Dinner Date #2 – Your Go-To Restaurant
It doesn't need to be a special occasion to go to this restaurant. You go so often the host knows which table you like, you know when they get a new waiter and you have your go-to favorites on the menu. But being a regular doesn't mean you should blend in with the furniture when you take a date for dinner.
Do…
…put on a jacket regardless of the temperature. In between dressed-up and casual lies the blazer and this is the perfect time to put one on. It sets the tone for your whole outfit.
Jackets can take many forms from the classic solid navy blue to a check, herringbone, windowpane or houndstooth. Because they only cover your upper half, a blazer can feature a more outspoken pattern. Contrast solid chinos or dark jeans with a patterned jacket and you're already two steps ahead of the competition.
Don't…
…wear a jacket that should be a part of a full suit. If you've been reading The Compass over the years, you'll know that we are proponents of pinstripe unity. (If you're going to wear a pinstripe jacket, wear the matching pants and always throw on a tie.)
While a solid jacket can work, we advise against going with an ultra-conservative solid gray worsted wool for a blazer. While you can get away with a gray suit jacket as a blazer, it's not going to win you many style points.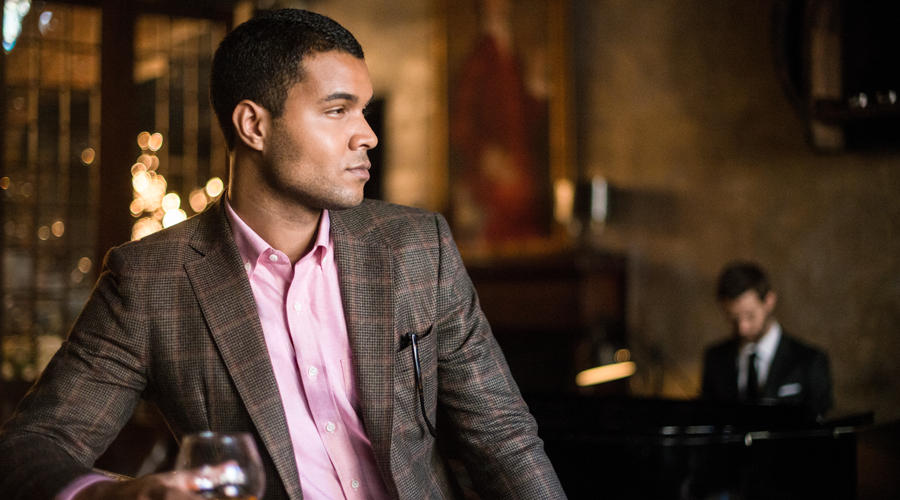 This jacket features a subtle houndstooth with a bolder burgundy windowpane that plays off of red in the Oxford Shirt for a cohesive look.
This looks stays casual by featuring classic sport jacket elements (the houndstooth pattern and the shades of brown) and classic casual shirting (a button-down Oxford cloth shirt). Yet it stays a step above the everyday since the jacket is infused with cashmere for a luxurious feel.
Dinner Date #3 – The Diner Run
The burgers might be great but the diner is not exactly fine dining and dinner is only part of your date. If you're headed to the movies or the local pub afterward, you're probably not going to want to go too dressy. But too many guys take casual overboard. Adding something as simple as a collared shirt to your look is all you need to step up your style, but there is a right and a wrong way to do it.
Do…
…wear a gingham shirt. Gingham shirts have taken the office by storm in recent years as they've been paired with suits on the pages of just about every men's fashion publication (including this one). But historically gingham was reserved for more casual environments. Chances are your grandfather wouldn't have been caught dead in a gingham shirt with a suit.
Take gingham further down the ladder of dressiness by going with a two-color version. Two color gingham shirts, like their flannel brethren are more like sport shirts than dress shirts.
Don't…
…screw up the undershirt. Just because it's a casual look doesn't mean you should skip the undershirt altogether. Undershirts are useful whether it's cold (it's the perfect extra layer) or it's warm (your defense against sweat touching your shirt directly).
But don't make the rookie mistake lots of guys make when they wear an undershirt and no tie. Make sure the undershirt is a V-neck or it'll show a little triangle of white below your neck and look like a poor man's ascot.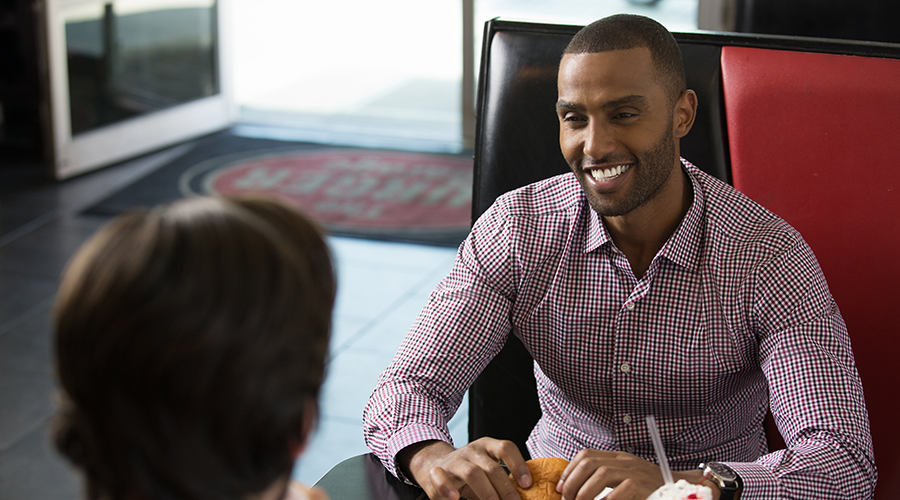 Pairing couldn't be simpler. Match one of the colors in your shirt to your pants and you're done. If that doesn't work, go with the failsafe casual pants, dark blue jeans, that go with everything.Further casual details like a button down collar are cool, but not necessary with the already laid back vibe of a gingham shirt. Still, as the weather gets warmer, you can relax the look by rolling up the sleeves.
Winning The Dating Game
With these three looks you'll be covered for most dinner dates. Have we covered everything? No. There are more formal dinners like black tie galas and plenty of other types of dates and we've given you plenty of ideas for how to pull those looks together in our (Black Tie 101, Beyond Black Tie and What to Wear on a Date stories). But you already knew about those, right? If not it's probably because you aren't subscribed to The Compass. Subscribe now and you'll never be out of the style loop.
---
Like What You See? There's More.
We'll send you style advice and intel for the modern man.
---