How to Choose Your Clothes: Mastering Men's Fashion From the Inside Out
Published on January 30, 2015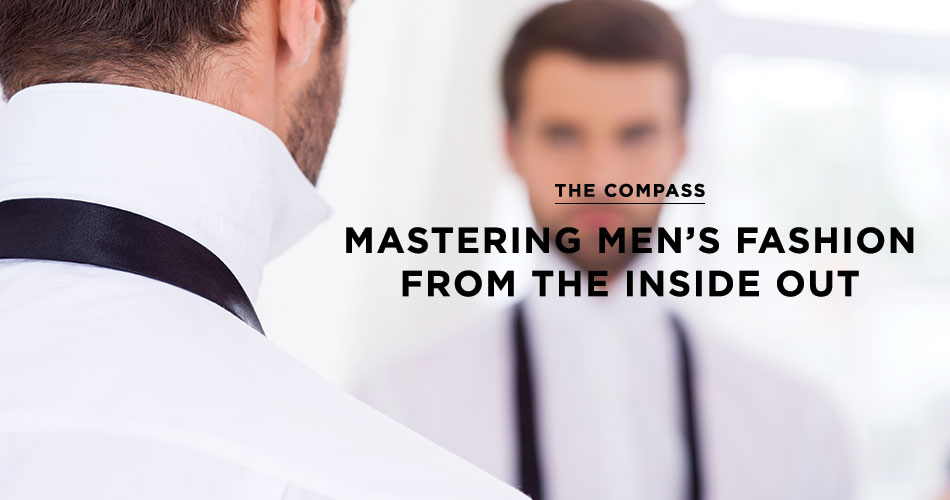 Because men's fashion is built on tried and true foundation items (the suit, the blazer, the dress shirt, the tie etc.), mastering men's fashion is less about how unique your pieces are and more about how creatively you put these pieces together.So why do some men seem to be able to put the pieces together so well? How can you put together outfits that really impress? The key to mastering men's fashion is dressing in a way that showcases the best traits in your own appearance. So we'll start with what's inside–what's under all the clothes–you. We call that dressing from the inside out, and here are the secrets to doing it right.
Stop Taking Selfies and Take a Look in the Mirror
We are a culture of seemingly selfie-obsessed narcissists. In fact, Sundar Pichai, Senior Vice President of Android, estimates that 93 million selfies are taken every day. Therefore, a quick swipe through your Instagram feed will undoubtedly reveal a collection of photos of the people who posted the photos.
Yet, with almost everyone looking at their own reflections on a regular basis, few of us know how we actually look. Sure, we could give a general description to the average person on the street with details like our height, weight, and hair color. But most guys can't describe in any detail the specific color of their own eyes, the true shade of their skin tone, or the nuances of their own hair. It seems that, despite all the time we spend taking pictures of ourselves and posting them all over the interwebs, not many people are paying attention to what they really look like. We are half-assing our narcissism and our looks are paying the price.
The worst part about all of this is that we could look so much better by simply dressing better. At Black Lapel, we believe that when you dress better, you feel better and you become better. And since men's fashion moves at a relatively slow pace, mastering it doesn't require subscribing to 20 men's fashion publications (though we do encourage you to sign up for this one since it's free). Most of what you need to know to master men's fashion is staring right back at you every time you look into a mirror.
Start by taking a good look at your face. What do you see? Note your eye color. What shade are they? Be specific. How about your hair? Your skin tone? Any distinguishing traits? What makes you you? A signature set of freckles? Is a thick beard your calling card? Whatever you see, this is what you've got to work with. The underlying goal of men's fashion is not to show off your clothes, but to cast your face and body in the best light possible. After all it's you wearing the clothes, not the clothes wearing you.
Once you've gotten a good handle on what you're working with, it's time to unlock the style secrets.
Men's Fashion Secret 1: Match Your Ties to Your Eyes
Your eyes play a huge role in your overall look. While men fret over everything from calf size to…well…the size of other body parts, our eyes are one of most attractive and engaging parts of our appearance. No women dish with their girlfriends about how they met a guy who "had the most amazing calves." And while they may compare notes on the aforementioned "other body parts" it's likely they won't bother to gather enough data on the subject to make a fair assessment unless they like your eyes. In short, if you want to look good, dress for your eyes.
"But my eyes are nothing special," we hear some of you saying. Chances are, you don't have the recessive gene that makes blue eyes blue or green eyes green (it is, after all, a recessive gene). All the more reason to accentuate the depth and complexity of your eyes by wearing colors that harmonize with your eyes.
There are a myriad of ways to do this, but perhaps the simplest, yet most effective ways to put the emphasis on your peepers is to wear ties from the same color family as your eyes.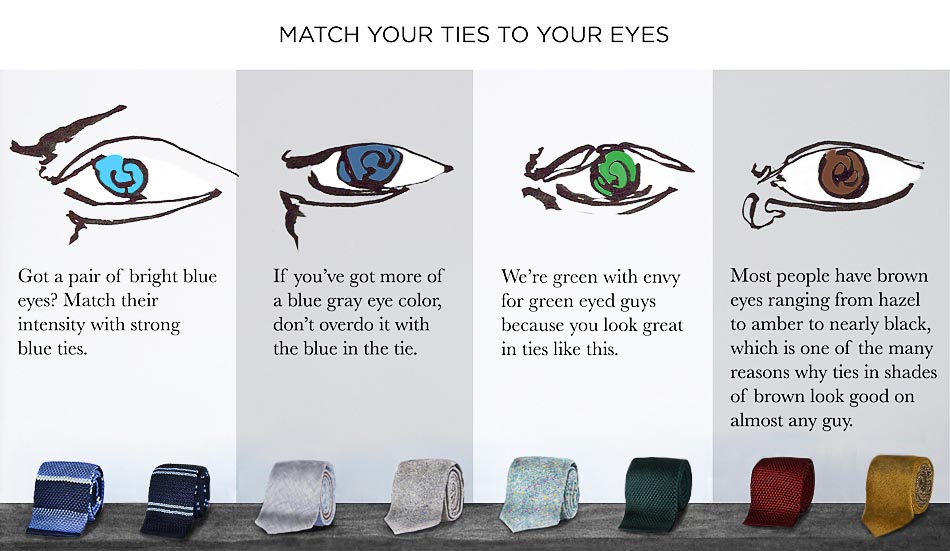 ---
Men's Fashion Secret 2: Always pair your jacket and your hair.
Notice that we didn't say "match" your jacket and hair. We are not suggesting that men should only wear suits and blazers that match their hair color exactly. We are suggesting that men think of fabrics in the same color family as their hair as the foundation of their suit and blazer collection. Why? Because when you wear a jacket in colors that harmonize well with your hair, you frame your face while casting it in the best light. And the opposite is true as well. When light blond haired men wear black or extremely dark suits, it can throw off the balance of their look and wash them out.
So, yes, framing your face with a jacket color that matches your hair is always a winning look and choosing a color that clashes with your hair is a critical mistake. But wearing a color that is across the color wheel from your hair color can also work wonders for your look. So think of pairing your hair color and jacket color like any other color combo. See below for examples.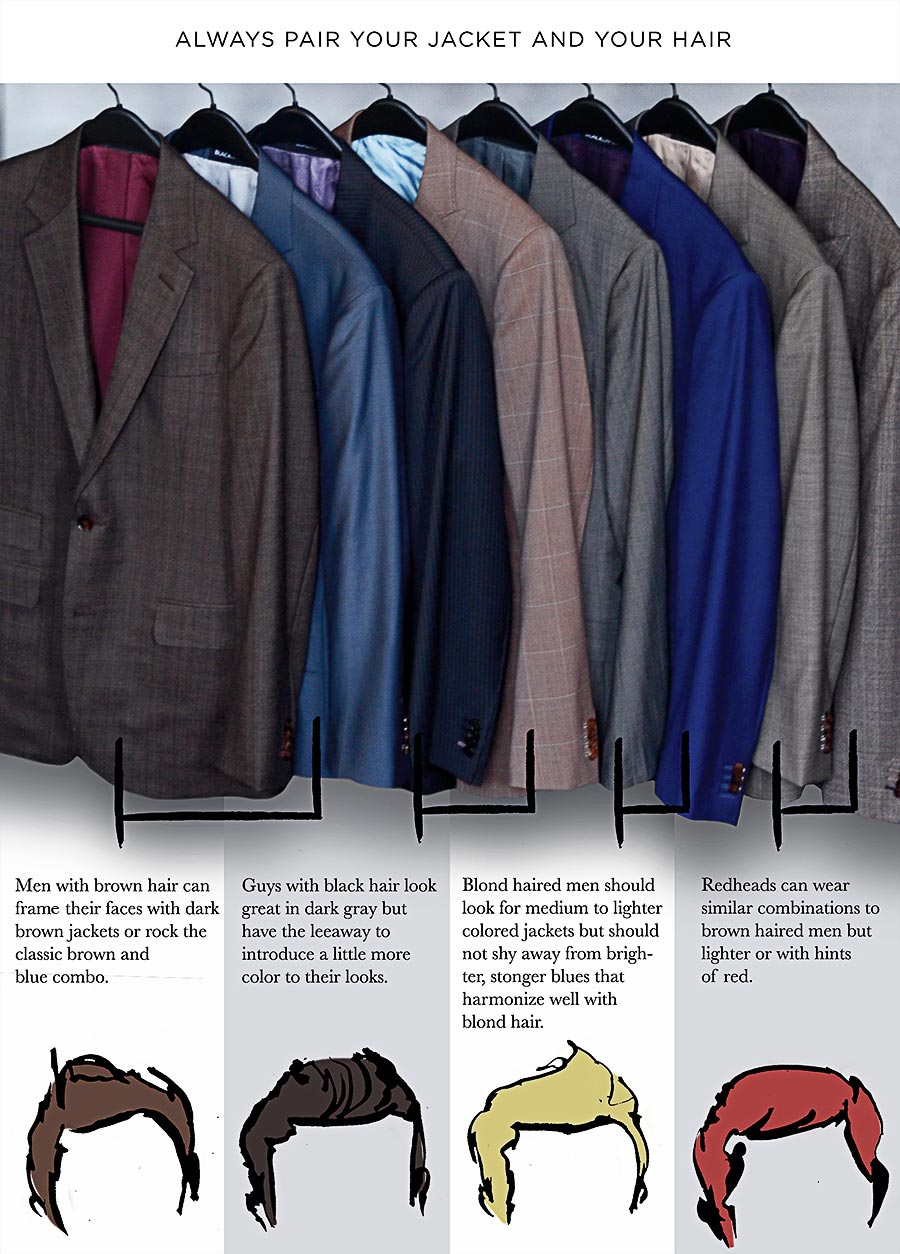 ---
Men's Fashion Secret 3: Fake it 'til you make it
Many great artists start off by trying to copy their heroes. Over time they develop their own style. The same can be said of stylish men. There's no shame in stealing ideas for what to wear from a particularly dapper dude.
But the secret to doing this is knowing what you have in common with said dapper dude. Just mimicking the outfits of the best-dressed men won't make you a men's fashion pro. Especially if he's a trim movie star with thick wavy blond hair and piercing blue eyes while you're about three bills with bushy brown hair and dark brown eyes.
…Male celebrities of all shapes and sizes, have been featured on the pages of GQ, Esquire and all over TV and movie screens looking fly. Find traits that you share with these gents and do a quick Pinterest search for their name and a keyword like "suit" or "style."
We suggest finding a celebrity who can act as a style proxy. Why celebrities? Because they're often dressed by stylists who know how to make them look good and photographed in settings that accentuate their best features. And not looking like a matinee idol is no excuse for skipping this style secret. Women may not be able to find any pictures of anyone over a size 2 in mainstream media, but male celebrities of all shapes and sizes, have been featured on the pages of GQ, Esquire and all over TV and movie screens looking fly. Find traits that you share with these gents and do a quick Pinterest search for their name and a keyword like "suit" or "style." Take our example from above, the guy who weighs about 300 pounds, has bushy brown hair and dark brown eyes could take a lesson from stills of John Goodman in a dope three-piece suit in The Artist or photos of Goodman showing how a trim haircut can slim down your look while nailing his black tie look on the red carpet.
To get you started we've collected photos of celebrities of all stripes decked out in some stylish gear in a Pinterest Board. Here you'll find a wide range of looks to borrow from. Even if you're balding, Bruce Willis will show you how to wear it well. Use these photos and seek out more on your own. If you look carefully, you're certain to find some well-dressed men who share features with you. Then you'll have a reference for how clothes fit the body type that's closest to yours, how a certain color or style might look on you, even how different hairstyles will work for you.
In time you'll be a pro at stealing from the stylish. And if you follow the advice above, pretty soon you'll have other people stealing ideas from you. That's when you'll know you've truly mastered men's fashion.
Put these secrets to good use.
Browse the full collection of suits, blazers and accessories from Black Lapel. We're sure there's something that'll work for you.
---
Like What You See? There's More.
We'll send you style advice and intel for the modern man.
---