Wear A Turtleneck To Look Cool and Stay Warm
Published on November 10, 2017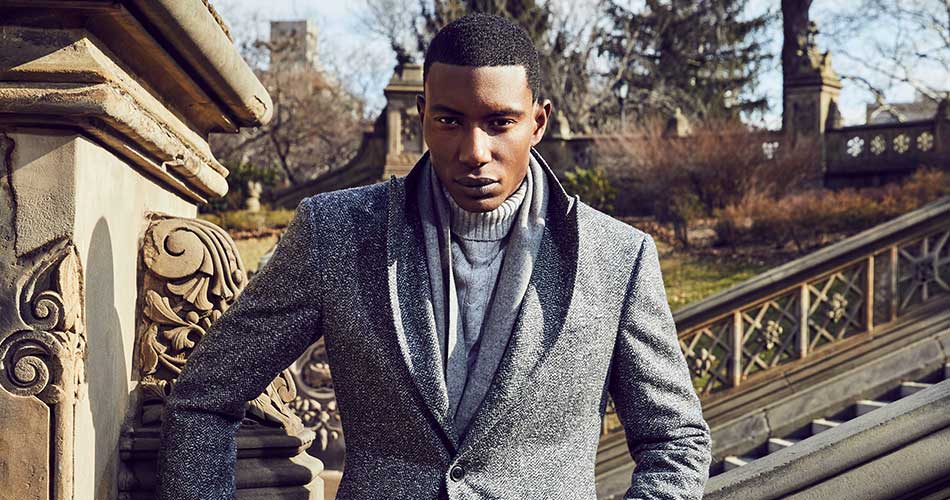 ---
Men's turtleneck sweaters have suffered a style decline thanks to some pretty poor pairings. It's time we taught you the turtleneck with suit look.
---
Poor turtlenecks. Even when they're not worn with a custom suit they're so simple yet so easy to screw up. They can be pulled off capably and clumsily even when they're almost exactly the same.
Take the case of the two Steves. The black turtleneck Steve McQueen wore while playing a badass San Francisco cop in Bullitt should have been nominated for best-supporting actor award when the movie came out. Just a short drive south in Silicon Valley, Steve Jobs must have seen that movie and thought he'd channel his inner badass with a similar black turtleneck. Jobs was gravely mistaken.
Men's turtlenecks have been abused so badly, they even inspired a comedy album, Lonely Island's Grammy winning Turtleneck & Chain. The title track features Snoop Dogg and the classic line "Turtleneck and chain sippin' on a light beer."
Women seem to have figured them out, but men's turtleneck style is trailing way behind. But there is a way to salvage the turtleneck from the cruel fate of being famously mocked by comedians. Men in turtlenecks have also been famously praised by style types who get it. This leads us to only one conclusion: You can wear a turtleneck well, but it's all in how you wear it. So we thought we'd offer men up one surefire way to pull of the turtleneck. Keep scrolling
---
What exactly is a turtleneck?
Before we go too deep, let's address one of the turtleneck's biggest problems: it's identity issues. What the hell is a turtleneck?
Even knowing what category to put them in gives us fits. Say turtleneck to some and they're picturing thick, chunky turtleneck sweaters. Say it to others and they think of a form fitting turtleneck base layer to be worn like long johns that adds insulation.
Of course, there are plenty of turtlenecks of both of these varieties. But the sweet spot for a turtleneck to look both sleek and stylish is somewhere between these two poles. A mid-weight turtleneck is heavy enough to keep you warm during winter's coldest days but not so thick that it can't be used as a replacement for your dress shirt and tie.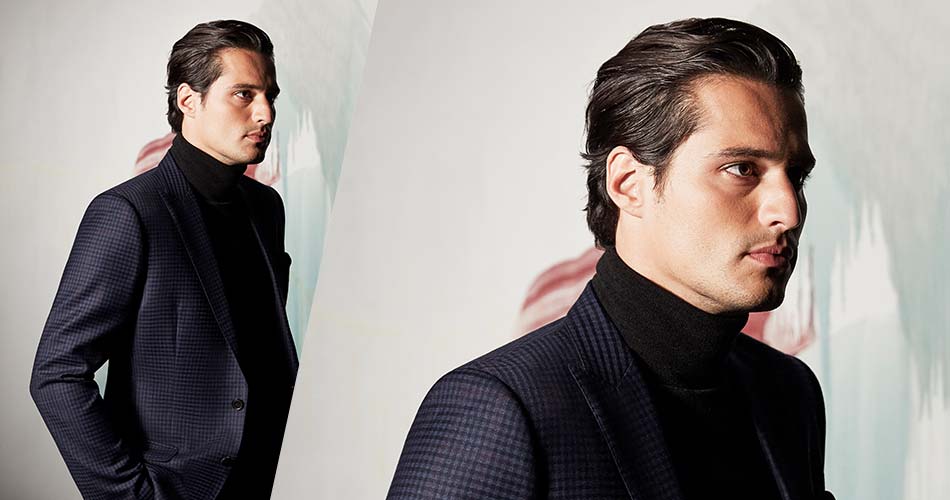 In fact, the turtleneck under a suit look is exactly what we suggest for a stylish look. Here's how and why it works:
---
Form: The Turtleneck Adds Style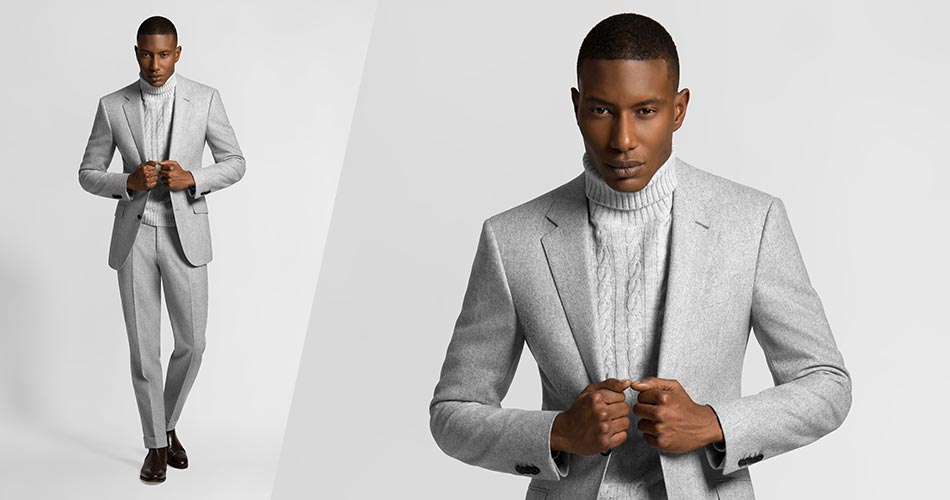 In this studio shot you can see how a turtleneck does a great job of tying the whole outfit together. It echoes the color of the windowpanes in this gray windowpane suit. The turtleneck punches up the pattern which, though large, is only subtly different from the dark gray base color of the suit. Since the turtleneck plays up the accent color, putting together the rest of the outfit couldn't be simpler. Just add black shoes, bag and pocket square and the look is complete.
---
Function: The Turtleneck Adds Warmth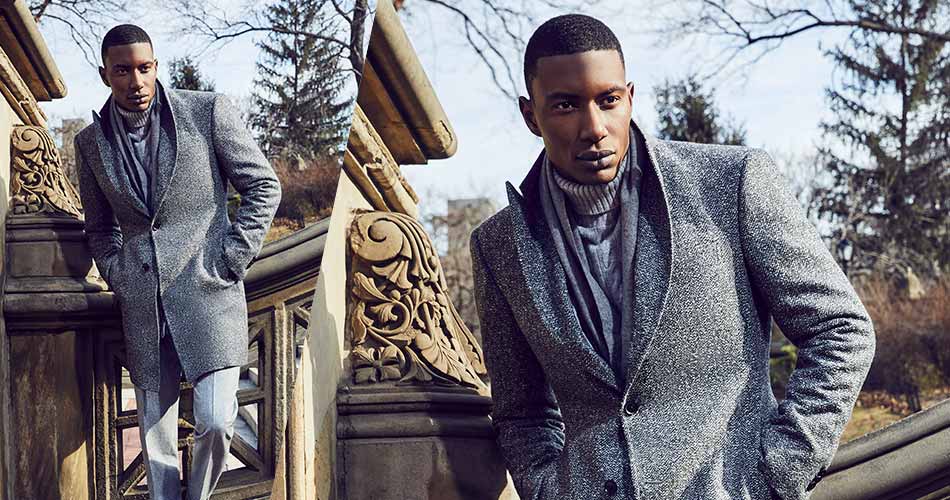 On the street the turtleneck serves its purpose. It's not just an alternative look to a shirt and tie. The turtleneck's insulating qualities make it the perfect choice for cool crisp transitional weather. Instead of covering up a great suit like this gray windowpane with a coat, we added the turtleneck underneath for warmth. The result is you get to keep your style on display and still keep yourself warm.
So, as it turns out, you can look well turned out in a turtleneck. Let the above example inspire you and you can channel your inner Steve…McQueen that is.
---
Turtlenecks with Blazers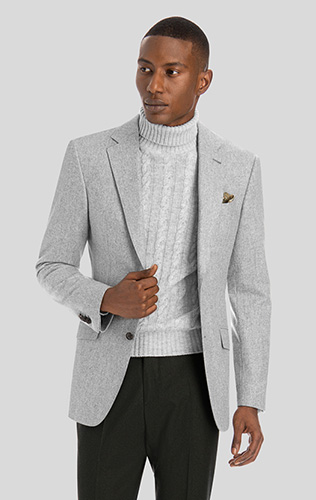 Ash Gray Flannel Custom Blazer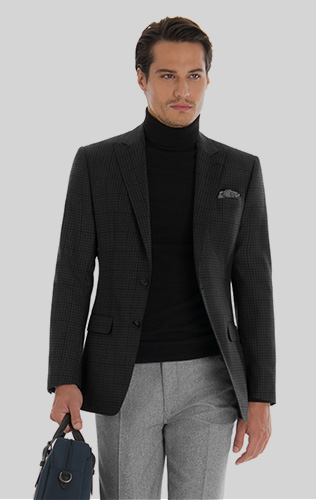 Gray Check Saxony Custom Blazer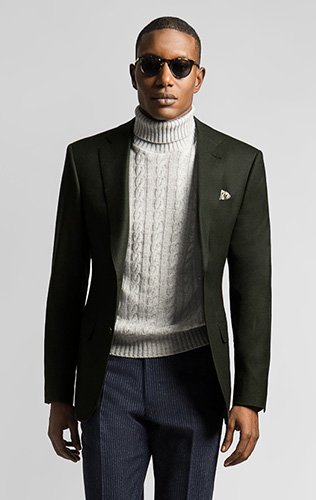 Forest Green Flannel Custom Blazer
---
Turtlenecks with Suits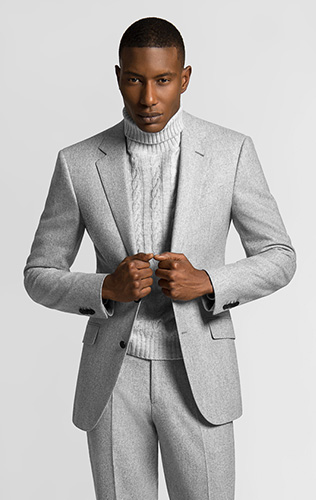 Deep Burgundy Saxony Custom Suit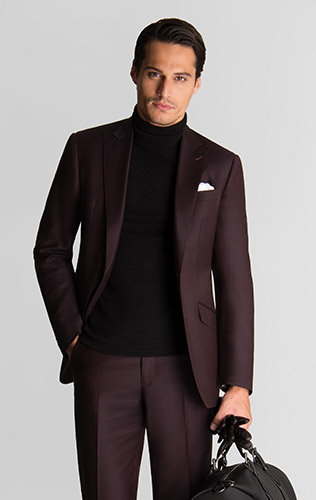 Ash Gray Flannel Custom Suit
---
Like What You See? There's More.
We'll send you style advice and intel for the modern man.
---