How to Build A Shirt Wardrobe With Only Two Colors
Published on January 15, 2016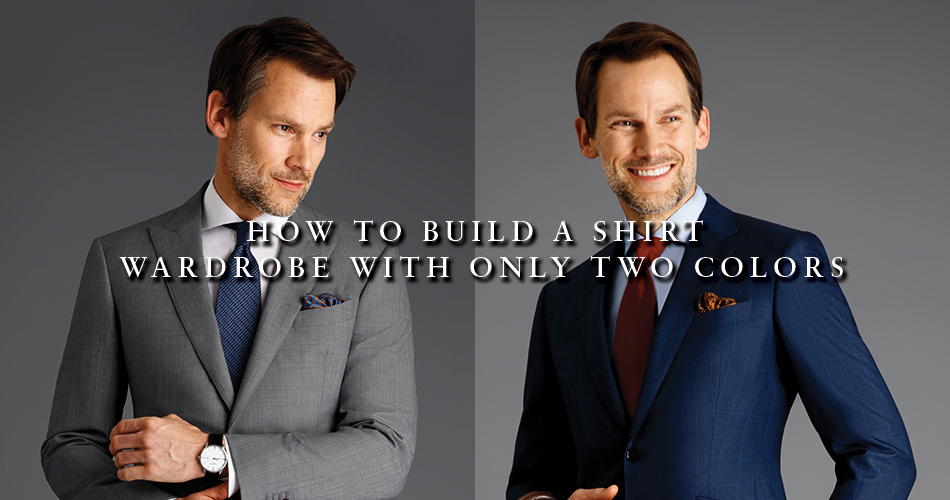 Color causes men great confusion when they're getting dressed. That's strange because we really don't wear that many colors. There are two fundamental colors for almost everything we wear. Shoes are either black or brown. For most men, suits are either blue or gray. So if you have trouble deciding what shirt to wear, we're out to show you how simple it can be when you narrow your choices down to just two colors.
Embrace Simplicity
We can hear some of you saying "BO-RING" and rolling your eyes, but before you jump to any conclusions, picture the most stylish guys you've ever seen. Perhaps you think of movie stars or menswear icons or this guy. No matter who you thought of, chances are you pictured him in a solid white or blue shirt. That's because the best dressed men tend to wear a lot of white shirts, choosing to mix things up with blue.
So why, when the average guy wants to turn his style up a notch, does he immediately pulls out some loud shirt in some crazy color? Don't be that guy. You don't need all that. A good collection of white and blue shirts is all you need. Here's how to do it.
The Ultimate Shirt Wardrobe
These dress shirts will get you through just about any situation in style. From the business meeting to the weekend wedding, these shirts cover all of your bases and can be worn with just about any suit, jacket or slacks in your closet.
White Out
The true man of minimalist style can live on white shirts alone. That's because a great fitting white shirt flatters everyone. The unenlightened man derides white as "plain vanilla" but he knows not of what he speaks. Vanilla, which is extracted from an orchid that only grows in Central America, and the islands of the Indian Ocean and Tahiti, may be the most exotic thing the average person ever eats. Like vanilla, quality white dress shirts can be exceptional and sublime.
With the Persian Blue suit the white shirt matches the intensity of the blue allowing for simple styling like a brown knit tie and dark brown shoes.

With a pinstripe suit a white shirt is almost mandatory. Here we put it to use for a look that would stand up in a courtroom or board room (and will look good in the barroom at happy hour).

With a suit that contains two subtle tones, like this Blue Gray Birdseye, a white shirt provides the perfect neutral canvas that never clashes.
A Case of the Blues
For those who like a little color, you only need one: blue dress shirts, solid and patterned, give you seemingly endless options. Second only to white in its versatility, blue does one thing better than white: it pairs with browns. As you'll see below blue and brown creates chromatic harmony (think land and water) that is
hard to beat.
The Charcoal Brown three-piece suit could be earthtone overdose, but the blue shirt adds color to the look. Further, this shirt subtly brings out the blue overcheck in this suit.

The most varied (and forgiving) color in menswear is blue. Want to wear it head to toe, we won't stop you. Just be sure you've got a great fitting shirt like this one to get the job done.

Just as white can step up the formality of an outfit, blue shirts work for a more relaxed vibe like a blazer and pants look. A gingham pattern adds to the casual element of this look, while the tie keeps it balanced and business ready.
The Power of Two
Doubling down on these two colors is easy. Start with a bunch of whites (you can never have too many white shirts). Differentiate them with details like collar types and you'll always have a go-to shirt in your closet. Then supplement your whites them up with a selection of blues shirts and you'll the options are endless. Easy, right? Tell us how you're paring down your shirt wardrobe to one or two colors in the comments below.
---
Like What You See? There's More.
We'll send you style advice and intel for the modern man.
---