How to Wear a Blue Tuxedo — 5 Simple Rules
Published on February 7, 2020
The sophisticated blue tuxedo is perhaps the most style-forward way to nail the formal dress code. 
As a men's style expert, we've covered all things formal wear, from black tie rules, to dinner jackets, to three-piece suits. And if you're choosing something for a formal event, we can't say enough good things about a blue tuxedo for men. It is perhaps the epitome of the dress code.
If you're ready to find your element, let's talk about the men's blue tuxedo.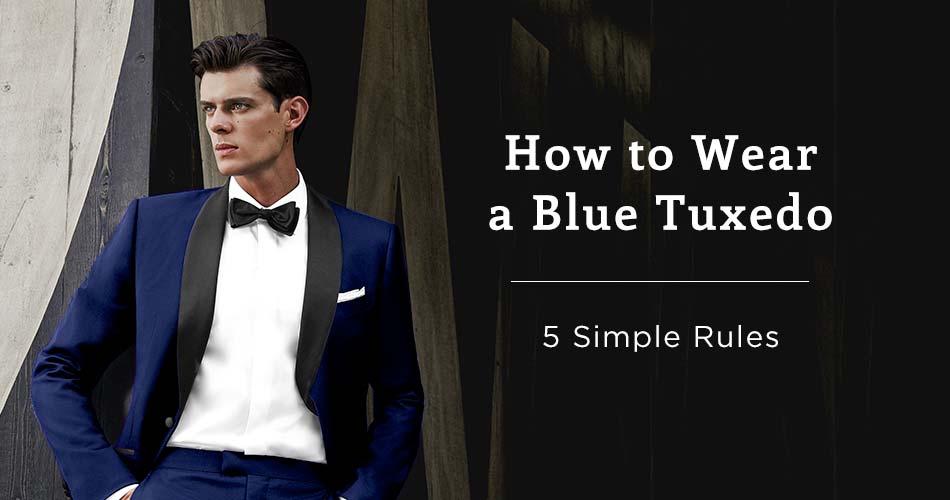 Master The Blue Tuxedo With Ease
A blue tuxedo is one of the most elegant, style-forward garments you can own, and for good reason. Blue tuxedos are just flat out handsome and even more so in a sea of black tuxedos. That's why it's a favorite amongst celebrity stylists dressing their clients for the red carpet. That's not to say blue tuxedos are only for celebrities and the sartorial elite. And you don't need wads of 'Marvel-Movie-Lead-Actor' money to acquire one yourself. The only thing you need to do? Make sure you learn how to wear it right. 
It's true, blue tuxedos look amazing, but only if you're styling it correctly. Luckily, we've pulled together five easy rules to ensure you achieve your own red carpet-ready look.
---
When to Wear a Blue Tuxedo: The Black Tie Creative Invitation
Now that we've finished answering the why and what, it's time to discuss the when. Tuxedos are traditionally worn in the evenings, hence their darker color and alternative designation of "dinner jacket." 
So, when a black-tie event is held in the evening, you can bring out your tailored blue tux and turn some heads in the process. Just be sure to respect the dress code and as long as the event is formal enough, then there's no reason you can't (and shouldn't) consider wearing a tuxedo.
Some examples of when to wear a black tuxedo (dress code withstanding):
Galas

Show premieres

Charity events

Weddings

Proms, debuts, and other private formal parties

Opera and theater

Etc.
---
5 Simple Rules to Wearing a Blue Tuxedo 
1. Choose a Royal Blue or Midnight Blue Tuxedo
The first step towards wearing a blue tuxedo? Choosing the right shade. If you're looking to stand out from the crowd, a royal blue tuxedo is our top pick for you. As we said above, wear one of these as a wedding tuxedo and you won't just be boldly going where no man has gone before, you'll be in rarefied air.
If a royal blue tuxedo is too strong of a statement for you, it doesn't mean you're relegated to black. A midnight blue tuxedo is a fine choice for the man who wants to echo the inky blue tones of the night sky in his evening attire. Going this route will also be sure to turn heads, but this shade of blue tuxedo gives you a more classic look that may be more manageable for someone first dipping their toes into black-tie attire.
---
2. Don a Pair of Velvet Slippers
The lace-ups you might have worn for a cold New Year's Eve can be swapped for some formal slippers when the weather permits.
The idea of wearing slippers and a tuxedo may sound silly but these are not some pair of fuzzy house slippers. We're talking about the predecessor to the modern-day loafer: the formal velvet slipper. If you really want to pull off the irreverently stylish look that we encourage here at The Compass, try them in dark blue or black with a blue tuxedo and without socks.
---
3. Wear Your Blue Tuxedo With The Right Shirt
You've got your blue tuxedo, but one easy way to ruin your style is by choosing the wrong tuxedo shirt. Not sure what makes a tuxedo shirt different than a dress shirt? We have you covered with the different tuxedo shirt styles. 
When you're looking at your shirt options, for the traditionalist (think Downton Abbey look), a wing collar is probably in your closet. But if your look is a little more 'downtown' and less 'Downton', you'll want a turndown collar (classic dress shirt collar) on the formal tuxedo shirts you wear with a tuxedo.
Even if your collar is non-descript, formal shirts should still be distinguishable from your everyday white dress shirts. To achieve this, important details like French cuffs are a must. The best tuxedo shirts include other small, but important nuances like hidden plackets so that your buttons don't show, or stud-ready plackets that let you use tuxedo studs instead of buttons to keep your shirt closed.
---
4.
Wear It With Suspenders
When rocking a blue tuxedo, like with any other tuxedo, you should not be wearing a belt – in fact, your tuxedo pants should not even have belt loops. Instead, shrug on a pair of stylish suspenders for bonus style points.
In addition, to give you one of the few ways to subtly add a splash of color to your overall look, the suspenders can also help hold up your pants (if they aren't already perfectly fitting). Black suspenders are staid and a bit unimaginative. White ones are sublimely simple on a white formal shirt. But for a dose of standout style, go bold with some suspenders with color and pattern, a design that fits with your blue tuxedo without clashing ideally. The suspenders pictured above come with a soft paisley pattern and a hue that pairs excellently with your blue tuxedo. Why does that matter you ask? Well, you're likely not going to wear your blue tuxedo jacket all night, and if you choose to pop it off (say when you're dancing up a storm during your buddy's wedding reception), your suspenders will be exposed and can keep you looking stylish all night long. 
Need help? We've written about how to wear suspenders, too.
---
5.
Separate Your Blue Tuxedo
Our last bit of advice is for those that wish to create an even more dynamic look. Remember that dinner jackets and pants don't need to match when you're going black tie. If you're looking to tame the stuffiness of a black-tie look but don't want to go as far as a full Royal Blue tuxedo, try just the jacket with a pair of black formal pants (either black tuxedo pants or just a pair of black dress pants sans belt). Does this outfit play by black tie rules? Yes. Does it make you look like a guy who always plays it by the book? Not a chance.
---
Frequently Asked Questions
Are you interested in learning more? Below, we've answered some frequently asked questions about blue tuxedos for guys.
What is the best color of suspenders to pair with a blue tuxedo?
They say that black goes with everything, and they'd be (mostly) correct in this case. Grab a pair of black or dark blue suspenders. For more info on suspenders, check out my suit and suspenders guide.
Can I wear a waistcoat with my blue tuxedo?
The short answer is yes. The longer answer is yes, but it depends. First, a cummerbund is almost always a great choice with a tux. If you do prefer a waistcoat, get one that is low cut (in other words, don't wear your standard waistcoat). 
What is a tuxedo shirt?
A tuxedo shirt is a dress shirt that is worn with formal wear (and not casually). More specifically, they are meant to be worn with a tuxedo (as you might have guessed). They are predominantly white – rarely will you see them in other colors. If you're looking for a more in-depth article detailing the differences between an ordinary dress shirt and a tuxedo shirt, check out this article: what is a tuxedo shirt.
Can I wear a blue tuxedo to a black-tie event?
Black tie rules indicate that you must have a black tie – the color of the tuxedo typically does not matter. So, if the event hosts permit your choice of a tuxedo, then you're perfectly fine with wearing a blue tuxedo.
More Style Guides To Explore
Ready for more great style content? Below we've put together a list of some of my favorite recently published articles:
If you love the color blue and want to wear more of it, here's

how to wear a royal blue suit to a wedding

.

Want to learn more about suit etiquette? Here are the

types of men's coats to wear over a suit

.

Finally, do you know

what color suit is best for an interview

?
---
Wear Your Blue Tuxedo With Confidence
Now that you know the five essential elements of pulling off the black-tie look with blue, it's time to put it all into action. Got a black-tie event coming up? You can get all of the products you saw in this story by clicking on the photos above. And if you'd like some help putting it all together, just ask in the comments below.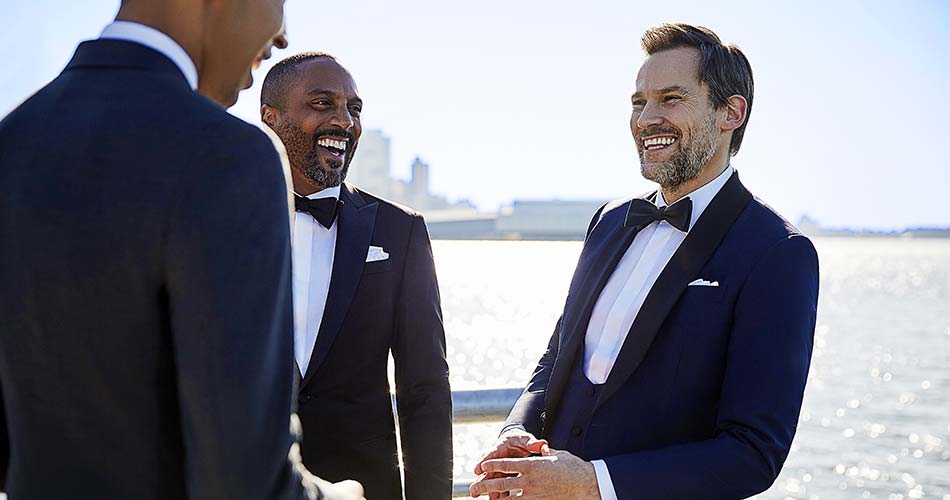 ---
Like What You See? There's More.
We'll send you style advice and intel for the modern man.
---