What Color Suit Is Best For An Interview?
Published on September 13, 2019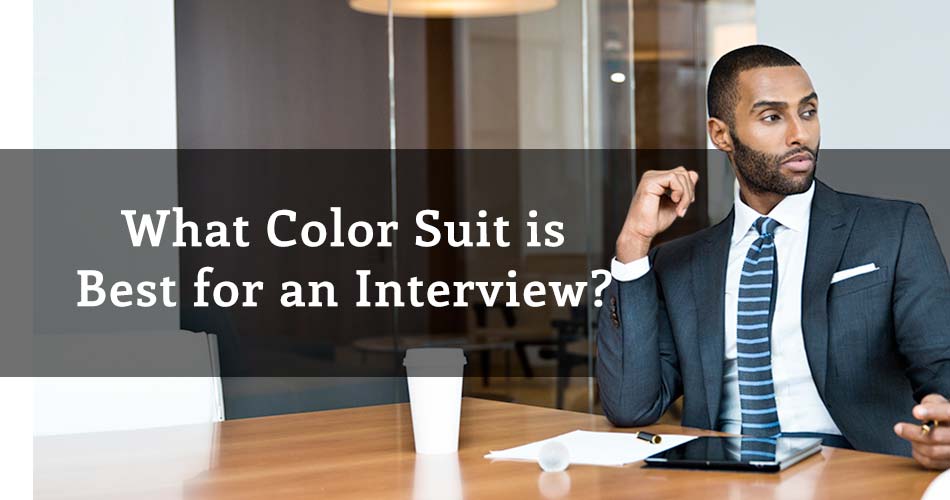 A Black Suit For An Interview? Think Again
You landed the interview — congrats! Clearly you're looking good on paper, and now it's time to show 'em what you can bring to the table in person.
It's an exciting time, but as that interview date looms ever nearer, you're probably starting to feel the pressure. You're reading up on the company, you're organizing your CV, and eventually, you wonder — what suit color do I wear for this interview?
Worry not, we have you covered. We know how important it is to make a strong first impression on an interview. The right wardrobe choices will play a big part in that first impression. And knowing you've got your suit game on-lock will give you the confidence you need to seal the deal. So what color suit should you pick for an interview?
Dress better. Live better. Pursue better.
Sign up for style, relationship, and self-improvement advice for the sophisticated modern man.
5 Interviews, 5 Suit Colors
We've talked about choosing suit colors before, but when it comes to your interview suit, it's a whole new ball game.
That's because suit color combinations tell the world a story, and your interview suit color should tell the one about the record speed at which you're about to settle into that swanky corner office (do corner offices still exist? Maybe the open desk near the nap pod is the better prize). But with so many professions, there isn't just one best suit color for interviews across the board — it all depends on the job itself.
So we put together five fool-proof interview ensembles with Black Lapel suits, curating the color combinations to get you interview-ready no matter your profession.
---
#1. The Professional
This first interview suit color is for closers. Whether you'll be orchestrating financial wizardry behind the scenes (Wharton was your Hogwarts and the HP 10bII your wand of choice) or hustling your big idea as a management consultant to bigshot CEOs: the priority is sealing-the-deal and looking business-formal, which is all about conveying credibility. You can add a couple of stylish touches but let your world-changing ideas do the talking. The name of the game for The Professional is to not overdo it while remaining sharp and put together.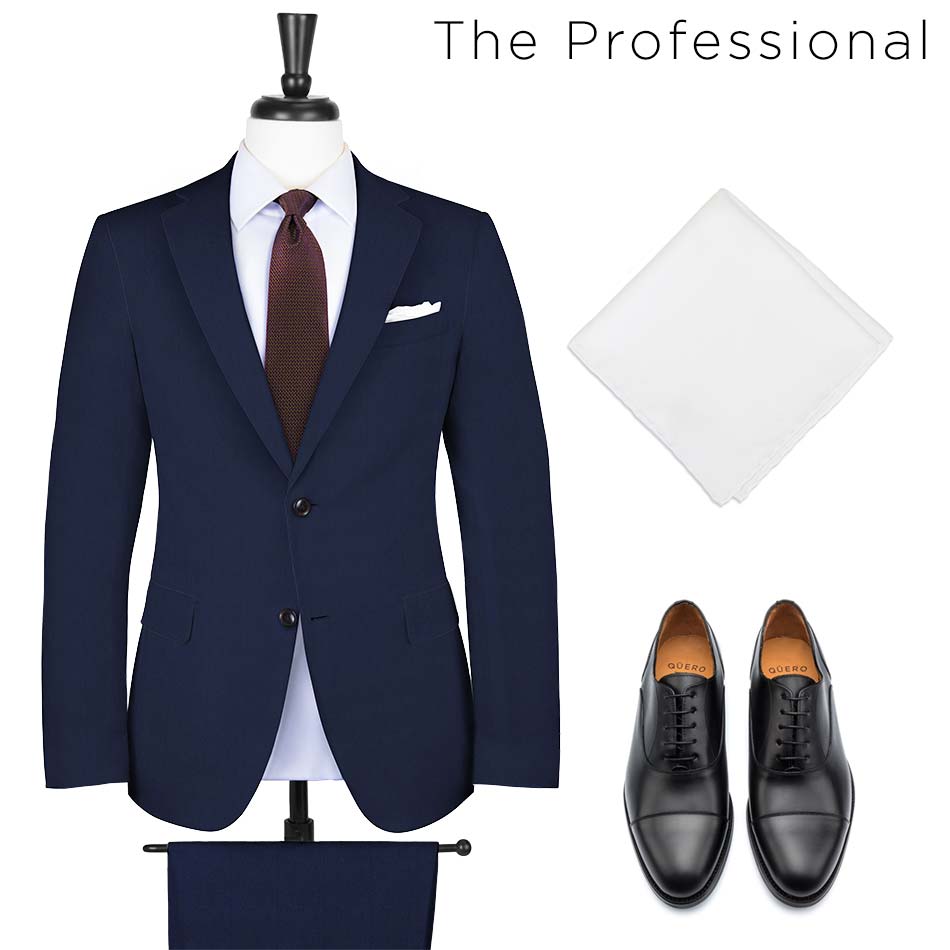 The Black Lapel Look:
---
#2. The Executive
Entry-level whippersnappers beware, this is no place for you (yet). Dressing with confidence for a high-powered management position is pivotal. You'll have to be on point in every regard, including your attire. Nothing says 'I'm not ready to lead this key portfolio in your billion-dollar company' like a thoughtlessly assembled and otherwise forgettable outfit.
You'll want to dress like a savvy and seasoned vet who can charm and gain the respect of their colleagues up and down the ranks and also instill discipline with finesse when needed, someone who can lead the team through both record growth and existential crisis. You'll have quite a bit more room than The Professional to be bold with your interview suit colors and patterns but still must maintain some style discipline to give comfort to the old guard.
*Editor's Note:
More than anyone else, The Executive must get the fit of the suit right because sloppy fit = perceived sloppy decisions. This is where made-to-measure is going to be your best bet.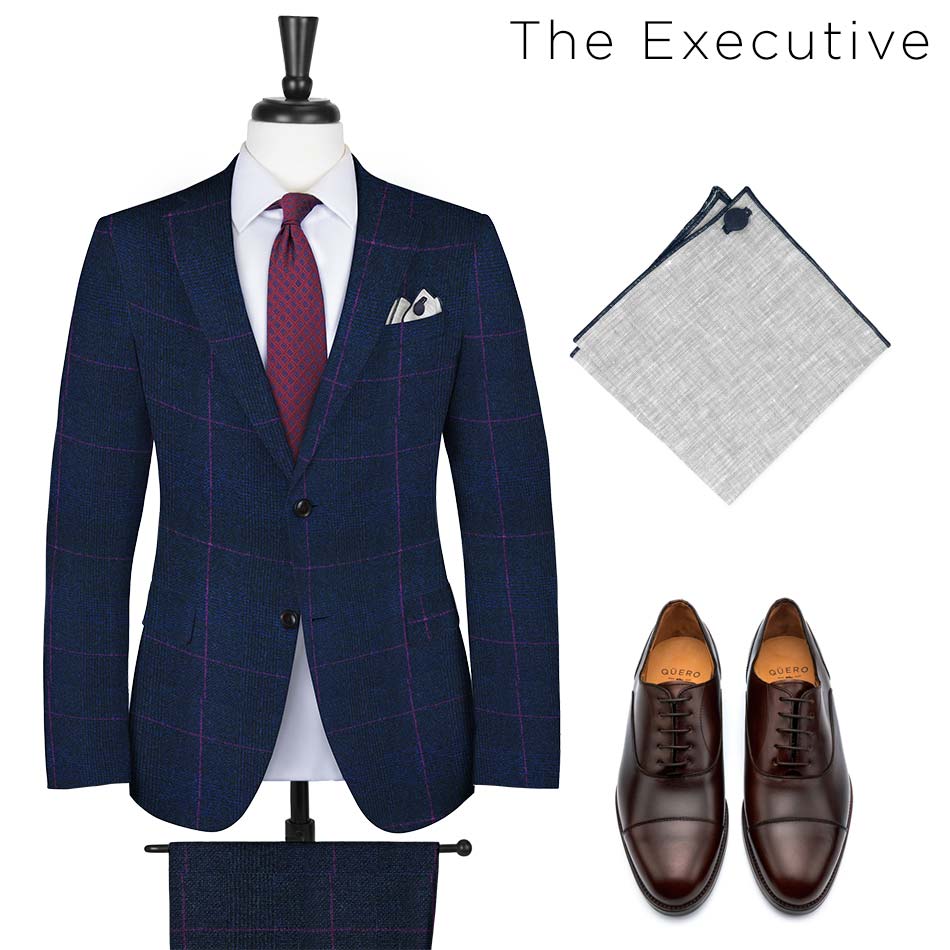 The Black Lapel Look:
---
#3. The Creative
If your profession centers itself around design and creativity, you shouldn't pass up on the chance to bring some personality to your interview. It might be tempting to dress in a t-shirt and hoodie but even if that's the dress code in the office, we guarantee you your interviewer will appreciate it if you put a little bit of style and effort into your outfit.
When it comes to The Creative, the jacket color for an interview will be more playful than the rest. You will want to choose an eye-catching foundation for your ensemble. We recommend something with vibrant color and/or pattern.
A colorful blazer can be kept interview-friendly by layering well-planned, moderate colors to go with it. The elegant mosaic of colors will tell your interviewer just how confident you'll be when presenting your bold new ideas stemming from the cold-pressed creative juices flowing in your veins.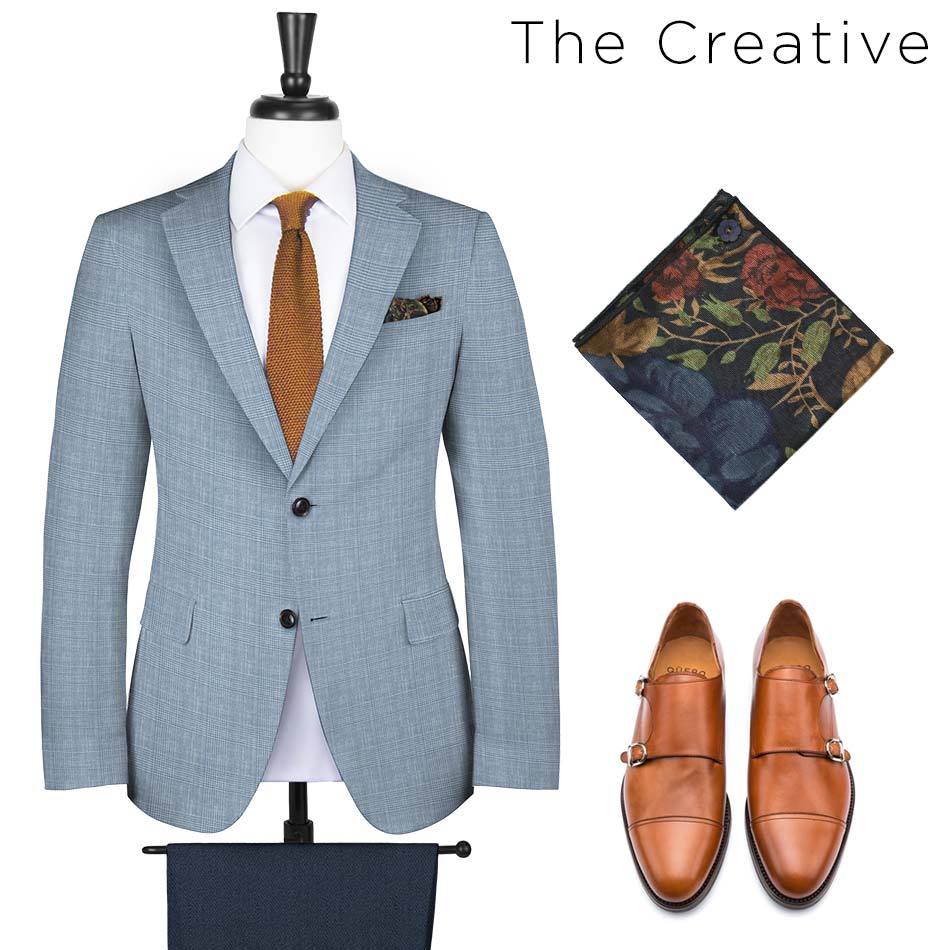 The Black Lapel Look:
---
#4. The Government Guy
When it comes to government jobs and the appropriate interview suit colors, you might be tempted to get granular and think there's a difference between interviewing at City Hall vs interviewing with the FBI. You'd be wrong. The career bureaucrat interviewing you doesn't want to hire Maverick – he wants Iceman. So stick to the "rules" and wear a solid colored suit in a plain dark color like gray, charcoal, or navy. Pair it with a crisp white or light blue dress shirt, a dark red or blue tie and lose the pocket square.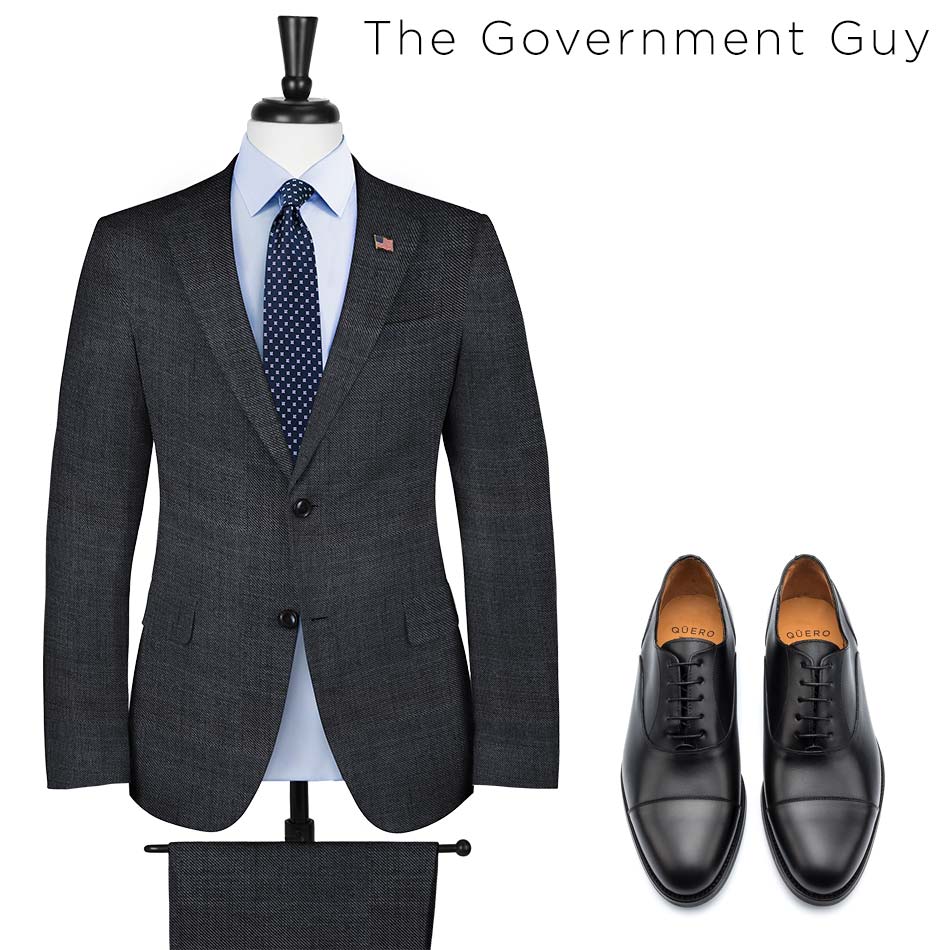 The Black Lapel Look:
---
5. The Professor
We've all had a cool teacher at some point, and the energy and good vibes they can bring to the table can really make or break your desire to apply yourself and learn. At the other end, it probably isn't all that hard to mentally pictured the tired-looking professor who's near retirement, is dressed in a sagging blazer that smells like mothballs mixed with cheap bourbon and who just does not give a damn about whether you're learning or not.
Don't be that guy.
Demonstrate that you're ready to put some serious effort into investing in your students by first investing in a commendable appearance for your interview. After all, you'll need to earn your students' respect if you're to "get through" to them and looking like an abject style failure won't garner you any of that respect. You don't need to sport the latest streetwear drop, nor do you need to look like you're ready to trade your soul on Wall Street. Go with a blazer and pant combo with a bit a personality to show you can keep things fun in the classroom.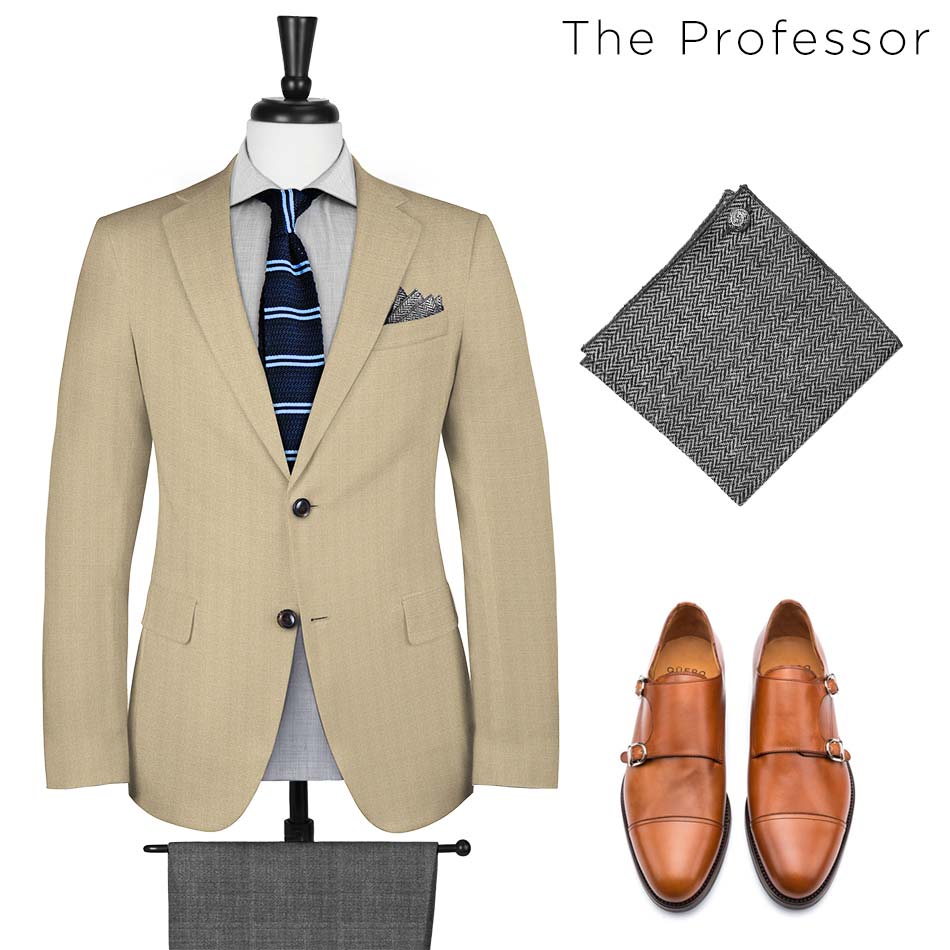 The Black Lapel Look:
---
Can You Wear a Black Suit To An Interview?
Before you go, let's address the elephant in the room — can you or should you wear a black suit for an interview?
The short answer: No.
The long answer? You can… but you really shouldn't.
Black suits are only really appropriate for a few of life's more solemn occasions – funerals being the foremost reason to wear one. Funerals are dreary, sad, and melancholy — not the qualities your future employer is looking for in a candidate.
That's why we'd steer clear of the black suit for an interview; when your goal is landing the job, there are so many better choices to help you make the right kind of impression.
Your Interview Suit Is Ready!
Now firm up that handshake, get yourself a fresh haircut and get ready to rock those interviews!
---
Like What You See? There's More.
We'll send you style advice and intel for the modern man.
---