What Is A Tuxedo Shirt — Tuxedo Shirt Styles
Published on January 23, 2019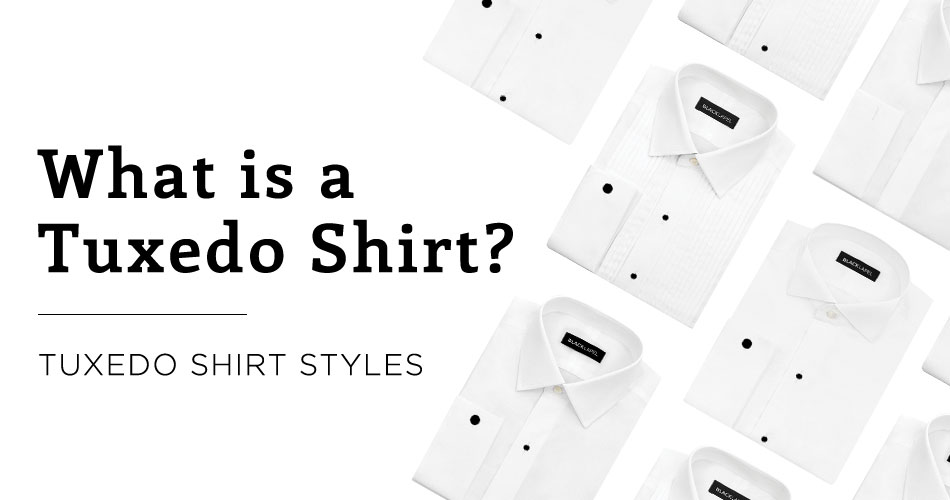 The Anatomy of a Tuxedo Dress Shirt
What separates Jim Carrey's tangerine tuxedo in Dumb and Dumber from Taron Egerton's orange dinner jacket in Kingsman: The Golden Circle? Accents, decades, and more than a few implied IQ points. But there's one additional and quite essential detail you may have overlooked: a proper tuxedo dress shirt.
A tuxedo shirt can send sartorial shivers down some men's spine. Tuxedo shirt styles always involve the most formal dress codes and thus can cause some men to overthink it. After all, the most formal occasions mean everyone is dressed to the nines, and nobody wants to stick out like a sore thumb when the stakes are at their highest. Luckily, armed with the fundamental knowledge, perfecting the tuxedo dress shirt and the variety of tuxedo shirt styles can be easy.
---
 What is a Tuxedo Shirt?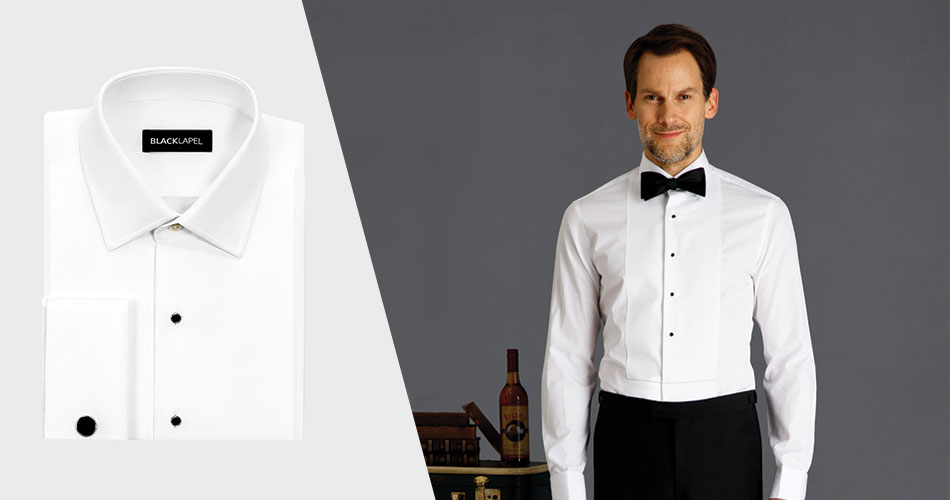 Before we go any further, let's answer this simple question. If you're all caught up on the differences between a tuxedo and a suit, you'll know that one difference is that a tuxedo is always complimented by a tuxedo shirt. A tuxedo shirt is quite simply a more elegant style of dress shirt that is meant to be worn with your most formal attire, such as (you guessed it), your tuxedo. Tuxedo shirts are not meant to be worn casually or with your traditional suits in an office setting. Tuxedo shirts are designed to look streamlined with your tuxedo, and thus have a few functional differences compared to a traditional dress shirt.
So, let's break those differences down…
---
 The Tux Shirt Breakdown
At a quick glance, the untrained eye may see little distinction between a white tuxedo dress shirt and a white standard dress shirt. Ask an expert to explain, however, and you'll soon see you're comparing apples to oranges — they may both be fruit, but they're drastically different. A tuxedo shirt announces its formality through a number of differences in construction and styling that definitively set it apart from other dress shirts.
---
The Fabric Choices
Your tuxedo shirt should be crisp, comfortable and classic. For that, there's nothing better than 100% cotton. Cotton is natural, durable, soft, absorbent, breathable and odor-resistant (which you'll appreciate after hours of showing off your Mick Jagger swagger on a wedding dance floor). Avoid any blend that includes synthetic fibers like polyester unless you want to ruin the bride's special day with a sopping wet farewell hug at the end of the night.
Twill vs. Broadcloth
Within the cotton family, you have a choice of weaves. You'll want to consider the appearance of the fabric as well as its weight and construction. You'll also want to consider the occasion you're dressing for and the aesthetic you're trying to achieve. Traditionally, you'll have the choice between twill and broadcloth.
Twill is a tight, opaque weave with a bit of texture in the form of subtle diagonal lines and a bit of sheen that lends it formal appeal. Twills are generally thicker and heavier than broadcloths, so while they aren't the lightest fabrics if you're looking for something to keep you cool, they will drape better and are less prone to wrinkling.
Details matter
on your big day.
Stay in the know with wedding style advice and more, delivered straight to your inbox.
Broadcloth on the hand is a tightly woven fabric with reduced sheen and little to no texture. Broadcloth tuxedo shirts are generally lighter and thinner, but can also come with some visible transparency and run a higher risk of wrinkling. There's a broad range of quality within broadcloth when it comes to density of the yarns used in the weave, sometimes colloquially described as thread count. While some of the high twist yarn, high thread count shirts can get pricey, they can also feel quite luxurious to the touch.
Either option works perfectly fine for your tuxedo shirt and it all comes down to your personal preference and budget.
Choosing Your Color
Take color cues from a misquoted McConaughey: "All white, all white, all white." Despite what you may have seen on celebrity red carpets, white is the only respectable option for a tuxedo dress shirt.  Remember, a pristine white shirt is an unshakable foundation upon which all legendary black tie outfits are built.
---
French Cuffs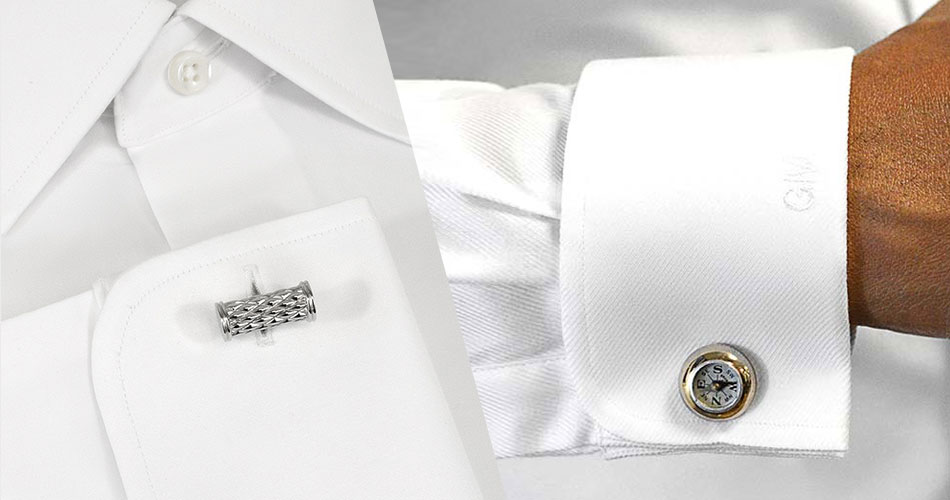 Black tie dress code normally calls for cufflinks, and when cufflinks are required, so are French cuffs. French cuffs are designed for formal occasions, and should always be secured by cufflinks (learn how to wear cufflinks here). When it comes to your tux shirt, a barrel cuff is simply too casual, and if there was ever a time to show off your cufflinks collection, it's while sporting a tuxedo. There are options for square or rounded French cuffs, and both are appropriate choices.
---
Tuxedo Shirt Collar Types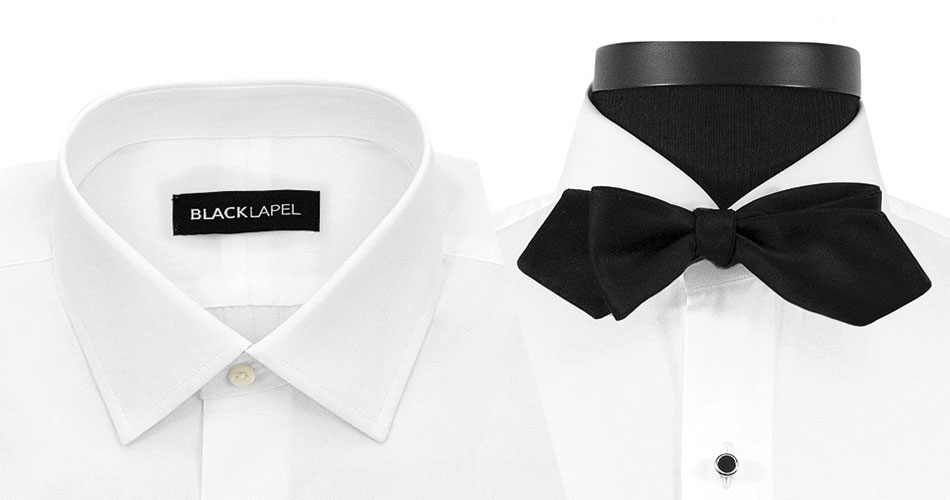 When it comes to your tuxedo shirt collar, opt for a smart semi-spread. Semi-spread collars are a versatile and now-ubiquitous modern choice that will pass muster in many formal occasions.
For the absolute most formal of occasions, a classic wing-tip tuxedo shirt collar is called upon. It is, without question, the most elegant of all shirt collar styles and a must if you're looking to maximize formality, as it's the only collar designed to display your bow tie in its full magnificence. Just remember that with a wing-tip collar you must avoid a clip-on bow tie as the band of the bow tie wraps around, and is visible, along with the entirety of the collar. If you want to know more about dress shirt collars, you can do so here. 
---
Tuxedo Shirt Buttons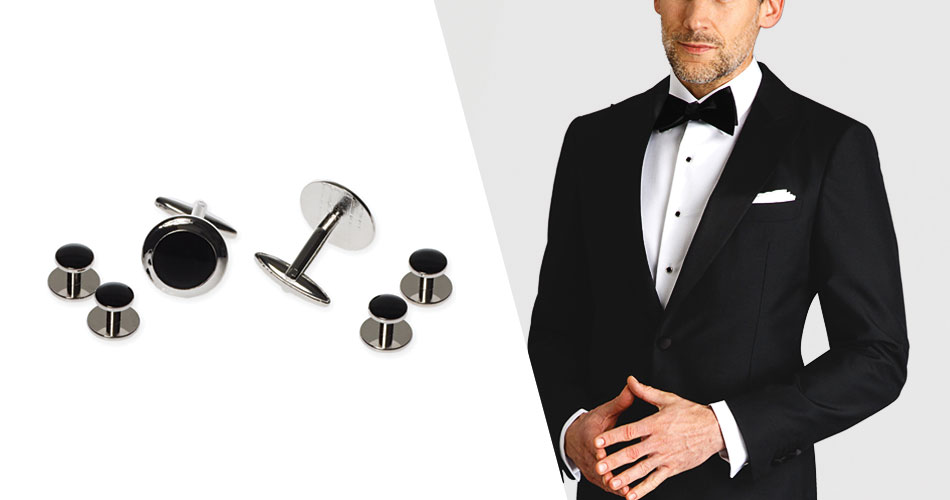 For an especially polished finish, tuxedo shirts are fastened together with metal studs instead of traditional buttons. These studs are inserted into holes in both layers of the shirt placket to hold the shirt securely closed while adding a dash of panache to your getup. Most are made of stainless steel but you can get fancy with inlays like onyx or mother of pearl. Match your studs to your cufflinks for extra style cred. Note: studs are only meant to be worn with certain types of tuxedo shirts, but we'll touch on that below.
---
The Tuxedo Shirt Styles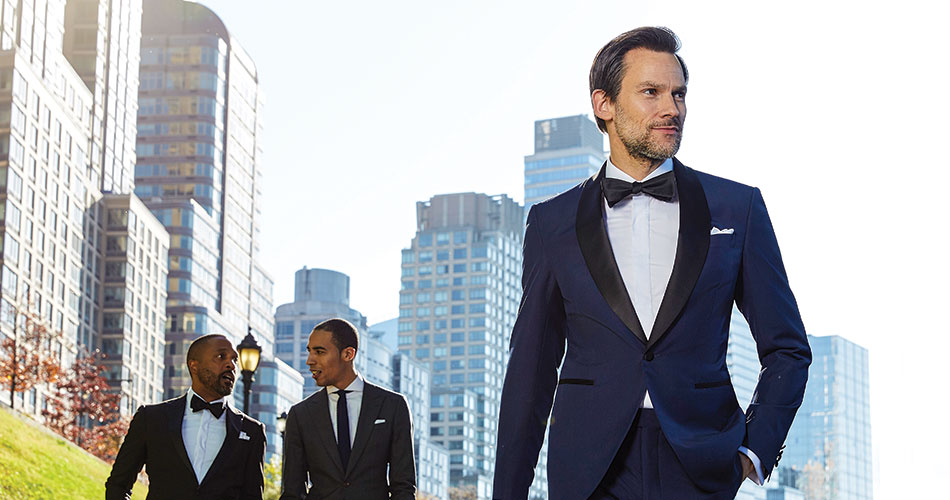 Understanding the anatomy of a tuxedo dress shirt is simple, as you now know.  After that, you can easily learn the tuxedo shirt styles.  The tuxedo style has remained remarkably stable since it burst onto the scene over a century ago. The same is true of the tuxedo shirt (though we'd all prefer to forget the flouncy ruffled atrocities of the 60s and 70s). However, there are still a few variations of tuxedo shirt styles you have to choose from. 
Hidden Front vs. Tuxedo Stud Front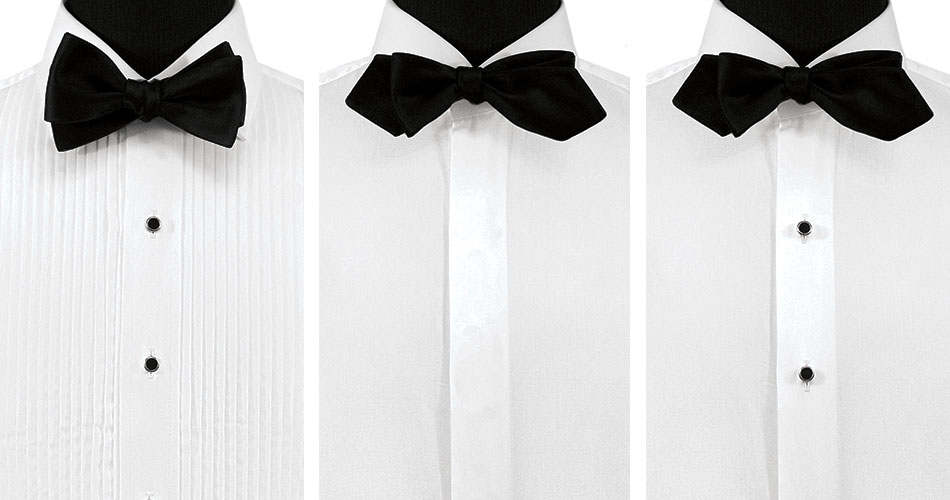 The placket of the shirt is the narrow strip down the front where your buttons and buttonholes reside. As discussed above, tuxedo shirts can come with plackets that are meant to be worn with tuxedo studs (these shirts are conspicuously missing buttons along the placket below the first button). They can also come with a more standard buttoned placket but with an extra layer of fabric covering the buttons (often referred to as a hidden placket).
---
Pleated Tuxedo Shirt
A pleated tuxedo shirt is a classic option that is distinctly recognized as a formalwear staple. Pleated tuxedo shirts feature narrow pleats that run vertically on each side of the placket. This is a more traditional style that isn't as common today.
---
Pique Bib Tuxedo Shirt
This tuxedo shirt style includes a tuxedo stud front placket and has a special pique bib sewn onto the front. This panel of fabric gives a clean, timeless look and is usually woven with a subtle pattern and sewn on the front. This helps give you an extra layer of opaqueness and is another very traditional variation of the shirt that lends for a starcher, stiffer look that is intentionally difficult to wrinkle in the front of the chest and torso. 
---
Plain Front Tuxedo Shirt
The simplest of tuxedo shirt styles, a plain front tuxedo shirt is just what it says on the tin. This front features neither pleats nor a pique bib, putting it on the least formal end of the tuxedo shirt spectrum. It's a sleek, minimalist choice that goes well with a slimmer fitting tuxedo for a more modern style.
---
You're All Caught Up
Now you know what a tuxedo shirt is and the variety of tuxedo shirt styles.  We feel strongly that menswear shouldn't be confusing, so if you're not yet subscribed to The Compass email newsletter, we encourage you to do so below!
---
Like What You See? There's More.
We'll send you style advice and intel for the modern man.
---