Look Great in a Tuxedo by Following the Black Tie Rules
Published on November 17, 2017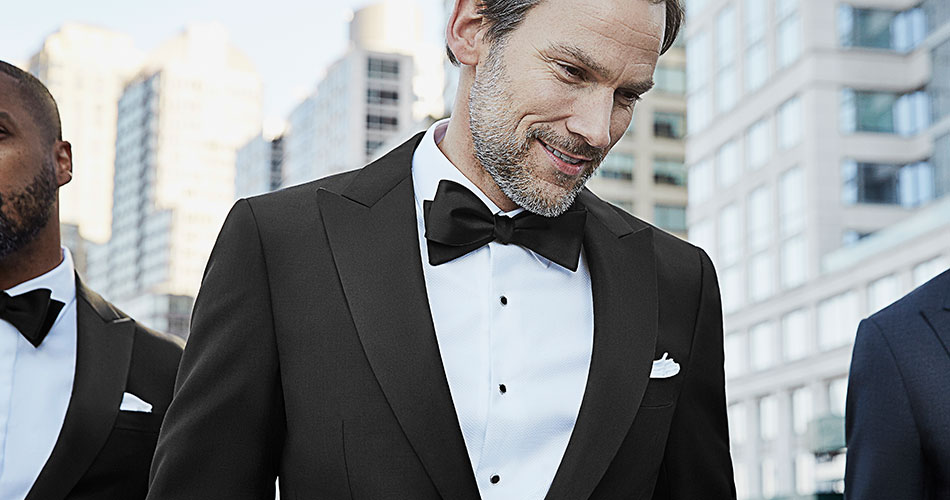 You've mastered your custom suit. You've got an impeccable collection of ties. Your pocket square game? On point. Your wardrobe is pretty much ready for anything…until you get that little envelope in the mail. You've been invited to a black tie event, which happens a lot when the end of the year approaches. What do you wear to a black tie event? Classic black tie means a black tuxedo, but there are other black tie rules to know. So, how do you look your best in a tuxedo outfit when you don't wear one that often? Read on to learn how to wear a tuxedo.
Black tie attire should be easy, right? It's basically a uniform. You throw on a tux, give your shoes a quick shine and you're off. So how do so many guys still don't know how to wear a tuxedo? There's an art to looking good in formal wear. Here's how:
Step 1: Make sure your tux fits.
Getting the fit right is 90% of the game. If you're trim and athletic, don't go for a swim in a big boxy tuxedo, instead, opt for a slim fit tuxedo. Even if you're bigger than your ideal size, don't try to hide it with a jacket that's got enough fabric for you and your date to wear to the black tie event. Just give yourself some room in a couple of key areas like the stomach and hips.
Step 2: Get yourself proper tuxedo accessories.
Black tie rules require you to be a stickler for details the night of the event. The key to shining in your black tie outfit is nailing the little things like wearing a proper tuxedo dress shirt, black tie shoes, a bowtie, cufflinks, a formal pocket square, and a tuxedo belt, waistcoat or cummerbund. That may sound like a lot, but we'll break down all of the tuxedo parts in more detail below.
Step 3: Keep the tuxedo style simple.
If you're a complete novice when it comes to wearing a tuxedo, keep things simple. While other black tie or black tie optional occasions allow for more unique tuxedo styles, the traditional color will always be a black tuxedo. As you'll see in our breakdown below, a classic tuxedo outfit holds up quite well.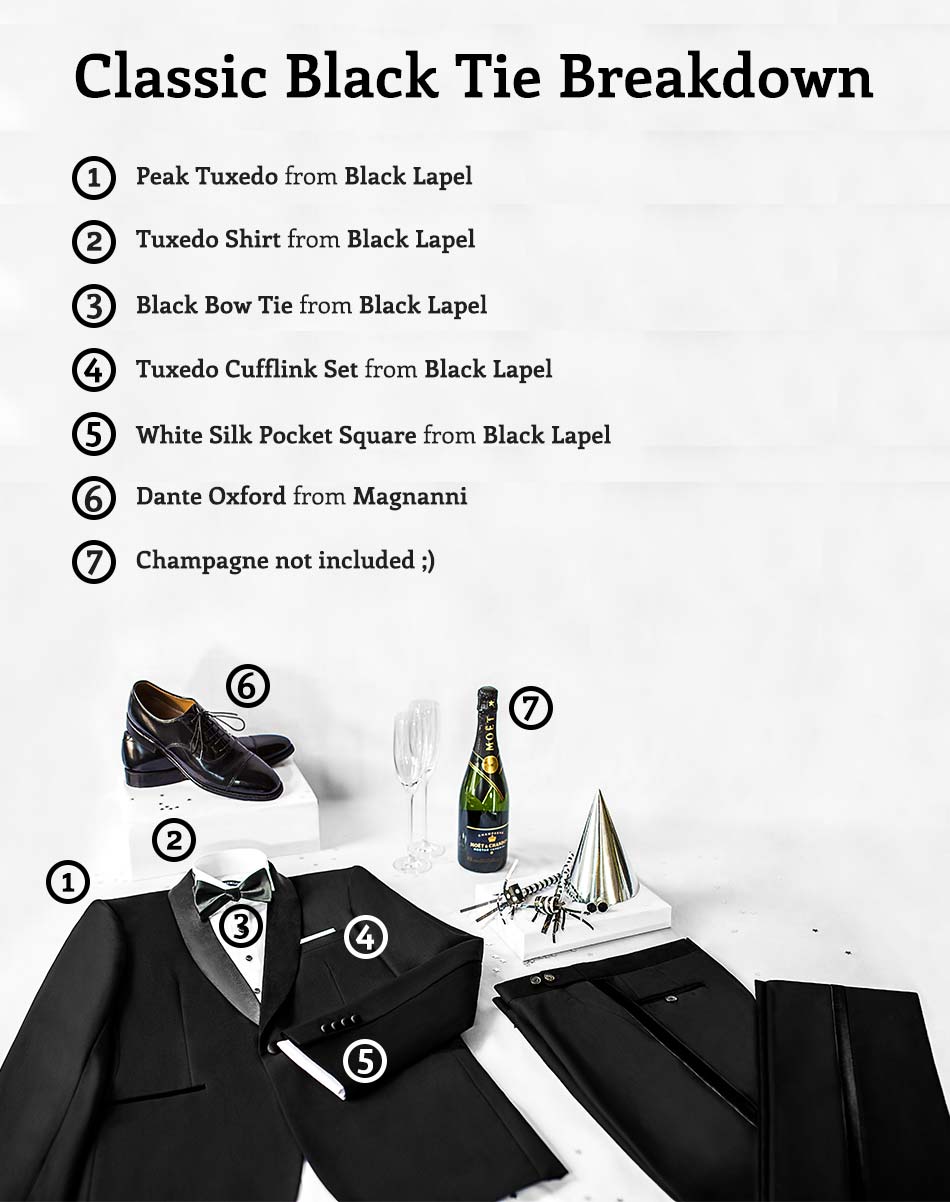 ---
The Dinner Jacket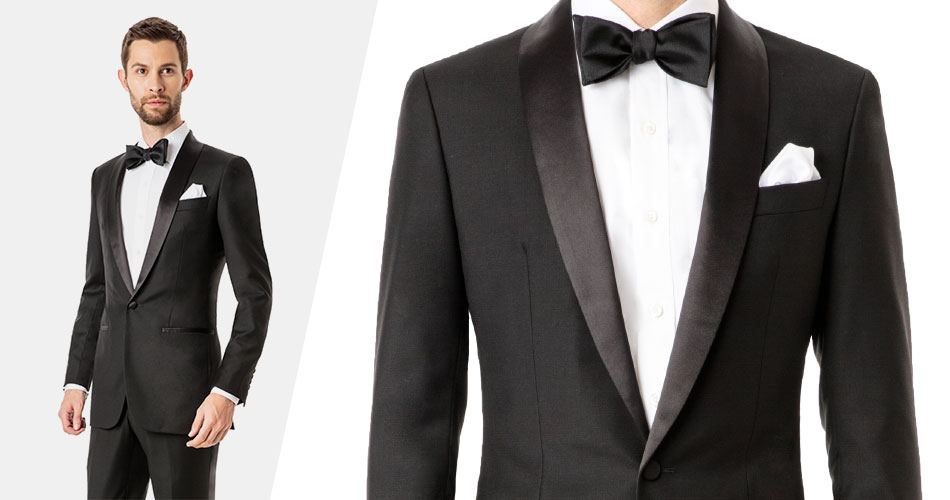 So what makes a tuxedo jacket a tuxedo jacket? Start with a one button tuxedo with satin shawl or peak lapels. Give your one-button tux some piped pockets, keep it vent-less, and you'll be ready to go. Stay away from notch lapels and two or more buttons on your dinner jacket. Bonus points if the left lapel has a working buttonhole (one caveat: we don't recommend a working buttonhole for shawl lapels). Look for the loop on the underside, just below the hole, to securely stow a boutonniere stem.
What to get: Black Custom Dinner Jacket available from Black Lapel.
---
The Trousers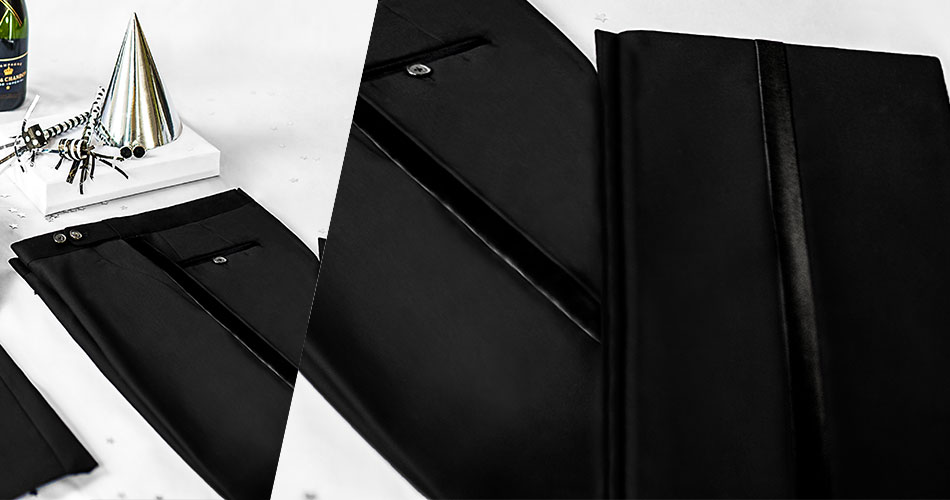 The trousers are pretty straightforward. The main thing to consider is how you're going to hold them up…
Do you wear a belt with a tux?
Ideally, you don't want to wear a belt with a tuxedo. Tuxedo trousers are more sleek when worn with suspenders/braces or the pants are customized with side tabs. However if your tuxedo trousers do have belt loops, we recommend you go to a tailor to have them removed ASAP. If there's no time for that, it's worse to leave the belt loops empty. Get a polished, black leather belt and make sure the belt's hardware isn't flashy and you won't be breaking any black tie rules wearing a belt with your tuxedo.
As for the style of the trousers, pleated or plain front is up to you. Plain front appears more minimalist, and emphasizes a slender/athletic body type; pleats help trousers drape nicely, creating more of a vertical line on the front of the leg. Whether you choose plain front or pleated, avoid cuffs which will look too casual.
What to get: Black Custom Tuxedo Pants available from Black Lapel.
---
The Tuxedo Shirt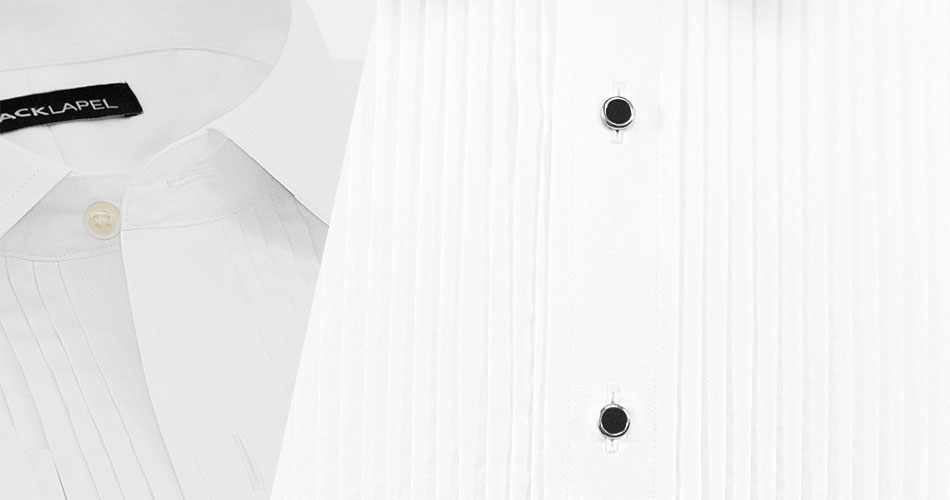 A tuxedo shirt should always be white, but you have a few shirt styles to choose from when deciding what shirt to wear with a tuxedo. A straightforward solid white shirt will work as a classic tuxedo shirt, though one with pleats or a pique bib is a sharp choice. Tuxedo dress shirts should have a semi-spread or spread collar to frame the bow tie and come equipped with French cuffs. Wing collars are an option for the old school gent, but turn down collars work just as well and you may get more wear out of the shirt outside of formal events.
What to get: White Custom Tuxedo Shirt or White with Pique Bib Custom Tuxedo Shirt both available from Black Lapel.
---
The Tuxedo Cummerbund and Waistcoat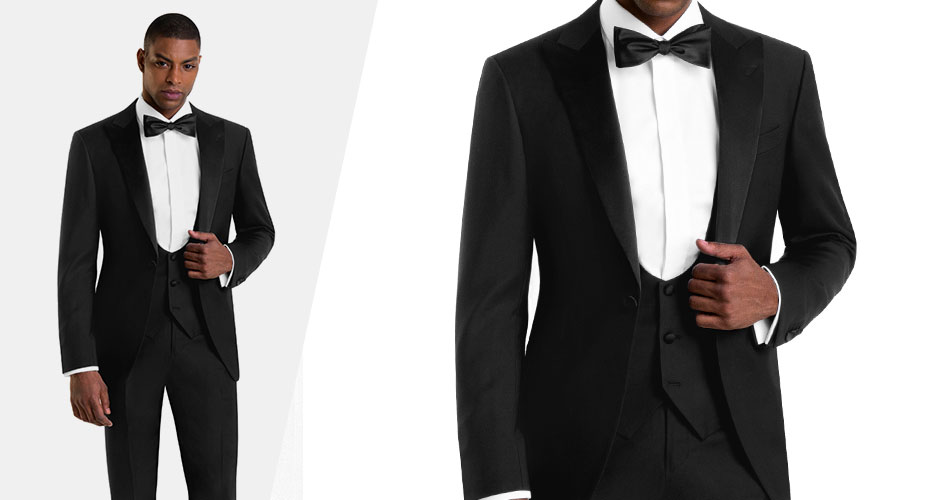 A classic black tie outfit features a cummerbund or a waistcoat. When you're wearing a one-button dinner jacket, you need one or the other to cover up your tuxedo shirt. By bridging that gap with a swank cummerbund or waistcoat, you present a continuous look from the waist down, which also makes you look taller and slimmer. With either option, the silk should be of the same type and color (black) as your bow tie and lapels.
What to get: Waistcoats available with all Black Lapel tuxedos.
---
The Black Tie Accessories
The best tux tie is a black bow tie. One-up your tuxedo etiquette by tying the bow tie yourself. While it takes some practice, the imperfections from tying your own bow adds character to a refined look. A set of tuxedo studs and cufflinks are a tuxedo outfit must-have. Silver with onyx inlay is always a safe choice. A formal pocket square is another must. A white silk pocket square in a puffed or square fold is a good go-to.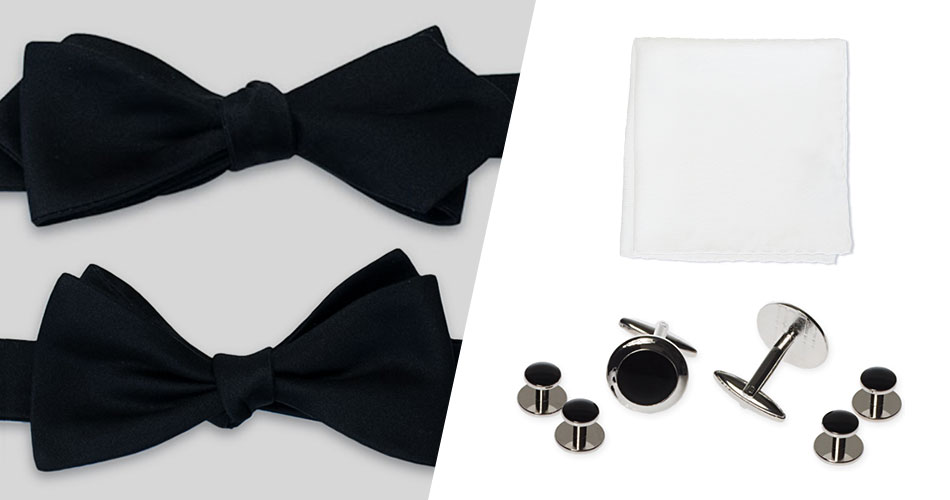 What to get: Butterfly or Diamond Point Black Bow Tie, both available at Black Lapel. White Silk Pocket Square available at Black Lapel. Tuxedo Studs and Cufflinks Set available at Black Lapel.
---
The Tuxedo Shoes
When it comes to what shoes to wear with a tuxedo, a plain-toe shoe is your best bet. Think smooth, shiny lines. Black patent leather tuxedo shoes are the standard though, in many cases, you can get away with a pair of well-polished, black leather cap toe oxfords. Black tie socks are generally silk, but thin cotton or wool work as well.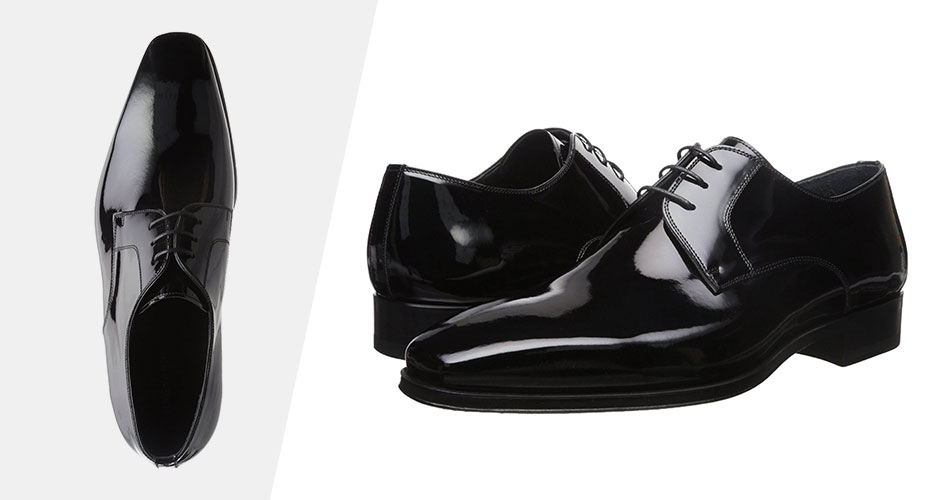 What to get: Magnanni Black Patent Tuxedo Oxfords or Loake Rothschild Black Cap-Toe Oxfords
Now that you're armed with the basics of how to wear a tuxedo, you're ready to hit the scene. Got a formal holiday party to attend? A swanky gala for your favorite charity? Follow these guidelines and you're guaranteed to look better than the waitstaff (and 90% of the other guests) at your next event.
Have you already killed it in a tux? What was your secret to looking fly in black tie? Let us know in the comments below.
---
---
Like What You See? There's More.
We'll send you style advice and intel for the modern man.
---