Choosing the Best Tuxedo for New Year's Eve
Published on November 30, 2017

There is no more dapper day on the calendar than December 31st. While New Year's Day has long been synonymous with sleeping one off, New Year's Eve is when stylish men try our best to look our freshest. And since the festivities happen in the middle of the night, it's the perfect time for donning evening wear. Aka, your best tuxedo look.
The best tuxedo look for you depends on your personality. We believe that every man ought to have some key pieces in his closet, like a tux. And even something as traditional and iconic as a tuxedo should reflect your personal style.
If you're a loyal Compass reader, you know that we like to break down styles for men based on their professions, but these archetypes are useful for looking at how to dress outside the office, too. Below you'll see our breakdown of sharp evening wear ensembles for each of these types: the Style Guy, the Boss Man, the Manager, the Creative, and the Upstart.
---
The Best Tuxedo For The Style Guy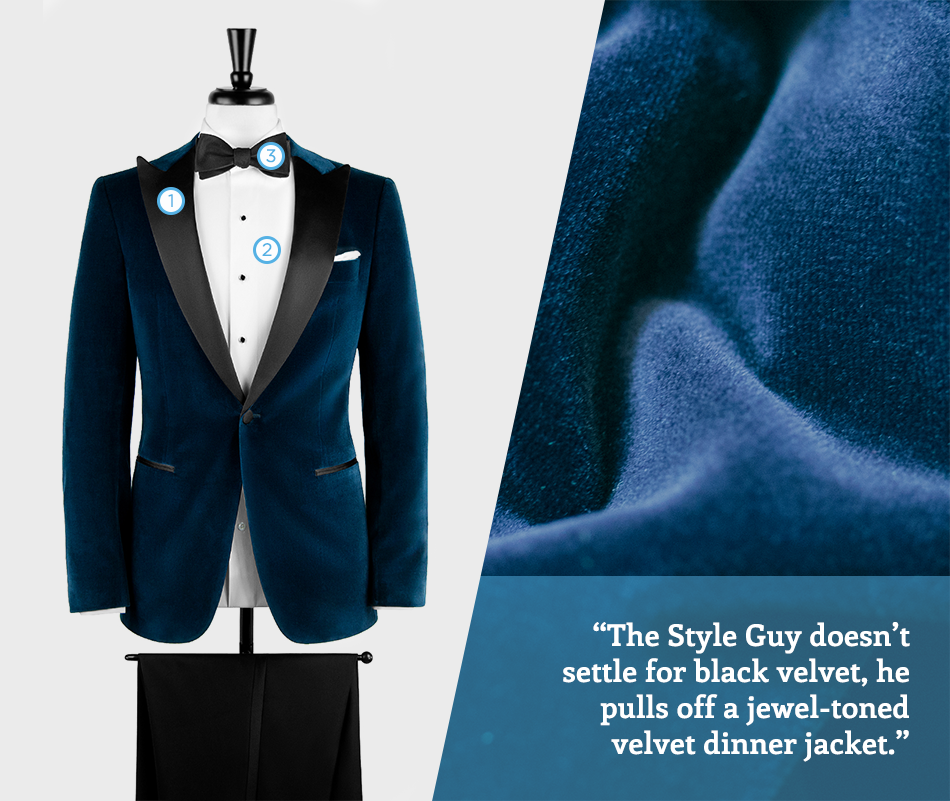 All eyes are on The Style Guy as it is, but when there's a Black Tie event around the corner, the pressure's really on. New Year's Eve is a chance for him to look exceptionally dapper and flex on all of the traditional black tie outfits.
Velvet is an outstanding choice for The Style Guy. It's sophisticated, elegant, and almost over the top—kind of like the passionate style debates The Style Guy has with his coworkers. But, the Style Guy doesn't settle for black velvet, he pulls off a jewel-toned velvet dinner jacket. The Deep Blue Velvet Custom Dinner Jacket is a muted blue with a sapphire sheen for a serious and handsome appearance.
---
The Best Tuxedo For The Boss Man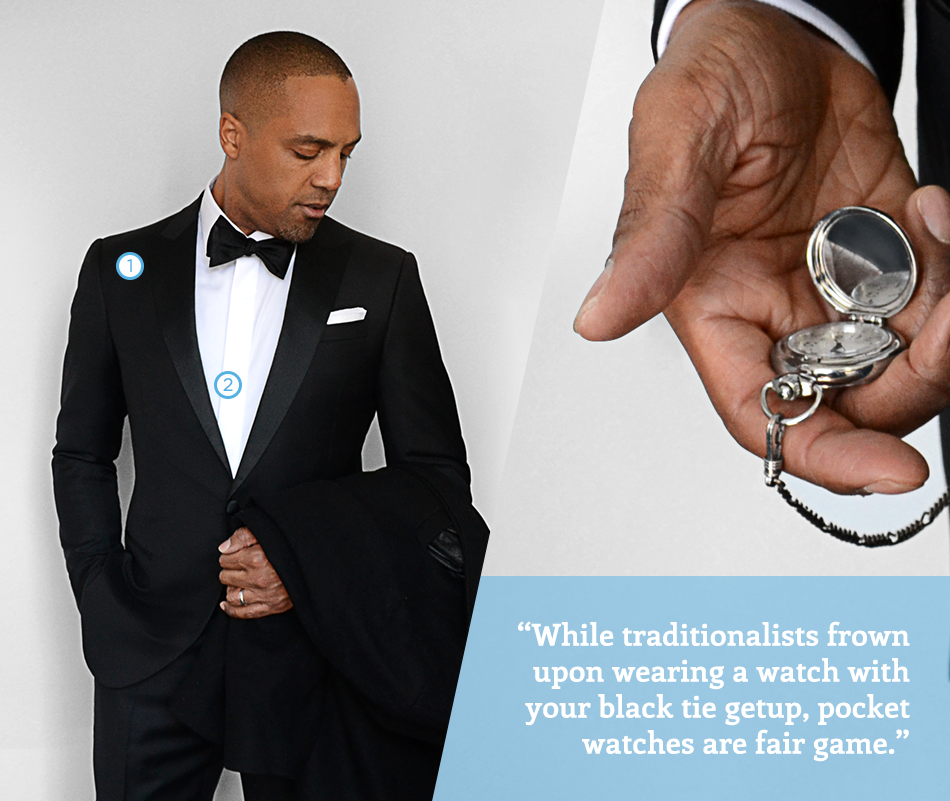 The traditional black tie ensemble is always a winner. And when we think of words like traditional and winner, we think of The Boss Man. Just one look from the Boss Man commands respect. The same could be said of a flawlessly fitting peak lapel tuxedo like the one we're showing here.
Before we go any further, let's talk lapels. A tuxedo has a peak lapel or a shawl lapel. These are the only lapels of evening wear. For a straightforward classic tuxedo–a look that has the gravitas appropriate for a baller like the Boss Man, go with a peak lapel.
There are plenty of other details to pay attention to when you put together a classic tuxedo look. We've covered them in more detail in our Black Tie 101 story. But one detail that's especially important for New Year's Eve is your timepiece. After all, keeping track of time is important on New Year's Eve. While traditionalists frown upon wearing a watch with your black tie getup, pocket watches are fair game. Keep one on hand and you can stylishly countdown those last few moments of the year.
---
The Best Tuxedo For The Manager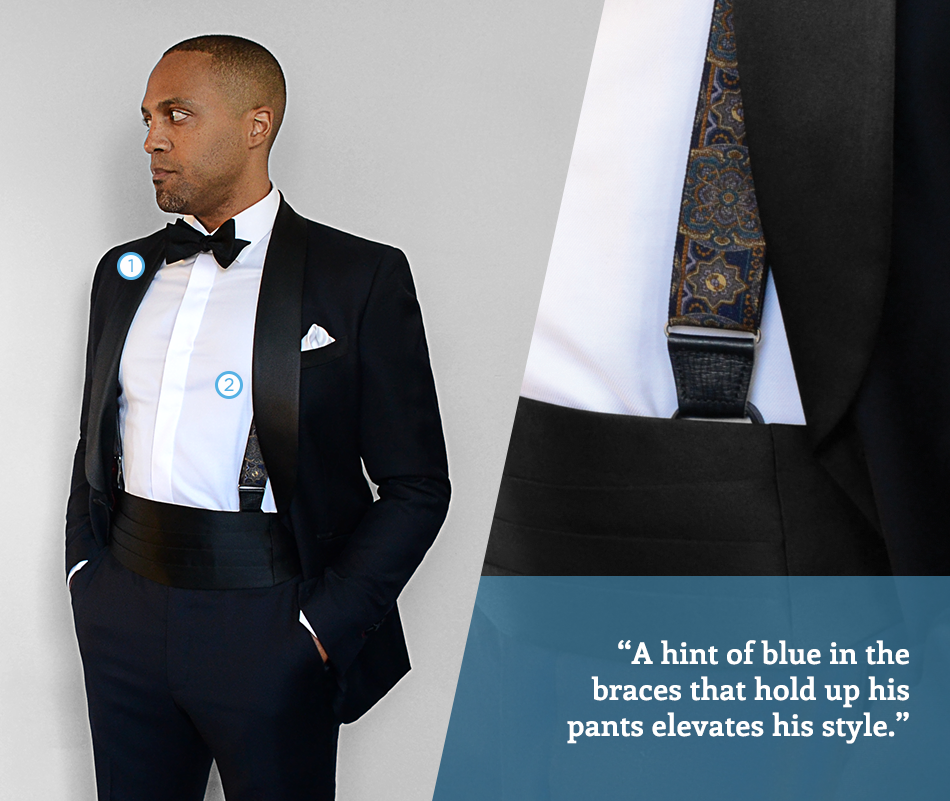 The Manager makes his living leading a team. In his downtime too, he's a leader, not a follower. Less interested in following all of the classic black tie rules, he differentiates his style subtly with his choices of colors. Start with the dark blue tuxedo he's wearing. This stylish alternative to traditional black tuxedo still retains the black accents in the tie, cummerbund and lapels, but the midnight blue fabric is the perfect color for late night carousing.
A great Manager always pulls together his team and he's great at pulling together his look by adding dapper details that subtly echo elements of his outfit. In this case, a hint of blue in the braces that hold up his pants elevates his style.
---
The Best Tuxedo For The Creative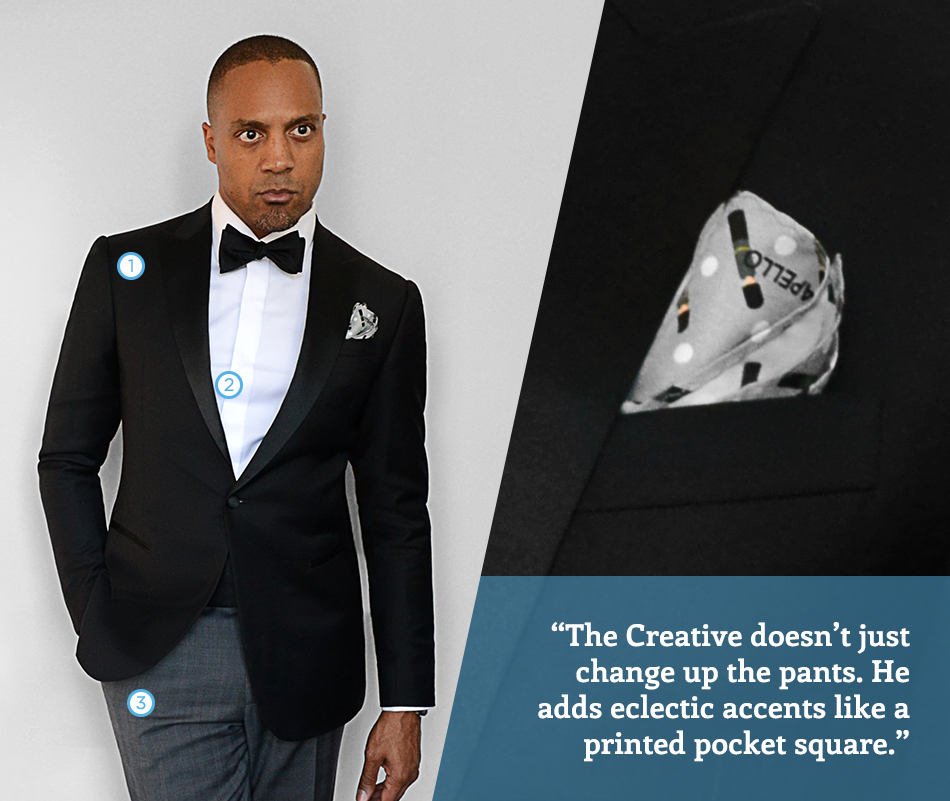 The Creative type adds a touch of verve to every outfit he wears. That's why his best tuxedo look is not a full tuxedo at all. Never satisfied with the status quo, his personality shows in how he puts together his black tie look. That means breaking up a tuxedo by wearing the dinner jacket with a pair of gray pants. The contrast of this light gray and black ensemble won't go unnoticed this New Year's Eve and he is comfortable with the attention he attracts.
The Creative knows that when breaking with tradition, it's best to make a clean break. So he doesn't just change up the pants. He adds eclectic accents like a printed pocket square, and one of his favorite bracelets to keep things interesting throughout his entire look.
---
The Best Tuxedo For The Upstart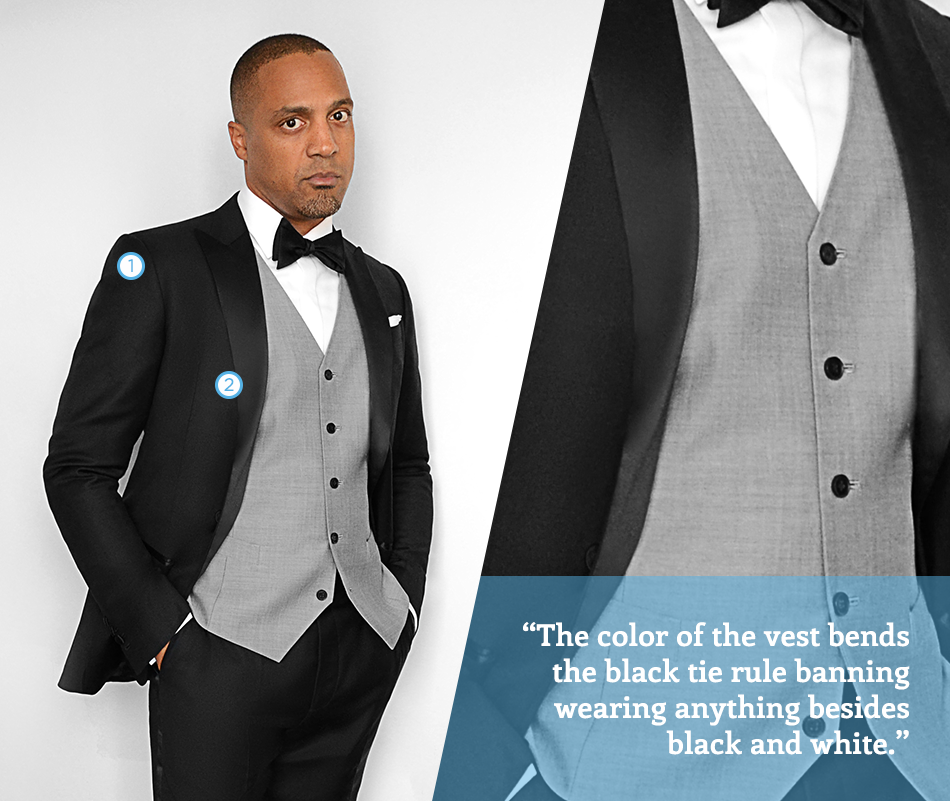 The Upstart is just starting off his career and may be just setting off on his sartorial journey, but he's off on the right foot with the best tuxedo starter set a man can have, a classic black peak lapel tux. His style skews modern, though, so he eschews the old school cummerbund. Instead, he covers his waist with a light gray vest.
The color of the vest bends the black tie rule banning wearing anything besides black and white. When experimenting with a non-black vest, he keeps things monochrome with gray to maintain a formal and classy look.
---
The Best Tuxedo For You
Figuring out which is the best tuxedo look for you is ultimately your call. We've given you four types of guys and four unique styles, but no one says you can't tweak these looks to match your personal tastes this New Year's Eve. That's why we want to hear from you…
Which look are you rocking this New Year's Eve? None of the above? Share your dapper New Year's Eve attire ideas in the comments below.
---
traditional black tie ensemble
---
Like What You See? There's More.
We'll send you style advice and intel for the modern man.
---