The Types of Men's Coats to Wear Over a Suit
Published on October 11, 2019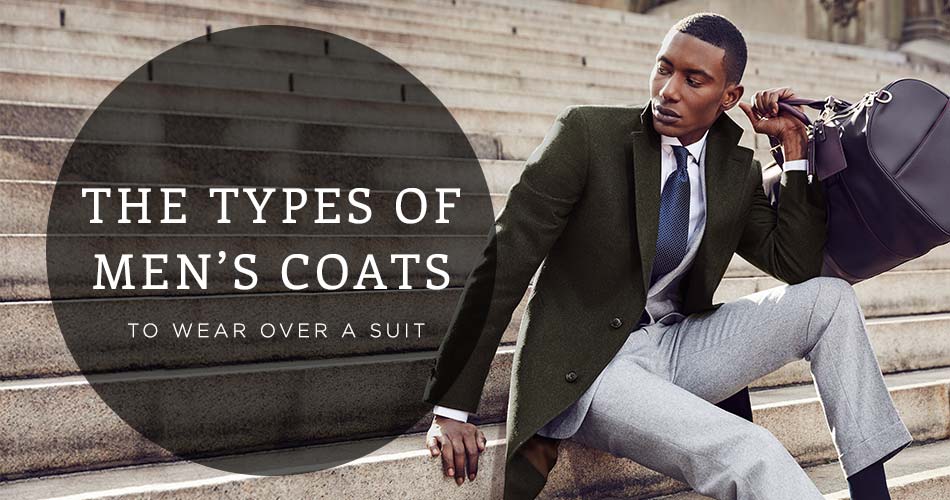 What Do You Wear Over a Suit In Cold Weather?
It's cold, and it's the time of year where your suit alone isn't up to the task of keeping you comfortable and warm. No, you'll need something else, and so you reach into your closet for something to throw over your suit. But which coat will work best with a suit? Hint: it's not the puffer jacket.
Lucky for you, there's no need to sacrifice your dapper style just because you need to cover up with another layer. A good formal coat makes all the difference on a snowy December morning commute. Now you already know that fast-fashion trends are not our thing, and so we're going to give some options that are timeless, handsome, and pair easily with your favorite suit (which hopefully is a Black Lapel suit).
---
Types of Men's Coat Compositions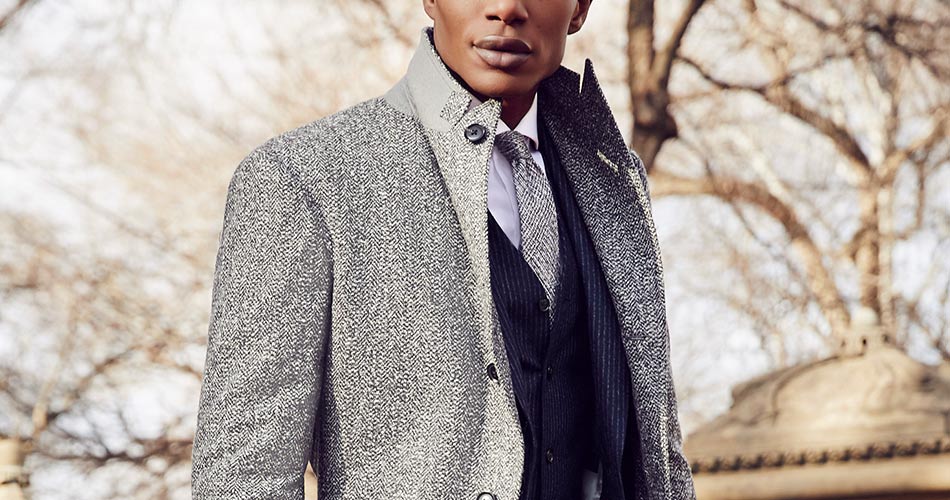 When it comes to coats, it's not just about the cut or design. Temperatures drop, rise, and drop again, and the composition of your coat is going to impact how insulating your coat is. So with that in mind, before we talk about men's coat styles, let's quickly go over the materials you should be used as your foundation.
5 Types of Winter Coat Fabrics
1. Wool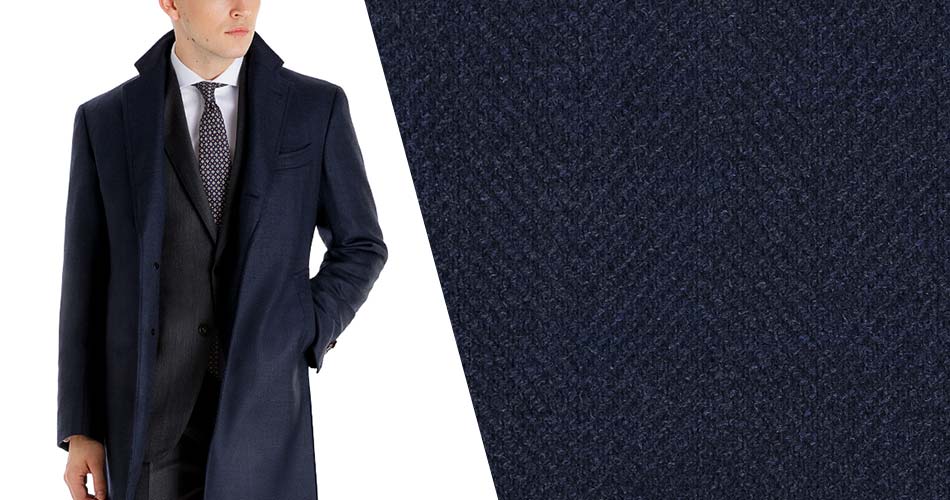 As one of the most resilient, tried-and-true fabrics out there, wool is always a great option for a winter coat. Why? Wool is excellent at retaining warmth.  This fabric keeps you warm while keeping you dry through its natural moisture-wicking properties (if you've ever watched a survival show, you'll know staying dry in the cold is important). A durable wool coat will easily withstand the wear and tear of winter elements. Plus, keep you looking crisp and polished throughout the whole season.
Wool coats can come in worsted wools that use combed and even-lengthed yarns for a more luxurious feel. This is at the cost of a little warmth or woolens which use uneven yarns and result in a coarse appearance that better traps heat but can pill more readily and be irritating to your skin.
2. Cashmere and Cashmere Blends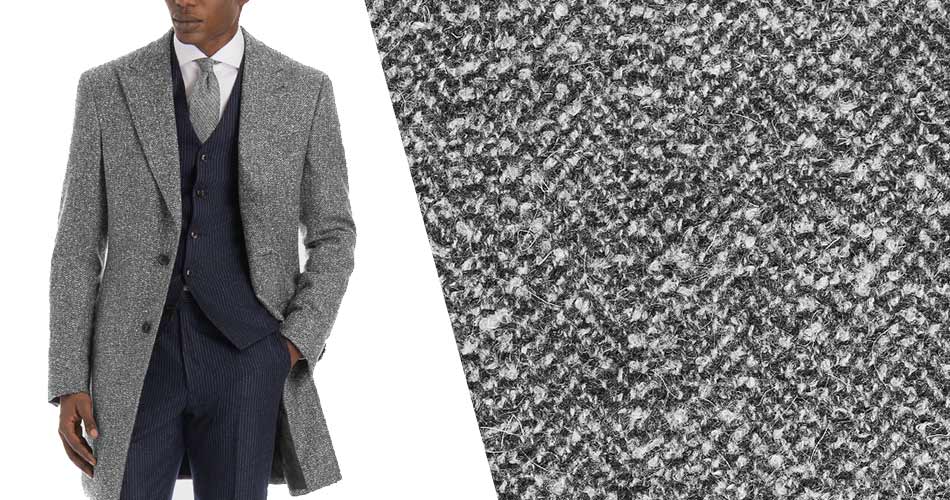 For the man after a bit of luxury, enter cashmere. It's lighter, softer and pure cashmere is up to 8 times as warm as wool — which is probably why it's considered one of the most luxurious winter fabrics out there. The only problem with cashmere anything (after the cost…) is its durability. Cashmere easily pills in areas of frequent friction and generally isn't nearly as durable as a pure wool coat.
Thankfully, you don't have to choose between durability and warmth. Enter the wool/cashmere blend – more durable than pure cashmere, and softer and warmer than pure wool. In other words, the best of both worlds. Even as little as 10% cashmere blended with wool can be a cost-effective way to upgrade from pure wool and get you a luxurious coat that will last you for years.
3. Camel Hair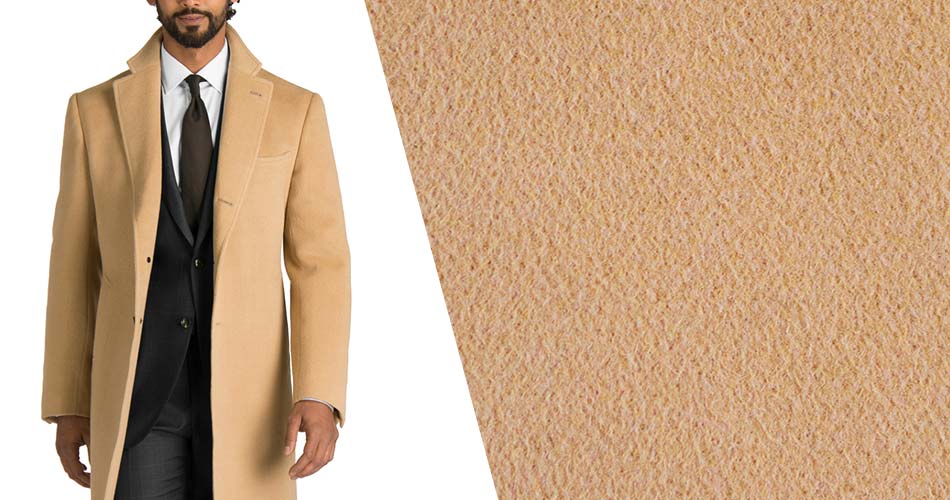 Last but not least, the 100% camel hair coat. Known for its strong and durable yarns and almost as soft and insulating as cashmere. It's a top contender and often comes in a natural camel-colored tan, which makes for an iconic look. We're a bit partial to wool/cashmere blends but camel hair is a worthy runner up.
4. Cotton
Cotton is a good option for a lighter coat or jacket – think trench coats. Easy fabric to care for, cotton can be found in heavier weights. Plus, some include waterproof treatments like waxed cotton. Be warned, it's not quite up to the task of keeping you warm once the weather dips below the 50s.
5. Polyester
Fabric woven from polyester does not stretch, breathe, and it won't absorb sweat. It can be woven into heavier weights than cotton but its insulation quality is poor and polyester fabrics can look, for lack of a better word, flat. And, notably, polyester is a petroleum-based synthetic material that leaves a greater carbon footprint than other natural-fiber options.
We've written extensively about the benefits of wool vs polyester when it comes to suits but the same rationale applies here.
---
The 3 Types of Coats to Wear Over Your Suit
With fabric choice covered, let's get to the reason you're here. There are three main types of coats that you can wear over your suit: topcoats, peacoats, or trench coats. Let's dive in and learn about each style, and how you should pick which one is right for you.
Wearing a Topcoat Over a Suit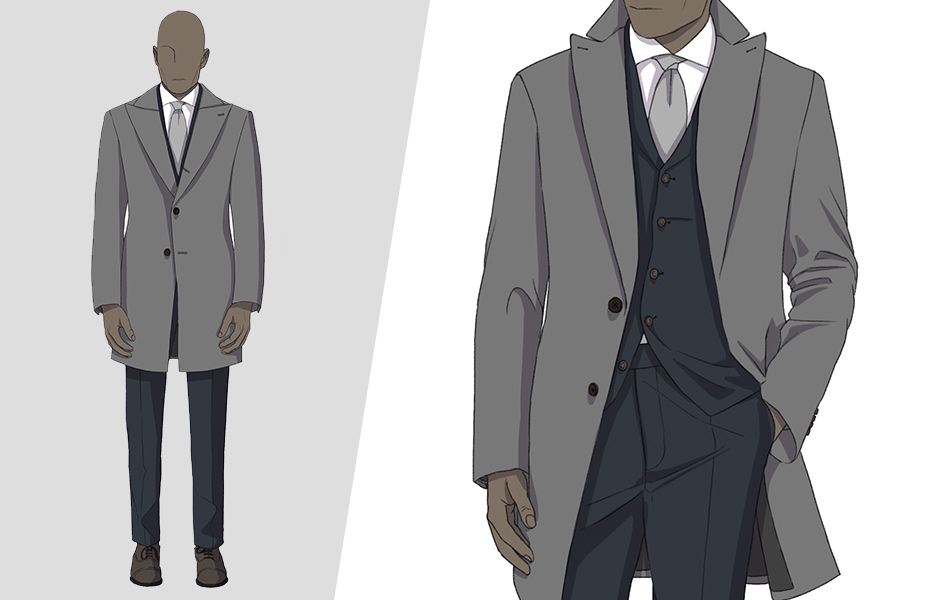 What is a Topcoat?
A topcoat is an excellent, classic option for a formal winter coat that goes over your suit. Topcoats are also sometimes referred to as overcoats. While at some point in the distant past, overcoats and topcoats were actually different in meaningful ways (overcoats were heavier and longer), today, they're virtually the same and can be more or less used interchangeably.
While a single-breasted topcoat is the most common type of topcoat, double-breasted variations of the topcoat are available as well and are slightly warmer. Lastly, topcoats are meant to end at or just above the knee, striking a good balance between keeping more of you warm without looking overly cumbersome.
Wearing It Over Your Suit
We like a topcoat over a suit in major part for its sleek silhouette. This is because, as far as bells and whistles go, topcoats don't usually come with a lot of extra ornamentation. Whether in the way of extra pockets, pocket flaps, epaulets, belts, and other distracting extras. This solidifies a clean and formal aesthetic that adds an appropriate amount of sophistication to your suited look without being overbearing or distracting.
---
Wearing a Peacoat Over a Suit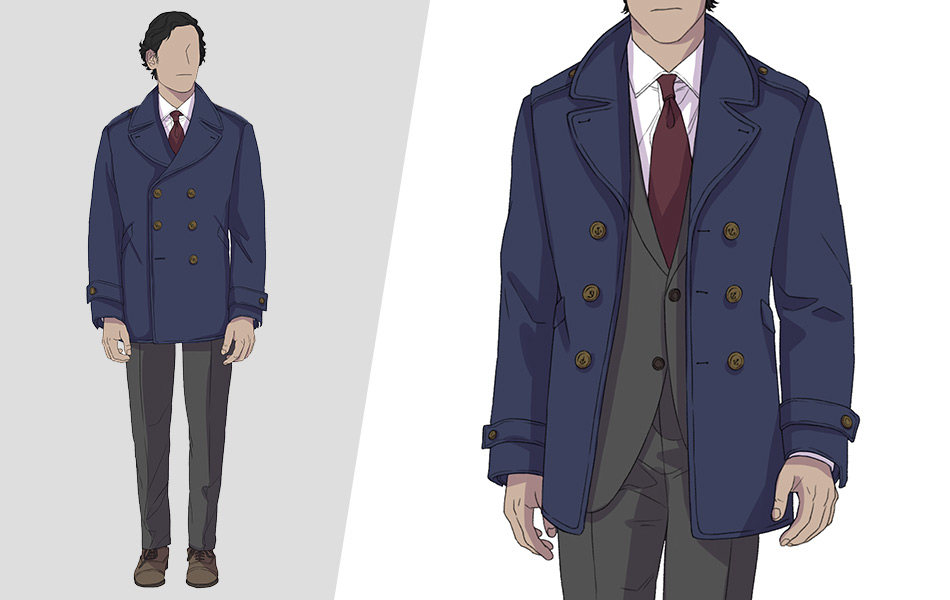 What is a Peacoat?
Peacoats are shorter than trench coats and topcoats and are always double-breasted in design. They often feature a taller and wider collar (called an ulster collar) that can be flipped up and buttoned up for added warmth. Much like British style suits, peacoats can trace its origins to military attire. With a need for a warm, heavy coat to wear through the crisp air of the North Sea, the peacoat was originally invented by the Dutch, with 'pije' being the root word, meaning 'coarse wool fabric'. Though the Dutch are credited with its conception, the British navy subsequently adopted and refined the peacoat. It becomes a distinguishing style for its naval officers, and thus the modern peacoat was born. It's unsurprising that the most popular color for peacoats even to this day, remains – you guessed it – navy.
Fun fact: because of the peacoat's naval origins, many modern peacoats still feature traditional anchor-imprinted buttons and shoulder and sleeve epaulets (originally to signify rank).
Wearing It Over Your Suit
Its shorter length means you won't be affording your lower body much heat with a peacoat.  We would save it for the less-frigid days of winter. Out of these three types of coats, peacoats are also the least formal and most versatile, easily worn on the weekends even without your suits.
---
Wearing a Trench Coat Over a Suit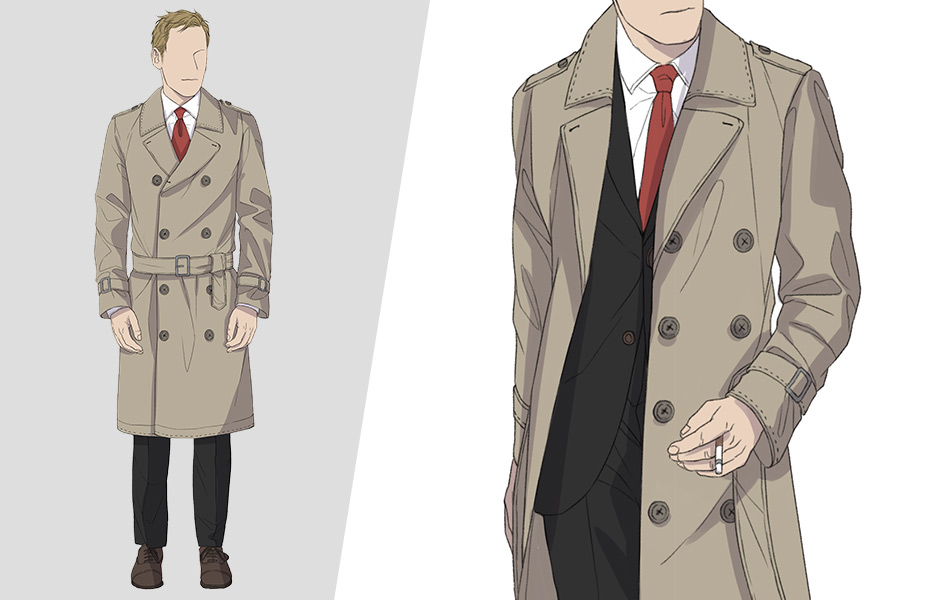 What is a Trench Coat?
The cotton trench coat is a knee-length double-breasted jacket with a fabric belt and buckle. Its design can be traced back to Thomas Burberry (yes, that Burberry) who helped popularize it when he switched from wool to cotton to allow the coat to be worn in more versatile conditions. They were adopted en masse by British forces during WW1, giving the jacket an appropriate and grim backstory.  After the war, military surplus trench coats were given away, which led to their popularity amongst civilians.
The tan and khaki colors are an homage to their military heritage and they still feature the fabric belts and shoulder and sleeve epaulets that were standard amongst the officer corps. A classic that has been refined for the modern world.
Wearing it Over Your Suit
While the traditional design elements like the epaulettes and belted waist can be a bit distracting for some, trench coats are a solid layering choice. Especially for the transition seasons of the spring and fall when you're often commuting during hours where the air can be chillier than its midday apex.
---
Bundled Up
Now that you know which types of coats you can wear over your suit, you can say 'bring it on, Winter' without any second thought. What do you wear over your suit when the weather is cold? Drop a comment below and let us know!
---
Like What You See? There's More.
We'll send you style advice and intel for the modern man.
---