How and When to Wear a Dinner Jacket: Ultimate Guide
Published on June 2, 2022
This post has everything you ever need to know about dinner jackets. These simple but elegant apparel are the perfect accent for any formal occasion. 
We've written a great deal on men's wear before, including the worst mistakes to make while wearing a suit. Here, we will elaborate more on what makes a dinner jacket a dinner jacket, and how/when to wear them. 
Without further ado, let's get started.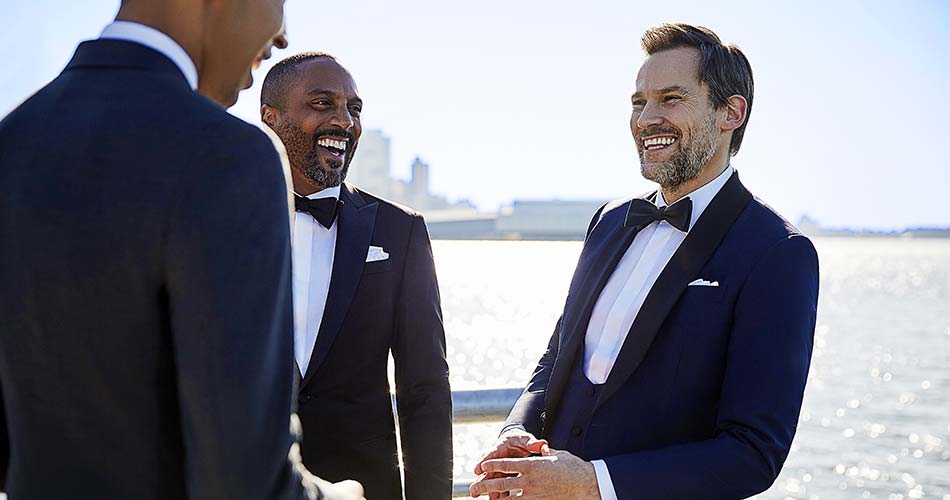 What is a Dinner Jacket?
When menswear meets formalwear, it can become confusing to understand what garments are included in the most formal occasions. Dinner jackets, also known as tuxedo jackets, are a staple of formality but can be daunting to those who aren't aware of exactly what they are. So, what is a dinner jacket? We're going to give you a deep-dive into what they are, where you should wear them, and how they differentiate from other suit garments. 
Dinner jackets, also known as tuxedo jackets, are formal garments best used for formal events. They are proper and elegant while elevating your wardrobe options for when your next formal occasion arrives. Dinner jackets offer a differentiated look from your classic traditional workweek suits, and the differences between them are really quite simple once you get a handle on the basics.
Let's get into it. 
Dinner Jackets vs. Suit Jackets
Dinner jackets and suit jackets, while it may be safe to assume are quite similar, actually have a few key differences that drastically separate them from each other.  
Here are a few key differences:
The Construction
The main difference between dinner jackets vs. suit jackets is the fundamental construction differences. These differences include: 
Satin faced lapels vs. no change

Satin buttons vs. bone/plastic, fabric-covered

Single closure button design vs. one to three 

Sleekness from a straight or slanted pipe vs. a traditional flap

Lapel being shawl or peak for formality 
The Fabric
When it comes to dinner jackets, the fabrics they are made intend to be made in a higher-quality luxury fabric such as mohair, velvet, silk, or can be made in higher quality wool like VBC or Loro Piana. In the same vein, the fabrics you're going to pair with your dinner jacket are also going to be different — from shirts to shoes, you are going to be pairing your formal wear with garments that are in the same class (more on that later). 
The Occasion
There is a major difference between dinner jackets (tuxedo jackets) and your traditional suit or suit jacket. Dinner jackets are best for formal occasions and events; they epitomize class and, with their added features and luxury fabrics, are best suited to remain as formalwear. 
To be clear, sometimes you can get away with mixing different garments for occasions that they might not always fit well in, but with dinner jackets, it would look especially off-putting to see at the office or on a casual weekend outing — as much as wearing a dinner jacket might make you feel like you know what you're doing and elevating yourself, when worn in the wrong situation, can completely destroy the image of a well-styled man. 

Wear your dinner jacket to weddings, black-tie occasions, or even a gala if you find an invite coming your way. 
For all other occasions, the most obvious being the workplace setting, it would be best to opt for a traditional suit that fits the situation better. This isn't to say you can't keep your style elevated; classic suits can be made in dynamic patterns and colors to differentiate your wardrobe from the traditional grey and blue rotation you may already have. 
Men's Dinner Jacket Examples
Here are 3 examples of men's dinner jacket:
#1: Midnight Blue Dinner Jacket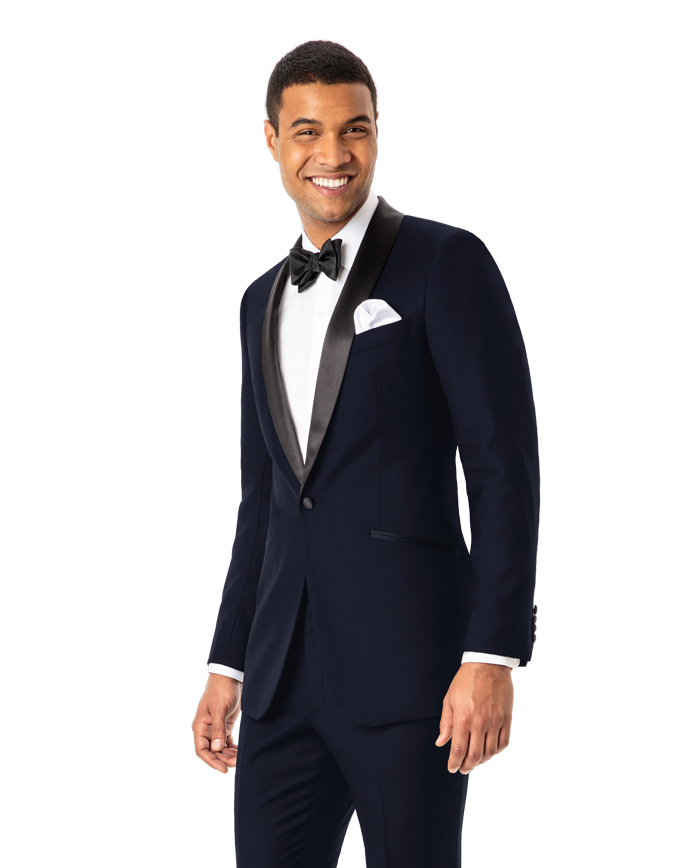 This midnight blue dinner jacket is great for adding richness and depth of color to your ensemble. It features an extra touch of class with a shawl lapel and is an overall great dinner jacket look when paired with midnight blue dress pants. 
#2: Ivory Dinner Jacket
White suits are beautiful and practical, but have you considered getting a suit in an ivory color? This off-white ivory dinner jacket is of a different shade than plain white, making it quite attractive when worn. If you want a classy, understated look, then this might be the color for you.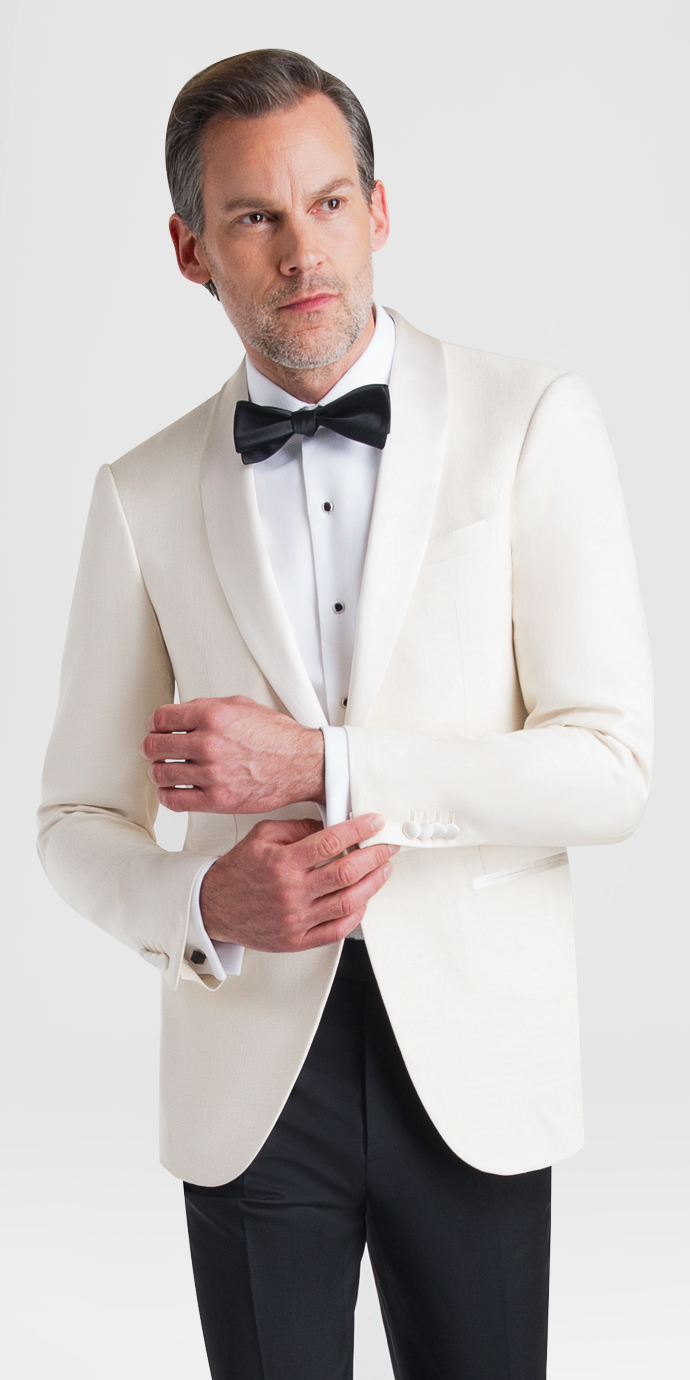 #3: Deep Green Velvet Dinner Jacket
Looking for a more unique look? This deep green velvet dinner jacket will surely achieve that for you. For the discerning customer who doesn't want to be limited to traditional colors, the deep green color will help them stand out at a party. It's perfect for when you want to differentiate yourself from everyone else's more traditional color options.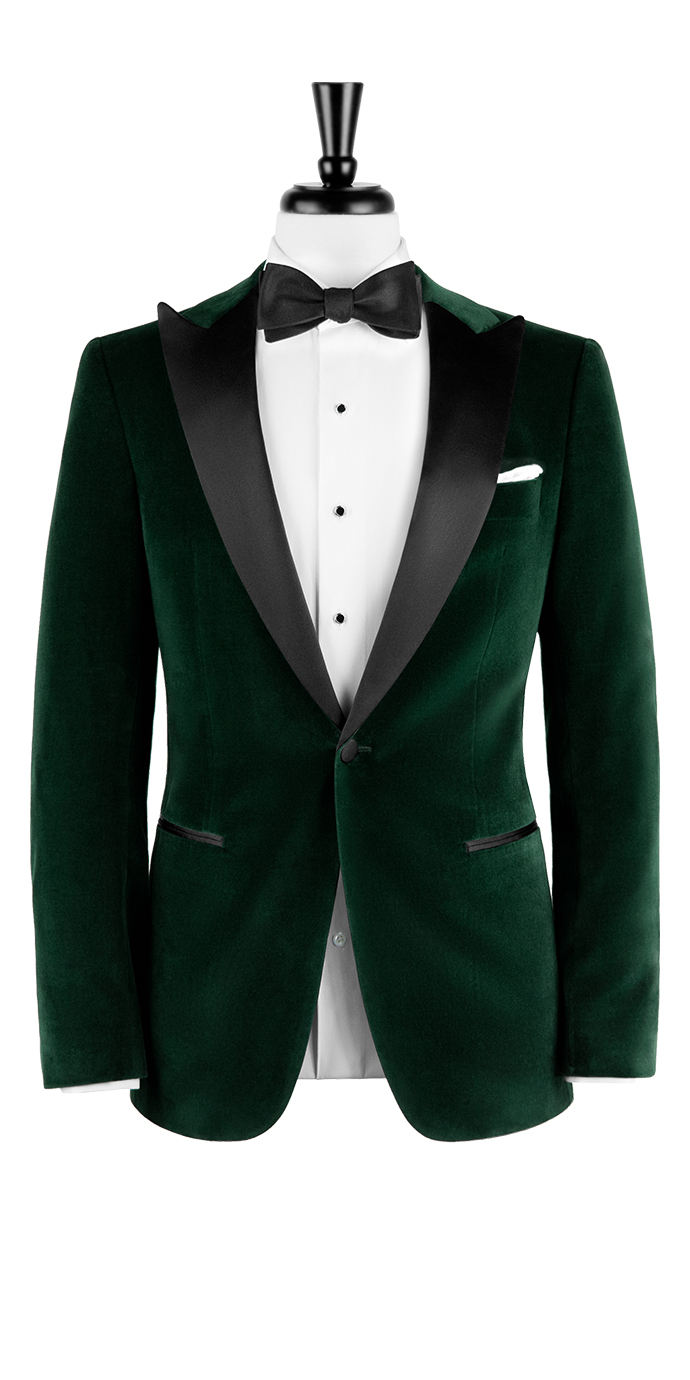 When To Wear A Dinner Jacket
Black-tie events are the perfect time to dust off the dinner jacket you've been waiting to wear—any formal occasion that calls for you to step it up a notch, dinner jackets are a great way to show off your style chops — weddings, award ceremonies, charity balls, are all examples of times when formal wear is called for.
Knowing when to wear your dinner jacket is one thing; however, you also need to make sure you are updated on what you're going to wear them with — because, yet again, it isn't going to be the same as your traditional suit attire.
How To Wear A Dinner Jacket
We've described the dinner jackets, what they're for, and even gave some examples; now, it's time for you to learn how to wear them and what to wear with them. Formal wear is seldom worn, so you'll really want to go the extra mile to coordinate your clothing. Follow these simple steps, and you'll look quite presentable in no time.
Here are 4 easy steps to wearing a dinner jacket ensemble:
Step #1: Choose a white formal shirt
One of the most critical elements (well, they all are) of dressing up your formal dinner jacket is pairing it with the appropriate formal white dress shirt or tuxedo shirt, the latter being the most formal. 
A classic white tuxedo shirt is the easiest option and includes all of the finer details that need to be included; these details include:
A classic semi-spread collar

A french cuff that is made to be secured with cufflinks.

A hidden front placket to maintain a clean, sleek look. 

No shirt back again for maintained sleekness 
A white wing collar tuxedo shirt shares all the similarities as the classic tuxedo shirt, but with a different collar, the wing collar, which cuts out higher and allows for a bow-tie that will show off in between the distanced points.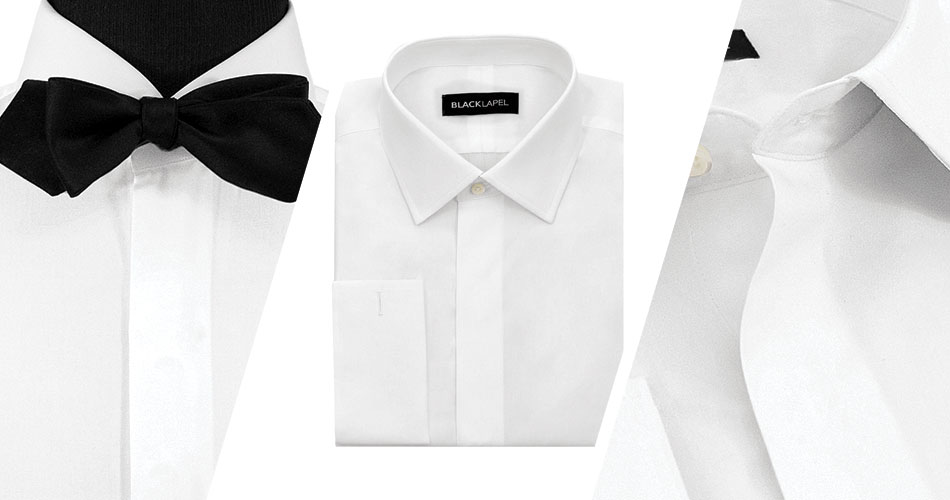 Step #2: Pick an appropriate bow-tie
When wearing a dinner jacket, you'll want to keep the rest of your style elevated. If you know how to tie a bow tie (or if you don't, learn how beforehand), you'll know how well bow ties elevate your formality and style. Thus, when you're wearing a dinner jacket, pair it with a dress shirt with a collar allowing you to tie a bow-tie in between.
Step #3: Pair it with the right trousers
With your dinner jacket, you will want to pair your jacket primarily with tuxedo pants and cummerbund in the same color fabric. However, that isn't going to always be the case — for example, a green velvet dinner jacket would pair better with black tuxedo pants, and the same is true for an ivory dinner jacket. Of equal importance, make sure your tuxedo pants fit you properly. 
Step #4: Match it with the appropriate shoes
There are many types of dress shoes at your disposal, but dinner jackets, as we've alluded to frequently, need to be paired with the shoes that provide the most elegance. Patent black oxford shoes or loafers (depending on your occasion) are the perfect choice that provides the added level of sophistication your formalwear needs.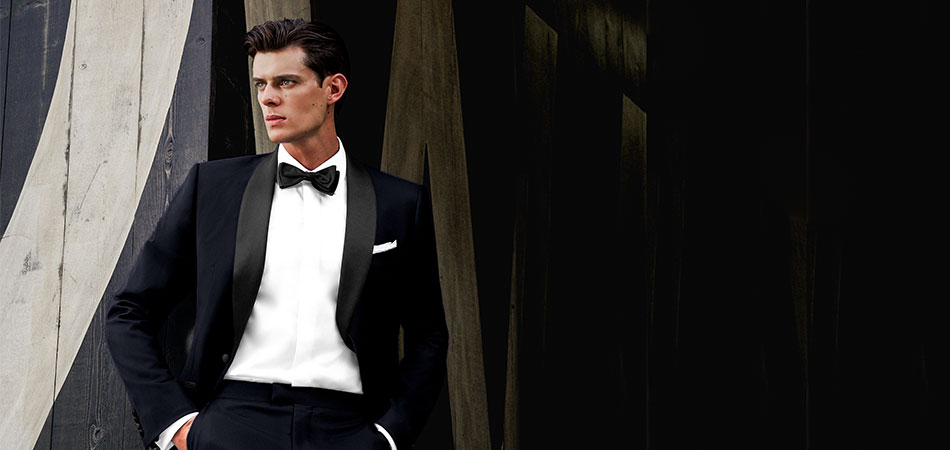 Frequently Asked Questions
We've gone into plenty of detail in this article already. However, if there's anything we missed, we will cover it here. Here are some questions you might have thought to ask, and some answers I've written for them. Hopefully, this will be a fitting conclusion to your questions about dinner jackets!
Do you wear a cummerbund with a white dinner jacket?
Yes, you can wear a cummerbund with a white dinner jacket. A matching black cummerbund with a pair of well-fitted tuxedo pants will make for a great combination. 
How many buttons should be on a dinner jacket?
A dinner jacket should almost always have one button; there are some instances where they come with two buttons. Make sure to leave the bottom button open at all times as etiquette dictates!
Can you wear a dinner jacket with jeans?
The  the classy formality of a dinner jacket won't lend itself particularly well with jeans. Especially if you're rocking an ivory or velvet dinner jacket, the differentiation will show too much, and jeans are not appropriate for most situations that call for a dinner jacket.
When should you wear a white dinner jacket?
White dinner jackets will certainly have you shining in a whole new light, but no matter how great it may look, save this one for your most formal occasions (especially during the warm-weather months). 
Do you wear a pocket square with a dinner jacket?
You can certainly add a pocket square to add some flair to a white dinner jacket. A simple contrasting pattern in black suiting your tuxedo pants would look great – or you could even add a hint of color with your pocket square (but keep it subtle). 
More Style Advice For Men
Wow! You've learned plenty about dinner jackets by now, and are ready to add it to your personal wardrobe. Do you want more advice on how to be stylish? If so, try checking out some of these articles. You can become an even sharper dressed man through learning more about fashion.
Now that you know the importance of looking your best for black-tie events, learn

how to choose the best tuxedo

for a big event like new years eve. 

We're all about helping men look better and, in turn, feel better. Let's face it; there's no greater feeling than

knowing how to dress sexy

.

Black-tie attire is confusing (dinner jackets included), but knowing the fundamentals of a

tuxedo vs. a suit

will help you get your formalwear knowledge in check. 
In Conclusion
Understanding how to pull off formalwear can be challenging, but when it's deconstructed, it's easier than it seems. When your next formal event is circled on the calendar, might we suggest taking your new dinner jacket knowledge and putting it to the test? When you wear your dinner jacket right, there's no question that you'll show up to your formal occasion dressed to the nines giving off the best impression of "I know what I am doing ." Go forth, and keep dressing your dapper self. 
---
Like What You See? There's More.
We'll send you style advice and intel for the modern man.
---