Choose The Right Lapel & Collar For All Types of Tuxedos & Suits
Published on May 16, 2013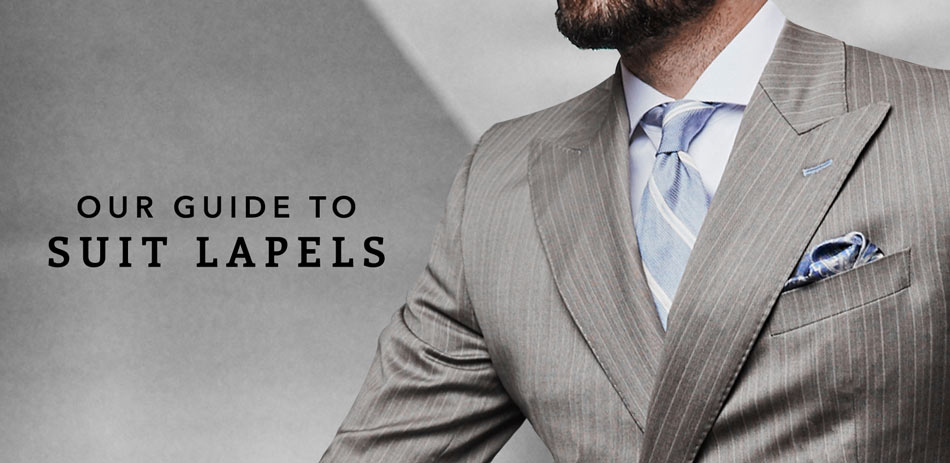 Shawl lapels, peak lapels, notch lapels, there are all types of tuxedos and suits out there. Are you choosing the right suit lapel and suit collar? Find out here.
---
Matching Your Jacket/Suit Lapel and Suit Collar
So you saw you the latest Baz Luhrmann joint, read our post, and now all you can think of is decking out your closet with peak lapel suits like Jay Gatsby. But should you? What exactly is the difference between notch, peak and shawl lapels? What separates the three besides the obvious visual differences of one being notched, the other pointed and the other rounded? Does your build matter? Is it OK to wear a notch lapels at a traditionally "black tie" event? Have we peaked your interest yet? Shawl we get started then? (Sorry, we couldn't resist.)? Leave it to the guys who named their company after it to give you a little primer on the basics of the lapel.
What is a Suit Lapel?
First, let's briefly touch on the major elements of a suit lapel: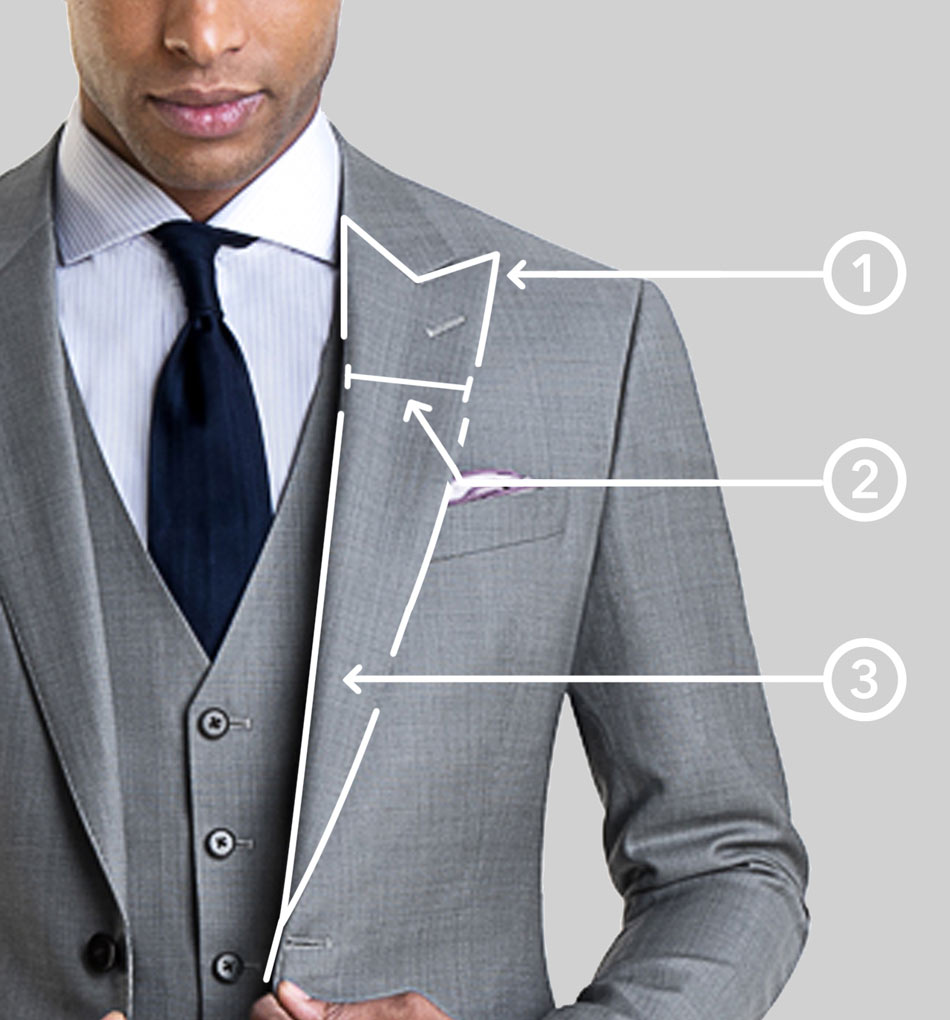 The Major Elements of a Suit Lapel
1. Lapel Type
Lapels can be categorized into three main types: Notch, Peak, and Shawl Lapels.
2. Lapel Width
The lapel width is measured at it's widest point, measured perpendicular to the inner edge of the lapel. The three major types of lapel widths are:
Slim – (~2.25 – 2.75")
Regular – (~3.00 – 3.50")
Wide – (~3.75 – 4.50" )
3. Lapel Roll
The fall and curl of the lapel from the break of the collar to the first button.
(*All of our custom suits can be customized with wider suit lapels upon special request.)
3 Lapel Types of Suit Lapels You Should Know: Notch Lapels, Peak Lapels, and Shawl Lapels
Most suit lapels are either notch lapels or peak lapels. Fashion rules (black tie etiquette) dictate that you should never have a notch lapel on a tuxedo (dinner jacket).
The two basic types of tuxedos are distinguished by their lapels. Peak lapels, like you see on dressier and British style style suits are the standard and most common lapels on tuxedos, but some tuxedos have shawl lapels.
What to Consider When Choosing Your Suit Lapels
Setting / Occasion – Got an invite to a black tie gala with the partners of your firm? Or is it another average day wrestling with Excel in the cube? The setting and occasion will play a large part in determining the type of suit you wear and the type of the suit lapel that should grace it.
Type of Suit – Not all suit lapels work for all suits. For example, shawl lapels will go best with tuxedos and double breasted suits should almost always have a peak lapel.
Body Type – So you've got a Barney Stinson frame with a penchant for Harvey Specter-esque ultra-wide peak lapels? You may want to rethink that combo. Considering your body is an important factor in choosing the right suit lapel for you. For example, slimmer lapels will look more proportional to the physique of a slimmer gent and hence, be more flattering. It's a game of proportions, so make sure your suit lapels are playing along.
What is a Notch Lapel?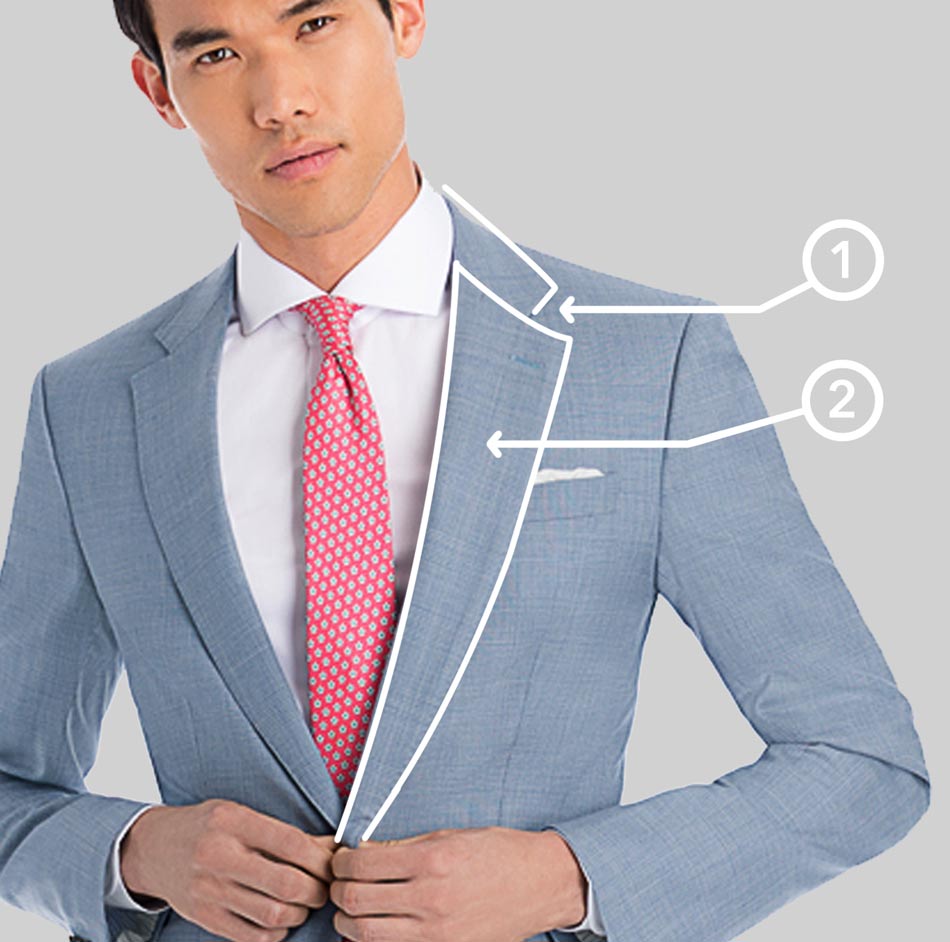 1. Notch Lapel
The "notch" is the opening where the bottom of the collar meets the top of the lapel, usually at a 75 – 90 degree angle. The notch lapel is the most common lapel for a reason – it's the most versatile of the bunch. It is most often found in single-breasted suit jackets, blazers and sportcoats. If you only own one suit, this is the lapel type to go with. Also called the "stepped lapel".
2. Slim Notch
A thinner version (smaller lapel width) of the normal notch. (Black Lapel's Slim Notch lapels are 2.75 inches, roughly 0.25 to 0.5 inches thinner than our normal lapel.) Works best with a slim suit and flatters a slimmer body type.
Setting /Occasion (where to wear it): Every-day business suit, interview suit, can't-go-wrong wardrobe staple, chick-magnet ensemble for the bar.
Body Type (who should wear it): All body types. And while not a black-and-white rule, slim notch lapels will tend to flatter and maintain the proportions of a slimmer frame. Joseph Gordon-Levitt, Aziz Ansari and Neil Patrick Harris types, rejoice.
Type of Suit (what to wear it on): Ideal for single-breasted suits, blazers and sportcoatssports coats. Not recommended for double-breasted suits and tuxedos.
What is a Peak Lapel?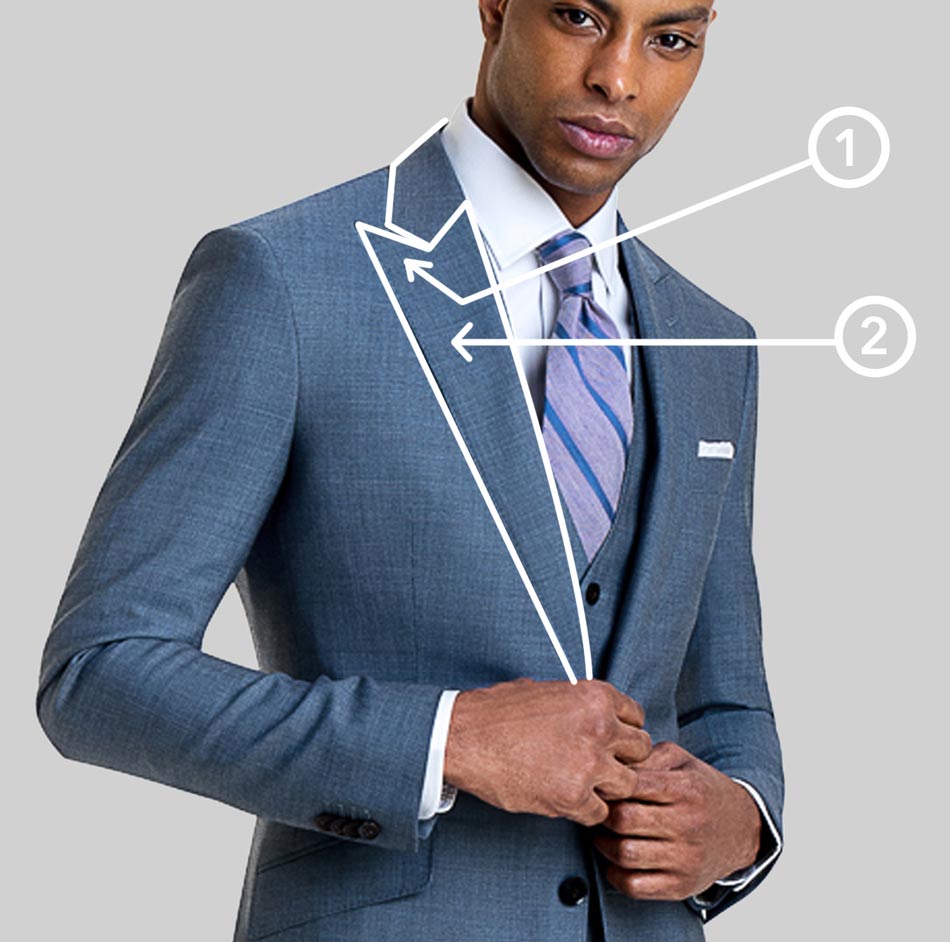 1. Standard
Peak lapels are traditionally the most formal of the suit lapels and were originally common in formal wear garments such as tailcoats and morning coats. These will tend to look a little more fashion-forward (especially if you decide to go the Lapo Elkann route). In actuality, peak lapels have been around for over 100 years. It is also the most expensive suit lapel to manufacture (requires the most amount of skill).
2. Slim
A slimmer version that are typically 2.75 inches wide, roughly 0.5 inches thinner than our normal lapel, which are approximately 3.25 inches wide.) Like the slim notch, works best with a slim suit and flatters a slimmer body type.
Setting /Occasion (where to wear it): Weddings, formal dinners, black tie events or simply whenever you want to dress up a bit while turning some heads. And the office? Yes, peak lapels are good to go here.
Body Type (who should wear it): For those looking for some added height, the points of this style can create an elongating effect by moving the eyes upwards towards the shoulders. The elongating effect also has a slimming effect, so larger gents might want to give this a try as well.
Type of Suit (what to wear it on): Double-breasted suit will almost always have peak lapels. They are also appropriate on single-breasted suits and you'll often see these lapels on pinstriped fabrics.
What is a Shawl Lapel?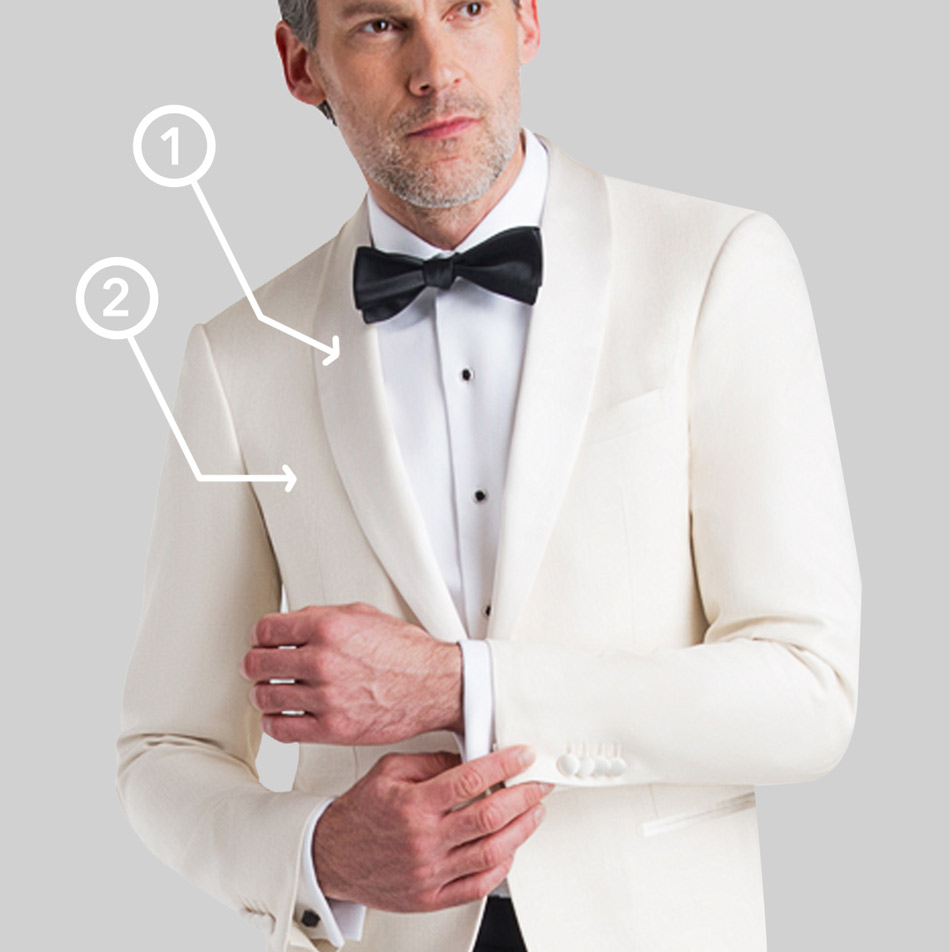 1. Shawl Lapel
Characterized by a rounded edge, the shawl lapel is most common on dinner jackets / tuxedos (for those nights you plan on taking down a couple of Oscars or upstaging the groomsmen at a friend's wedding). Obviously, it's safe to assume that the Shawl Lapel is the least common of the variety, and the most specialized type of Lapel out there (please don't wear a Shawl Lapel to work).
2. Tuxedo
As aforementioned, you will most commonly find a Shawl Lapel on a dinner jacket/Tuxedo, although you will rarely see a shawl collar on anything other than a tuxedo (or smoking jacket), many style enthusiasts will argue that the shawl lapel can be more of an informal variation of evening wear.
Setting /Occasion (where to wear it): Black tie events, red carpet galas and weddings.
Body Type (who should wear it): Most body types. Not recommended if you have an extremely round face or body as the rounded lapel will accentuate those features by mimicking it. Instead, opt for a peak or notch lapel with more jagged lines instead.
Type of Suit (what to wear it on): Ideal for tuxedos.
Suit Lapel Level: Expert
So whether you need to dapper up at your own wedding, as the best man at your friend's wedding or you're simply trying to smarten up on how to achieve the best look for yourself, now you have the knowledge and confidence to dress a notch above the competition.
Got a question to ask us on lapels? Leave a comment below!
---
Like What You See? There's More.
We'll send you style advice and intel for the modern man.
---