The Flawless Fit Series: What to Look for in an Athletic Fit Suit
Published on December 12, 2014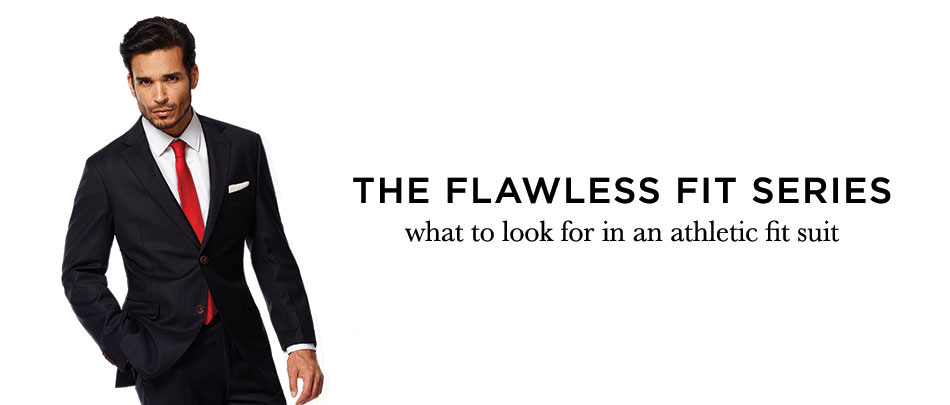 Getting a great fitting suit isn't always easy. In fact, the fit is one of the most common problems men face when they shop for suits. In this series we'll explain how to overcome common fit problems with advice for different body types. First up, the guy with the athletic fit body type.
When you've got an athletic physique, the fashion world seems against you. Designers seem hell-bent on making styles only for skinny dudes who have not lifted anything over 20 lbs. in their lives. Yes, men have it relatively easy when it comes to body image issues and fashion compared to women. But guys looking for athletic fit suits have a legitimate gripe with the menswear world.
Thankfully, there are solutions out there for guys who need an athletic fit. If you think you're one of those guys, read on. Even if you don't think you need an athletic fit, read on. What follows will help you learn about the basic principles of proportion. That, in turn, will help you nail your own fit, no matter what body type you have.
What is an athletic body type?

First of all, don't assume that anyone who is an athlete has an athletic body type when it comes to suits. A professional cyclist, with lightweight upper body and piston-like legs may be a freak athlete but he doesn't have an athletic body type. Nor does an NFL lineman who is just huge from top to bottom. An athletic fit body type is traditionally defined by clothing companies as a man whose chest measurement is eight inches more than his waist. This difference is called the drop. So even if you hit the gym regularly or played ball in school, it may not mean that the narrowly defined 'athletic fit' options will work for you.
How your drop affects your suit fit

For athletic fit guys looking to get a regular off-the-rack suit to fit well, our advice is to get to know your tailor…well. Most off-the-rack clothing is not made for the athletic body type. There are "athletic fit" suits to be had out there, but the selection is limited and they still may need major alterations to perfect the fit.
For the reason listed above, men who need an athletic fit have increasingly opted to get made-to-measure suits. Getting a custom suit made to your measurements used to be reserved for the wealthy or the well-connected. These days the world of made-to-measure clothing has grown (we'll take some of the credit for that) and the athletic fit guy doesn't have to make a professional athlete's salary to get his hands on some quality custom threads.
So what should you look for in a made-to-measure suit if you require an athletic fit? When athletic fit guys come to us with fit problems we tell them to focus on two key areas:
The Measurements
Any well-cut made-to-measure suit starts with good measurements. To get truly accurate measurements you'll need someone else to help you. That means assistance from either a friend or a tailor. In either case, the person who measures you should be focused on accuracy.
Now is not the time to give "aspirational" measurements. Even guys with enviably athletic physiques have insecurities about certain aspects of their bodies. You may be like Skee-Lo and wish you were a little bit taller but don't claim that you're 5'10" if you're really 5'8". It will only lead to an ill-fitting made-to-measure suit.
Of course, if you're ordering from Black Lapel and you have any doubts about any of your measurements and the fit, you can take some pictures and send them along with your measurements.
The Customization
Good measurements will give you the foundations of a great fitting suit. That's crucial, but there are more things you can do to ensure that your suit fits you well and looks great if you've got an athletic fit body type.
---
1. Choose the style of suit wisely
At Black Lapel we offer three different fits for our suits: slim fit, tailored fit and standard fit. We often suggest that guys go with a slim fit because we love the way it drapes on the frames of most guys, following their natural shape. But following the natural shape of an athletic fit guy with a sizeable drop and big upper arms and legs can backfire and make for a suit that is shaped like something made for Jessica Rabbit. Athletic fit types should choose between the tailored and standard fits which have less waist suppression and are less tapered all around. Our rule of thumb is that younger athletic fit guys looking for a more modern look should stick with the tailored fit while mature gentlemen with an athletic body type who are seeking a more traditional look should opt for a standard fit.

---
2. Add a vest
Adding a vest to a suit is a great idea for any guy. It adds versatility because you can wear the vest casually apart from the suit or wear it with the suit for a three-piece look. For a guy with an athletic build, the vest helps to fill in the waist to mitigate the hourglass shape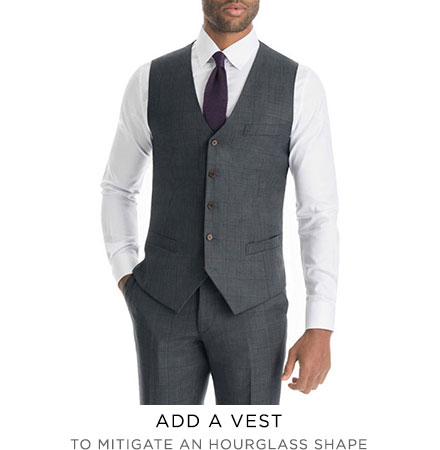 ---
3. Pleat the pants
Getting a pair of pleated pants is not the deadly sin the fashion press has made it out to be. For the average, guy with a fairly straight line from his hips down to his knees, pleats aren't necessary. But if you've got big hips and large powerful thighs but your stomach and waist are small, pleats can give you the space you need in the upper legs. Traditionally pleated pants are always cuffed. If you're an athletic fit guy, follow tradition. The cuffs at the bottom of the pants add bulk to your ankles minimizing the pegleg look you'd get if your pants' large thighs tapered to a small ankle opening.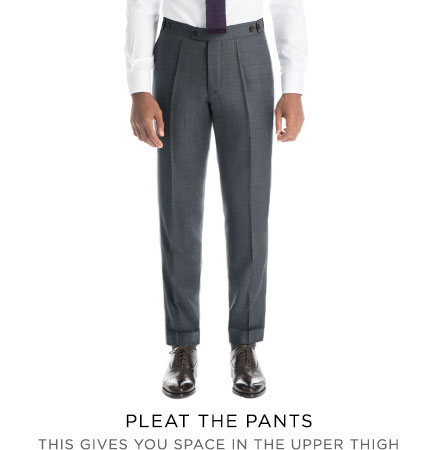 ---
4. Choose multiple buttons
As we've noted in the past, a one-button suit is a cool, way to add a little bit of individuality to your look. But if you've got an athletic fit body type, steer clear of the one-button. For one, it's a fashion forward, minimalist look that doesn't really jibe with the more traditional styling we've suggested above. Also, the single button draws visual attention to your mid-section and the lower button stance cinches your waist. This cinching helps to make the jacket look more like an hourglass. Counteract that with a two-button suit with it's higher button stance, that will put less emphasis on your waist.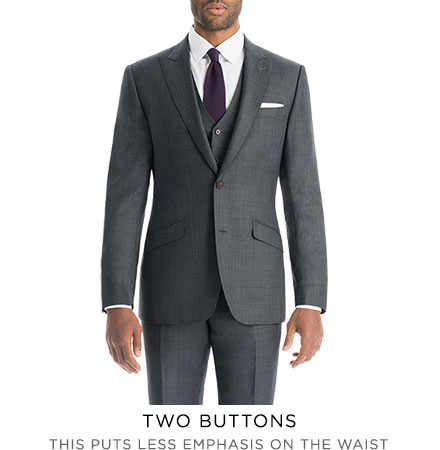 ---
5. Choose regular lapels
Another modern touch that we like is the slim lapel. But lapel width, a subject we went into in more depth a while back giving it a full article, is another place where athletic fit guys should be careful. When you've got a barrel chest a regular sized lapel is the way to go. When your chest is big, a slim lapel will start to look out of proportion and appear like one of those uber-trendy skinny lapels that got out of control a few years ago. Stick with the classics and go with a regular sized lapel. And speaking of trends, since lapel width and tie width go hand-in-hand, now is a good time to get rid of any ultra narrow ties that may have crept into your closet during the super skinny tie craze.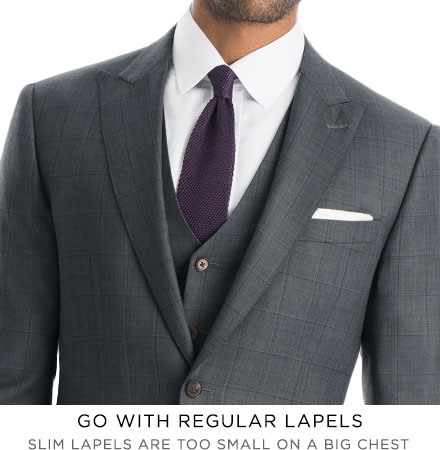 ---
6. Double up on the vents
We are proponents of double vents (or side vents) on suit jackets. We like the smooth lines that stay intact and cover your backside even when you reach into your pocket. For athletic fit guys, we are even more in favor of the side vent. The dreaded hourglass shape of a suit is partially caused by too much waist suppression, but it's also caused by flaring hips in the jacket. A ventless or single vented jacket will make hip flare worse, but side vents can help to minimize flaring.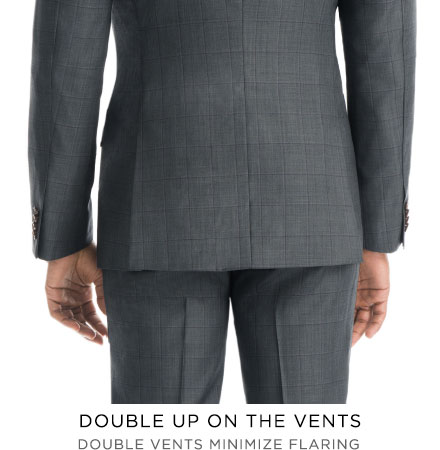 ---
We know that everybody is different and there is no one set of rules for getting the fit right. If there were, there would be no need for made-to-measure clothes. Following the advice above will have you well on your way to mastering the athletic fit suit.
Having trouble perfecting your fit?
Leave your questions in the comments below and we'll help you nail your fit.
---
Like What You See? There's More.
We'll send you style advice and intel for the modern man.
---