Matching Your Belt and Shoes — The Right Way
Published on September 22, 2017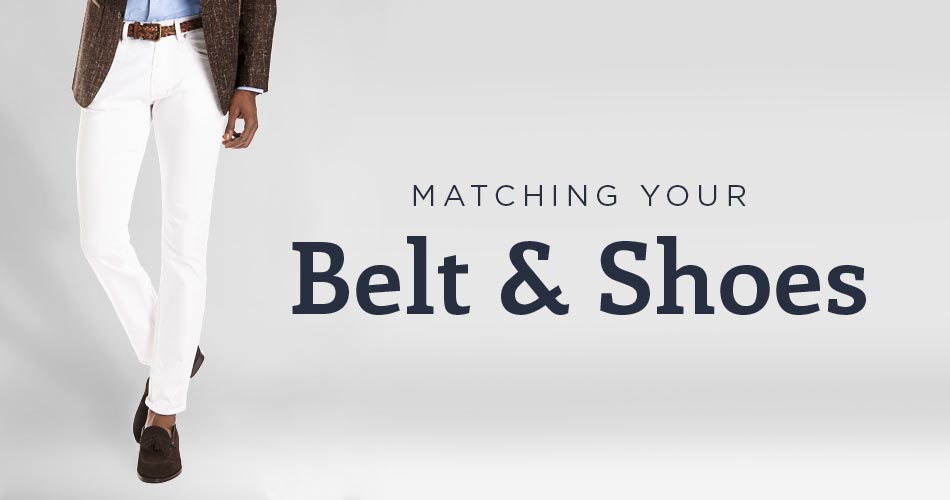 ---
A brown belt with a black shoe? Think again. There are some rules that MUST be followed when we're talking about matching belts and shoes. If you're in the dark, don't worry, we've got you covered
---
Matching Your Belt And Shoes
You can have a pair of elegant, brown leather boots, or a pair of black Chelsea boots — heck, even a pair of brown double monk straps. None of that matters if you're not matching your outfit accordingly.
Let's address the elephant in the room. You guys are here because you want to know if there's ever a time you can get away with wearing a brown belt with black shoes, or vice versa. To answer plainly: you should not wear a brown belt with black shoes, or a black belt with brown shoes. To better understand that logic, you have to ask yourself a simpler question…
---
Does Brown and Black Match?
This serves as the age-old question in the world of men's fashion. So, does brown and black really match? When it comes to matching brown pants and black shoes, it can work, but when it comes to your belt and shoes, we advise against wearing brown and black together, end of question.
---
Matching Belt and Shoe Leathers
Before we get into how to create a winning shoes and belt combo, we should talk about criminal leather matchups. The severity of the crime-against-leathers is based on the situation. For example, if you're at a black tie event, and you choose to wear a black belt with an almond-brown shoe, you're going to create conflict (wearing any belt with a tuxedo is grounds for dismissal from the guys-who-have-a-clue-about-formal-dressing club). The result is the attention being pulled away from your snazzy suit, and instead on the contradicting leather combination you're trying to pull off.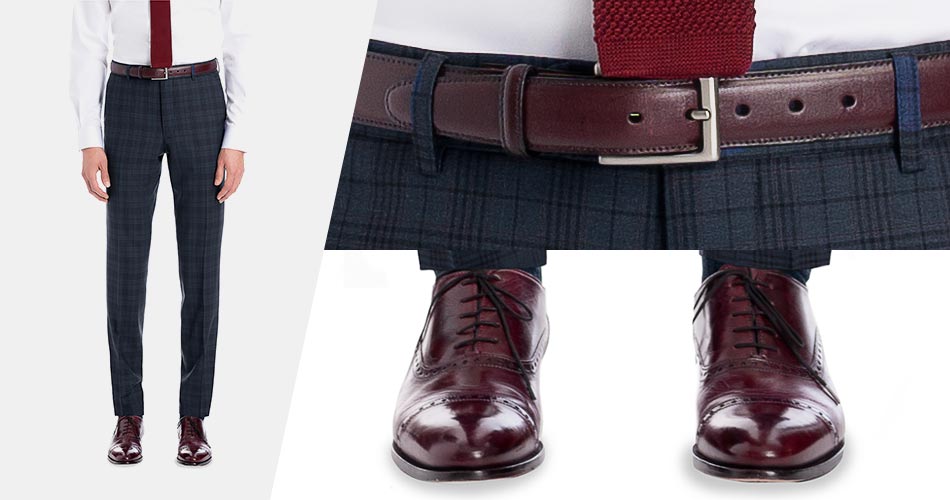 This oxblood belt and shoe combo plays well with the maroon tie and the faint red check in the suit pants seen above.
---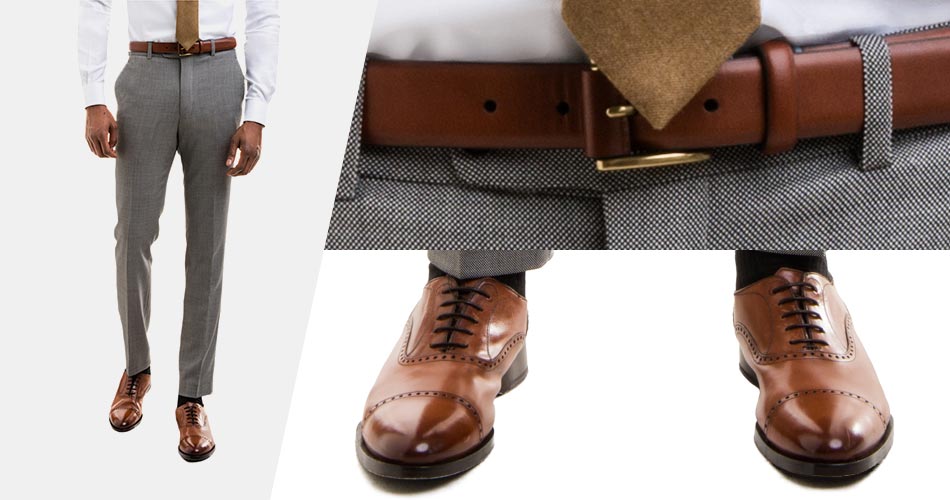 The unexpected brown leather of this belt and pair of shoes matches so well that it stands out in the outfit.
---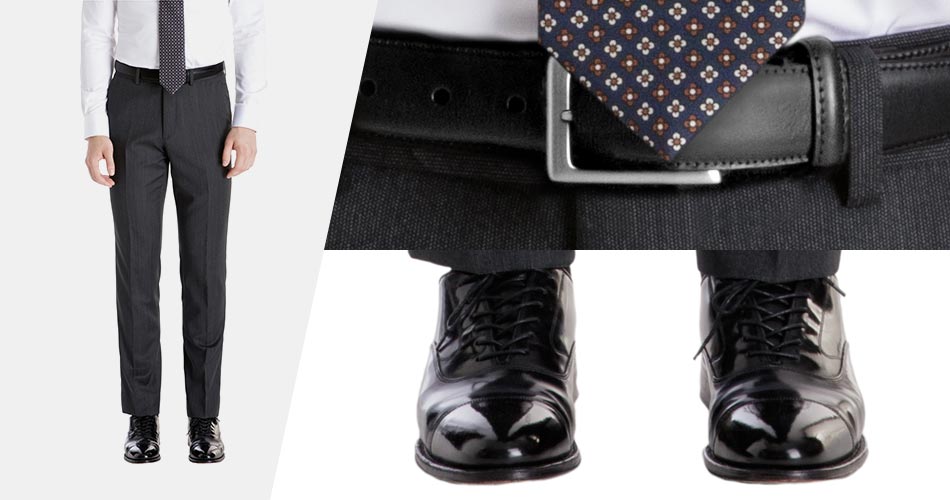 Black on black is an easy way to match your belt and shoes, so adding a patterned navy tie spices it up.
---
However, if you like to channel your inner Orwellian and believe uniformity is a bit hair-raising, there are some ways to spin in some variety. You can play around with the texture of leather instead of changing the colors. This will create the range you are looking for, without sticking out like a sore thumb.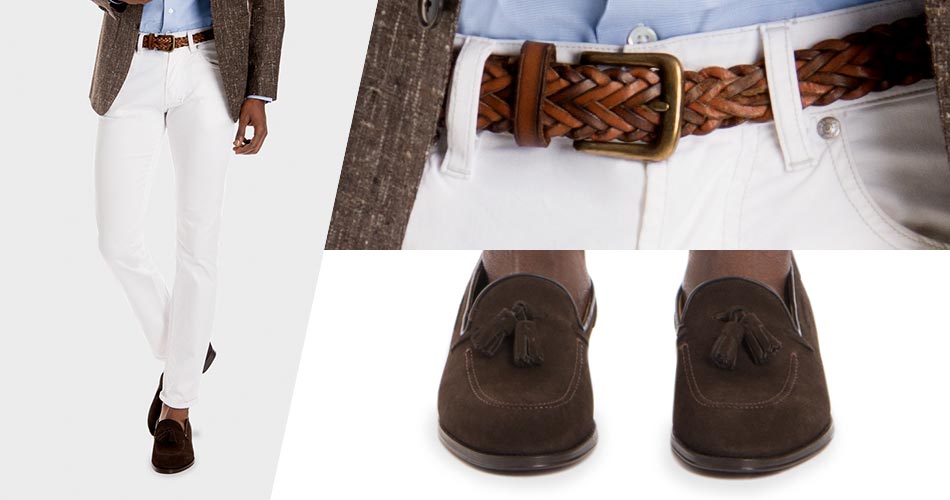 See how well a braided leather belt and suede shoes can work together? Texture is your friend.
---
Let's play devil's advocate for a second. For instance, if you're rockin' a more played down, business casual look like a blazer and chinos, you can play around with the idea of wearing a dark brown belt with a medium-brown shoe. A casual, unguarded look doesn't need to be as serious as a suit and tie ensemble.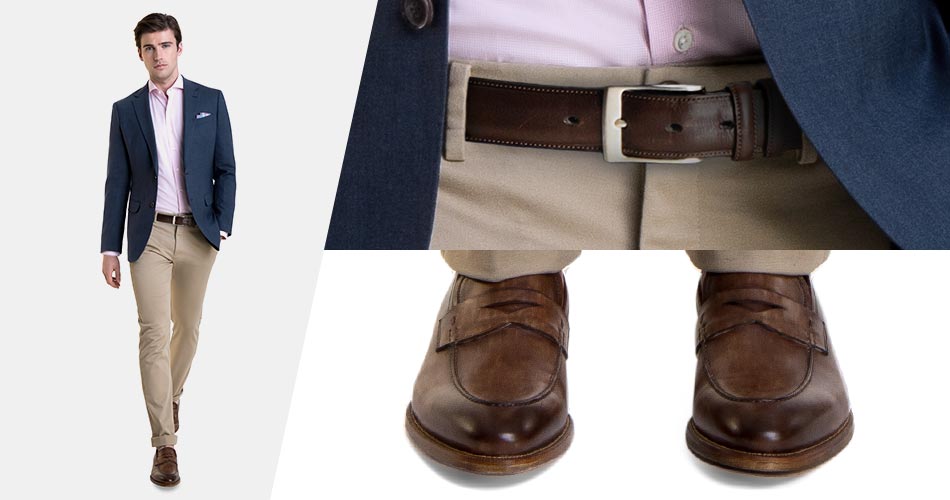 Different shades of brown are a sophisticated way to have your shoes and belt match.
---
Matching Belt and Shoes and Bag
There's more leather in an outfit than just the belt and shoe. In the world of men's accessories, a leather bag is an attractive addition that some men overlook. For example, this bag by Stuart & Lau fulfills both a utility need as well as adding to your aesthetic. Make sure to keep our rule of thumb in mind and match the black leather on the bag with a black shoe and belt combo.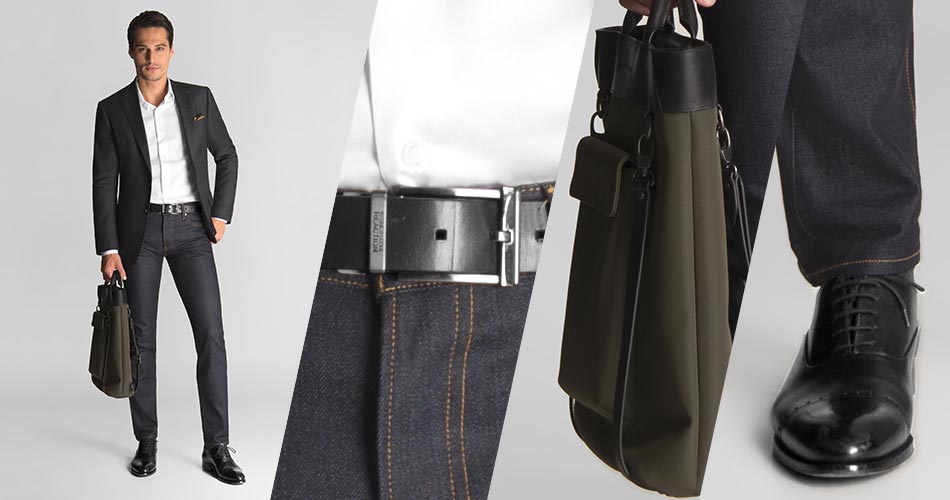 As we said before, black on black is a winning combination for all of the leathers you're rocking.
---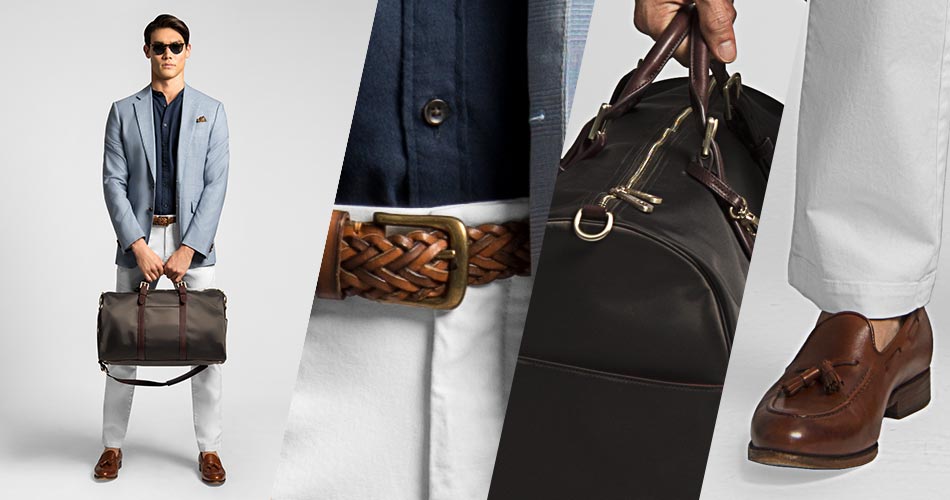 Pulling off three different color leathers in an outfit may look expert level, but it's easy if you stick to one color (brown, in this case).
---
Bringin' It Home
You've brushed up on our rules for matching your belt and shoes, now it's time to implement them. If the world of men's accessories is still at a level of uncertainty for you, leave a comment for us below.
---
Like What You See? There's More.
We'll send you style advice and intel for the modern man.
---