The Best Wedding Suits & Tuxedos for 2018
Published on February 9, 2018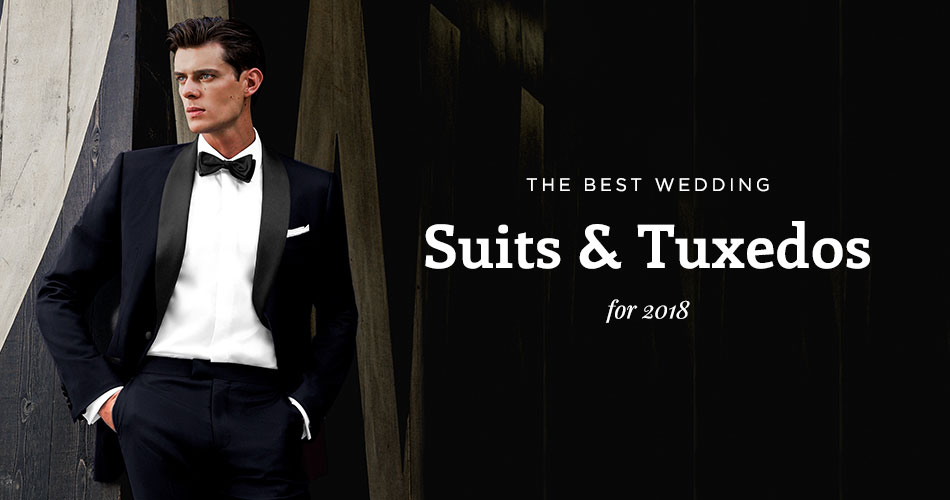 Men's Wedding Tuxedos and Suits
If you're getting married in 2018, it's time to start paying attention because with a new year comes a host of new menswear styles and trends. Frankly, we like to cut through most of this noise and extract from this "news" what is truly important: that you feel good in what you're wearing on your big day.
After catching up with Cheyenne Parker, a celebrity stylist in L.A., we can confidently tell you that the defining trend in men's wedding fashion for 2018 is going to be the fit of formalwear. More specifically, slim-fit wedding suits and tuxedos are becoming the focus of modern grooms. If you focus too much on getting a particular color or style, you'll lose sight of the fit and end up swimming in that suit or tuxedo on your big day. Not only is this unflattering for your physique, but it makes for terrible wedding photos. Fit becoming priority number one is a long overdue trend. Read on to hear Cheyenne's thoughts about more wedding suit and tuxedo trends in fit, style and color.
---
Latest Wedding Suit Designs & Style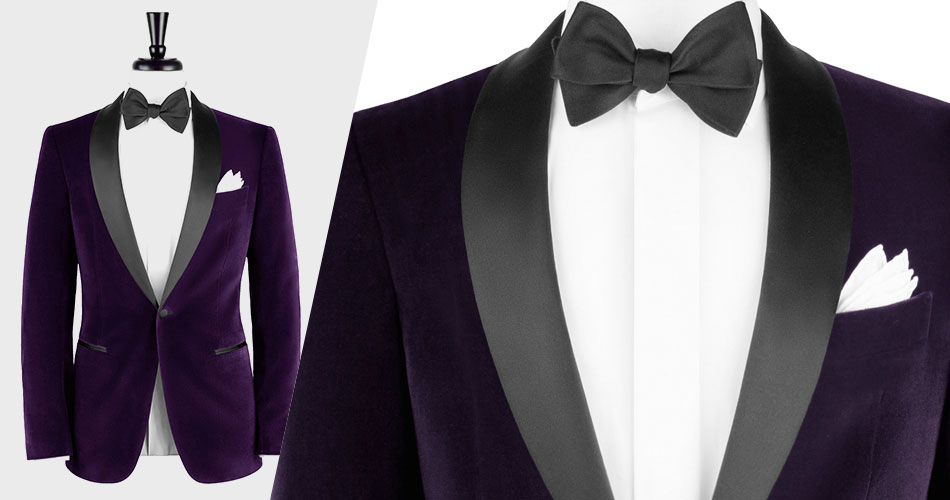 Whether your wedding is planned for the day time or night, Cheyenne thinks "the use of rich fabrics like velvet and corduroy are things we should expect to see this year". A velvet blazer or dinner jacket would apply for a night wedding, and corduroy or cotton suits are seasonal, day wedding fabrics that are trending.
When it comes to tuxedos, the style of lapel can be the most defining part of your wedding look. "The shawl collar has been brought back to life and will make a charming statement for any man when done right", Cheyenne tells us. Customizing your wedding tux or dinner jacket with a shawl lapel is a great option for the modern groom. Further, Cheyenne warns that you run the risk of looking like you're heading to prom if you wear a cummerbund, so leave your cummerbunds in 2017.
---
Wedding Suits vs.Wedding Tuxedos in 2018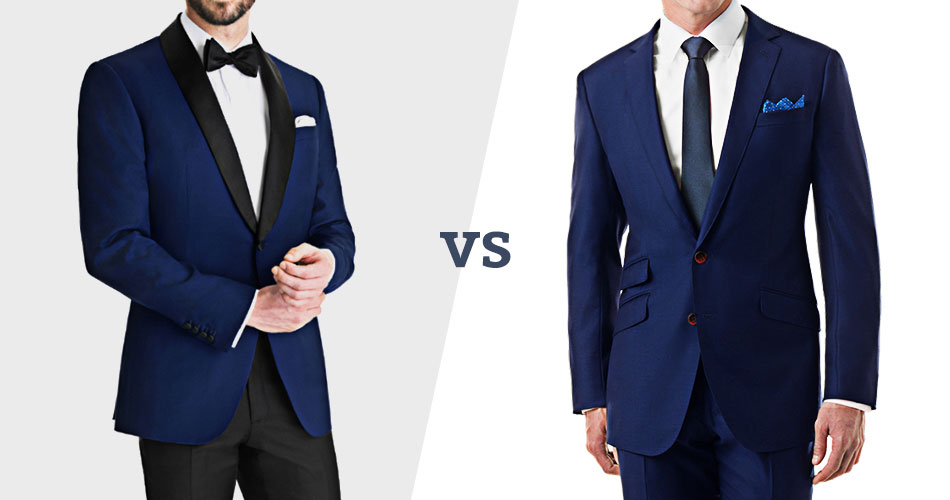 Wearing a suit or a tuxedo to your wedding is a common debate in 2018. A modern wedding suit, such as a light gray or royal blue suit (pictured above), is quickly becoming a go-to for grooms instead of the tuxedo. In fact, Cheyenne thinks full suits might soon be swapped out for separates: "We might also expect to see a breakup in suit jacket and pant, with contrasting fabrics in the same color-story." Suit separates can be a very suave look for grooms, just make sure to accessorize correctly and choose the right colors so you don't look like you're heading to a business meeting instead of down the aisle.
All that considered, if you're leaning towards wearing a tuxedo (or your fiance has established a Black Tie dress code), Cheyenne still thinks its a good move. "The tuxedo is here to stay in my opinion but is getting a revamp, making them more suit-like with slimmer notched-lapels and intriguing variations in fabrics. You can get away with wearing a black suit instead of a tuxedo, but it's got to be the right suit. It should be tailored immaculately." And that's advice that'll never go out of style in our opinion, too.
---
Men's Formalwear Colors in 2018:
Here, formal wear can describe your wedding suit or tuxedo, depending on which one you choose. According to Black Lapel grooms, one of the best wedding suits for men is a simple light gray suit. Cheyenne weighs in: "Gray suits look pretty dreary when not accessorized properly. However, when paired with a beautifully printed tie they can make an exceptional choice for the modern day groom."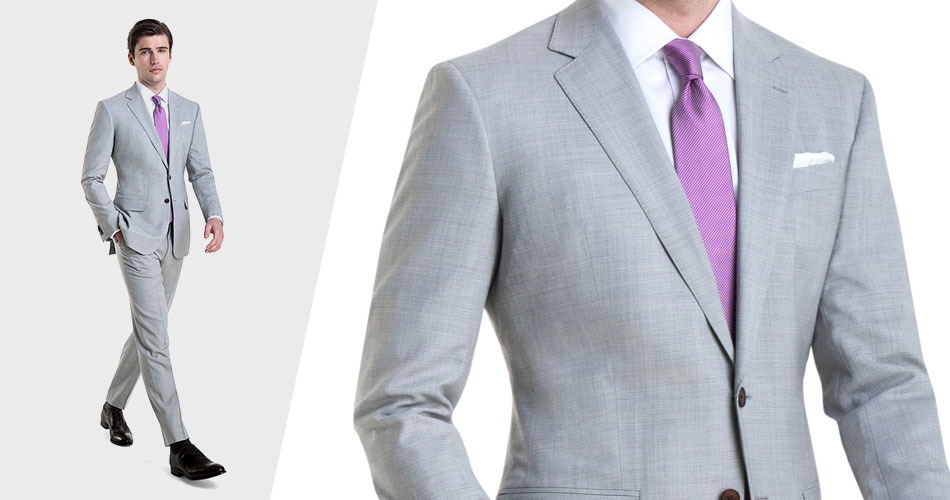 As we stated earlier, we think grooms should put more emphasis on fit rather than color. "The new year will bring about all kinds of daring new trends, most of which will not make the cut for the majority of wedding parties," Cheyenne adds perceptively, "but some of the adaptations in style for 2018 start and end with the simple addition of color. Rich caramels, deep burgundys, and black-blue's will be popular amongst those who are thinking just outside the box." Note that additions of a more trendy color are appropriate on a wedding party basis, but the latest menswear for weddings is still stylish, somewhat reserved in color, and always impeccably tailored.
Lucky for you, fit doesn't get any better than custom, made-to-measure formalwear. The debate between suit or tuxedo is still up for grabs, but it's all about the precision of the fit no matter which side you take. A custom fit is the trend that we're betting on for men's wedding suits in 2018.
---
---
Like What You See? There's More.
We'll send you style advice and intel for the modern man.
---