What is a Power Suit?
Published on June 13, 2022
Today, we're going to dive into what goes into a "power suit". What exactly is it, what personality does it convey, and where should you be wearing them?
If you're anything like we are, you love power suits. You love a wardrobe filled-to-the-brim in fashion that defines dress for success. And if you're anything like we are, you know that there are a lot of different styles, and each portrays its own attitude.
Let's get started.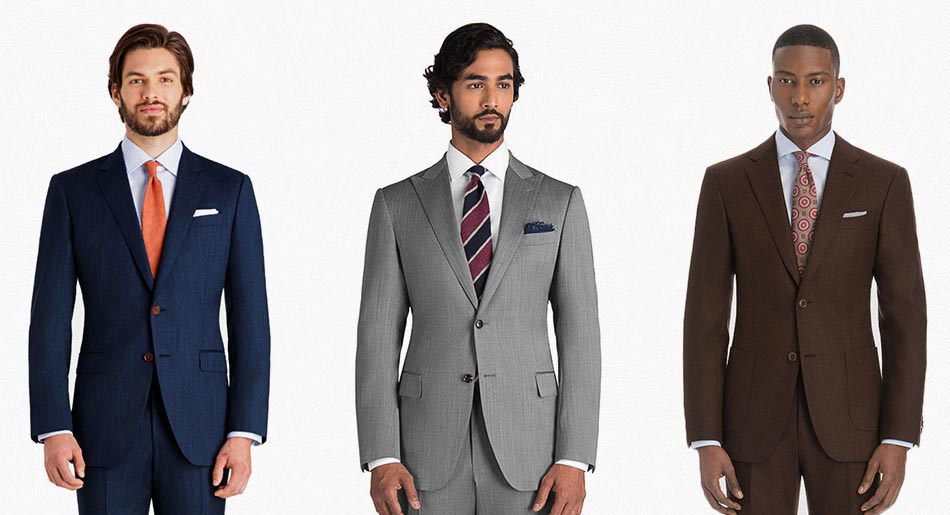 A power suit is a particular suit style that strides the line of conventional boldness. They exude poised confidence, dominate board rooms, and turn heads wherever they may be – think of how Gatsby would dress. They come in many forms and are solidified by the patterns and colors that they are worn in – usually with distinct patterns and dark, commanding hues. 
Often associated with power dressing, power suiting is often seen on the likes of wall street sharks or trial-of-the-century lawyers, but that doesn't mean you can't wear them if you don't fit those descriptions. 
Let's get into why you should always have a power suit in your wardrobe. 
Why You Should Invest In Power Suits
Everyone should have at least one power suit in their wardrobe arsenal for when an occasion calls for extra armor worthy of New York Fashion Week. Really, you don't want to be stepping into an important client meeting wearing a lackluster zoot suit that doesn't present you with the right attitude. And while not everyone is Beau Brummell, rest assured that when the time comes, you'll want a look that steals attention like Lady Gaga's crazy outfits, but screams confidence and competence. 
They may not be something you consider when you're buying your first suit (you'll want to start with the basics), but once you have your fundamentals added, we'd highly recommend you make your next addition something on the bolder side fit for a dinner with Meghan Markle.
Power Suit Styles: American vs. British vs. Italian
Even though they're mostly defined by their sartorially conservative colors and patterns, geography adds its own nuances depending on nationality. We highly recommend you brush up on British vs. American vs. Italian Suit Styles, but we can give you the low-down on key tailoring differences you can expect.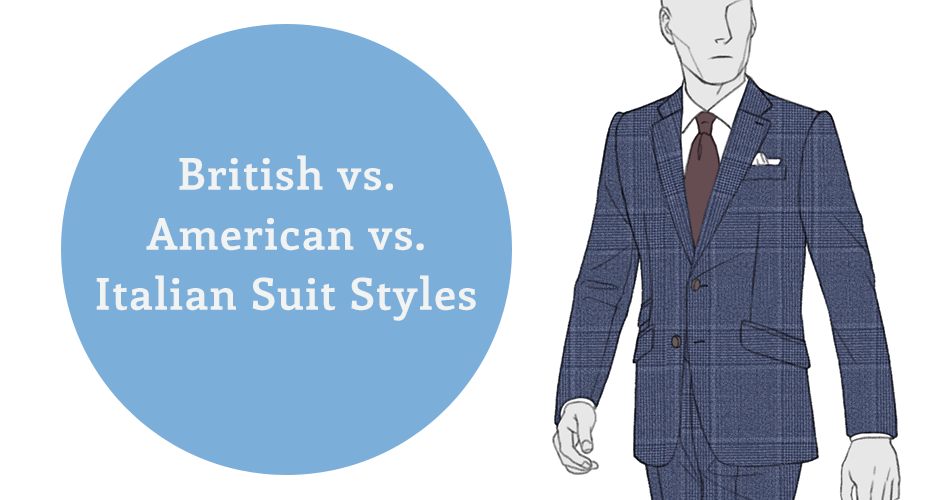 British Power Suits 
First, we have the British cut characterized by a highly-structured and perfect fit look. It brings a fair amount of formality to play with its defined shoulders with thick shoulder pads, narrow sleeves, high armholes and typically has surgeon's cuffs (functional sleeve buttons). As they are highly-tailored, British suits have a great ability to project enhanced functionality, authority, and attention to detail.
American Power Suits
The American style is straighter, looser-fit, and features a soft silhouette that pairs with light shoulder pads, loose sleeves, low armholes, no darts, and a near-universal single-breasted jacket with a single vent. They are more comfortable than other regions and offer plenty of room to breathe without looking unprofessional. American suits are (we hate to say it) often seen as the least stylish and most dated of the three styles. If you want to really focus on the "power" aspect when suiting up, you should consider the other options.
Italian Power Suits
If you're looking to really step up your game, Italian-style dress wear brings elegance to the table. The Italian obsession with beauty prioritizes silhouette aesthetics and lightness over all else. Highly tailored, the Italian version fits close to the body and features a tapered waist, high armholes, and very little shoulder padding. This results in sleeker, more natural-fitting suits and an incredibly tasteful way to dress for success. 
Examples of Power Suits You Need To Own
With targeted advertising, you would have seen the likes of Yves Saint Laurent's Le Smoking tuxedos or a Giorgio Armani double-breasted suit worthy of the influential men that grace the covers of the Wall Street Journal. If you want to portray strength to the world around you, an era-defining power suit can still be affordable!
Power Suit #1: Gray Herringbone Blue Stripe Flannel Suit
Our beautiful Gray Herringbone Blue Stripe Flannel Suit brings a few factors to the table that elevate it to power suit status. First, its dark and bold gray hue adds mystery and intrigue, while its blue stripes claim attention and attract the eye. Its high-end fabric made in Italy by Vitale Barberis Canonico ensures the highest standard in quality, and it's made into an intriguing flannel that is unique and distinct.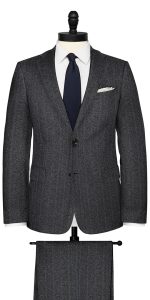 Power Suit #2: Blue Glen Plaid Suit
The powerful influence of this Blue Glen Plaid Suit comes from the subtle details of the glen plaid pattern etched across the handsome blue hue of this suit. Wearing subtle patterns like these automatically distinguish suits that bare them from all of the others and is a great example of what it means to power dress. If you're seeking classic and bold menswear worthy of spirited suiting across runways, this is it.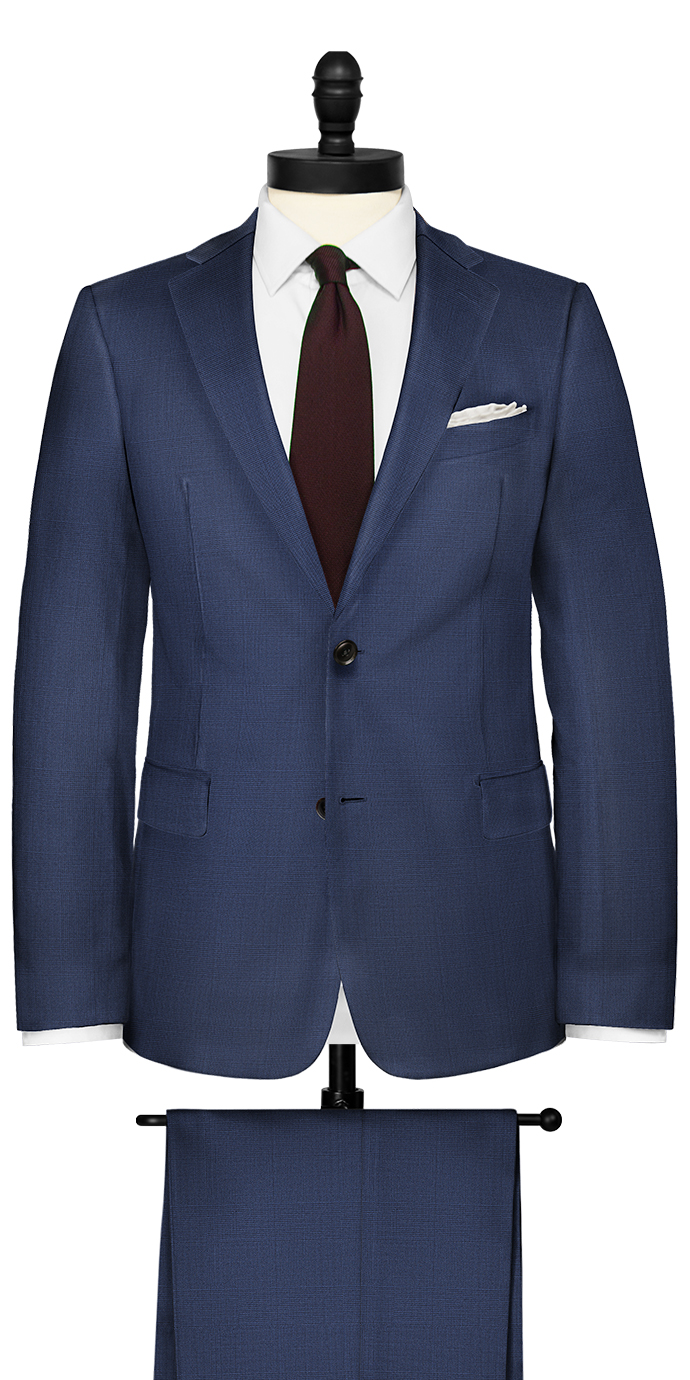 Power Suit #3: Dark Gray Sharkskin Suit
While its pattern is subtle, this Dark Gray Sharkskin Suit is a classic. It's a perfect addition to a "power suit" collection. Made of high-quality material, this masterpiece suiting is extremely sleek and respectable, which are valuable qualities you want in your suits.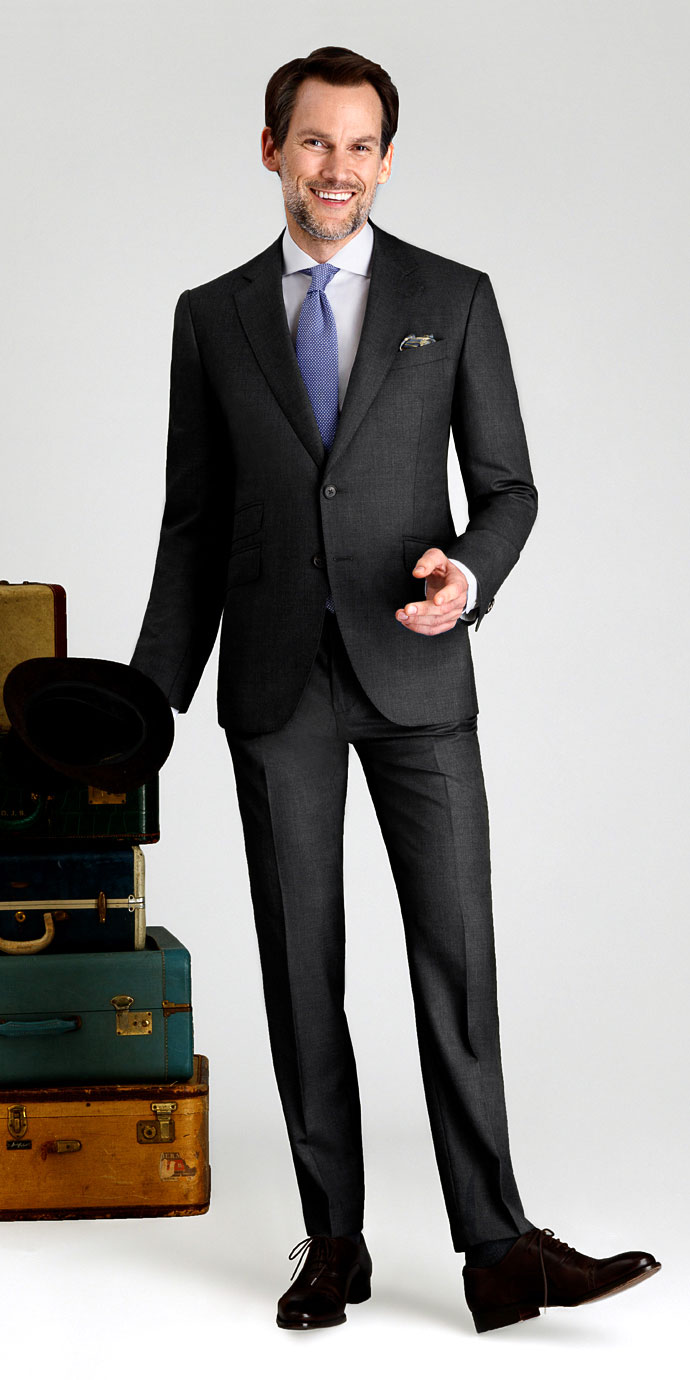 How To Wear a Power Suit
Take one from Melanie Griffith's character Tess McGill's book, pull up your trousers, and stand tall. Men's suits should be worn with pride. 
#1: Wear it at the right event.
Power suits aren't the best pick for every occasion. They may work great in your more conservative office environments, but we wouldn't recommend you strut in wearing a power suit and your polished heels every day. They are excellent for formal occasions like weddings, anniversary dinners, or any event where you need to step it up a notch. But don't wear them for anything that doesn't demand the utmost formality – meaning, weekday cocktails with friends or your child's 5th birthday would be fine in your other clothes.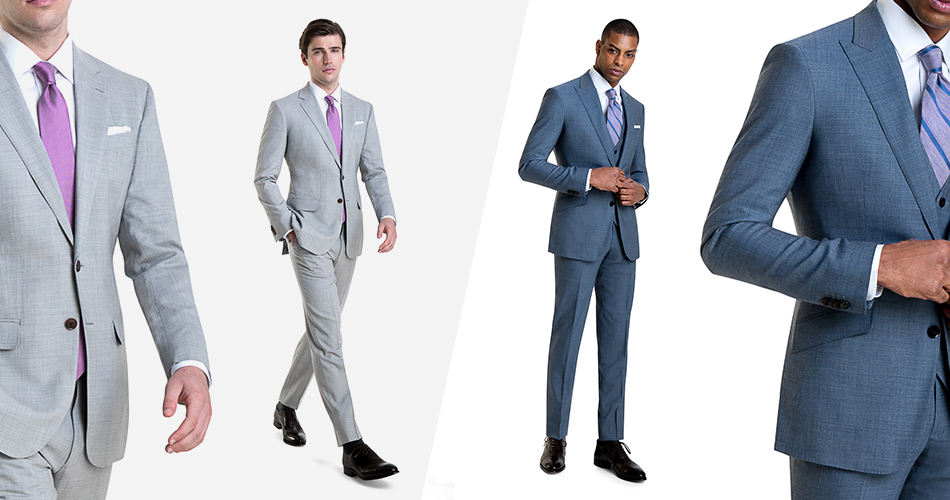 #2: Choose the best Power Suit colors and patterns.
The true source of "power" in these suits comes from the patterns and hues that they come in, but it's also important to note that quality is crucial. Poor fit (we always recommend made-to-measure), a wrinkled shirt or lapel, or a suit made of anything but sleek materials all detract from a powerful image. They should be viewed as an investment. You only need a few and you want them to be suitable for the formal gatherings you'll be attending.
Pinstripes, windowpanes, and even houndstooth are classic examples of patterns that define them. Pair with a bright, eye-catching color, such as midnight blue, charcoal gray, or even a dark brown.
#3: Pair with a Power Tie.
What makes a power tie is twofold: first, the color, then (which you have more control over) the type of knot you wear. We will say, though, that sometimes it's best to let your suits do the talking, and instead allow the tie to be a secondary thought. Consider if you're wearing a double-breasted suit, if you have wide lapels, or if you have a pattern that is extra "loud" and powerful. Red ties, gold ties, and blue ties all work especially well – but don't be afraid to go with a more subtle option and let your attire reign in the well-deserved looks. 
As far as the knot goes, there are examples of tie knots that are more formal than others – think full-Windsor knot (sometimes referred to as a double-Windsor).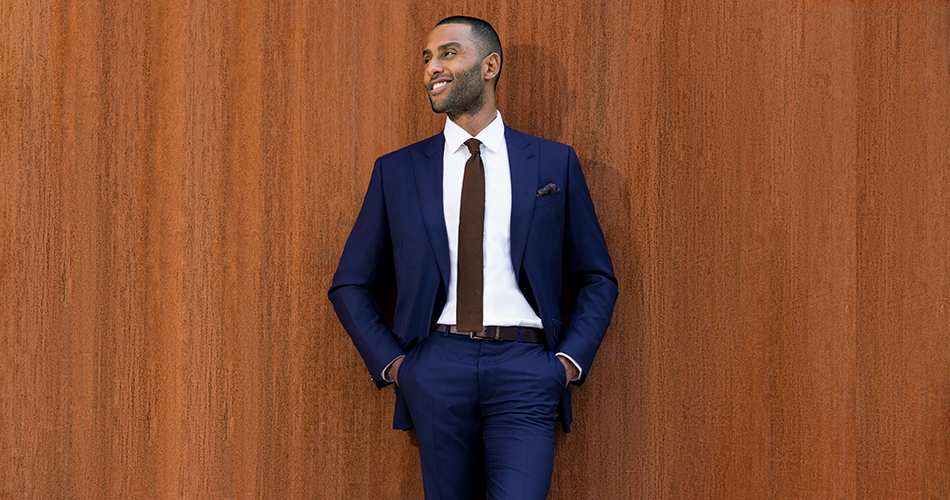 Frequently Asked Questions
Relevant adverts are creating more and more power suit wearers. They're not as hard to work out as Metroid Prime's Varia Suit, but we've still answered the most frequently asked questions:
Are power suits in fashion?
Designers are constantly reimagining these professional two-piece suits. Their nature lends itself to always being appropriately on-trend since they aren't worn day-in and day-out. When the opportunity presents itself, the man or woman wearing them is guaranteed to garner respectable attention. They'll remain prominent in the world of men's and women's fashion.
Why should I wear a power suit?
Wear it when you want to look as confident as you want to feel. There is no greater feeling than dawning dark navy pinstripe pants and jacket before a Monday morning board meeting and knowing that you will impress. 
Why is it called a power suit?
They're called power suits for a simple reason – they bring an added level of power to your appearance, giving you and your presence a more esteemed and established look deserving of extra respect. 
Why is power dressing important?
It contributes to how others perceive you and demands attention and respect. It gives you an air of importance and expresses confidence, strength, and authority. There will always be an event or situation that requires you to bring your A-game. That's what dressing for success is all about. Especially when formal occasions come into play, you don't want to be the one coming in underdressed and mediocre. However, that being said, you don't want to be overdressed (say, a job interview). 
How do you clean your power suit?
Both men's suits and women's suits would have care labels that advise the best practice to take care of the garment. Dry cleaning (never in a washing machine), proper storage, and steamers for wrinkles are essential in maintaining its integrity. We have an in-depth article outlining everything you need to know when learning how to clean a suit that you should check out. 
More Helpful Guides About Suits
If you want to look great in suits, arm yourself with knowledge about the suiting universe. Remember, it's more than about it fitting!
In Conclusion
Wear those power suits with pride when you want to dress for success. Remember, power dressing is about being the elevated version of yourself, where you let your clothes do the talking. Project that confidence and that strength!
---
Like What You See? There's More.
We'll send you style advice and intel for the modern man.
---