The 5 Worst Suit Mistakes You're Making
Published on February 20, 2020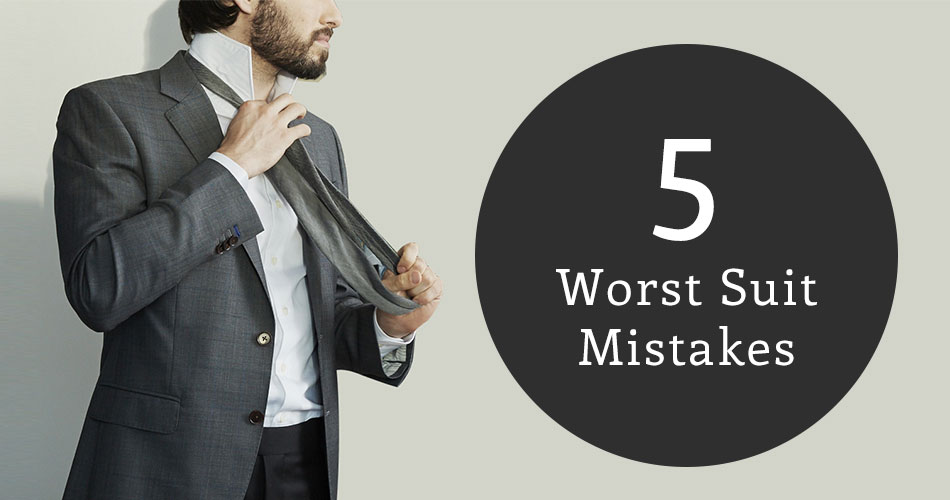 Want To Look Your Best? — Avoid These Common Suit Mistakes
Putting on your favorite suit is supposed to make you look and feel like a million bucks but a few suit mistakes can really trip up your style. Even if you nail most of the fit, wearing a suit with even one of these common mishaps will set you back. And remember, suit mistakes can happen from head to toe. Your suit jacket might fit perfectly, but your dress pants could fall short… literally. 
Suit mistakes not only take your style down a notch, but they also impact your return on investment. It's true, a great suit is not something (most people) can buy all the time, so when you do, it's important that you get it right. Especially if the difference between nailing the looking and f-ing it up is a simple alteration that cost a tiny fraction of the price you paid for the suit itself.
Fortunately, we're here to make sure you don't fall victim to one of these style blunders, and we've put together a list of the 5 most common suit mistakes that you can easily avoid with proper knowledge. 
Read on to make sure you're suiting up right.  
---
1. Shirt Sleeves Too Short / Suit Sleeves Too Long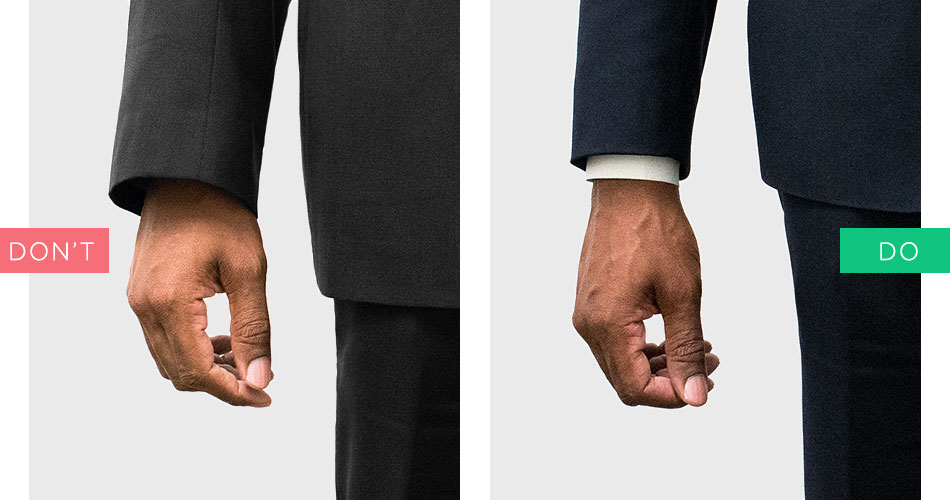 Nothing looks more like you're wearing a bargain-basement suit than a jacket sleeve that swallows up your shirt sleeve, or, a shirt sleeve that comes nowhere near your wrist.
This style error is a common problem that men run into simply because of the fact that there are two garments in play, and more chances to get it wrong.
How to Get It Right
Your shirt sleeve should peek out from under your suit jacket sleeves (we recommend between 0.25" and .5) when your arms are at rest by your sides.  Your dress shirt sleeves should end at or very close to where your wrists meet your palms. Too short and your shirt sleeves will push too far back if you raise your arms. Too long and your shirt sleeve cuff will begin to fold and pool at the back of your hands when your arms are down. An excessive length can also show a distractingly large amount of shirt cuff when worn with a suit jacket – especially if that jacket's sleeves are also shorter than they should be. 
Suit jacket sleeves should end right above the top of your wrist bone (or the hinge of your wrist). Having your suit jacket sleeves end at the correct position will enable your shirt sleeve to show 1/4 inch to 1/2 inch of the shirt cuff. 
With these two elements properly fitted, you'll have sleeves that look similar to the second example above.  
---
2. Dress Pants Too Baggy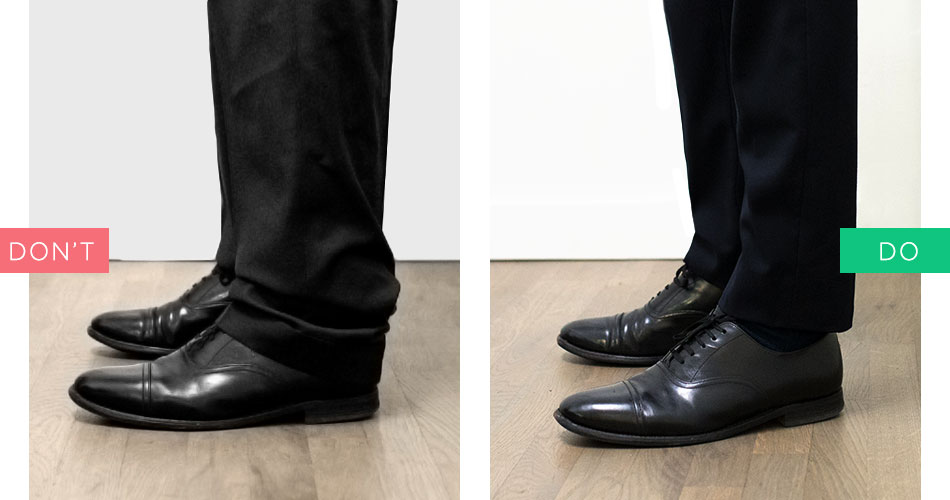 If your dress pants look too baggy, it's safe to say they don't fit you; at the very least, they are too long. However, there could be more than one factor at play, and if you want a more in-depth look, we'd suggest you check out learning how dress pants should fit. That being said, this mistake is also fairly common, and excessive fabric or 'pooling' at the bottom isn't a great look when you're suiting up. 
How to Get It Right
Regardless of the amount of break you prefer in your dress pants (the way your pant leg meets your shoe), the bottom of your pants should not be baggy. Even with a full break, a style where your pants will overlap with your shoes at the bottom, it will still be clean and fitted with a single pronounced crease, not baggy and sloppy. How to fix this? Make sure your pants are the right length and visit a tailor to alter the length to where you can get a clean full or partial break. Again, we highly suggest you read up on how dress pants should fit to get a clearer, more complete picture. 
---
3. Suit Shoulders Too Big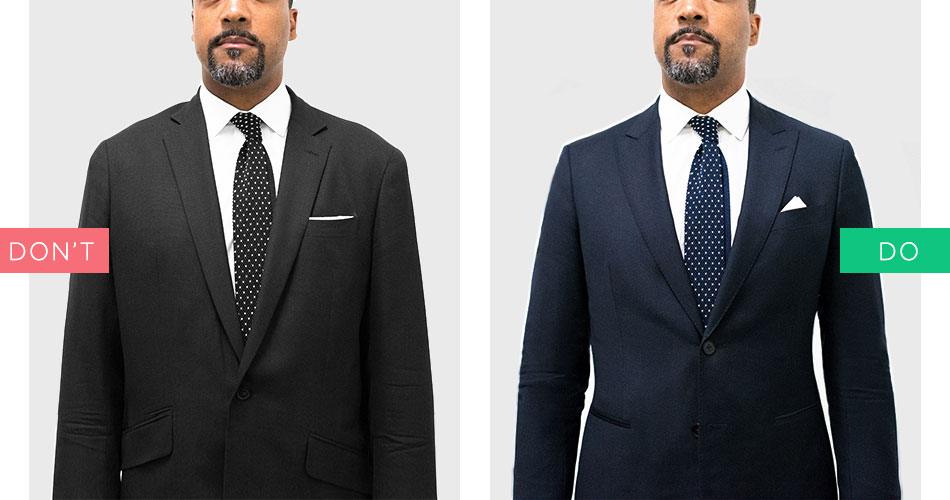 If you're not sure how a suit should fit, you may find yourself in a suit jacket with shoulders that span farther than where your shoulders actually are. This results in a suit mistake that leaves you looking disheveled at best. Obviously, this a look we'll want to avoid. 
How to Get It Right
As far as suit jacket fit goes, shoulders being too wide is (again) fairly common. When the jacket shoulders are too wide, you'll also start to see the dreaded shoulder hump before you get to the end of the shoulders. You might have a ton of room inside the jacket (too much room), but you'll look like you borrowed a suit from a linebacker.
To fix this, ensure your suit jacket shoulders fit you just right. How do you know? Proper fitting shoulders mean the padding of the shoulder is aligned with yours, creating a smooth, straight line from the collar to the sleeve and a cliff right at the spot where your shoulder points end. 
---
4. Mind The Collar Gap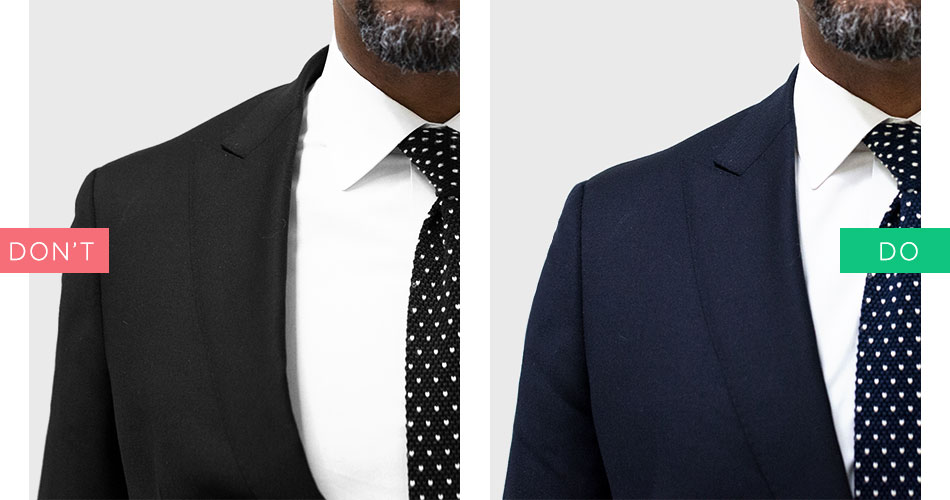 It may not be the first thing you think of when you're suiting up, but there is a critical relationship between your suit jacket and shirt collar. Looking at the image above, it's clear that the suit on the right fits better.  That's because it does not have a noticeable gap in between the suit jacket lapels and the dress shirt collar — a pronounced problem with the suit on the left. Your jacket's collar should stick closely to your shirt collar through thick and thin, any resulting gap will result in your style being sabotaged. 
How to Get It Right
There are a number of reasons this could be occurring. However, they all come down to poor fit. If you have a perfectly fitting dress shirt, but a jacket that is too small in the chest, a collar gap will show. At the end of the day, correcting this suit mistake comes down to, again, nailing the fit. If your jacket fits the way it should, the silhouette formed by your suit lapels in the front should be that of a 'V' rather than a 'U'.
---
5. Suit Too Big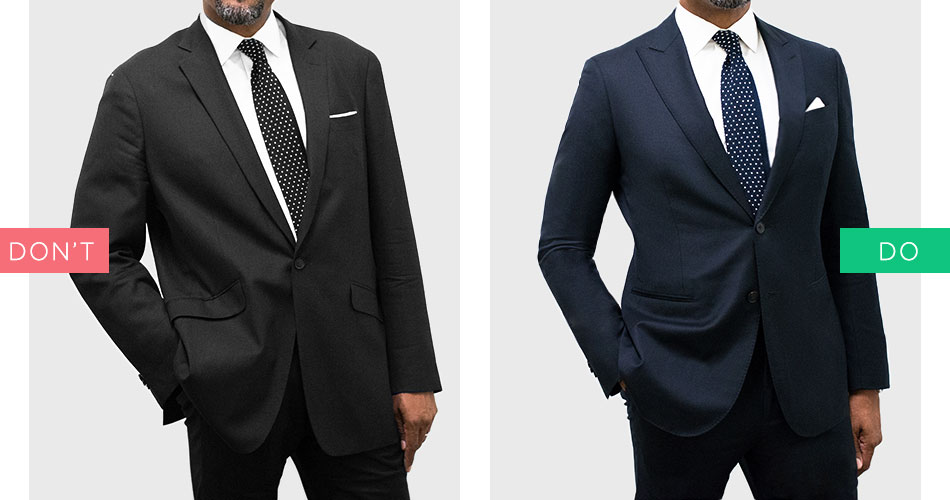 If your overall suit is too big, your style is dead on arrival. You can sport a fancy wristwatch, dab on just the right cologne, have the perfect hair product in and don a pair of the dopest dress shoes and none of that would matter one lick. If your suit is billowing on you like you're some kind of flying squirrel, it's time to toss it in the donation bin and start over.
How to Get It Right
One symptom of an oversized jacket is a poor fit in the torso. A properly fitted suit jacket will taper from the chest to the waist, this is called waist suppression. Applying the right amount of jacket taper/waist suppression is one key to a great fit. For some, very little waist suppression is preferred but by no means should the fabric roll and bunch in the torso. Most men with anywhere from slim to average to athletic builds would benefit from a sharper taper from the upper body to the waist.
However, perfecting the fit of your suit jacket means nailing a variety of sensitive measurements that are specific to you. Because of this, the easiest way to ensure your suit jacket fits is having it custom made to your measurements.