The Different Types of Suit Pockets — How To Choose Yours
Published on June 7, 2019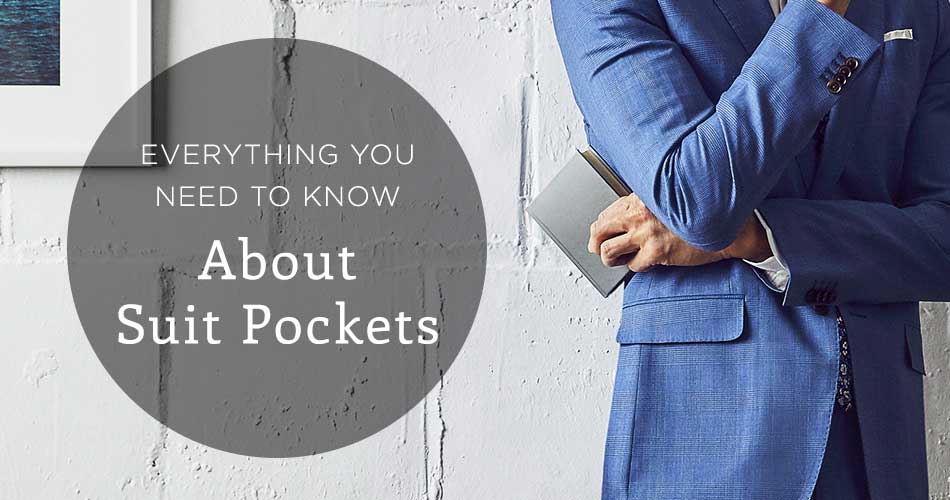 Everything You Need To Know About Suit Pockets
Let's talk suit pockets, and before we go further, let's clarify that for this article, we're referencing the suit pockets found near the lower front portion of the suit jacket and not the single top breast pocket.
Suit pockets may not serve much of a practical purpose, but that doesn't mean they can be overlooked. Like pick stitching, the types of suit vents, or button stance, suit pockets are but one of the myriads of seemingly small details that come together to tell a cohesive story about the suit and the man wearing it.
---
The Most Common Suit Jacket Pocket Types
There are several types of suit pockets to choose from, each of which makes a different statement. We're going to cover the most common suit pocket variations. As always with our guides, understanding these options will allow you to make informed style choices that reflect your personal taste.
Flap Pockets
Meet the planet's most ubiquitous suit pocket type. A flap pocket is exactly what it sounds like – a pocket with a rectangular flap covering the opening, fashioned from the same fabric as the rest of the jacket.
Choosing a flap pocket is almost always a good move. This is the most versatile, middle-of-the-road option and will look appropriate in almost any situation except a white or black tie event where piped pockets are called for (more on that below).
Whether you're buying your first suit or your tenth suit, you can't go wrong with flap pockets. You'll them on everything from your granddad's tweed sport coat to a Fortune 500 CEO's power suit.
---
Piped Pockets
Piped pockets – also known as jetted pockets, besom pockets or welted pockets – feature no flap but are otherwise identical to flap pockets. With ultra clean lines and minimal visual bulk, this is inherently the most formal of the suit jacket pocket types.
Consequently, piped pockets are a must for tuxedos and dinner jackets because of the sleek, clean silhouette that it promotes. Dapper dressers who like a minimalist look can also opt for piped pockets on their everyday suits.
---
Patch Pockets
Patch pockets are made from separate pieces of the suit fabric stitched directly onto the outside front of the suit jacket or blazer. This suit pocket type is the earliest and most primitive take on pocket construction.
Because patch pockets sit externally on the garment's surface and are fully visible, a patch pocket suit is casual by nature. Patch pockets are appropriate when you're going for a relaxed and effortless vibe, but should be avoided when formality is required. You're most likely to spot patch pockets on a sport coat (blazer), or an informal suit (e.g. a summer linen).
---
Ticket Pocket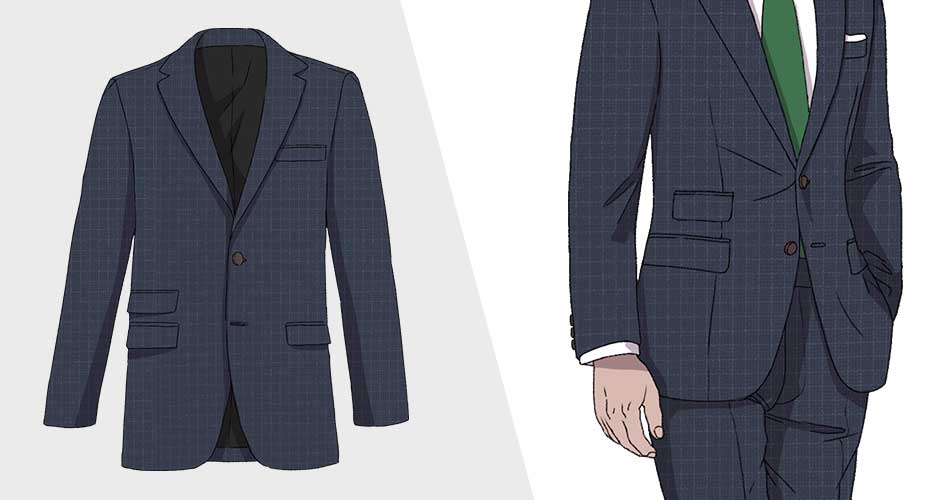 Somewhat lost to history, the ticket pocket's backstory is rooted (much like most suiting history) to British heritage. During the golden age of train travel, ticket pockets became a popular and practical tailoring request. Men making regular trips between the city and the country stored train tickets in this dedicated pocket to avoid fishing through the main pockets when their tickets were required.
The ticket pocket is typically located just above the standard right pocket (because most people are right-handed) and is slightly narrower than the pocket below it. It can be straight or slanted to match the orientation of the primary pockets.
Functionally, the ticket pocket is of little use today, but it shows appreciation for tailoring tradition and makes a fashion statement for the guy who likes a classic touch on his suit.
---
Suit Pockets: Slanted or Straight?
Next up is the orientation of the pockets. While patch pockets are generally oriented just one way, flap or piped pockets can either be straight or slanted. This stylistic detail of your suit jacket pockets is another opportunity to inject your personal style into your suit.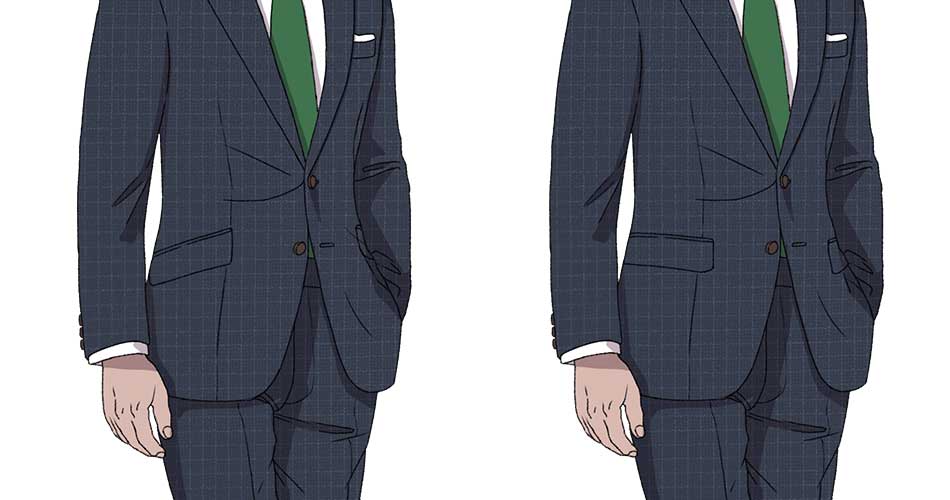 Slanted Pockets
Slanted pockets, also known as hacking pockets, have a rich history rooted in English tailoring and equestrian pursuits. This is because slanted pockets are easier to access while on horseback and more effective at preventing items from falling out since the rider is leaning forward, thus making the slanted pocket opening actually parallel to the ground.
This is not a concern for most suit-wearing gents in the 21st century, though one advantage of slanted pockets is that it can help shorter or stockier men appear taller and leaner due to the angle, naturally drawing the eye upwards instead of outwards.
To summarize: If you want to stand out and stand tall, slanted pockets are the way to go.
Straight Pockets
Straight pockets, where the pocket opening is parallel to the ground when you're standing, are a traditional look anyone can sport without fault. If you are especially slim, straight pockets can also create the illusion of more volume at your sides, making you appear less lanky.
To summarize: Straight pockets are a traditional and standard option for your suit jacket pocket, and the Can't-go-wrong choice if you're undecided between the two.
---
On Proper Suit Pocket Etiquette
Now that you know the most common suit jacket pocket types, we wanted to cover some basic etiquette. There are really only three things the conscientious suit-wearer must know about proper suit jacket pocket usage.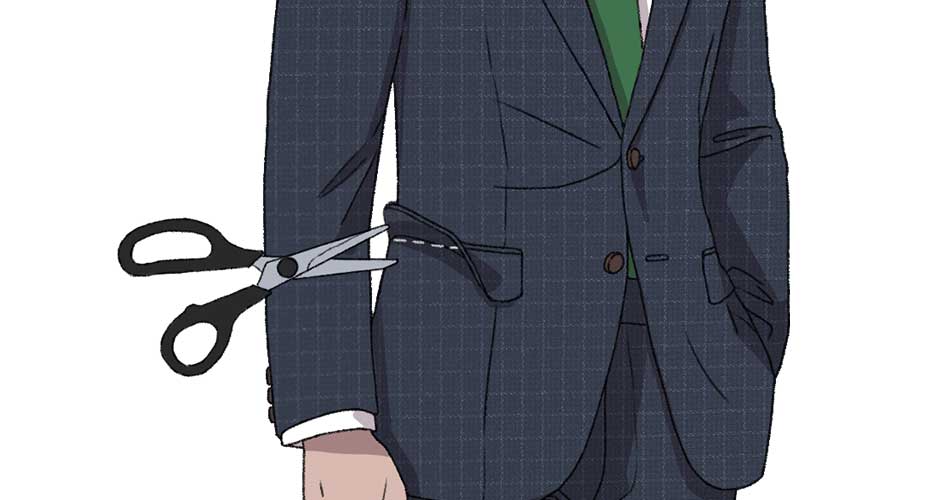 First, if the pockets on your new suit are sewn shut, you can gently snip the threads and discard them to open up the pocket — be careful while doing this. It is not a manufacturing mistake nor is it meant to be permanent. This is called "tack stitching" and it is often used on pockets and vents to help the jacket retain its shape until it's sold or the pockets need to be used.
Second, if you do open up your pockets and your pockets are of the flapped variety, you can then tuck your pocket flaps into the pocket to create a piped pocket look. If you do this, please make sure whatever you do on one side of the jacket, you do the same on the other side.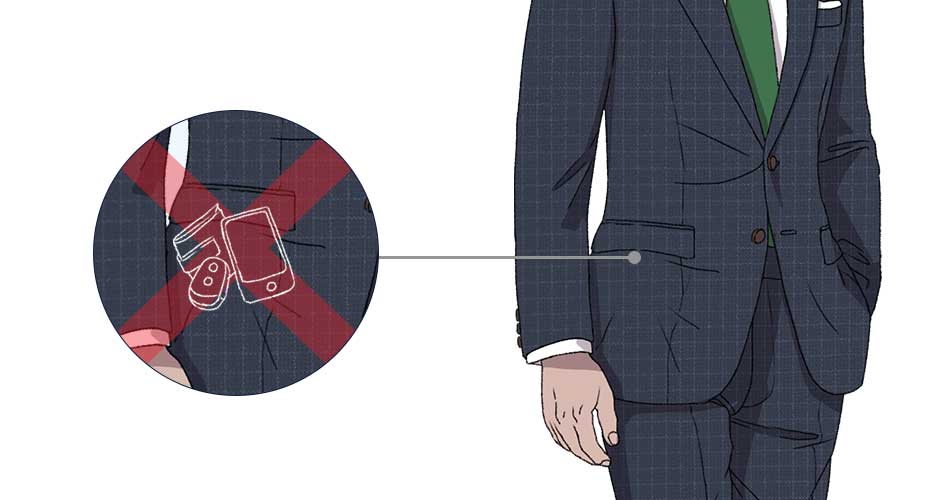 Take Care of Your Suit Pockets
Lastly, remember that just because you have suit pockets, doesn't mean you have to use them. While you can certainly fit a large smartphone or even a small tablet into your suit jacket's exterior pockets, placing bulky items or too many items in your pockets weighs the jacket down and can distort the silhouette of your suit. Sharp objects like keys might also damage the lining of the pocket. Stick to smaller, lighter, thinner items if you must make use of them. Suit jackets are an investment, treat them nicely.
---
Suit Pockets Simplified
While there are a few different types of suit pocket styles, it really comes down to personal preference like many with many things when it comes to suiting up.
Which pocket type is your favorite? Let us know in the comment section below! And, if you have any questions about suiting up, leave us a comment and we'll offer you our two cents (that you can pocket)!
---
Like What You See? There's More.
We'll send you style advice and intel for the modern man.
---