How to Clean a Suit and Keep Your Suit Clean
Published on December 7, 2018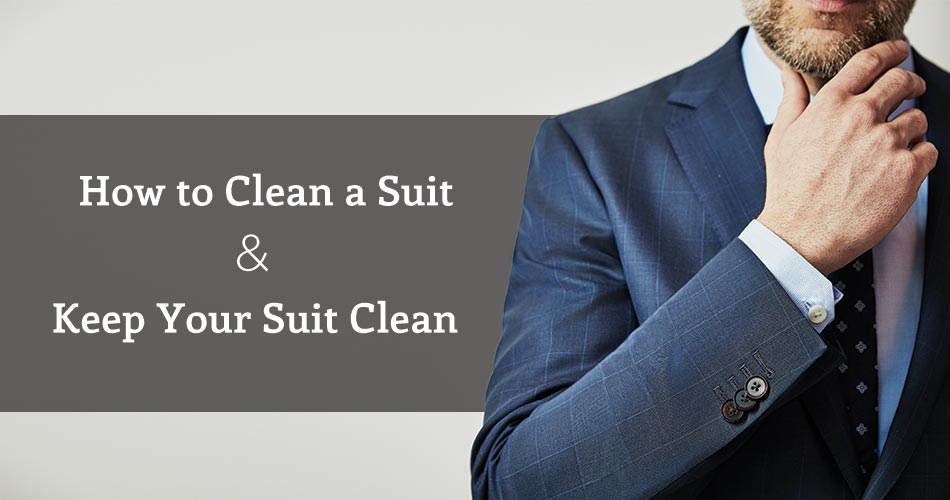 Our Guide to Maintaining Your Clean Suit
You need to know how to clean a suit. After all, your suit is what makes a statement the moment you enter a room. A charcoal herringbone suit conveys classic style and a sense of authority, whereas an ash gray flannel suit suggests a more urbane, creative and relaxed vibe.  A custom three-piece suit evokes sophistication and tradition, and a bold, navy windowpane suit offers a hint of rebellion and a little extra bit of flair. But none of that matters if you walk in with a suit that looks and smells like you've been holed up in Atlantic City on a 72-hour poker binge.
That's not a great look. A quality suit is an investment, and as any suit savvy man knows, it pays to invest wisely in a top-notch custom suit. However, a quality suit must be maintained with proper care and attention; don't let lack of care or bad practices undermine that investment.
We've rounded up some of the most common questions about maintaining a clean suit and answered them below to help keep you and your suit looking so fresh and so clean.
---
How Often Should you Dry Clean a Suit?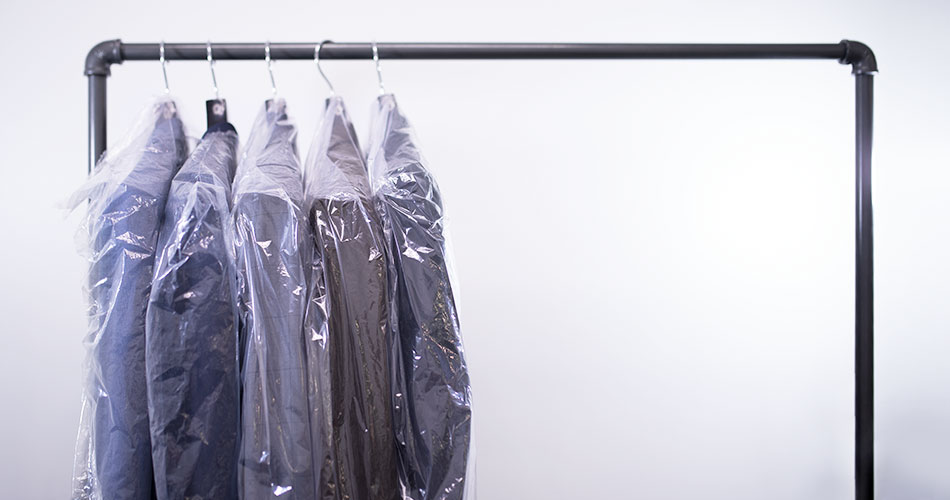 When it comes to knowing how to clean a suit, this is the most common question plaguing men day-in and day-out. This answer may surprise you, but we recommend dry cleaning your suit jacket around two times a year. This doesn't include your pants, which can be dry cleaned at a more regular basis as they undergo more wear and tear (we always recommend buying a second pair of matching pants for your suit if the option is available). It's all about preserving the quality.
The fact is that dry cleaning a suit is a fairly harsh process, and when a suit is subjected to that chemical process too many times, it can start to wear away natural fibers and result in shiny seams, brittle fibers, or worse, cataclysmic deconstruction. Therefore, the answer to how often you should dry clean your suit is that it should be your last resort when proper airing, steaming, spot cleaning and brushing simply aren't enough. We'll cover these techniques later on in this article.
---
How Do I Unwrinkle a Suit?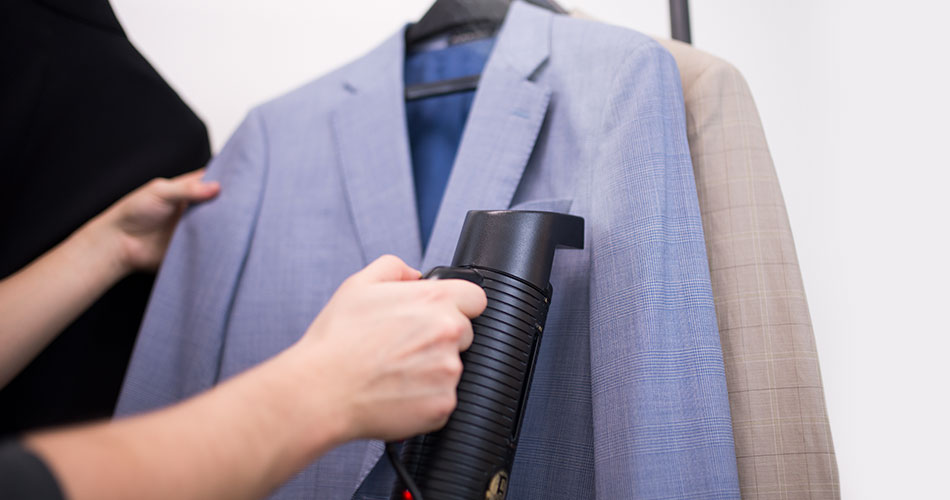 To get wrinkles out of your suit, always hang your suit properly. In fact, this is the easiest way to avoid them altogether in the first place. When wrinkles do appear, and they will eventually, always use a suit steamer set on low to relax them, DO NOT iron your suit at home as an incorrectly set temperature can leave permanent shine patches and streaks on the wool fibers. A standing or handheld steamer is definitely a worthwhile investment and very easy to use.
Oh, and as a reminder — steam rises, don't burn yourself.
If you're on a trip, and no steamer is available, you have a readily available way to steam your suit nearby. Simply hang your suit in the hotel bathroom, turn the shower on hot, close the door and let the room fill with steam for 10-15 minutes. If you're taking a shower at the same time, prepare to step out to a significantly less wrinkled suit.
---
How Do I Remove Body Odor From My Suit?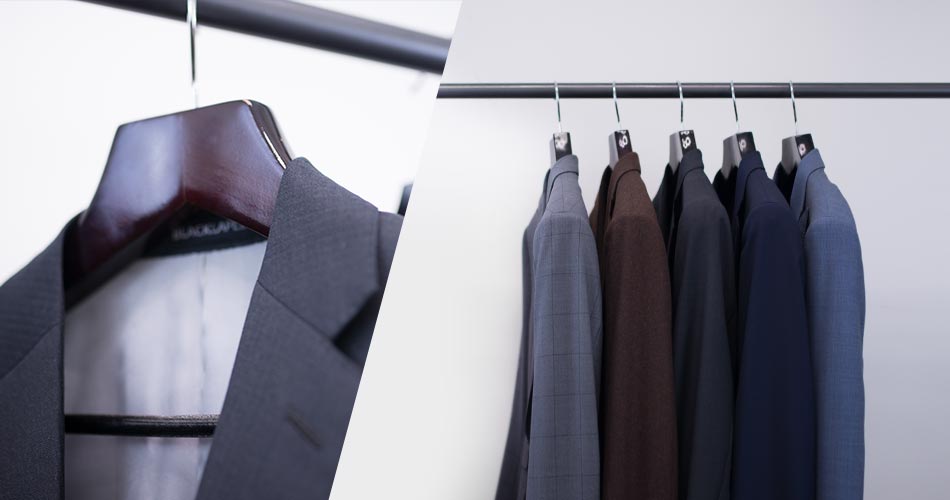 When it comes to avoiding suit odor from sweat and repeated wear, your best practice is always to hang your suit to let it air out naturally after wearing. The breathable, natural fibers of your suits have the organic ability to circulate odors out, that is if you're not stuffing it in a crowded closet. Circulation is key here, so make sure your suit is hanging in an open environment or there is sufficient room on your suit rack (no two suits should touch).
A quicker, more temporary fix is to Febreeze your suit jacket. You can do this when the odor is slight – say, from an airplane or a lunch break at a bar and grill. Before you Febreeze your suit, turn it inside out and then apply a few spritzes' at arms-length away. It's important you don't overdo it like a teenager with Axe body spray. If your suit is a little too ripe for either solution, that's when it's time to head to the dry cleaners.
---
Should I Invest In a Suit Brush?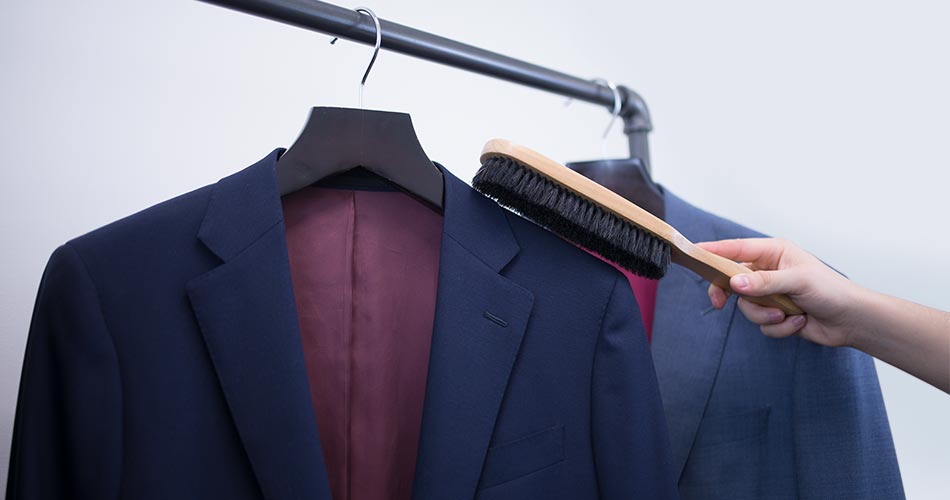 Yes, you should. A suit brush is an important part of proper suit care and will help maintain your clean suit. A suit brush (or garment brush) is made from natural bristles and when applied to your suit is a gentle way to remove built-up lint and dust, all without the risk of wearing down your fabric. Make sure to invest in a natural bristle suit brush, as a synthetic brush is tougher on your suit fabrics. To keep your clean suit as maintained as possible, simply brush your suit after each wear.
---
How Do I Spot Clean a Suit?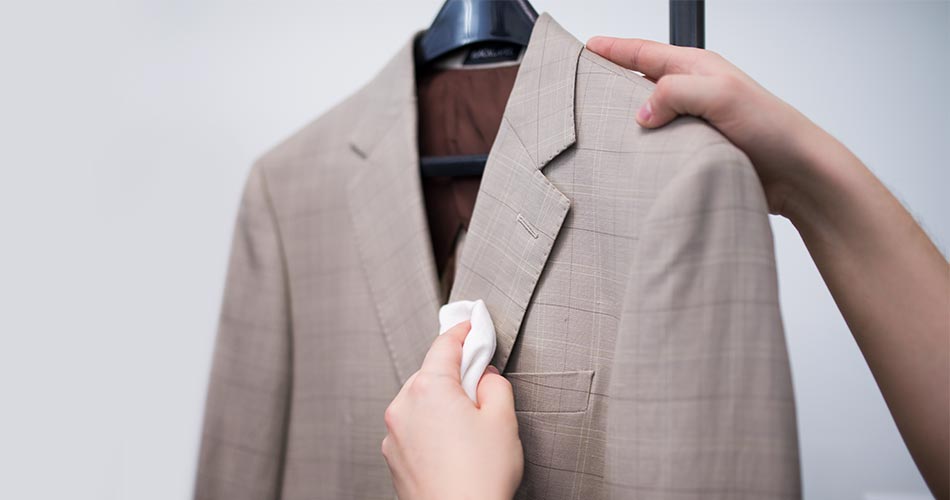 Stains are bound to happen no matter how careful you are. Don't panic when the time comes, but don't let it sit long untreated as this will make it harder to get the stain out of the fabric later. Your best bet is to try spot cleaning your suit.
When you're spot cleaning, make sure to keep it simple and keep it gentle. Use water and a soft towel on small stains. Don't scrub aggressively from the jump, as this will only press the stain deeper into the fabric. Instead, use the towel to absorb the stain with gentle pats. Don't experiment with soaps or detergents as you run the risk of seriously damaging your suit further with chemical damage. After you're finished with your spot clean, hang your suit to let it air itself out, and brush the stained spot carefully after the suit is dry.
---
Can I Pack a Suit For a Trip?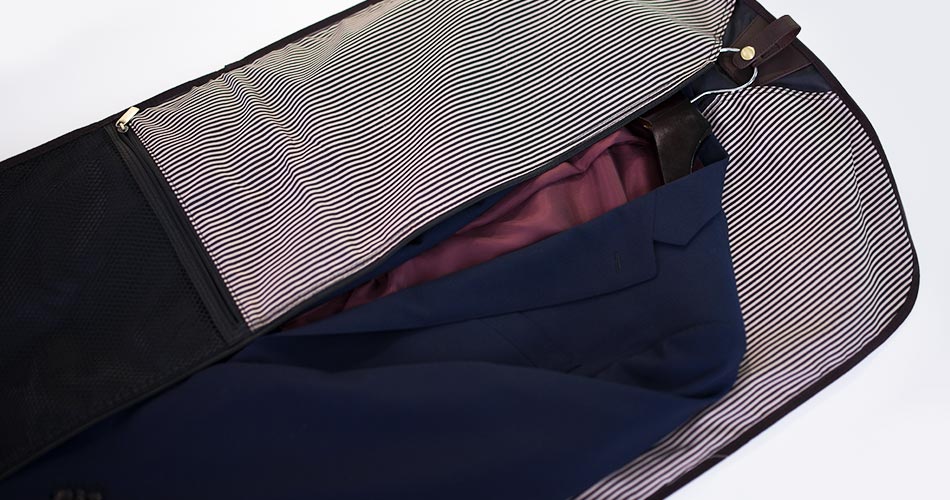 Pictured here: Blue Excursion Garment Bag by Black Lapel
Absolutely. There are a few ways to go about this. The best way to pack a suit for a trip is with a garment bag, which is a large zippered bag that you can hang your suit in to protect your suit and reduce wrinkles. After that, there's your suitcase. We give a step-by-step guide on how to pack a suit, and we encourage you to give it a read as it's important to understand the proper folding technique to reduce wrinkles during transit.
If neither of these options is available, you can game the system by wearing your suit. Of course, wearing the suit will add to the wrinkles, particularly if you're sitting in Economy like the rest of us mortals for your long-haul flight. That's where a performance fabric traveler suit that naturally wrinkles and moisture resistant can really help.
---
What's The Best Technique for Suit Storage?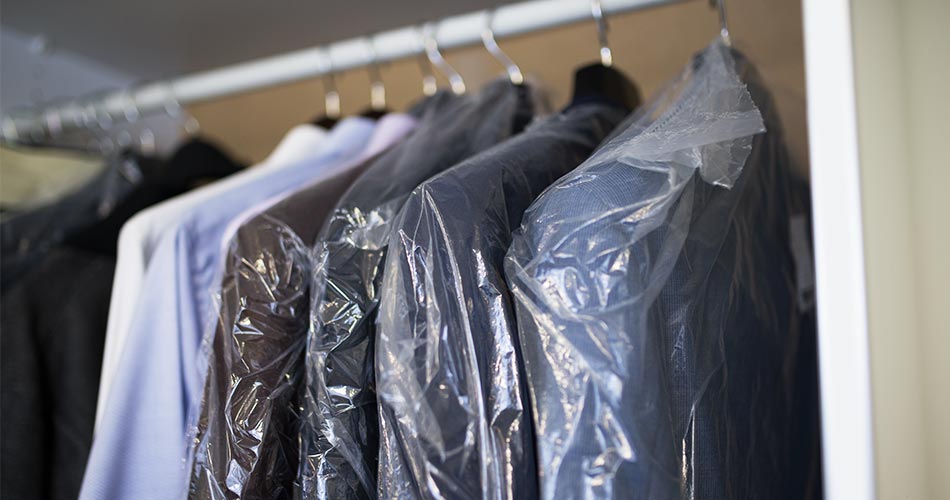 Before you're ready to store your seasonal suits — like heavier winter wool flannel suits and lighter summer linen blends — you need to do a couple of things to prep them for their months-long hibernation. First, dry clean at the end of the season. Astute readers will note that this is one of two dry cleans you should put your jacket through each year. It's important you do so prior to long-term storage as any sweat residue to contain enzymes that will continue acting on your fabric (this is why your white shirt collars stain over time).
After the cleaning, keep your suit in the plastic wrap from your cleaners for storage. The plastic wrap will not only keep dust off of your suits but also protect them from moths (and moth holes) sans that off-putting mothball scent. This is where you can also swap out the wire hangers from your cleaner (they should at least be padded at the shoulders) with something more substantial like a wooden hanger (cedar is preferred) with a larger rounded shoulder and a slightly forward curved shape to keep your jacket's shape impeccable for its eventual next outing.
---
Enjoy Your Crisp Clean Suit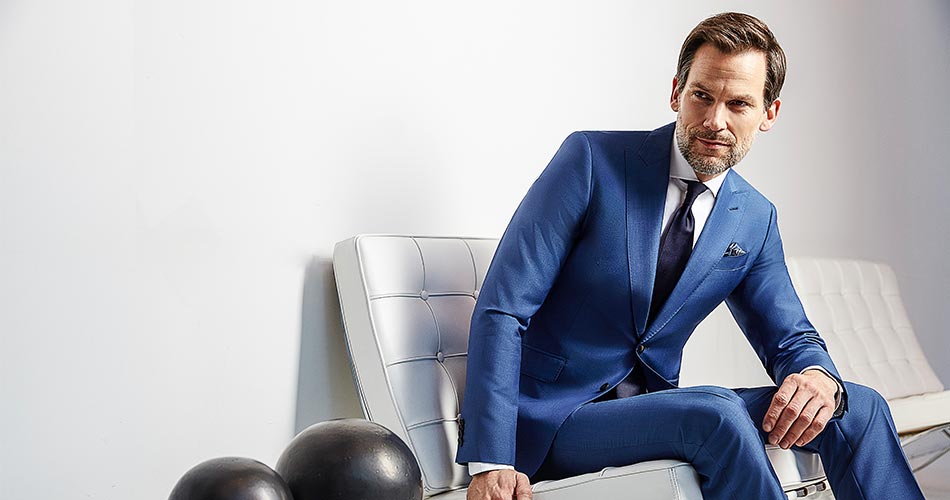 There you have it! You're now equipped with the fundamentals behind keeping your suit clean. You can now rest assured that even if you do choose to spend 72 hours holed up in Atlantic City, your suit (but maybe not your bank account) can come out intact.
---
Like What You See? There's More.
We'll send you style advice and intel for the modern man.
---