A Guide to Dress Pant Breaks: The 4 Options To Choose From
Published on May 24, 2019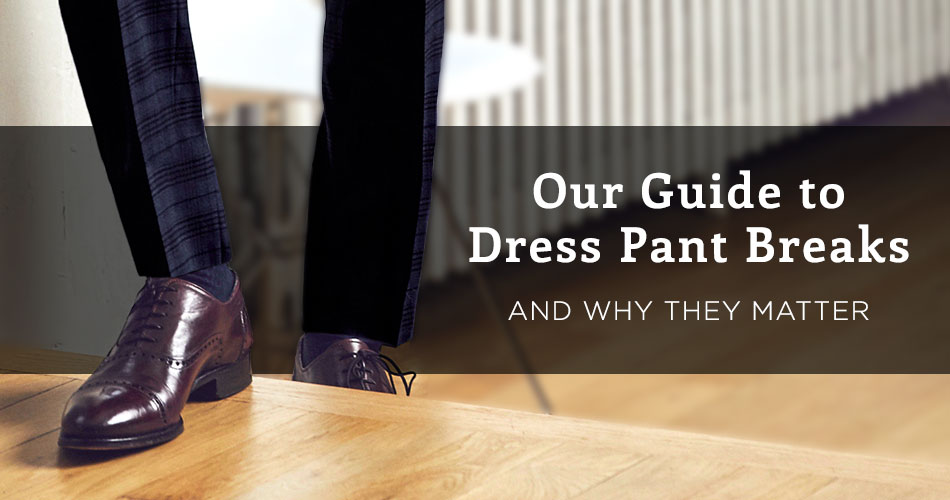 Our Guide to Dress Pant Breaks And Why They Matter
Suit pant breaks (how your pant legs meet your dress shoes and the kind of shapes that form), like so many elements of style, are mainly a matter of personal preference.
That being said, the wrong dress pant break won't flatter your body type, might not make the statement you think it does, and may not be appropriate for the environment or occasion. The biggest mistake is failing to make an intentional choice. If dress pant breaks are tripping you up, here's what you need to know.
What is The Pant Break?
Our journey to perfectly fitting pants starts with a quick stop by the tailoring dictionary.
The "break" of the pant is the fold or creasing of fabric that forms at the front of your pant leg, just above where it meets your shoe, while you're standing. An easier way to think about it is that the pant break is the point where the suit pants break its silhouette against the shoe. Note that the break is defined at the standing position and not while you're walking, seated or doing squats.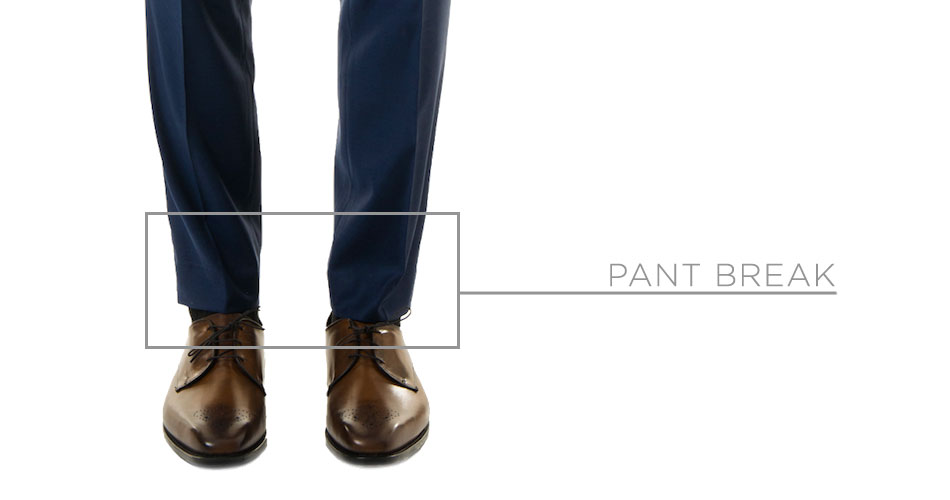 The cut of your suit pants, both the length and width (the circumference) of your pant legs, affect how generous or slight your pant break will be.
Generally speaking, longer pants = more break. While that one's a no brainer, counterintuitively, wider pants = less break. That's because the wider the circumference of your leg opening, the harder it will be for the pant fabric to make contact with your dress shoes, and so your break will be less defined. Slimmer leg openings, on the other hand, will hit your shoes earlier, which means they will form a break at a higher point and more readily.
All this is to remind you that if you like wearing slimmer pants, the pant legs may need to be a bit shorter to accommodate your preferred break. More on that below.
Pant Break Considerations
There is not a strict set of rules that must be observed when determining what type of pant break to go with for your dress pants. Instead, there is a series of considerations to keep in mind as you figure out what will work best for you. Ask yourself:
What is the fit of the pants?

Are the legs slim or wide?

Where do you plan to wear the suit/dress pants?

What image do you want to convey?
The answers to these questions will dictate the optimal pant break for you, and you have four choices: no break pants, quarter break pants, half break pants, and full break pants.
Let's dive in.
---
1. No Break Pants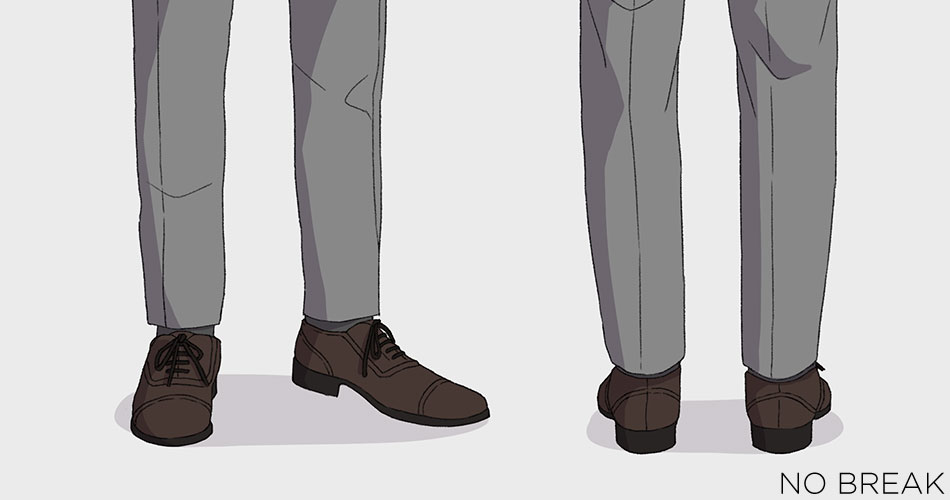 No break pants offer a sharp, modern and minimalist aesthetic from their slimmer, streamlined look that is very much so on-trend at this time. Disciples of the breakless look are often perceived as youthful, trendy and forward-thinking. If you work in a creative field, an office with a hip startup vibe or if you wear a suit primarily in recreational contexts, that works in your favor. If your workplace is more conservative, pants with no break could come off as aggressively contemporary (or *gasp* too European) to colleagues and clients with traditional tastes.
For what it's worth, no break pants have a lot of fans here at Black Lapel HQ.
How It Looks
"No break" means the hem of your pants will sit just above your shoe. The no break look works best on slimmer body types or men who are above average in height. That's because despite a cleaner silhouette, from certain angles (particularly the back and to a lesser extent, from the side), the pant legs can appear shorter and therefore further the appearance of shorter, thicker legs.
If you're going to give this look a try, just make sure that they aren't hemmed too short or you'll look like you're preparing for a flood or you accidentally shrunk your pants in your dryer. One more important note – this look will reveal more of your socks than any other pant break style for obvious reasons. That means you'll want to make sure your sock game is on point because they'll get plenty of visibility.
The Pant Cut
Pants with no breaks work best with pants that are slim and tapered so that the pant opening isn't too wide. You won't want to walk and have wide leg openings sashaying back and forth as you stride.
No Break Summary:
Pant hem just reaches but does not rest on the top of the dress shoe
Better with slim, tapered pants
The modern look that gives off a youthful trendy vibe
Easier to pull off for slimmer and/or taller gents
---
2. Quarter Break Pants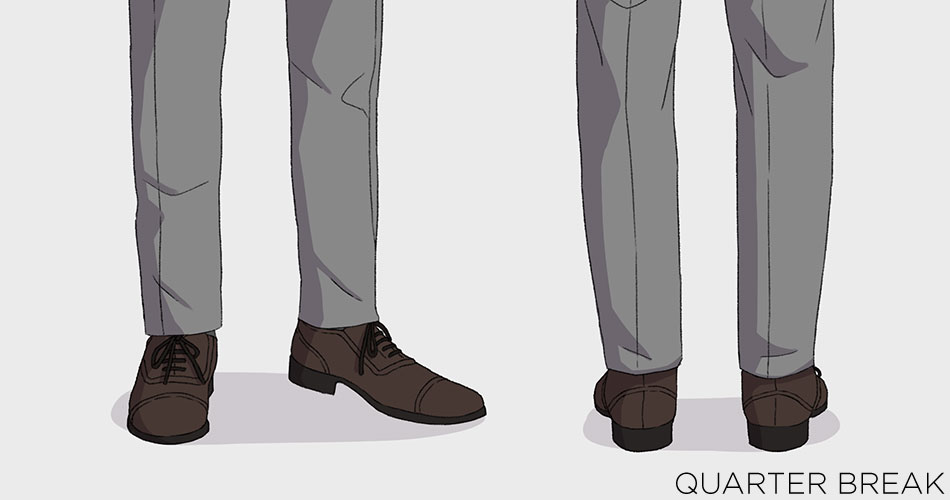 While we appreciate the boldness of pants with no break, we know that the aggressive tapered look is not for everyone. The next step is the quarter break, an updated classic that is flattering on a wide range of body types and brings modern style to this traditional garment.
How It Looks
The hem of a quarter break pant will sit just past where your pant legs meet your shoe with minimal contact. This option is modern, tasteful but not flashy, and shows you care about staying up-to-date yet still respect tradition. Ideal for the modern businessman, quarter break pants let everyone know that you're trying, but not trying too hard, and that attitude looks good on everyone.
The Pant Cut
Quarter breaks are found on pants that are slimmer, often, as slim and as tapered as those people wear with no breaks. And similar to the no break look, quarter breaks are easier to pull off for those that are taller or slimmer.
Quarter Break Pant Summary:
Fabric rests slightly on the top of the shoe.
Best with slim to moderately slim pants
A modern look that can moonlight in more traditional contexts
Easier to pull off for slimmer and/or taller gents
---
3. Half Break Pants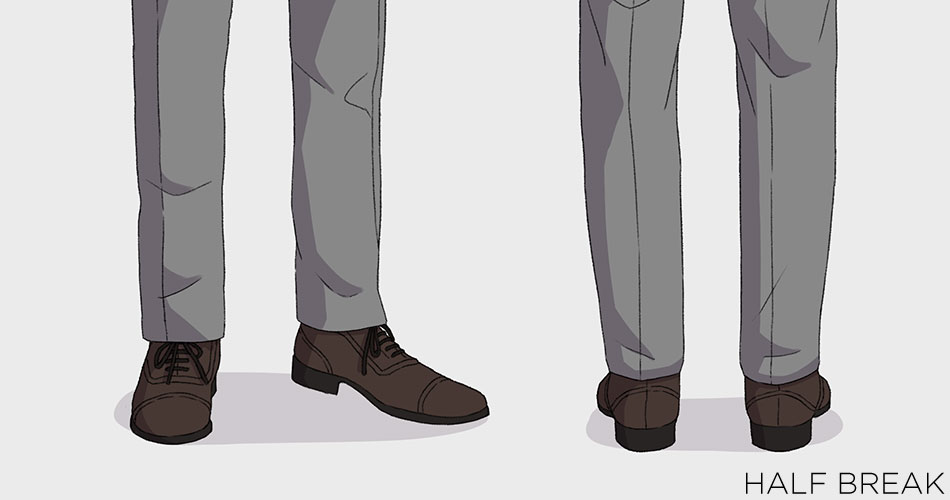 As we move down the list towards the more conservative side of the spectrum, we arrive at the half break. While it won't earn you points from dandy modernists, it also won't ruffle traditionalist feathers either. Sometimes, that's exactly what certain offices, clients and occasions need – a flexible option that works in all contexts.
How It Looks
The hem of your pants with a half break should sit ½ – ¾" of the way down past the point where your pants first meet your shoes, allowing for a slight horizontal fold to make contact with the front of your shoes.
The Pant Cut
Given its versatility, the half break look can work with both slimmer pants and those that are less tapered and more straight leg. Men who are shorter will benefit in particular from a combination of a slimmer fit and the slightly longer length, which can help create an elongating visual effect.
Get the fit right on the rest of the pants (we always suggest going custom) and a half break will look clean, polished and classically well-dressed on just about everyone.
Half Break Pant Summary:
Pant hem makes solid contact with the front of the shoe and forms a slightly visible wrinkle
Works with slimmer and straight leg pants
A versatile option that works in any context
Works for men of any build or height but particularly effective for shorter gents
---
4. Full Break Pants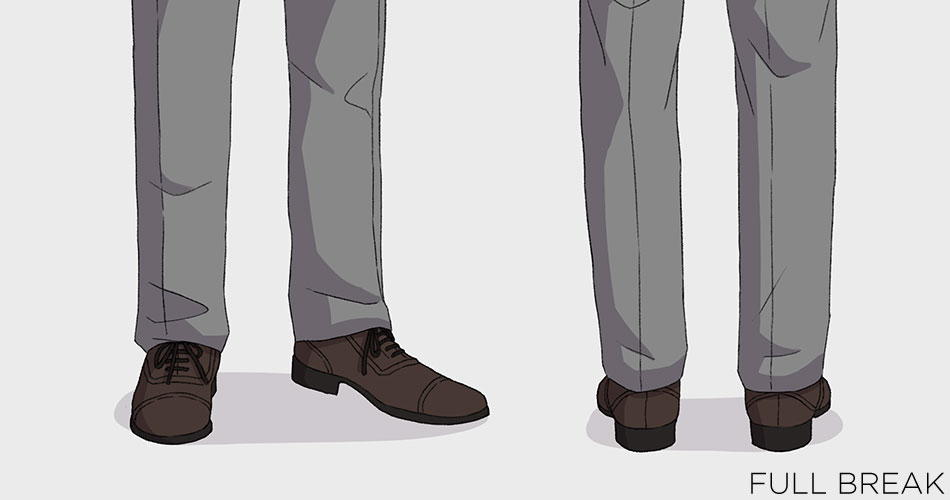 The last style to cover is the most conservative look you could ask for — the full break. The full break is a great look for older gentlemen or those who like a classic look as this variation was far more prevalent in the pre-internet, pre-slim-fit-everything era.
How It Looks
A full break is when the hem of your pants makes substantial contact with your shoes to the effect of creating a generous but still elegant looking ripple in the area above the hem. Since this look often pairs with pant legs that are less tapered, the longer hem will also cover most of the laces on your shoes and the back of the hem will sit just above the outer soles of your shoes.
It's important to note that pants that puddle at the hem or those that form multiple breaks/wrinkles in the area above the hem would generally be considered too long and are a look we'd encourage you to avoid, regardless of your sense of fashion or build.
The Pant Cut
In addition, with the longer pant length involved and the fact that this look is most often paired with a less tapered pant leg, this look will often be the best option for men who are heavier set.
Full Break Pant Summary:
Pant hem forms a single, generous but elegant wrinkle above where it meets the shoe, often covering most of the shoelaces
Found on straight-leg, less tapered pants
The most conservative choice that is always office-appropriate
Works particularly well for heavier-set gents
---
Time For A Break…
And to think people say menswear isn't complex… We hope this brief guide on pant breaks helped clear up any questions you may have had about this often overlooked style detail. If you're still left with unanswered questions, we're happy to help! Drop a comment below and we'll get back to you with an answer!
---
Like What You See? There's More.
We'll send you style advice and intel for the modern man.
---