Flat Front vs. Pleated Dress Pants — Which Is Best?
Published on September 20, 2019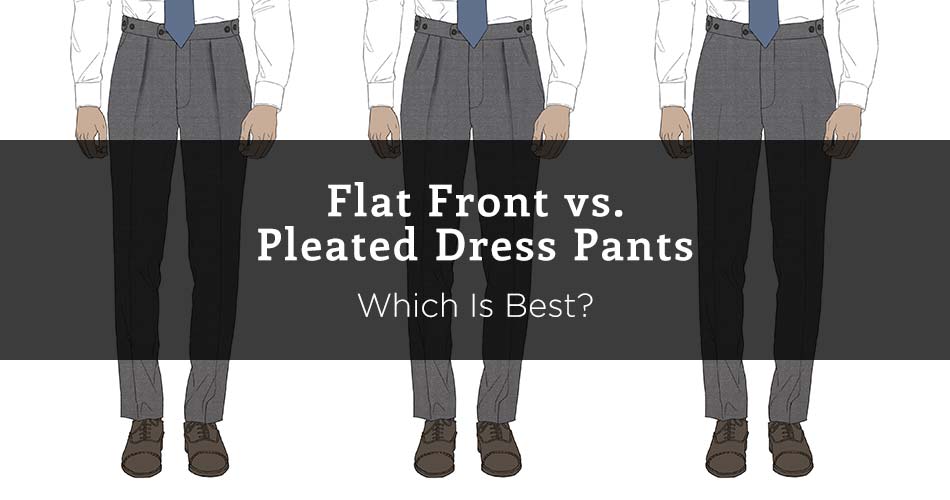 To Pleat Or Not To Pleat…
To pleat or not to pleat, that is the question. Okay, maybe the topic of dress pants isn't so dramatic as to invoke Shakespeare. But the question on pleated vs flat front when choosing dress pants begs an answer.
There will be aesthetic, functional, and situational differences that will make a dramatic impact on your individual desired outcome (looking dope we presume).  Thus, it can be confusing to navigate. Learning the differences between the two common dress pant styles will give you a sartorial advantage against the uninitiated. Plus, it will prevent you from committing a dreaded style blunder in public. Let's dig in.
---
The History of Pleated and Flat Front Dress Pants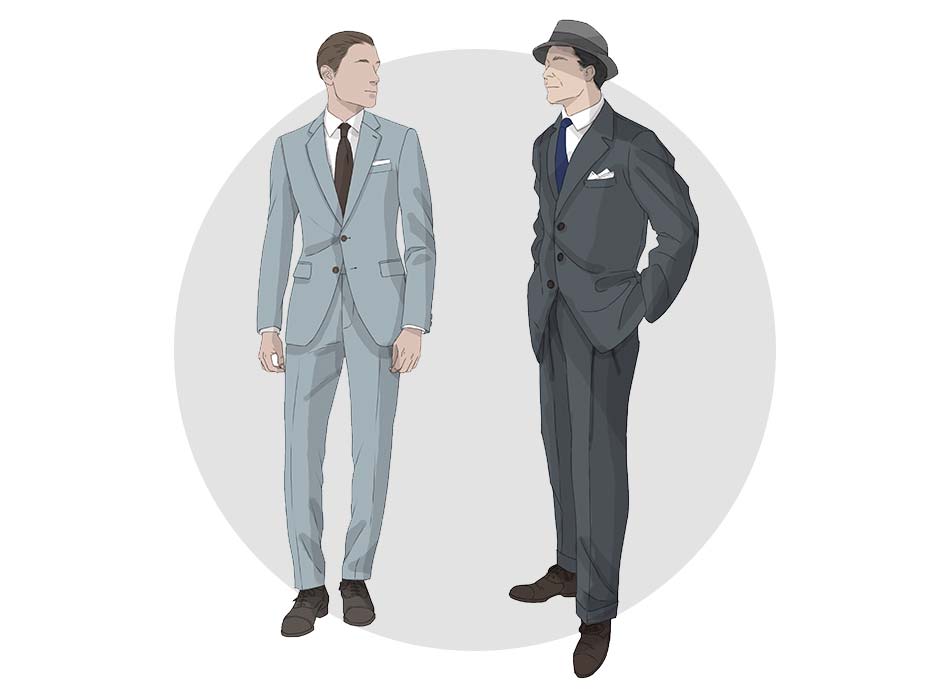 Pleats on pants, to some, are a little like Justin Bieber. Some people love them and others hate them. And the people that hate on them can't fathom how or why others could love them. So where did they come from, and how did they go from ubiquitous to targets of ridicule?
The Push Towards Pleats
Pleats most recently had their moment during the sartorial excesses of the 80s and 90s. There was Richard Gere in his loose-fitting American Gigolo Armani suit. There was Michael Douglas in his iconic Wall Street power suit. And there was the unconscionable number of guys sporting curtain haircuts up top and roomy pants that pooled around their square-toed shoes on the bottom.
Flat Front Foundings
In the early 2000s', surplus was out and skinny was in. Slim silhouettes were the shape of choice, and with them came flat-front pants and slimmed down legs that lead into the modern 'no break' hem. (As with all things, the pendulum can swing a bit far – example: the ultra-skinny hipster fit and the not-quite-to-your-ankles Thom Browne hem.).
So who had it right? The slim-fit flat-front camp or the loose-cut pleated camp? The truth is, the fashion industry would like to have it both ways and tell you to keep up with the times and buy what's "on-trend" any given moment. We'd like to offer a different (and more timeless) perspective. But before we do, let's make sure we go over some basics first. Even if you know your way around pleats but aren't sure what forward and reverse pleats are, give this next section a read.
---
What Are Pleated Pants?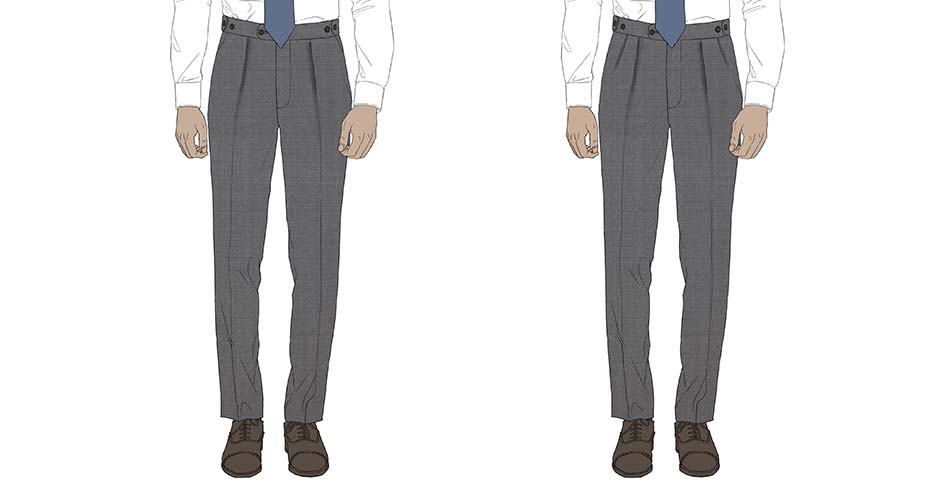 Let's start by getting acquainted with pleats, a humble addition to your tailoring glossary.
Pleats, put simply, are folds in the fabric on clothing. In women's fashion, a pleated skirt is a dress with accordion-like folds going all the way around the dress. In menswear, you'll find pleats on dress shirts in the upper back (and in the front of certain tuxedo shirts). With pleated dress pants, you'll find this fold starting at the front immediately under your waistband, flanking either side of the fly.
Pleat Styles and Variations
Pleats come either as a single fold or a double fold (a pair of adjacent pleats on each side). We've even seen a triple pleat, though they're extremely rare and we think, a bit excessive.
Double Pleated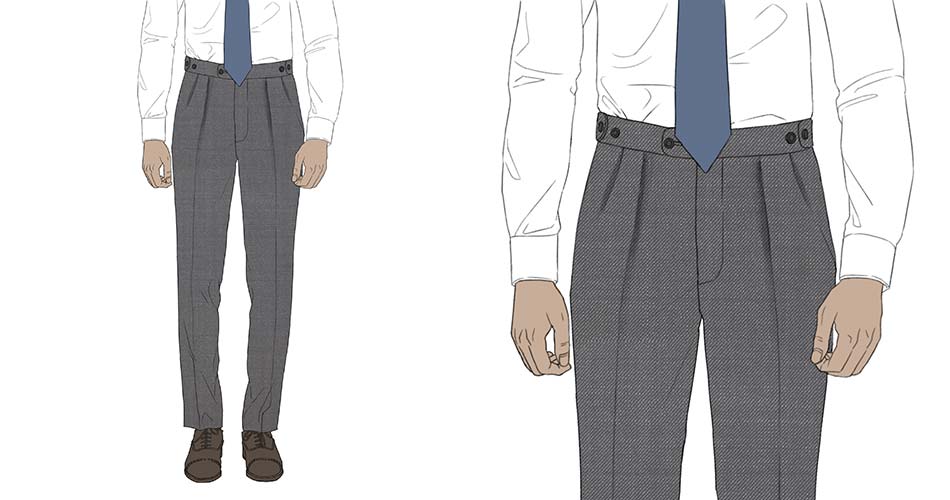 Double-pleated dress pants are the most common variation you'll find in the wild, but not all pants are double pleated. These are identified by their single long pleat running from the waistband to about crotch height.  where the fold from the pleat then connects with the pressed crease in the front of the pant and a second shorter, shallower crease running closer to the pockets.
Forward Pleats
As far as construction is concerned, pleated dress pants are made either as 'forward' or 'reverse' pleats. Forward pleats are those that are structured with the opening of the fold pointed inward toward the fly seam. This tailoring style is most commonly associated with having British origins but is the less common of the two.
Reverse Pleats
Reverse pleats are sewn to have the fold open outwards towards the pockets. This style of dress pants is adopted from the traditional Italian style. If you've read our post, 'British vs. American vs. Italian Suits', you might expect Americans to have made a pleat style too — you'd be wrong. Instead, American suit style did not see pleats emerge until the 1980s and the reverse pleat became the more popular choice and is the easiest variation to find in American off-the-rack stores even today.
What Is The Purpose Of Pleats?
Aside from aesthetic differences, pleated dress pants possess some functional utility that sets them apart from flat front options. When you sit, your seat (also known as your ass) and thighs naturally widen. Pleated dress pants can better adapt to this change as the pleats spread to ease the stress on seams and improve your overall comfort. Pleats also give you extra room and greater freedom of movement when you're walking, crouching, taking the stairs or dancing the night away at a wedding all while knowing you won't bust a seam.
---
What Are Flat Front Pants?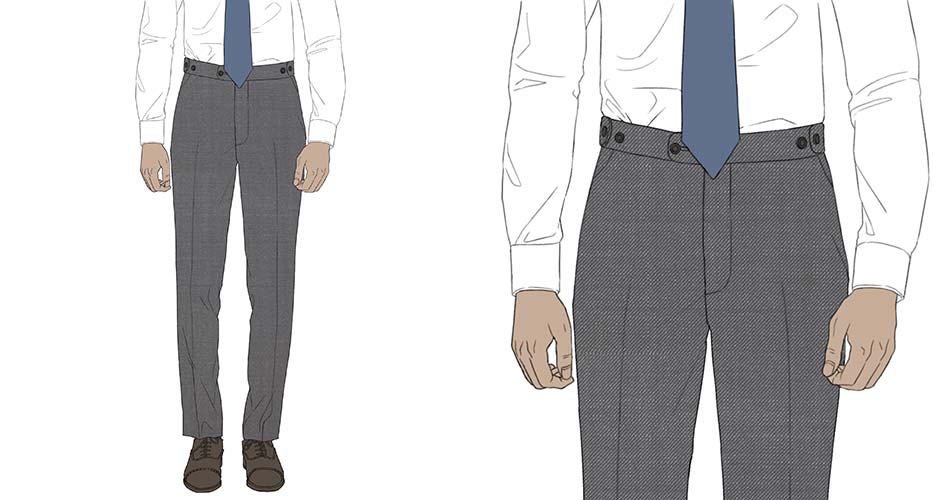 Flat front dress pants are the young, trendy alternative. They, in case you haven't been paying attention, lack the extra pleated folds along the front of the pants. This variation has a modern, streamlined look that many men rightfully love (including us), but there is a trade-off to the simplicity.
Not having the pleats run along the front means there will be less give and less comfortability when you're seated or in active motion. Instead, you'll have to accept that they will be slightly tighter when you sit since there is nowhere for the slimmed-down fabric to go.
---
How To Choose: Flat Front vs. Pleated Dress Pants
Okay, we'll let you know upfront — there is no clear winner (much like slacks vs. dress pants). However, this is also one of the cleanest examples of form vs function. We love the clean lines and minimal look of flat front pants but we can certainly also appreciate the added comfort and functional benefits of pleated pants. Here's how we'd choose.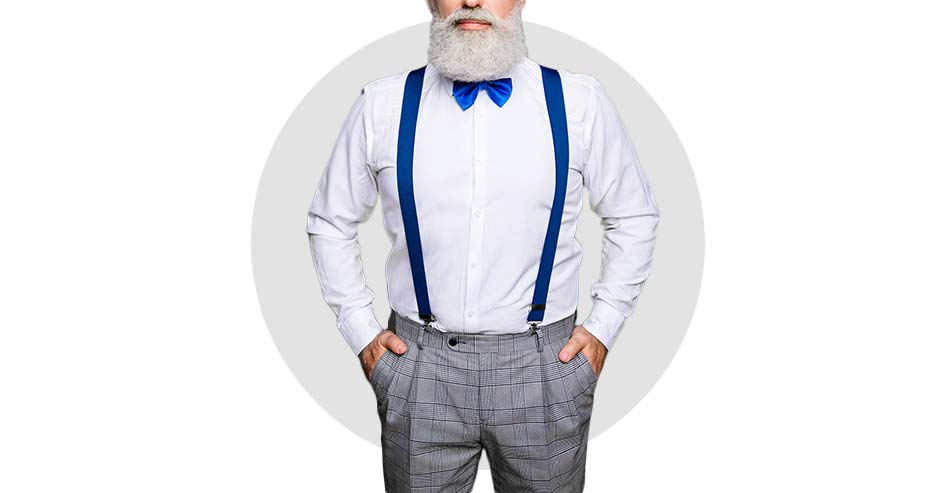 Choosing Pleated Dress Pants
Pleated dress pants are all about comfort, roominess, and flexibility.
They're great for active occasions that call for more movement or say if you have a long commute. Pleated pants are also the best choice for larger men and athletic types with muscular legs, both of whom stand to benefit from the spaciousness and comfortable utility that pleats provide.
From the style side, pleated dress pants are a more traditional look. However, if the fit of the rest of the pants is just right, they can feel like a dapper nod to the menswear greats of decades past.
We recommend choosing the pleated pants option if you value comfort > modern style, and if you have a little more 'junk in the trunk'.
Choosing Flat Front Dress Pants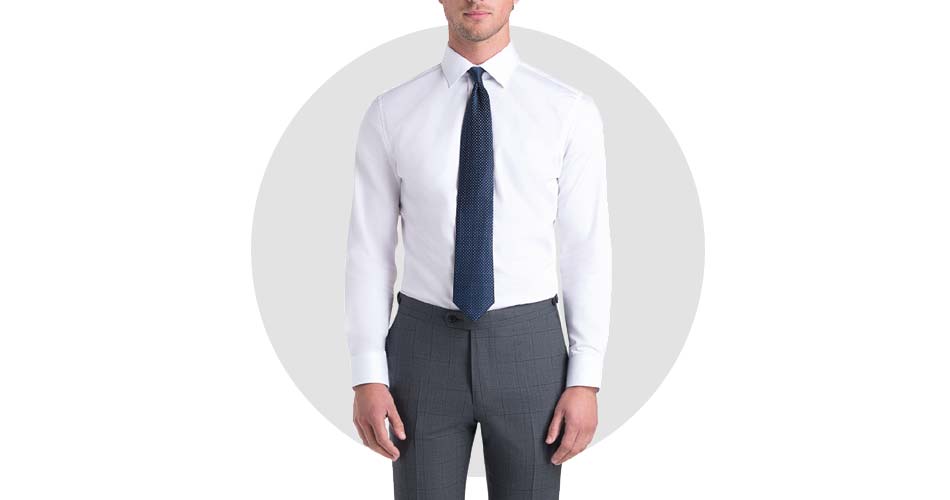 Flat front dress pants prioritize style over function. Due to their closer and less forgiving cut, they are most flattering on slimmer and average body types.
Since you won't have the benefit of the pleats to help smooth out any tight situations, make sure you pay extra attention to getting the fit of your pants just right. If the pants are too loose, you'll look sloppy and you'll have sacrificed the pleats for no style gain. If they're too tight, well again, no pleats to help you out.
Where perception is concerned, flat front dress pants have come to be the preferred look in recent decades thanks to the tapered, slim trend that's continued to hold on across fashion circles.
However, the ebbs and flows of style are always pulsing, and since 2016-ish we've started to see the parting of ways from tight-fit clothing in favor of looser comfort. That said, we think having a clean silhouette is always going to be a timeless look and even if pleats enjoy a renaissance someday, you're not going to look sloppy when your pants fit well and look clean. So unless you need the pleats for comfort, we'd recommend flat front to most gents in most situations.
Being stylish takes work.
We can help with that.
Stay in the know with style tips, how-to's, and so much more with our weekly newsletter.
---
3 Pleated Pants Styling Tips
Since pleated pants aren't so popular anymore, we wanted to help you rock your pleated look properly should you choose to go that route. We'll keep it brief, but be sure to follow these tips.
Prioritize fit.

This is key to making your pleated pants look contemporary and fresh. Pay extra attention to the waist, length, and inseam. Your pleats should lay flat when you're standing still. If they pull open too much, your pants may be too tight in the seat/hips. Learn how dress pants should fit to make sure you nail this part and get additional tailoring if necessary to alter and improve your refit.

Consider cuffs.

Cuffs, like pleats, have lately been shunned by men seeking an on-trend look. However, cuffs can visually counterbalance the additional fabric in the top half of pleated trousers, while lightly weighing down the hem so the fabric stays streamlined over the legs.

Match top to bottom.

Don't pair pleated pants with a super snug jacket. The contrasting fits put you at risk of looking like you dressed in the dark and donned two different suit separates. For a cohesive look, your jacket should also reflect the roomier, more forgiving cut of your pleated dress pants. Perhaps try a double-breasted jacket to go with your double pleated pants to channel some classic style.
Your Call, Champ
If you've read this far, hats off to you sir for your thirst for sartorial knowledge. Now, you can decide whether pleated dress pants are right for you. Whether you choose flat front or pleats, you'll know how to rock either in style. And should anyone knock that style, you can drop some knowledge and help them see the light.
---
Like What You See? There's More.
We'll send you style advice and intel for the modern man.
---