Are Jeans Business Casual?
Published on April 22, 2022
Today, we'll address the question — are jeans business casual? There are a plethora of claims online that are for-or-against jeans as part of a business casual outfit, and it can be a gray area between who is right and who is wrong.
Though, as we've always said, style is subjective. We've been around the block for awhile, though, and it's time we fill you in on our answer to the question — let's get started. 
Yes, jeans are perfectly appropriate in a business casual setting – when done correctly. Business casual jeans should always pair well with a blazer and must be in good condition, that is, not ratty, torn, or poorly fit. Your jeans should almost always be a dark shade (more on that later); avoid bright-color jeans as they don't pair as easily with the rest of your wardrobe. We get it though, knowing how to dress business casual is a little vague, and the question of 'are jeans business casual' has plagued men for years. After all, looking like a business professional while wearing jeans is not that easy to pull off.
What Is Business Casual Clothing?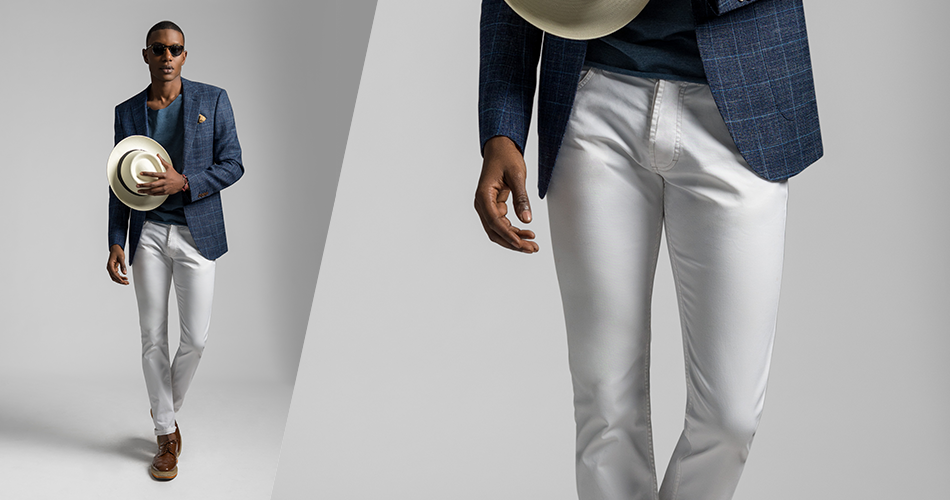 Essentially, this look is a step below business formal style without lacking professionalism. Often, this means taking off the tie and rocking the blazer and an opened-up button-down look, but it doesn't always have to be this black and white. It just usually depends on your company's dress code.
In recent years, business casual style is taking on its own form. Until recent years, business casual pants were restricted to slacks and khakis. However, businesses are starting to accept more smart casual attire instead of a full suit get-up. Look at any major tech company, and you'll see what we mean (think Mark Zuckerberg). However, not all places follow a dress code as casual as jeans and a T-shirt or a polo shirt. Most businesses with a smart casual dress code will still expect some level of formality, and wearing jeans with your look establishes a happy medium between the two. 
Your options aren't only restricted now to chinos, khakis, dress pants, or slacks. Now, we can introduce jeans into the equation.
The Do's and Don'ts of Wearing Your Jeans to Work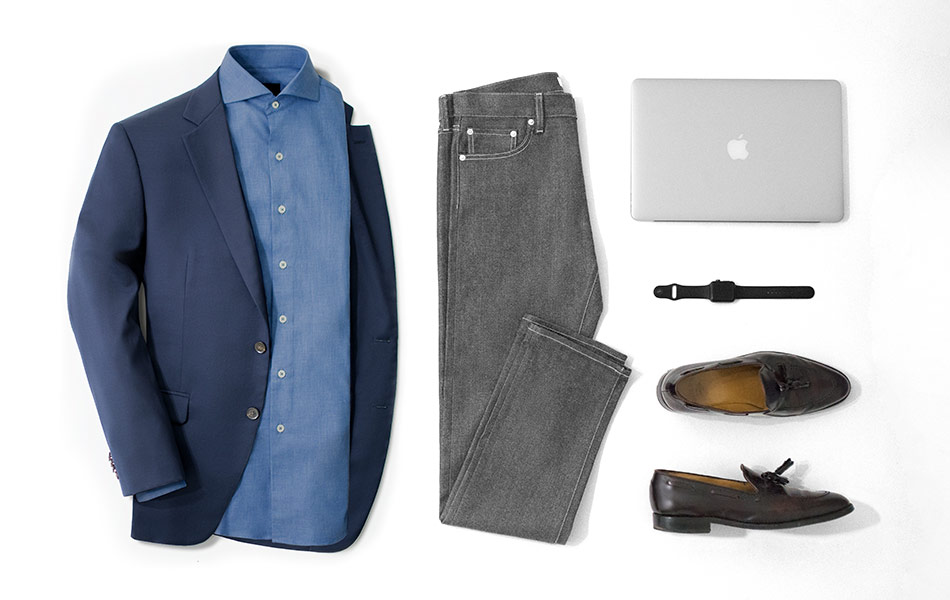 Of course, just because we're giving the green light to rock jeans as business casual attire doesn't mean it comes without a few restrictions. Pulling off jeans at the workplace isn't as easy as rocking khakis – there are some finer details at play. 
Here are some 'do's and don'ts' of making sure your jeans are business casual and that you're well on your way to achieving that professional, smart casual look.
Do's:
#1: Pair it with a blazer and the right shirt
What you wear with your jeans will go a long way towards finding the balancing act between casual and business casual. Your best course of action is to always include a blazer. This touch of professionalism is exactly what is needed to ensure that your jeans are business casual and appropriate for the workplace. We'll get to how to pair your jeans to your blazer color next, but first, let's address how to wear a blazer with jeans. 
Choosing Your Shirt
Now, what you wear under the blazer is a whole different story. Suppose your business casual workplace calls for more professionalism than others. In that case, a simple button-down collared shirt is an easy way to achieve the 'dressier' look. However, as we discussed, some workplaces are flexible about their business casual attire. They might allow for a business casual shirt or a plain T-shirt under your blazer. This might not apply to everyone, especially those in client-facing roles. Take this advice with some discretion based on your employer.
#2: Choose the right color
Suppose you're going to make jeans business casual. In that case, you have to make sure to pick a pair of jeans that compliments the rest of your wardrobe while retaining a level of professionalism. Usually, you will want to opt for dark jeans for two main reasons.  
Dark jeans are more versatile and give you several options when choosing what to pair them with. Your favorite dress shirt and most of the blazers in your wardrobe will most likely complement the dark shade.  

Lighter shades will show distress marks much easier and turn the jeans from business casual to just casual wear – which is not what we want if we're going to make this style work. 
There are some exceptions, however. Especially considering dark jeans will blend in with a blazer that's dark or has a neutral color. Take, for example, a pair of white jeans. When done correctly, they can give a pop of contrast that is not only eye-catching but shows everyone that you know what you're doing exactly. Want to learn more? Check out how and when to wear white pants.
#3: Choose the correct fit
When deciding to wear jeans as business casual, fit is one of the most important factors. You know that fit is especially important to us if you've been around for a while. It's a critical point when wearing jeans in a business casual setting. We're going to touch on this later, but baggy jeans (much like a baggy blazer) are going to cut any chance for you to make your jeans business casual. On the other hand, choosing too skinny jeans will look way too casual. A properly fitted blazer will create a tight silhouette and form a quintessential V-shape. The eye should never linger on any bunched-up ruffles from your shoulders to your ankles. This is why 
you'll want to opt for a slim (not skinny) fit, and ideally are custom-made to your measurements.
Don'ts
#1: Baggy or torn jeans
Referring to point 3, business casual jeans should always fit appropriately (as well as be styled correctly). Custom, made-to-measure jeans are the best way to provide perfect form, but if you want to buy off the rack, make sure that your pants have the correct break, aren't too skinny, but also aren't too baggy. You'll never want to be caught wearing ripped jeans if you want them to be business casual. This is a strictly out-of-office look – they might be even good enough for Casual Fridays.
#2: Jeans with fake distress marks
Just like wearing jeans with rips and tears in them, you'll definitely want to avoid any jeans with fake distress marks. Distress marks signal that your jeans are worn in a casual setting (and, quite frankly, are not a very sleek look). That being said, wearing these will completely throw off your ability to wear jeans as business casual.
#3: Wear inappropriate shoes
We are firm believers that you can easily wear dress shoes, boots, or loafers when you're rocking your business casual outfit. You can easily go with a black, brown, or walnut pair of any of the shoes listed above. Our main point of attention is going to turn to sneakers. You can absolutely wear sneakers and still maintain a business casual presentation – but it has to be done right. Your sneaker should be one uniform color, and never wear a pair of athletic shoes. A blazer, jeans, and a clean dressy looking pair of all-white low-top sneakers work excellently (make sure they're clean).
Frequently Asked Questions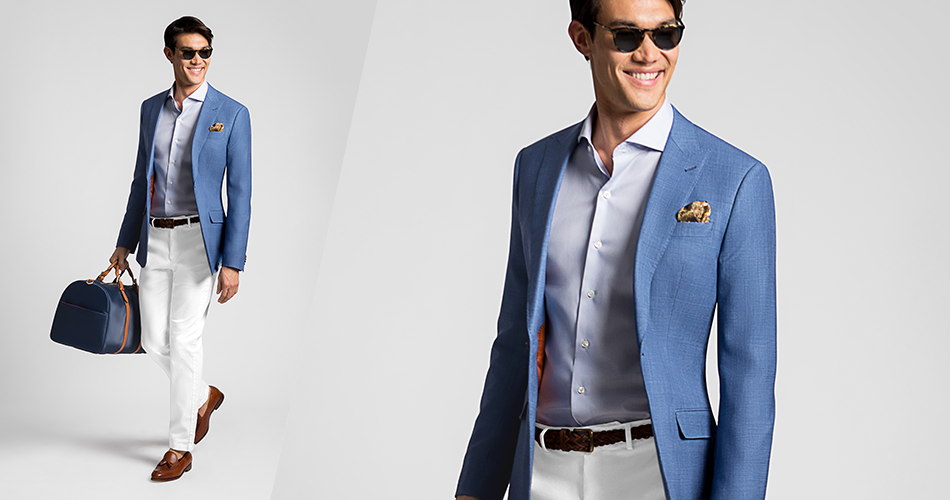 Is it appropriate to wear jeans to a job interview?
Despite giving you the green light for jeans to be business casual, we would never suggest wearing jeans to a job interview – interviews are anything but that. Even if you're in the creative field, there are ways to zest up your look without underdressing. We have three rules to always follow when dressing for interviews:
Never out-dress the boss.

Never be underdressed for the interview.

Don't go like it's Casual Friday.
What should you not wear in the office?
Never wear jeans that are skinny and suction-cupped to your leg, torn or ripped jeans, or jeans that show distress marks. 
Are skinny jeans business casual?
Skinny jeans are not considered business attire. You will want to opt for slim jeans but fit your leg properly – ideally, made-to-measure jeans, so they fit perfectly. 
Are jeans and sneakers still business casual?
Jeans and sneakers are still business casual, as long as it's done right. You will want to opt for sneakers that are one uniform color (white almost always works) and aren't dirty or scuffed. 
More Articles on Men's Styles
Got a vest in your wardrobe? Let us help you incorporate that in your casual look in out post about

how to wear a vest casually.

Use our

guide to dress pant breaks

to make sure that you're looking like a 10 in your

dress pants

.

Finally, complete whatever look you're going for with a watch and use this guide we have on

how to wear a watch

here to make sure you're doing it right.
To Answer the Question…
In the end, we're firm believers that the answer to "are jeans business casual" is yes. Though, as you've read, there are some careful steps that you need to consider before you go out and try to rock the look yourself. With proper styling and a keen sense of following the "do's and don'ts" we listed above, you'll be perfectly ready and able to adapt your jeans into your business casual look day-in and day-out.
---
Like What You See? There's More.
We'll send you style advice and intel for the modern man.
---