How You Should Be Wearing A Blazer With Jeans
Published on April 20, 2018
Wearing a Blazer And Jeans
The blazer is one of the most versatile pieces of clothing at your disposal and a key component of any man's wardrobe. Juxtapose the formality of a blazer on top with some casual jeans below and you've got options for any occasion.
Fancy yourself the dapper fella at the rooftop bar? Or the man about town strolling through city streets – casual but urbane with just a hint of suited sophistication? Or maybe you're still figuring out your style and adulting doesn't quite come natural just yet? Keep reading if you're wondering what you can accomplish with a blazer with jeans look.
When wearing a blazer with jeans, there's a few things to take into consideration. What will you wear underneath the blazer? Are you going to contrast and color coordinate your jeans? Which type of jeans fit with this style?
---
What to Wear Underneath A Blazer With Jeans
What you wear under your blazer will go a long way in determining if your outfit works. You can decide whether or not you want to zero in on the dressier look (dress shirt), or stick to a purely casual tone (t-shirts, henleys, sweaters).
---
Wearing Casual Shirts Under A Blazer And Jeans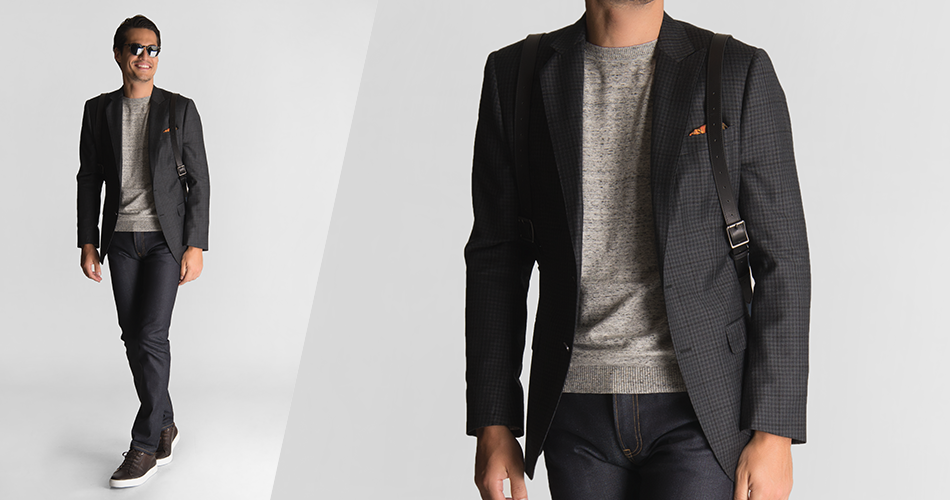 With this look, the goal is to dress the blazer down so you don't overpower the jeans. The Ash Gray Blazer works because of its neutral tone. It can be paired with all different color jeans colors. The light gray blazer can be worn with a similarly colored sweater or even a tasteful t-shirt.
If you're against tucking a shirt into your jeans, go for a more free flowing shirt that stops just below the belt buckle. For an untucked look, it's advisable to wear a one-toned color sweater or turtleneck. Graphic tees or lettering will detract from the blazer's elongated style. The Gray Check Saxony Blazer is a great jacket that pairs well with a plain and/or casual dark undershirt.
---
Wearing Dress Shirts Under A Blazer With Jeans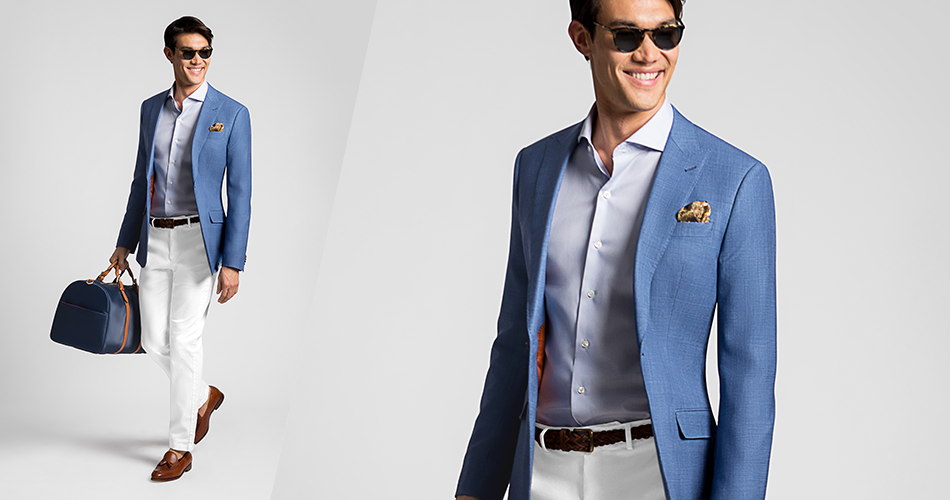 Your undershirt doesn't always have to be the same color as your blazer. Vertically lined dress shirts contrast bold colors. The collared shirt can work alone or a contrasting tie can be added to the mix. Here we have a Monterey Glen Plaid Blazer that works with plain tones underneath. This textured Saxony Wool is begging for some dark jeans.
---
Style – It's in Your Jeans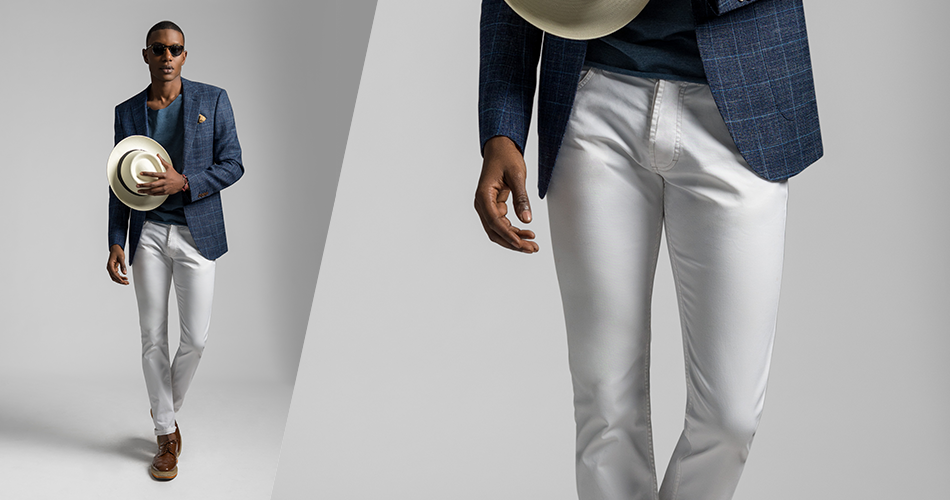 When it comes to wearing a blazer with jeans, there's one major thing you can't forget about. Are your jeans darker or lighter than your blazer?
Traditional blue to midnight-blue jeans work with blazers that are lighter in color. Think light to medium gray, khaki, and even light to medium blue for your blazer pairing. Dark navy blue jeans will look awkward with darker colored blazers, but don't deny the dark side of the color wheel just yet. An unusual color like brown works surprisingly well with darker jeans.
Lighter shades of blue jeans or even white denim brings out a unique look. Lighter jeans will dress the outfit down. But it's important to make sure there is sufficient contrast. Matching the color of your jeans to your blazer too closely will make it look like you're wearing some kind of optical illusion suit – not a desirable outcome. The jeans are downplayed with this windowpane blazer.
---
To Cuff or to Flow?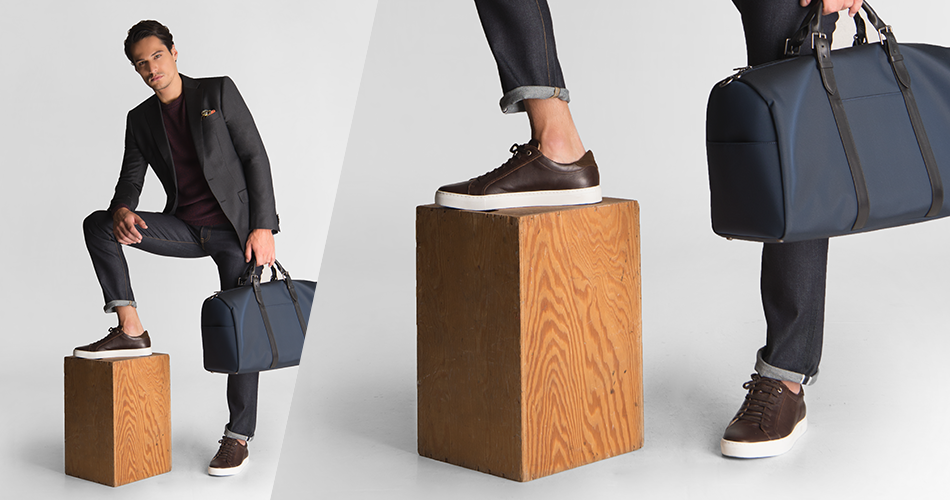 A well-fitting blazer can naturally create a tighter silhouette to your torso. It can broaden and heighten the shoulders and when properly fitted to form the quintessential V-shape. The eye shouldn't linger on any bunched up ruffles from the shoulders down to the ankle. Which is why your jeans have to fit properly from the waist to the shoes. Baggy jeans never work. Go as slim as you're comfortable with here.
Cuffed jeans shouldn't detract from this flow if done right. Jeans can be cuffed if they're slimmer and they don't wrinkle above the ankle. That said, we're generally fans of a no-cuffs look for dress pants and for jeans.
Dress shoes, boots or loafers can all work when wearing a blazer with jeans. You can't go wrong with a black, brown or walnut pair of any of the above. Sneakers normally go hand-in-hand with jeans. However, when worn with blazers, the right type of sneakers is key. A sneaker should be one uniform color and you'll want to stay far away from athletic shoes. We love pairing blazers and jeans looks with a clean dressy looking pair of all-white low top sneakers.
---
Always the Time of the Season
An all seasonal wool blazer or a cashmere blend blazer with a jeans and boots look will keep you warm during the fall and winter months. However, even in the warmer months, you can pull off this look with blazers made from fresco wool or linen and cotton blends.
The blazer truly is one of the most flexible units of your wardrobe. You can have different ones for each season and dress them up or down accordingly to match different settings.
---
Putting Your Blazer And Jeans Together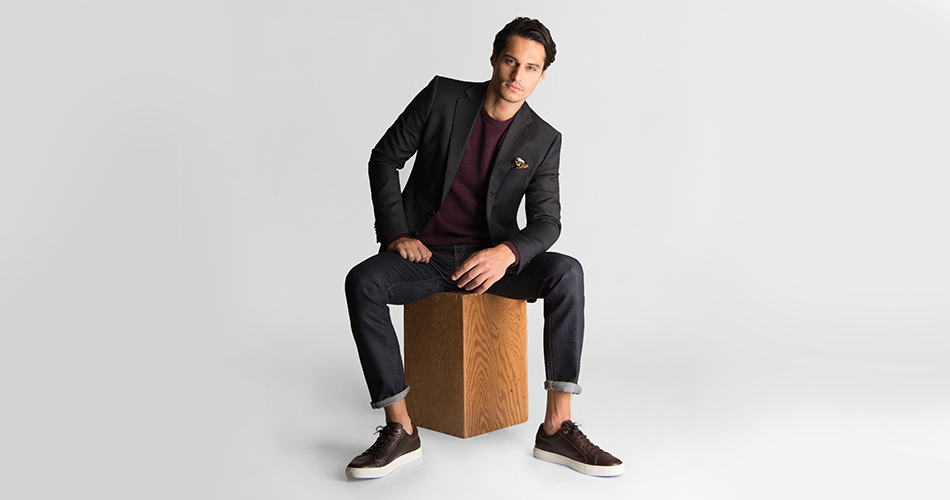 Color contrast and a slim coordinated fit are essential for a great blazer and jeans combination. You're miles above the poor schlubs still sporting hoodies and way more relaxed than that fully suited up look. It's a year round option and works for most contexts short of weddings and funerals. Experiment with what's in your wardrobe (you can start with suit jackets and jeans) and however you wear them, the important thing is to start.
---
Like What You See? There's More.
We'll send you style advice and intel for the modern man.
---