Navy Blazer Outfits For Men – 5 Combinations
Published on August 17, 2018

5 Navy Blazer Outfits To Try Yourself
So you have a perfectly fitted, classic navy blazer outfit that you love to wear more than everything else – kudos. But, let's face it, there's only so many times you can wear your navy blazer and khaki pant combo before the look starts to feel as dull as your morning commute.
Even if you're a man of minimalism, proud to confine your wardrobe to just the staples, you still don't want to find yourself repeating the same outfit over and over again. If only there were additional outfit combinations to help give your navy blazer some more time off the bench.
See where we're going here? We're talking about adding some outfit versatility to your blazer game. The mark of a truly great blazer is that it can be re-styled into different outfit combinations and worn in a wide variety of ways. So, while there's nothing wrong with the navy-on-khaki look, it's important to learn how to build some other navy blazer-based outfits to mix things up and take your style up a notch.
#1.The Business Casual Combination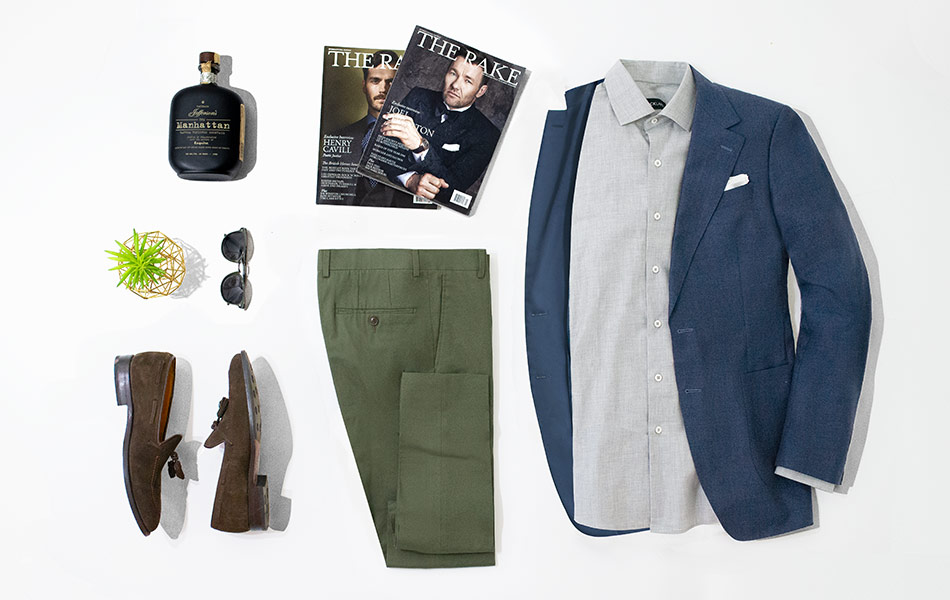 Drinks, Anyone?
This one's a no-brainer for occasions that call for your standard, business casual look. Start with a pair of flat-front pants in a less neutral color than khaki, like a pair of olive colored pants, and add a nice neutral shirt, like a light gray heather twill. When it's time for accessories, go with a white pocket square, and finish it off with a pair of dark brown shoes to complete the look.. Whether you choose oxfords or loafers, you'll achieve a well-rounded blazer outfit to add to your business casual office rotation.
#2. The Jean-centric Combination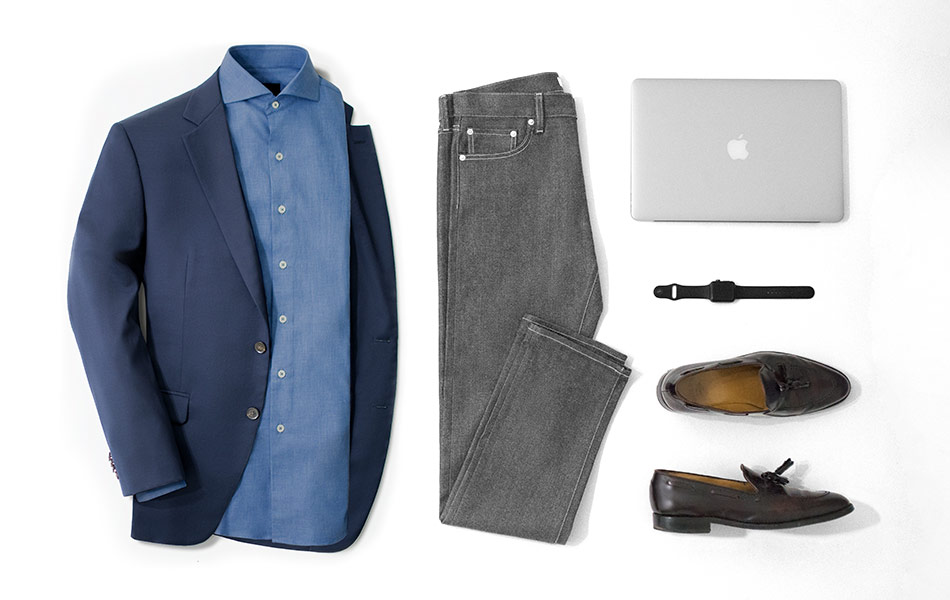 The Modern Man
This is another simple outfit that's great for creating an easy, effortlessly casual look for when you're off the clock and headed somewhere a tad bougie. All it requires is a casual shirt or button-down and a great pair of jeans. However simple wearing jeans with a blazer may sound – it's really easy to get wrong, so make sure you understand the rules for pairing blazers with jeans. Mid to light gray jeans are a nice choice as they enable a smooth contrast with the navy blue blazer. On top, you can't go wrong with a blue heather twillto help accentuate your navy blazer with its saturated color tone. When choosing your shoes, you have a lot of options, you can work with medium or light brown loafers, or if casual is the key, you can work in a pair of suede drivers or even some blazer approved sneakers.
#3. The Summertime Combination for Maritime Men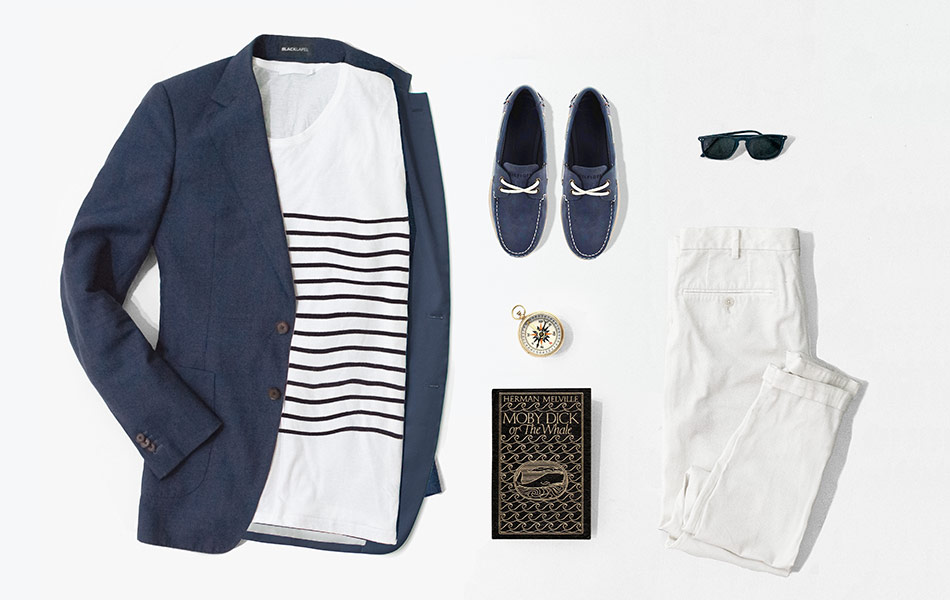 Go Nautical
Now, we're not saying you have to live on a yacht to wear this sailor-suave look; you just have to know how to dress the part if you're headed somewhere coastal and stylish. To achieve the timeless, nautical look with your navy blazer, you first have to get rid of those button-down shirts and gear up for the high seas with a long or short-sleeved tee (perhaps with a Breton stripe), a pair of white pants (how to pull it off), and an appropriately summer-styled pair of sunglasses. Just make sure you have a shoe to match your style, so go with a pair of seafaring deck shoes.
#4.The Business Conference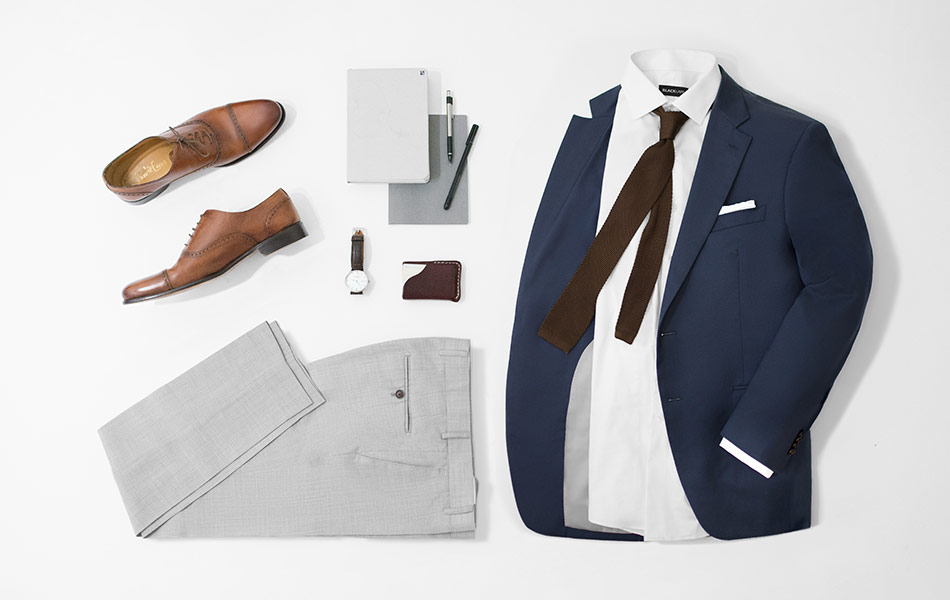 The "Give your Khaki Pants a Break" Option
When it comes to attending a work offsite or business conference, often, men think they are confined to the same-color solitude of suits only. This isn't the case. Though it is easy to pull on a pair of matching navy dress pants and tack on a solid navy tie (aka a navy suit for the astute reader), you can give this combo a rest. For an additional conference-ready outfit, start with a pair of gray dress pants that contrast perfectly with a navy blazer. Next, add a crispy white dress shirt, and for accessories, go with a sleek white pocket square with a square fold a brown silk knit tie. Rounded together with a pair of dark brown oxfords and you'll have an outfit that gives a look of understated success that will command attention without intimidation.
#5. The Dead-Of-Winter Combination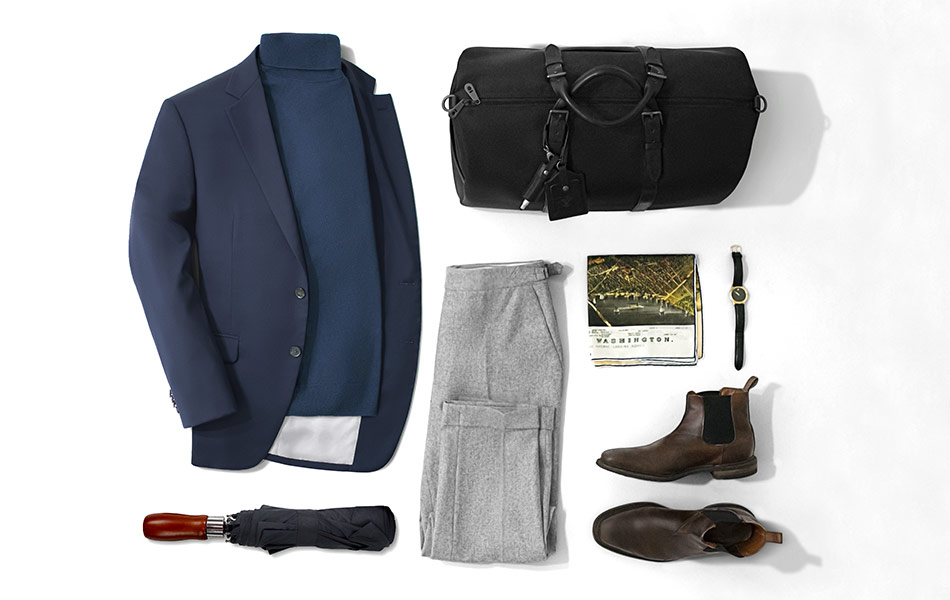 The Big Chill
Don't forget, that fantastic navy blazer you've been summer-loving is almost always made of 100% woven wool (unless you're sporting a navy hopsack blazer with a ton of breathability in its open weave but isn't so suited for winter climates). If your blazer is indeed made with woven wool, you can keep mixing things up year-round, even in the heart of winter. A navy turtleneck (you can pull it off) paired with ash gray flannel pants and brown chelsea boots has you off to a great start. Accessorize with an antique city map themed pocket square and a black weekender bag for an outfit that has you ready to tussle with Old Man Winter.
High Five!
Congrats, you now have 5 more navy blazer outfits in your arsenal. Go try them out and when you've mastered these, feel empowered to create even more navy blazer looks of your own.
Have any other favorite navy blazer outfits that you recommend? Drop them in the comments below!
---
Like What You See? There's More.
We'll send you style advice and intel for the modern man.
---