Why You Should Propose On New Year's Eve
Published on December 4, 2015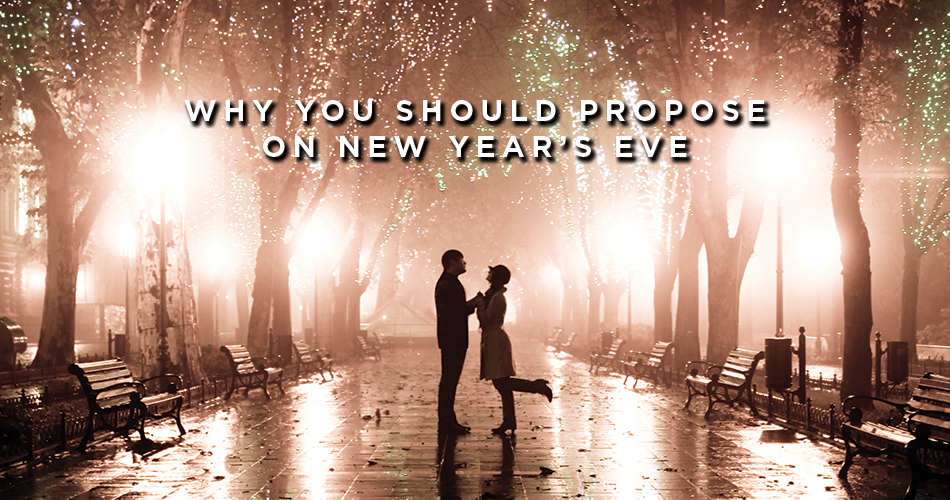 We make New Year's Eve out to be a special night, but it's really a pretty arbitrary holiday. What are we celebrating? We're really only commemorating the passage of time from 11:59 to midnight and that happens every day. What's something that doesn't happen every day? You getting engaged.There are millions of ways to propose, but if you've got your mind made up and are considering when to propose, allow us to make the case for New Year's Eve. Put some meaning behind the holiday with these reasons why you should propose on New Year's Eve…

We've already alluded to the first reason…New Year's Eve is kind of meaningless as holidays go.  Make this New Year's a meaningful one. Other holidays have their own meaning, but if you propose on New Year's Eve, it's not like you're muscling out a significant event or trying to upstage some other commemoration. (We're guessing not that many people  plan to get engaged on, say, MLK Day.) Timing your proposal means it'll always be tied to a memorable experience.


New Year's Eve is an inherently romantic event (thanks to the whole, midnight kiss thing) and, trust us, that's good for you. Ever since middle school she's worried about who she's going to kiss at midnight. So say she's only expecting another kiss this year. You'll completely blow her expectations out of the water with a proposal and you'll have plenty of hopelessly romantic people to celebrate with.


New Year's Eve is a fancy holiday and therefore you have every reason to look your best. We've even gone as far to say there is no more dapper day on the calendar than December 31st. So if your best is on the same level as Black Lapel's best, you'll be wearing black tie.


Working in the element of surprise is easy. If you don't usually go all out, but one night you make big plans for a candlelit dinner at a fancy restaurant, you might be showing your cards. On New Year's Eve a candlelit dinner, a cozy apartment party, a black tie affair, these are just a few kinds of environments would seem normal on New Year's Eve and are great ways to propose.


The average engagement is just longer than a year, but if you propose on New Year's Eve, then you have an excuse to throw a kick ass wedding on New Year's next year. You could even get married in the same tux you proposed in. Talk about one big party.
So we've given you some good romantic reasons to plan to on popping the question for the last night of the year. But here's a practical reason to plan your proposal for New Year's Eve: the ring. The holiday season is about giving and it just so happens to have amazing deals on jewelry. Take advantage, it won't go unappreciated.
So, gents, although we won't tell you exactly how to propose, we can tell you that New Year's Eve is not just a great time to pop the bubbly, but a great time to pop the question.
---
Like What You See? There's More.
We'll send you style advice and intel for the modern man.
---