How to Wear a Turtleneck
Published on August 4, 2022
A turtleneck is an incredibly easy way to upgrade your look with ease. If you want to learn how to wear a turtleneck with style, this post is for you.
As experts in the men's clothing industry, we've talked about how to wear different outfits, from vests to pants to shoes. Now I'll show you what a turtleneck is, the types of turtlenecks available, and how to wear them with your favorite blazer.
Let's start.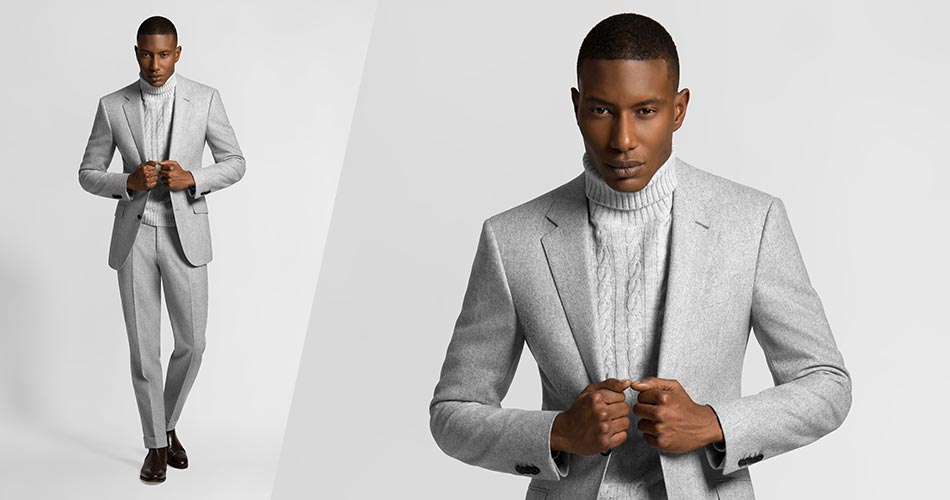 What is a Turtleneck (Exactly)?
Turtlenecks are simply a type of sweater characterized by a close fit and a high neck that isn't rolled (unlike a roll neck). Turtleneck sweaters are great for the cold-weather months and are especially prevalent as layering pieces under blazers and suits during the winter. 
Turtleneck versus Roll Neck
The main difference between a Turtleneck vs. Roll neck is that with a classic turtleneck, the collar that forms around your neck does not roll down; instead, it maintains its integral form and remains shaped around the neck tightly. A roll neck is just like a classic turtleneck. However, instead of a single-layer collar that fits tightly, roll necks incorporate a thicker neck fabric that "rolls over" to form a denser collar that is less tightly formed.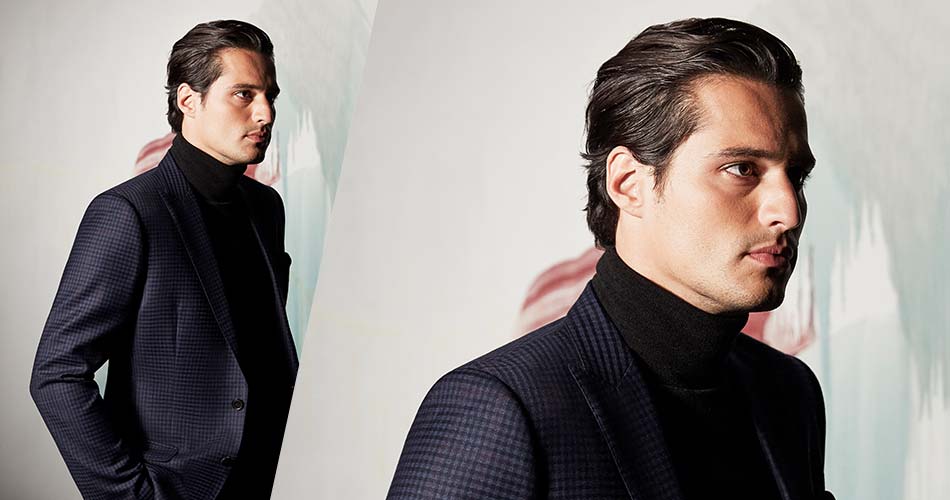 5 Types of Turtleneck
You might be surprised to find out that there are different types of turtlenecks. Depending on the outfit ideas, you may have to switch up your style to suit your overall look. Whether you're wearing a leather jacket, ankle boots, or denim jeans, you can pair them with your favorite turtleneck if you know the types and when to use them.
Here are the 5 types of turtleneck:
#1: Classic Turtleneck
Classic turtlenecks are just that – the most classic, traditional option. Most commonly made as a sweater, classic turtlenecks incorporate a high neck that doesn't roll over, fitting closely to your neck. Not only does this help keep you insulated, but it adds an extra element of style not often seen throughout the neck.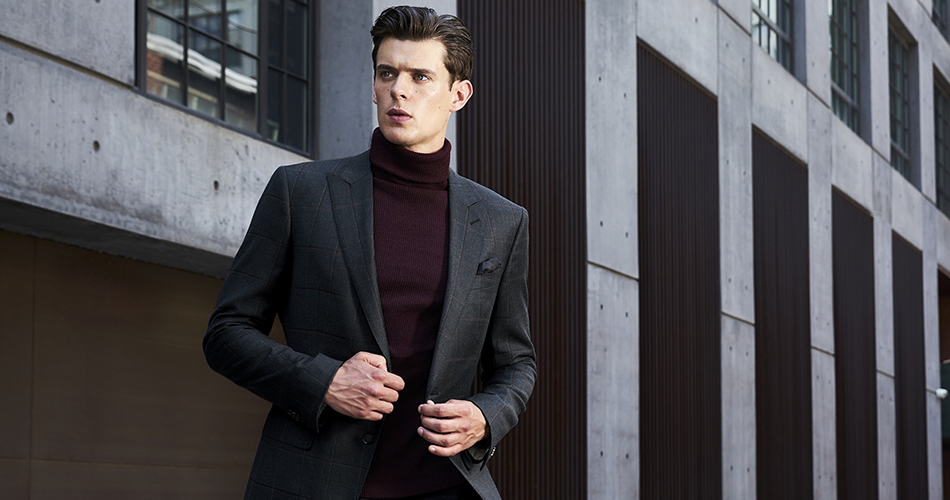 #2: Cowl Neck
Cowl neck sweaters are defined by a large draped collar that rolls over to form a soft, wide fold. Unlike the traditional turtleneck, which does not fold, this fold-over style uniquely identifies a cowl neck. 
#3: Funnel Turtleneck
Another ideation of the turtleneck, the funnel turtleneck, is characterized by a turtleneck collar that's wider at the top than the bottom, creating a "funnel" look. This look brings the eye from the top down.
#4: Knit Turtleneck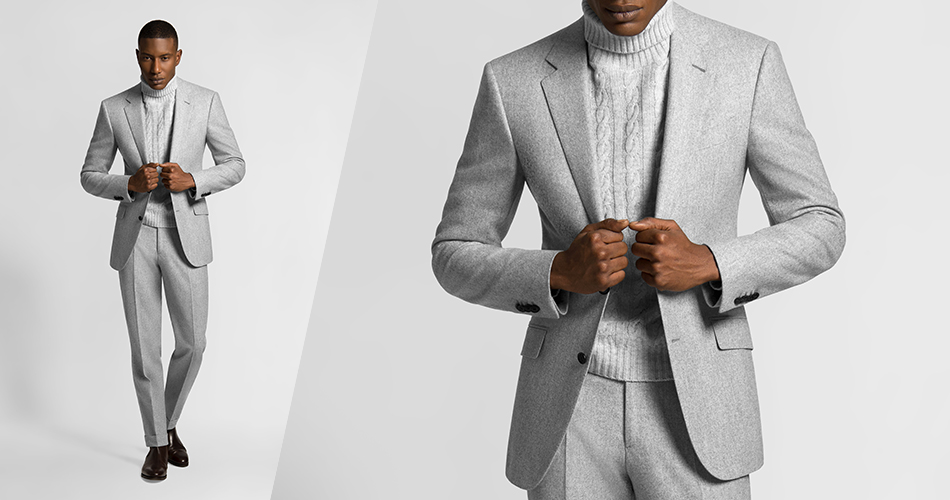 Knit turtlenecks bring on all of the classic traditions of a classic turtleneck but are made with a thicker, crossing knit weave that garners more insulation keeping you cozier through the coldest months. One of the best knit turtlenecks you can find is a sleeveless turtleneck. There is also an oversized turtleneck sweater. You won't be welcomed much with a thin turtleneck when it comes to knits.
#5: Printed Turtleneck
Printed turtlenecks bring all the same structural qualities as a traditional turtleneck. However, instead of a usual neutral solid pattern or striped turtleneck, printed turtlenecks come with more unique and defined printed designs that lend themselves to be more attention-grabbing than others. However, this comes with style stipulations for layering; never rock a printed turtleneck under a printed layering piece. 
Styling Tips 101: How to Wear a Turtleneck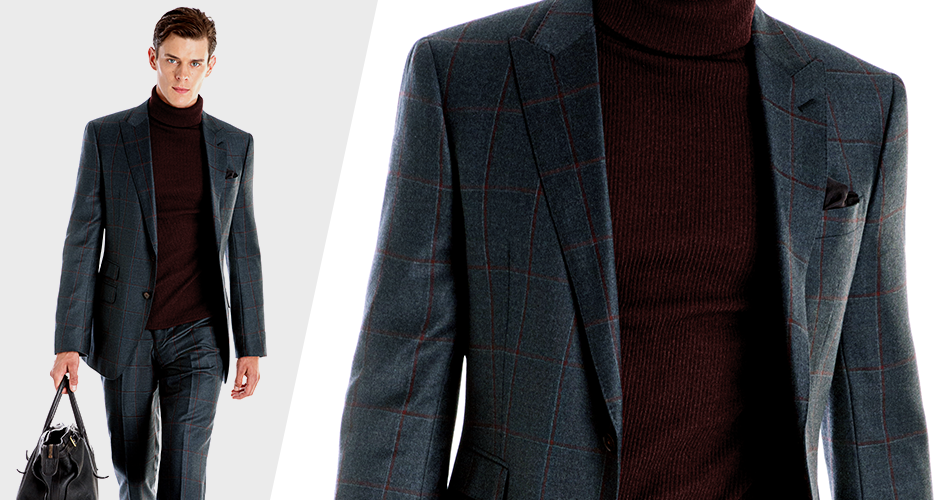 Adding turtleneck sweaters to your wardrobe line-up opens up several ways to incorporate them into your style – it's no fashion secret. Before we jump into how to wear them with a suit or blazer (our forte), there are a few easy ways to wear your turtleneck outfit in a casual wear setting. First and foremost, it's best to have your turtleneck be the base layer – meaning you wouldn't wear a shirt underneath. 
This may seem somewhat obvious, but since a turtleneck is close-fit and forms up the neck, it would be needless to add another layer underneath, which may show through. Turtlenecks can be worn handsomely tucked into your favorite pair of dress pants or worn with a couple of chinos and white sneakers – all easy ways to look like you know what you're doing. 
How to Wear Turtleneck with Suit
Learning how to wear a turtleneck with a suit is a lot easier than it seems — really, it comes down to appropriately matching up your colors in between layers. If you have a neutral, white-ish turtleneck, you will simply opt to throw on a dark navy or charcoal suit on top. Again, as obvious as it may seem, there will be no tie involved with this look – instead, it's more of a casual-Friday statement-making look that not only looks great but insulates and keeps you warm. 
Want to wear a dark turtleneck, say black or midnight blue? In this instance, match your suit to the color, and rock a bold, mysterious look that will turn many heads. 
How to Wear a Turtleneck with a Blazer
can wear it with a blazer. It might be a challenge for some, but once you understand which works with which, you can wear even an oversized turtleneck with anything.
Here are some examples of how to wear a turtleneck with a blazer:
Example #1: Light Blue Houndstooth Flannel Blazer
This simple, easy look incorporates a dark turtleneck sweater layered underneath a Light Blue Houndstooth Flannel Blazer with a matching tone – and the houndstooth pattern on the blazer only helps incorporate added layers (pun intended) of style. 
Example #2: Ash Gray Flannel Blazer
This Ash Gray Flannel Blazer looks excellently layered over a neutral-to-light turtleneck. As long as your turtleneck doesn't dominate the lighter tones of the blazer, you will have an easy look to work with.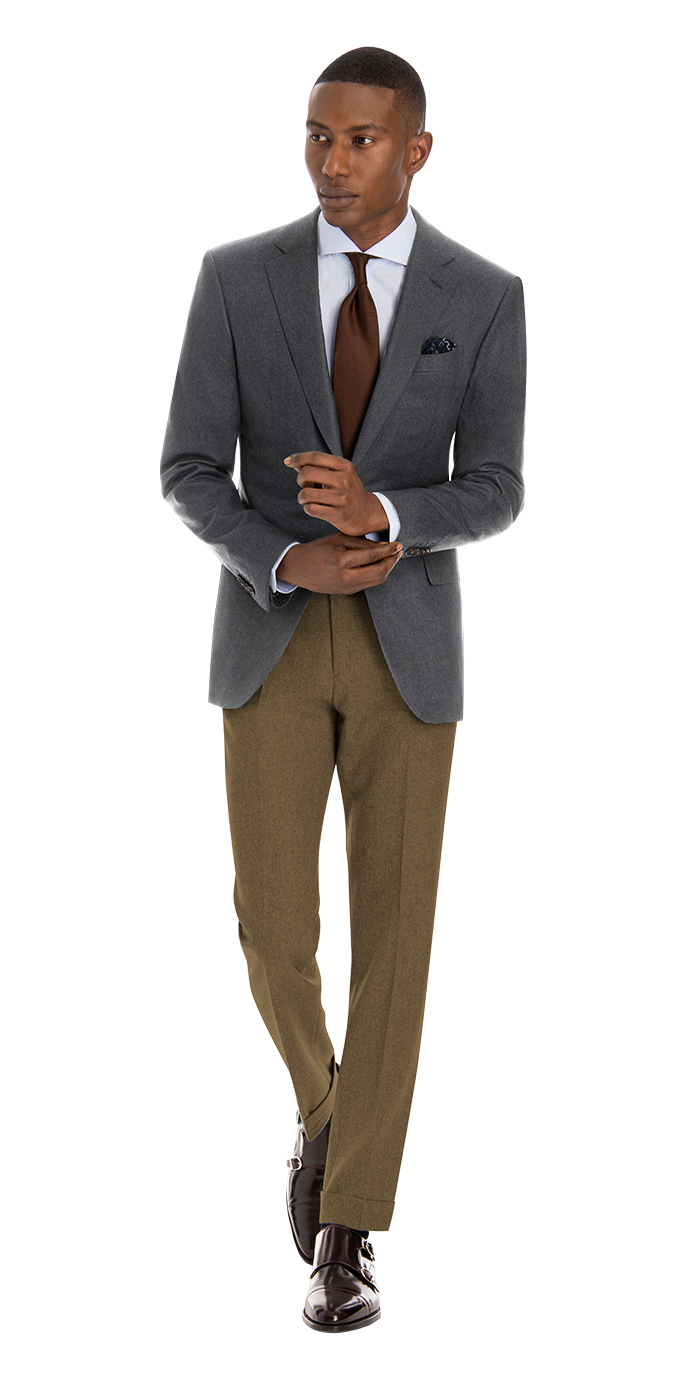 Example #3: Blue Flannel Blazer
The dark, ominous tones of this Blue Flannel Blazer lend themselves well with matching dark turtleneck tones and lighter neutral tones. The great thing about a more neutral balanced blazer color is that it lends more availability towards the color of your turtleneck.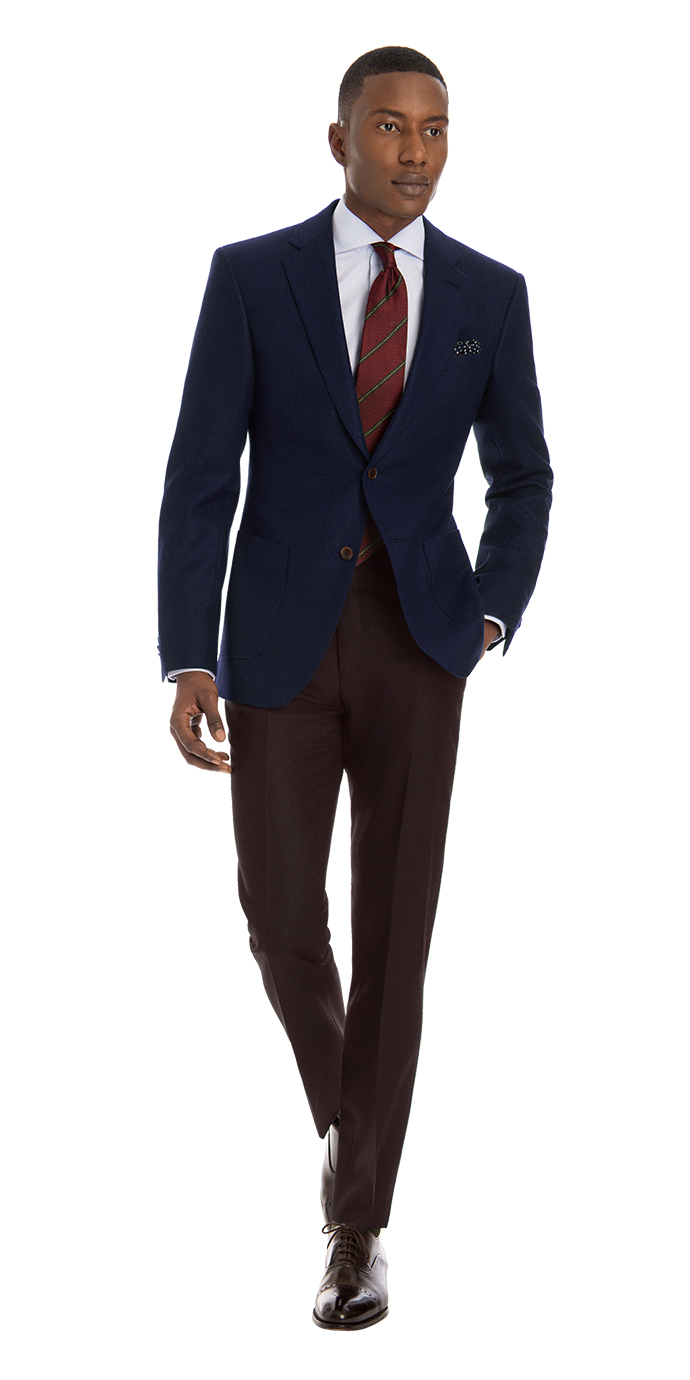 How to Wear Turtleneck with Jeans
Wearing a turtleneck with jeans, whether they're skinny jeans or distressed jeans, is as simple as wearing it with anything else. There's no need for anything to be tucked in. Instead, all that's required is finding your favorite pair of jeans and best-looking turtleneck and putting the two together. 
Like anything, the fit is going to be an important factor here – ensure that your jeans fit properly and that your turtleneck is form-fitting as it should be rather than baggy and disheveled.
Frequently Asked Questions
If you're not too sure about turtlenecks yet, don't worry. We have answers to your most pressing questions.
Does a turtleneck look good on everyone?
It would be hard-pressed to find someone who doesn't look good in a turtleneck. The question comes down to who is bold enough to rock it. Truthfully, it's really not as bold or aggressive as it seems. It's simply another version of a sweater that comes up to the neck. 
Can I wear a turtleneck on a date?
Turtlenecks are a great way to establish your style on a date – as we've eluded, they are an incredibly easy way to show that you know what you're doing, and as far as dating goes, you know what they say – confidence is key. If you're not ready to pull the trigger on a turtleneck before your first date, we can help you out with other wardrobe options for your big date. 
How to fold or roll a turtleneck?
If you want to create a shorter yet thicker neckline, simply take the neck of the turtleneck on both ends and fold it over twice. This will bring the neckline down but establish a chunkier look. 
Can turtlenecks be tailored?
Turtlenecks can be tailored to an extent, but the cost of tailoring a turtleneck sweater could easily be avoided by choosing a turtleneck that fits you properly first. There are ready-made outfits with a shorter neck for those who prefer it that way. There are also some cropped turtleneck outfits. 
If you prefer a chunky turtleneck, try finding one first. Ideally, you should find one that fits you already, but a tailor-made turtleneck will feel like the perfect match.
More How-To Guide Articles For Men
We have more articles to guide you on fashion trends for men.
In Conclusion
We hope we've shown you the greatness that is the turtleneck sweater. Not only can you wear it with your most casual options while helping yourself stay warm through the chilly months, but you can incorporate them into your repertoire of suits and blazers to further upgrade the style at your disposal! 
---
Like What You See? There's More.
We'll send you style advice and intel for the modern man.
---