What To Wear Under a Dress Shirt — Our Guide to Undershirts
Published on April 5, 2019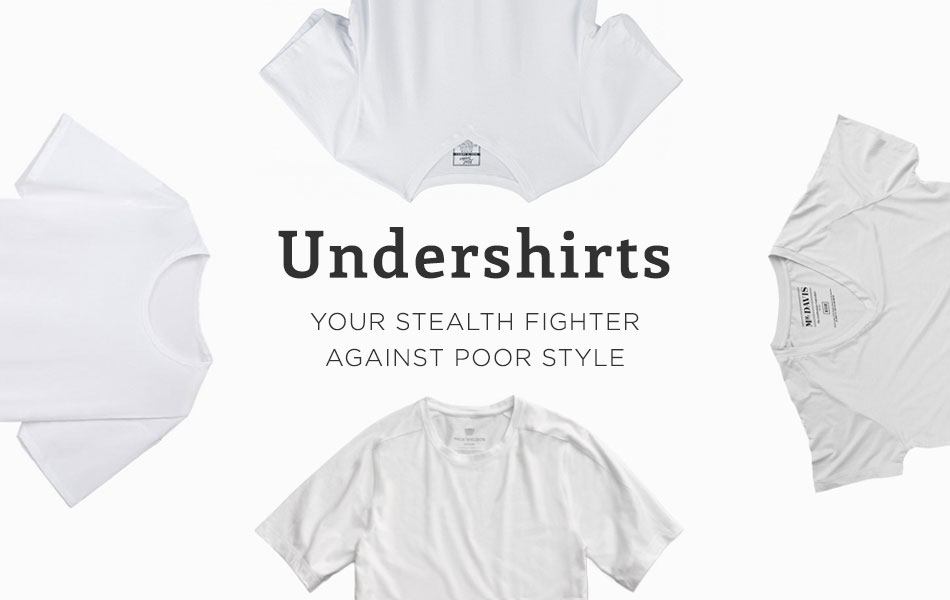 ---
A Guide to Wearing Undershirts Under Dress Shirts
Wearing an undershirt under your dress shirt may seem paradoxical; after all, why should you even think about adding an extra layer underneath that fine smooth cotton, especially when it's hot out? At face value, it doesn't make much sense, does it?
For old-school office warriors who have been wearing suits for years, understanding what to wear under a dress shirt and why they should layer up may seem elementary. But in 2019, undershirts are becoming much like Major League Baseball games, some young men just aren't into them.
Maybe it's the fact that modern dress codes are becoming less and less buttoned-down, meaning some young men don't learn the fundamentals of wearing dress shirts day-to-day. Then, when the time comes and they need to button-up, they either skip the undershirt because they don't know to even consider it, or because they don't know its game-changing benefits.
So Why Do Guys Wear Undershirts Under Dress Shirts?
Of course, young men aren't alone in misunderstanding the role of undershirts under dress shirts, but it's time to clear the air and learn what to wear under a dress shirt and why. So, why do guys wear undershirts under dress shirts? Well, there are two main points as to why you should add this extra layer to your look, and though they aren't apparent at first glance, after this article, you'll quickly realize that adding an undershirt under your dress shirt is going to help you both look better and feel better.
Here are the two main reasons you should be wearing an undershirt beneath your dress shirts.
---
1. Undershirts Help Manage Sweat and Body Temperature
Job number one for an undershirt is sweat management. Undershirts are like an NBA Towel Boy (those kids at the end of the court who wipe the floor when the ball is at the other end of the court), their main purpose is to move sweat off of the court.  Just the same, undershirts keep sweat off of your dress shirts. This is especially important when the summer months arrive and you want to save your dress shirt (and you) from looking like you walked through a water park. Any undershirt can soak up sweat, but the better undershirts wick sweat away from your body. This is even better as when your undershirt wicks, it keeps moisture away from your body, allowing it to evaporate faster. In turn, this helps keep you cool and keeps your dress shirts dry. The result? No river of sweat running down the back of your dress shirts and no sweaty pits.
Of course, there are other (and perhaps more obvious) practical uses for undershirts during the cooler months. In these transitional seasons, when it's cool but not quite cold, an undershirt helps keep the chill off without you having to add outer layers.
2. Undershirts Make You Look Better
It's true, a plain white undershirt under your dress shirt can improve your looks.
You know that "crisp, white dress shirt" you're always reading about in publications like this one? If you don't wear an undershirt under it, it won't look so crisp. That's because the stark white of that dress shirt is probably getting muted by your skin. A white undershirt will reflect more light and act like bleach for your shirt, and make your white shirt look truly white.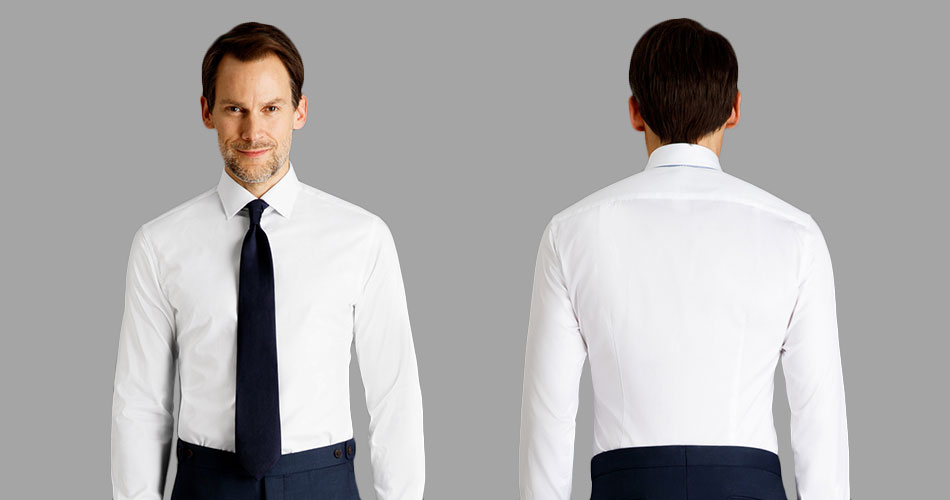 There's another reason why adding an undershirt under your dress shirt helps you look better. Even if your dress shirt isn't white, undershirts can also keep a thick chest forest or, worse yet, unsightly back hair from showing through your dress shirt. Undershirts can even hide ink on the tatted-up gent looking to make an understated impression (say, for a job interview).
---
What To Wear Under a Dress Shirt
Before we show you our favorite undershirts, it's important to learn what you want to avoid when combining an undershirt and a dress shirt.
First, we'd be remiss if we didn't mention a specific type of undershirts — spandex or compression shirts. These styles also have another name: man-girdles or, as we like to call them, mirdles. Some men go the compression route to try and artificially tailor themselves to their clothing and try to "keep it all in". We don't advise anyone go this route, especially since there are legitimate health risks (including blood clots) involved with wearing spandex that is too tight on your body.  Rather than trying to slim yourself down via compression clothing, we recommend going the natural route and, of course, custom tailored clothing.
Another unfortunate undershirt look to avoid: the poor man's ascot. If you're going to wear an open-neck dress shirt, make sure your undershirt's a V-neck. You shouldn't see you undershirts, rather, they should be like NFL side judges, if they're doing their job well, nobody should even notice that they're there. (Yes, for those of you keeping track, we have now referenced all three major American sports in one article.)
Dress better. Live better. Pursue better.
Sign up for style, relationship, and self-improvement advice for the sophisticated modern man.
---
Our Four Faves: Undershirt Options for Every Guy
Best Value Option
UNIQLO AIRISM $9.90
Yes, you can get a cheaper undershirt in a 3-pack at the drug store, but for a quality garment that wicks sweat, there's no beating these.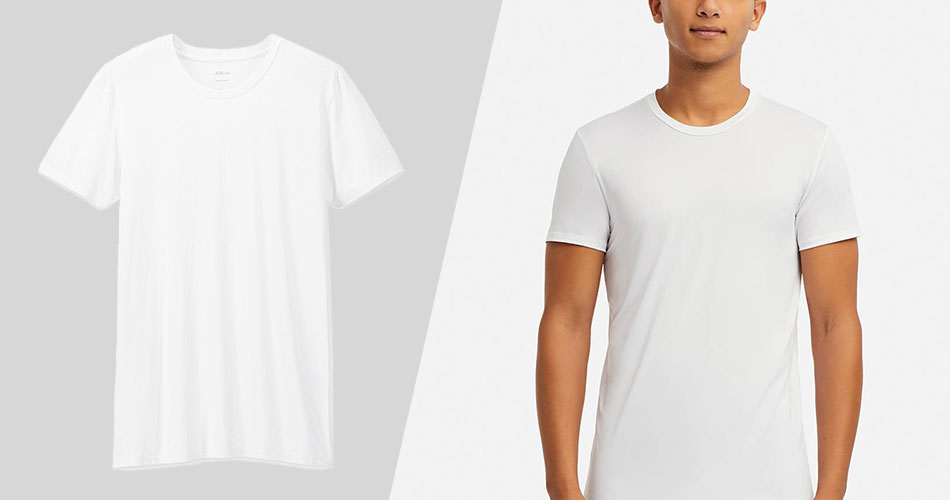 Available in: crew neck, v neck, and tank
89% polyester, 11% spandex
Best Natural-Fabric Option
Flint and Tinder Undershirt $29.00 (3/$75)
These all-cotton undershirts take the cake
when it comes to softness and feel.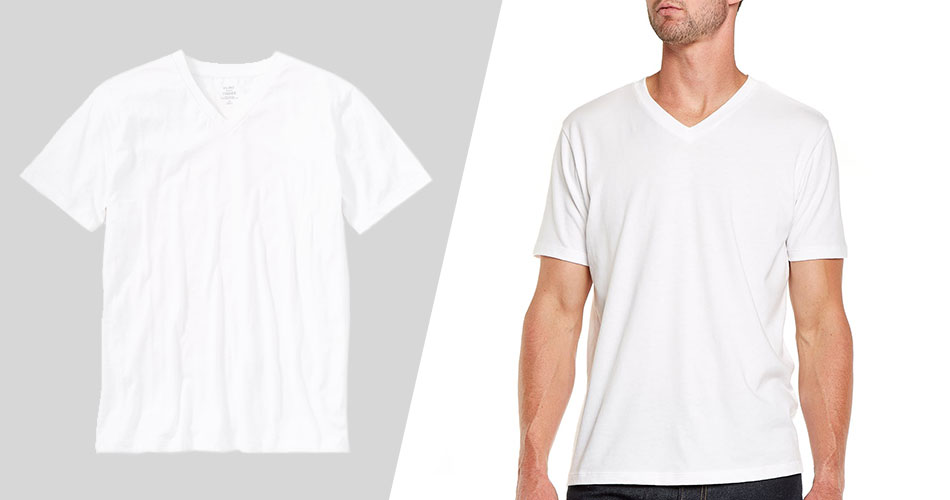 Available in: crew neck and v neck
100% American long staple cotton
available in: black and white
Best Luxury/Performance Option
Mack Weldon Undershirt $32.00
These undershirts stretch but don't shrink, wick sweat and feel great
despite a heavy dose of synthetic fabric.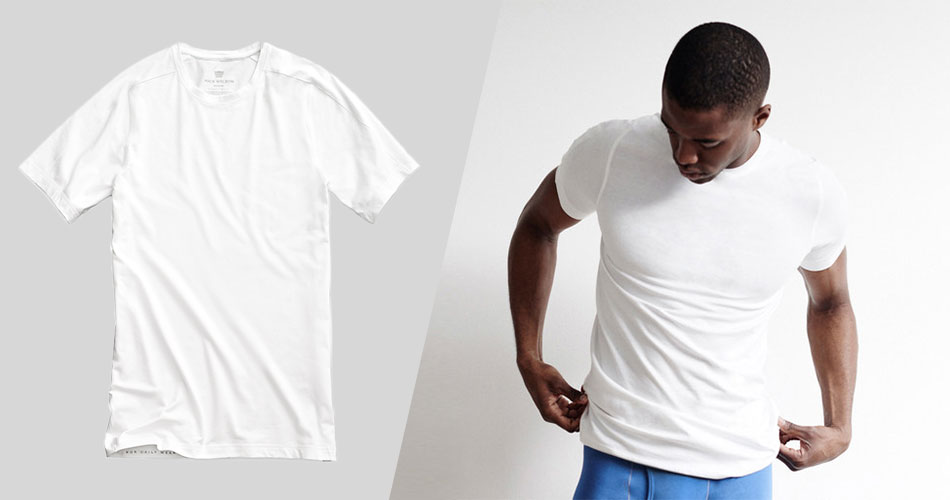 Available in crew neck and v-neck
47.5% long staple cotton,
47.5% modal, 5% lycra
Best Sustainably-Made Option
Mr.Davis Undershirt $25.00
If you're looking for an eco-friendly option that still has a buttery soft feel, look no further than these bamboo undershirts.
Available in: v-neck and crew neck
available in: tone and white
96% sustainable bamboo viscose and 4% spandex
---
Final Word: Style Starts at the Bottom
Although adding an undershirt under your dress shirt may seem trivial, hopefully now you see their underrated importance. Believe us, if you strip back the layers on a truly stylish man and you're likely to find an undershirt because style starts at the bottom layer. The unsung heroes of many a stylish man's wardrobes, undershirts are true workhorses and your dress shirt's best friend.
---
Did we convince you to give them a try?
Put undershirts to work for you and tell us how you like them in the comments below.
---
Like What You See? There's More.
We'll send you style advice and intel for the modern man.
---