What You Need To Know To Buy Dress Shirts Online
Published on March 25, 2016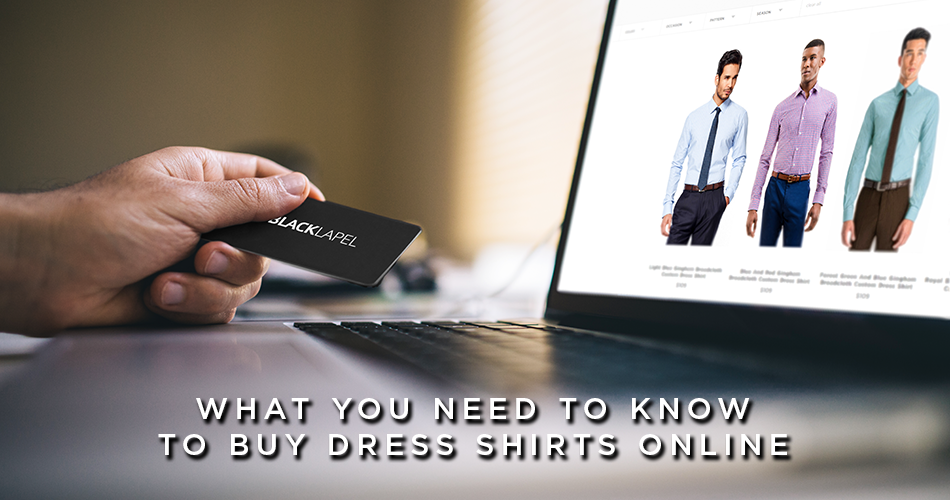 Dress shirts have been around since the Middle Ages. So why, in 2016, is it still so hard to get a great one? There was a time when men had experts who could guide them. You could go into your local haberdashery and someone who actually knew about tailoring would advise you on how to buy a dress shirt. Often, that would have been a custom shirt made-to-measure and customized for you. But as
we've noted before
, those days are over.
Today, you're lucky to find a store where the salesman A) knows anything about menswear, tailoring or, in this case, what to look for in a great dress shirt, and B) won't pressure you to spend more than you intended or try to upsell you on a tie or some cuff links or some other thing you didn't walk into the store intending to buy.
The solution to the pushy salesman problem is to buy dress shirts online. To learn what to look for and ensure you get quality dress shirts even if you can't try before you buy, you've got the following guide.
Keys to buying dress shirts online
We shop with our eyes. You see a photo of a guy looking awesome in a shirt and think, "I want to look like that." Two hours later you've scoured every website known to man and purchased the be-all and end-all of dress shirts. It arrives, you try it on and you're sorely disappointed. You don't look like the badass in the photo you saw. Why? Two of the most common reasons for online shopping failures are that the fit is off and the color/pattern isn't what you expected. Below we break down how to avoid this scenario.
Revival of the Fittest – How
to find dress shirts that fit online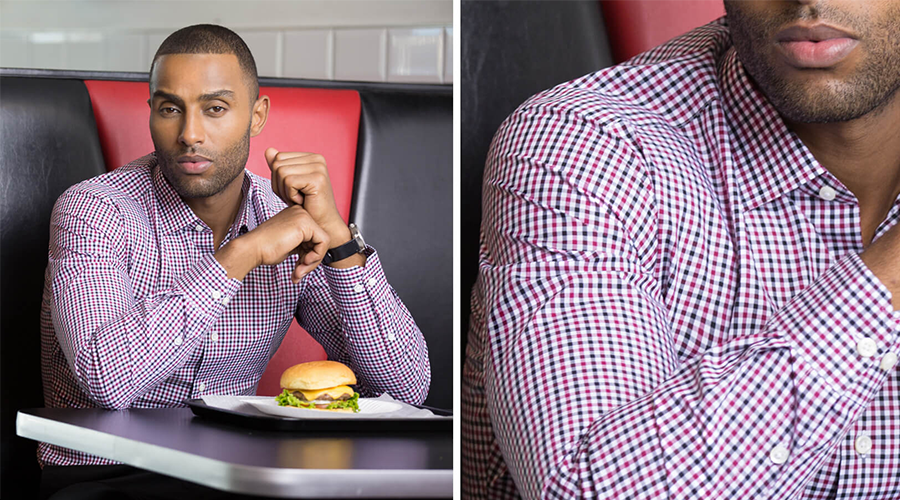 If you want a shirt to look great on you, it has got to fit you really well. Period. End of story. Our shirts should accentuate the positives and do their best to eliminate the negatives. So why are shirt makers making shirts that fit us like tents? The short answer is, they don't know your size. And frankly, most shirtmakers don't care about your size. That's your problem. But there are solutions.
Use Size Charts

Getting fit right when you're shopping online is tough, especially when you're buying something that comes in a fairly subjective size like small, medium or large. (Many dress shirts come in sizes that refer to specific measurements and we'll cover that more below).
Many sites offer size charts to give you a sense of what their version of a Medium really is. If you know a couple of your measurements, these charts can save you a lot of headache as they give you a range of sizes that ought to fit. For instance, if you know you've got a 40" chest, you can use that as a starting point on the size chart to determine your size. Even if you're pretty sure something will fit, take the two seconds to check the size chart. It can save you a lot of time on returns.
Know Your Measurements

Most dress shirt brands, especially the higher end ones, use a couple of key measurements to denote their shirt sizes. Usually dress shirts come in various combinations of neck, shoulder and sleeve measurements. If you know your measurements you can look for the closest combination to your measurements that is available. But chances are you won't get an exact match to your measurements so, to get a good fit you'll have to…
Tailor Your Shirts

The usual measurement combo (neck x shoulder/sleeve measurement) doesn't include chest or stomach measurements, thus making it tricky to find a shirt that fits in these problem areas. All too often you're left with either too much or too little fabric in these areas, even on a shirt that, by the numbers, should fit. Chances are you have some shirts like this in your closet right now.
What's a stylish man to do? Get to a tailor (if you don't have one, check out our guide to getting the most out of your tailor). Tailoring shirts is one of the simplest, yet least used tricks well-dressed men have up their dress shirt sleeves.
Quality dress shirts come with extra fabric tucked inside at the seams. This is called a seam allowance and it is the tailor's best friend. It gives the tailor enough fabric to alter any areas where you might need a little extra room. Conversely, let's say your shirt fits you great in the neck but you're swimming in the sleeves. A tailor can tuck in more of that extra fabric at the seam and taper your sleeves so you can show off the guns.
Make the Fit Flawless

The surefire way to get dress shirts online that fit you flawlessly, of course, is to get custom dress shirts. Made to your exact measurements, the fit of a custom dress shirt will blow an off the rack shirt out of the water.
With an outer layer like, say, a topcoat, there is some wiggle room for fit and off the rack versions can, on certain body types, compete with made-to-measure, but when it's a base layer like a dress shirt, nothing compares with custom.
The web-enabled device of the beholder – How to look at dress shirts online
A lot what we love about dress shirts comes from the color and/or pattern of a shirt. When you consider that a dress shirt goes hand-in-hand with a tie, so you want them to pair nicely,  being able to see the color and the pattern are two very important things. But when you're buying online, how can you be sure what you're seeing is what you're going to get?
Avoid mistakes, use whiteout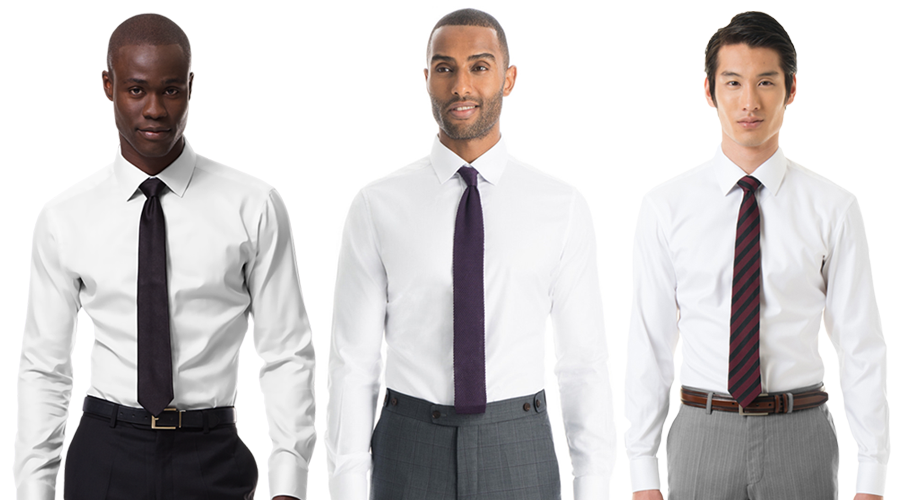 There is one very simple strategy for dealing with this problem: get white shirts. Now, we could give you a laundry list of style-based reasons why a dress shirt whiteout is a great idea, in fact, we've given you a few already, but the practical reason, when you're shopping online, is that you know what you're going to get. A white shirt is a white shirt. Other colors? Not so simple.
Stay true to blue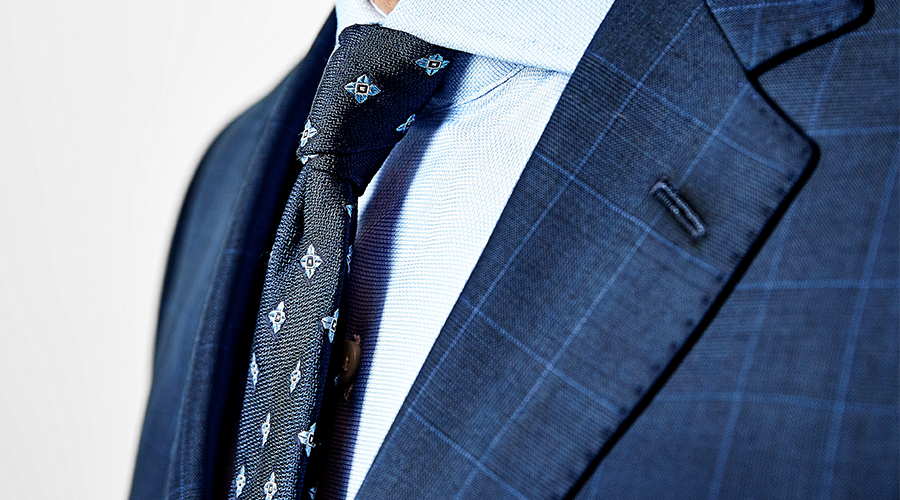 When it comes to colored shirts online, you've got to take a bit more of a leap of faith and go by the photos. Our advice is to stick with forgiving colors. Blue dress shirts range from low saturated pale to heavily saturated cornflower blue. All of those blues work with, say, a gray suit. The same isn't true of other colors. Take red. Sure, at the one end of the spectrum you've got preppy pink shirts but at other end you've got a devilishly, distasteful red dress shirt. If you're looking to play it safe, stick to blue.
Check the scale

When it comes to patterns, check the scale. Many shopping websites let you see the fabric in close up images. But be careful to also check the scale of the pattern. A dress shirt with big stripes and one with small stripes can look vastly different. Bigger, more open patterns show more of the base color. The smaller a pattern the more it will look like a solid from a foot or so away. Keep this in mind when assessing patterned shirts so you won't have any surprises when it arrives.
Swatches aren't just for 80s watch collectors

There is a foolproof way to see what a fabric is going to look like before you buy it. Some online brands will actually send you a sample of the fabric, known as a swatch, so that you can see and feel the actual material. If you're not sure about a fabric, having a few swatches sent to you can help you decide what to order.
Cop a Feel – Getting swatches from Black Lapel
If you'd like to see a swatch of the dress shirts offered by Black Lapel, email us at concierge@blacklapel.com with the fabrics you'd like to see and your name and address and we'll get them out to you. Same goes for suiting fabrics.
Don't lose your shirt – Understanding the true cost of a dress shirt
One of the beauties of shopping online is that, unlike in the store, you easily compare prices between brands. But comparisons are not always apples to apples. Here's why:
Tailoring Costs

As we suggested above, tailoring your shirts is a great way to get a good fit. But alterations can add up. When you factor in the cost of tailoring a shirt (plus the time and energy spent getting your shirts to the tailor and getting them to fit you just right) a dress shirt that looked like a deal on the website when you first purchased it can actually prove quite pricey.
Does that mean we think you should skip the tailoring step? No, we still highly recommend tailoring any shirts that don't fit the way you want. The point is, you've got to factor that into the cost.
The Long Life of a Dress Shirt

One of the key, and often neglected, factors to consider when comparing prices is how long a garment will last. Dress shirts take a beating. We roll the sleeves and sweat in them in the summer, we pull them on in haste when we're getting dressed and (if we're lucky) have them pulled off in haste when we're getting undressed. So durability is another crucial part of the cost of a shirt. If you're planning to wear it for years, look for these signs of a strong shirt: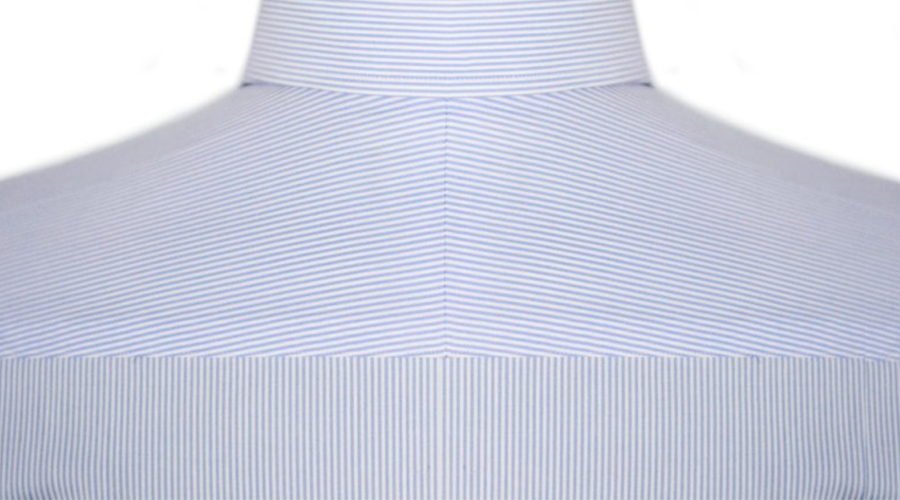 Split-Yoke Construction
On better shirts the yoke (the part of the shirt where you would rest the bar if, for some reason, you were to do squats in a dress shirt) is made of two pieces of fabric. This is not just a style choice, it allows the shirt to stretch better across the width of the upper back and shoulders for ease of movement while reinforcing the structure, and making a long lasting shirt.
Mother-of-Pearl Buttons
If it's tough enough to protect a mussel from predators (mother-of-pearl is made from mollusk shells) then it's tough enough to stand up to repeated laundering. And look for a cross stitch on those buttons to keep them firmly attached to the shirt.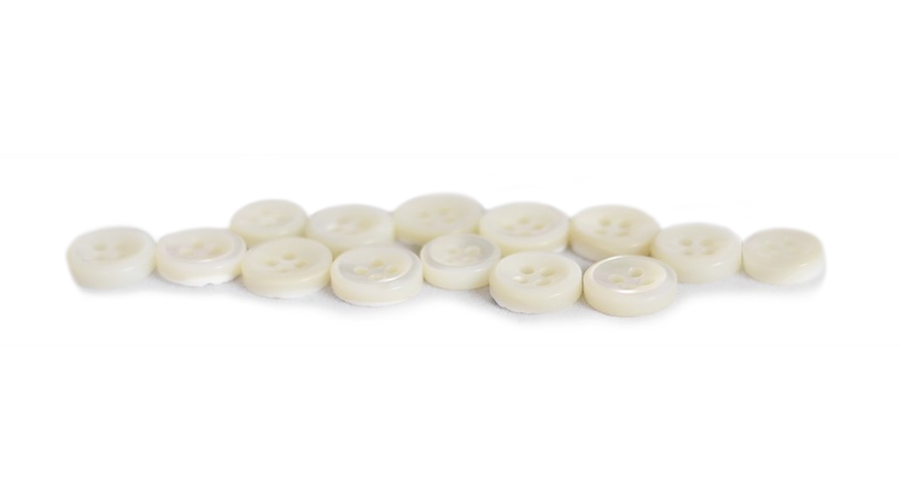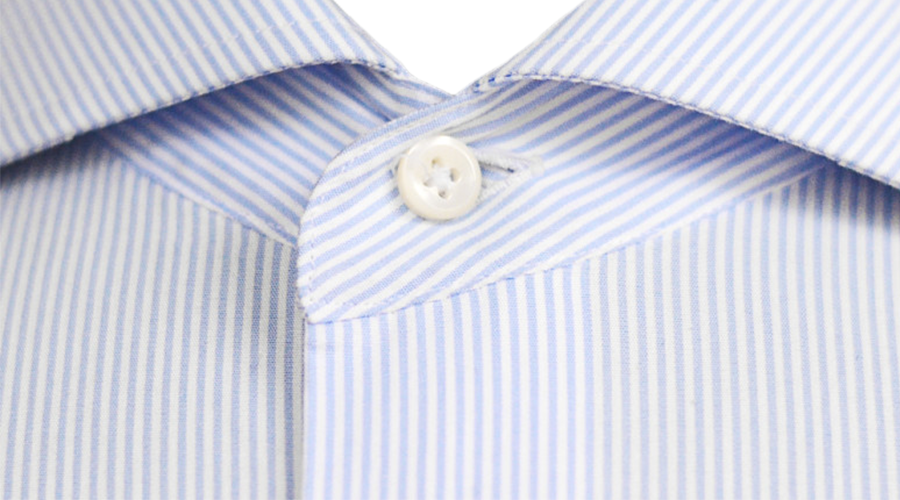 Single-Needle Stitching
A more costly type of construction, single-needle stitching uses one needle to sew one side of the garment at a time. This results in a stronger seam that won't pucker even after repeated washing.
What about thread counts?
If you've been doing your homework and looking for what makes a great dress shirt, you've likely come across at least one "expert" who swears by thread count as the only metric by which you should assess the quality of a dress shirt. So why wasn't thread count in our list of above? That list is about the durability of a shirt. While high thread count shirts are generally considered high quality and, appropriately, more expensive than lower thread count shirts, thread count doesn't have too much bearing on how well a shirt holds up.
So what does thread count affect? The feel and weight of a dress shirt. High thread count shirts can have a soft, almost silky, feel that exudes luxury. High thread count fabric makes great lightweight shirts. If you're looking for a heavier shirt with a crisper, sturdier feel for more casual wear, then a lower thread count can actually have an advantage. As with most things style related, when it comes to thread count, there's no need to slavishly follow the dictates of the menswear geeks.
Putting it all together
So that's a lot to take in and the idea of finding all of the features we've discussed here may sound like discovering a unicorn…who can sing…and grows his own heirloom tomatoes…which he sells at the Farmer's Market on Sundays. At least that's what we felt like when we went looking for great dress shirts online. That's why we created the Black Lapel line of shirts that check all of the boxes.
They're made-to-measure so they fit you flawlessly without the need for tailoring,

They come in a variety of colors and patterns (swatches available upon request), and

They're built to last with split-yoke construction, mother-of-pearl buttons and single-needle stitching.
Check out this 1-minute (yes, that's how easy it is) tutorial of how to buy and customize dress shirts online on the Black Lapel site.
---
Like What You See? There's More.
We'll send you style advice and intel for the modern man.
---