6 Ways To Be The Best Dressed Man In a Casual Office
Published on January 22, 2016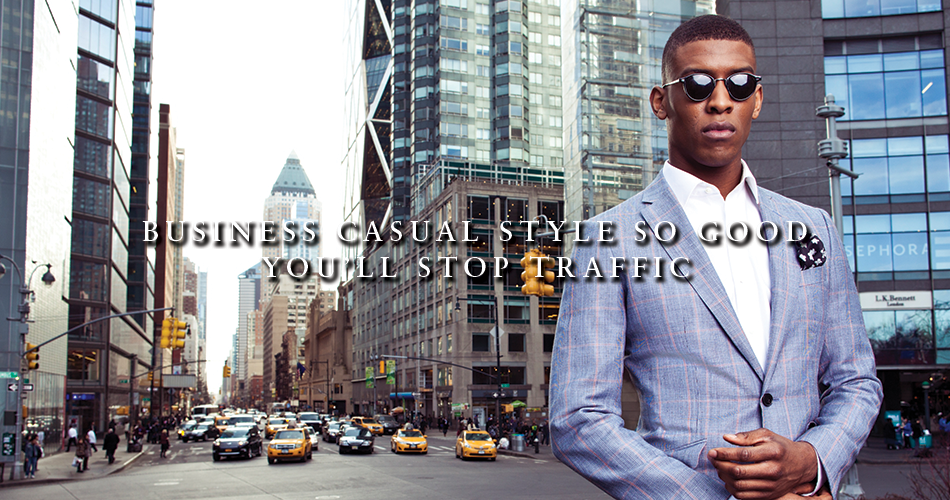 ---
Today's well dressed men know you can wear a suit jacket with jeans if you follow a few key rules. Stay with the times, don't do it wrong.
---
There are some offices out there where suits are still the norm, but much of the modern work world has moved to a more laid back dress code. Call it business casual or business informal or, one of our favorite oxymorons, "dressy casual" but whatever you call it, it took the American office by storm.With the advent of the business casual office, HR departments began offering fuzzy definitions about what is appropriate to wear to work for over twenty years now, but one thing is for sure: if you want to find the C-suite in a casual office, follow the blazers.
The hipsters at the creative firms and tech startups may go around in AC/DC T-shirts (worn with varying degrees of irony) but the blazer puts the "B" in bossman. Many of them do it poorly (putting a blazer over a blousy, untucked shirt and a pair of dad jeans isn't fooling anybody into thinking you've got style) but they do it nonetheless. Here's how to do it well.
Ways to Wear A Blazer to Work
---
Casual Business
With an open collar shirt and cotton pants (lightweight chinos in the summer, corduroys in the winter and denim year-round) this look exudes casual confidence.
When the blue blazer is solid, or subtly patterned, pump up the volume with a gingham shirt like we did for two of these looks.
When the jacket pattern packs a punch, like the Delancey Blue Windowpane Blazer shown here, think of your shirt as a simple blank canvas and stick with solid shirts.
---
Business Casual
In a business casual setting, wearing a tie and dress slacks with a blazer means you'll always look buttoned up, without looking uptight.
All three of these business casual looks feature knit ties. That's no accident. Like the blazer, the knit tie straddles the line between business formal and casual and is a perfect choice for a business casual look. (Bonus: they look great with a suit or a pair of jeans too.)
---
More Inspiration
Inspired to start rocking a blazer to work? For more on how to pull off this look, read our story on how we perfected the modern blazer.
---
Like What You See? There's More.
We'll send you style advice and intel for the modern man.
---