What to Wear to a Fall Wedding
Published on November 4, 2016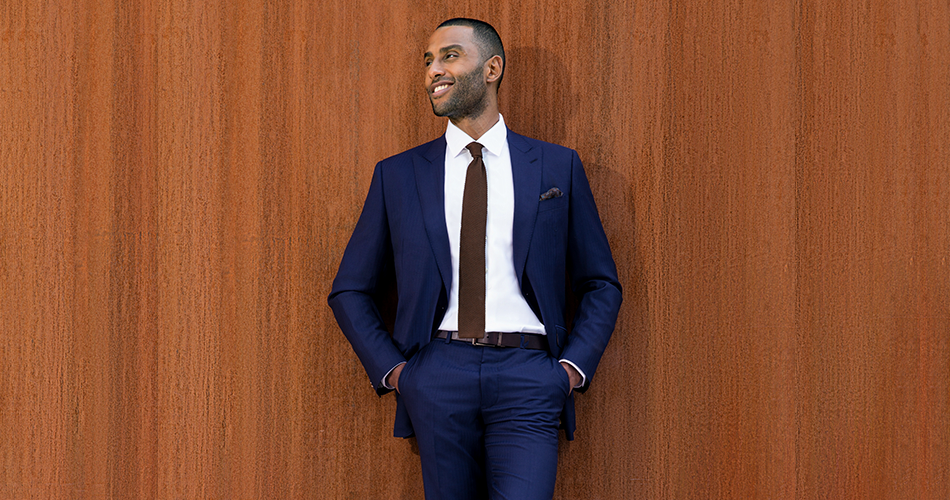 It used to be that weddings were predominantly spring events. But with the increase in fall weddings, we've had an increase in guys asking us what to wear to a fall wedding.
The answer is, it depends. Before deciding what to wear to a wedding you should always consult the dress code. If the invitation reads "Black Tie", for instance, your choices are pretty cut and dried."
---
Wedding dress codes for grooms
That goes for grooms too. Before you decide what you'll wear to your own wedding, you should decide on the dress code and make it clear by putting it on the invitations. For grooms, it's just a courtesy to give your guests an idea of the formality or informality by setting a clear dress code.
---
The definition of black tie isn't black and white
Say "black tie wedding" and most people conjure up images of penguin-like attendees in black tuxedos. But especially when dressing for a fall wedding, the black tux should not be your only option. Infuse some fall color to your getup with your usual black tux pants and a contrasting color dinner jacket.
How to dress for a fall black tie wedding
The addition of the deep burgundy dinner jacket takes the wearer from being just another tux in the crowd to the one guy who got it right for fall.
What to wear to a fall cocktail attire wedding
If the dress code is a little more relaxed, the invitation will probably read something like "Cocktail Attire" and you'll have a bit more flexibility in your choice of clothes. Don't be fooled into thinking that the light grays you see at so many weddings are the only way to go.
For fall, more seasonally appropriate colors should be used. A warmer, richer gray like an oyster shade still has that wedding vibe but echoes the shades of the season with a hint of tan.
A good all-seasonal look, the hint of earthtone color makes this fabric a great choice for fall. Double down on the fall accents with a double-breasted jacket that features six amber-toned buttons in the front.
---
Sometimes, creating a seasonal look isn't all about the suit fabric. A mix of in-season accessories can work wonders and make your look completely "in the moment" all the time. For fall that means calling on the earthy shades we highlighted above, but this time, with your tie and pocket square.
Not only do the tie and pocket square echo the tawny tones of fall, but the silk knit tie and wool pocket square adds some visual contrast to the smooth suit and shirt.
What to wear to a fall wedding? Confidence.
We hope we've given you some inspiration to incorporate the season into your look. No matter what you decide to wear, just be sure to wear it with confidence. It's the most attractive accessory known to man.
---
Like What You See? There's More.
We'll send you style advice and intel for the modern man.
---