Wedding Toasts — 101 of the Best Love Quotes
Published on April 28, 2017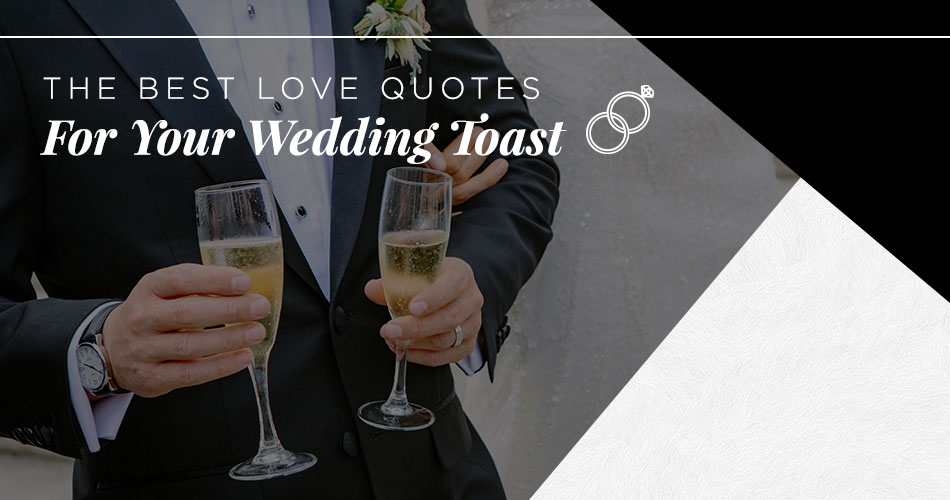 The Different Types of Wedding Toasts
For best men, being able to wear a custom suit to a wedding is great, but delivering a wedding toast is right up there with waterboarding on their list of tortures. They take all of the anxiety of public speaking, add in the expectation that you display some heartfelt emotions (maybe even choke up a little) while sprinkling in a few one-liners and turn the whole thing into one of the most fear-inducing elements of being a part of a wedding.
But while writing a wedding toast represents one of the biggest hurdles a best man must leap, there is a way to lower the hurdle. As the copywriting guru, Joanna Wiebe says "only rookies write from scratch." When it comes to your speech, you don't have to create the whole thing from scratch. A good love quote can be the center of your whole toast and set you up to take your speech in just about any direction. We've gathered 101 of the best love quotes out there and sorted them by theme to get you started.
---
Wedding Toasts to Poke Fun

"A man is incomplete until he's married. After that, he's finished." – Zsa Zsa Gabor
"Love is blind — marriage is the eye-opener." – Pauline Thomason
"A good marriage is like a casserole, only those responsible for it really know what goes in it." – Anonymous
"A successful marriage requires falling in love many times, always with the same person." – Mignon McLaughlin
For the groom who's kind of a wise-ass:
"The man who says his wife can't take a joke forgets that she took him." – Oscar Wilde
"Marriage is not just a spiritual communion, it is also remembering to take out the trash." – Joyce Brothers
"Always remember to fight with two words, 'Yes Dear'." – Anonymous
"Love: a temporary insanity curable by marriage." – Ambrose Bierce
"A marriage is always made up of two people who are prepared to swear that only the other one snores." – Terry Pratchett
"The secret of a happy marriage remains a secret." – Henny Youngman
---
Wedding Toasts for Quirky Couples

"Marriage is not a ritual or an end. It is a long, intricate, intimate dance together and nothing matters more than your own sense of balance and your choice of partner." – Amy Bloom
"People are weird. When we find someone with weirdness that is compatible with ours, we team up and call it love." – Dr. Seuss
"If it is true that there are as many minds as there are heads, then there are as many kinds of love as there are hearts." – Leo Tolstoy
"Love is the greatest refreshment in life." – Pablo Picasso
"Love loves to love love." – James Joyce
For the couple that's been together a long time:
"Love is something eternal; the aspect may change, but not the essence." – Vincent Van Gogh
---
Wedding Toasts with Classic Blessings

"May your love be like the misty rain, gentle coming in but flooding the river." – Traditional African Blessing
"May the road rise up to meet you, May the wind be always at your back, The sunshine warm upon your face, The rain fall soft upon your fields, And until we meet again, May God hold you in the hollow of His hand."– Irish blessing
"May their joys be as deep as the ocean, And their misfortunes as light as the foam." – Armenian Blessing
"Let's drink to love, which is nothing—unless it's divided by two." – Irish blessing
For the older couple:
"A heart that loves is always young." – Greek Proverb
"Try to reason about love and you will lose your reason." – French proverb
"May your love be modern enough to survive the times but old-fashioned enough to last forever." – Anonymous
"When love reigns, the impossible may be attained." – Indian Proverb
"No road is long with good company." – Turkish proverb
---
Wedding Toasts for Life Lessons

"All that a husband or wife really wants is to be pitied a little, praised a little, and appreciated a little." – Oliver Goldsmith
"They say a person needs just three things to be truly happy in this world: someone to love, something to do, and something to hope for." – Tom Bodett
"Love one another and you will be happy; it is as simple and as difficult as that." – Michael Leunig
"Never let a problem to be solved become more important than a person to be loved." – Barbara Johnson
For the couple who only recently met:
"Love is not about how many days, weeks, or months you've been together, it's all about how much you love each other every day." – Anonymous
"Love is a present, so open it happily." – Sepatu Usang
"Whenever you're wrong, admit it; whenever you're right, shut up." – Ogden Nash
"If you would be loved, love and be lovable." – Benjamin Franklin
"True love is wealth…with it, you need nothing else." – Samuel T. Doyle
"Any fool can have a trophy wife. It takes a real man to have a trophy marriage." – Allan K. Chalmers
---
Wedding Toasts With Timeless Quotes

"Where there is love there is life." – Mohandas Gandhi
"Who, being loved, is poor?" – Oscar Wilde
"To the world, you may be one person, but to one person you are the world." – Bill Wilson
"Love doesn't make the world go round, love is what makes the ride worthwhile." – Elizabeth Barrett Browning
"At the touch of love everyone becomes a poet." – Plato
"Love is life." – Leo Tolstoy
"Love is all you need." – The Beatles
"Love does not consist in gazing at each other, but in looking outward together in the same direction." – Antoine de Saint-Exupery
For the multilingual couple:
"So many ways to say, 'I love you', never enough to say how much." – Cameron Rand
"Laughter is the shortest distance between two people." – Victor Borge
"Love is an emotion experienced by the many and enjoyed by the few." – Anonymous
"Once you have learned to love, you have learned to live." – Anonymous
"A loving heart is the truest wisdom." – Charles Dickens
"He who wants to do good, knocks at the gate: he who loves finds the door open." – Rabindranath Tagore
"Laughter is the language of the soul." – Pablo Neruda
---
Wedding Toasts About Happiness

For the conservative couple:
"There is no greater happiness for a man than approaching a door at the end of a day, knowing someone on the other side of that door is waiting for the sound of his footsteps." – Ronald Reagan
"Happiness is not having what you want, but wanting what you have." – Rabbi H. Schachtel
"Marriage is the most natural state of man and the state in which you will find solid happiness." – Benjamin Franklin
"Love is that condition in which the happiness of another person is essential to your own." – Robert A. Heinlein
"There is only one happiness in life – to love and be loved." – George Sand
"Happiness is only real when shared." – Jon Krakauer
---
Weeding Toasts With Sappy Quotes

"A thing of beauty is a joy forever: Its loveliness increases: it will never pass into nothingness." – John Keats
"You never lose by loving." – Barbara De Angelis
"Love is a moment that lasts forever." – Julie Wittey
"Love that is true never grows old." – Elben Bano
"Love reminds you that nothing else matters." – Amy Bushell
"Love is a decision not an emotion or feeling, that if made from the heart, will outlast anything.." – Samantha Juarez
For the groom who's man enough to admit he's been to a Celine Dion concert:
"Love can touch us one time and last for a lifetime, and never let go till we're gone." – Celine Dion
"One word frees us of all the weight and pain of life: that word is love." – Sophocles
"Love is like the wind, you can't see it, but you can feel it." – Nicholas Sparks
"Real love stories never have endings." – Richard Bach
"Love isn't something you find. Love is something that finds you." – Loretta Young
"Love is but the discovery of ourselves in others, and the delight in the recognition." – Alexander Smith
---
Wedding Toasts About Passion

"A great flame follows a little spark." – Dante Alighieri
"Love must be as much a light as it is a flame." – Henry David Thoreau
"Love is like a friendship caught on fire. In the beginning a flame, very pretty, often hot and fierce, but still only light and flickering. As love grows older our hearts mature and our love becomes as coals, deep-burning and unquenchable." – Bruce Lee
"Love is like a blazing flame, golden and full of warmth." – Ben Oliver
"Romance is the fuel that keeps love burning hot." – Rusty Silvey
For the intellectual couple:
"There is always some madness in love, but there is also always some reason in madness." – Friedrich Nietzsche
"We are most alive when we're in love." – John Updike
"Love: a wildly misunderstood although highly desirable malfunction of the heart which weakens the brain, causes eyes to sparkle, cheeks to glow, blood pressure to rise and the lips to pucker." – Anonymous
"Anyone can be passionate, but it takes real lovers to be silly." – Rose Franken
---
Wedding Toasts for the Perfect Pair

"To get the full value of joy you must have someone to divide it with." – Mark Twain
"It doesn't matter if the guy is perfect or the girl is perfect, as long as they are perfect for each other." – Good Will Hunting
"When you realize you want to spend the rest of your life with a person, you want the rest of your life to start as soon as possible." – When Harry Met Sally
"A guy and a girl can be just friends, but at one point or another, they will fall for each other…Maybe temporarily, maybe at the wrong time, maybe too late, or maybe forever." – Dave Matthews
"To love is nothing. To be loved is something. But to love and be loved, that's everything." – Themis Tolis
"We are shaped and fashioned by what we love." – Johann Wolfgang von Goethe
For the world traveler couple:
"Only one is a wanderer; two together are always going somewhere." – Vertigo
"The bond of two people's love cannot be broken. Bend it, twist it, do what you will with it; If it is true love then the sun will rise another day." – Cody Heller
"When two people fall in love…two souls have found a missing part." – Ben Heap
"Love cures people – both the ones who give it and the ones who receive it." – Karl Menninger
"Whatever our souls are made of, his and mine are the same." – Emily Brontë
"What's meant to be will always find a way." – Trisha Yearwood
"True love does not come by finding the perfect person, but by learning to see an imperfect person perfectly." – Anonymous
---
Wedding Toasts with Fate

"We are all born for love. It is the principle of existence and its only end." – Benjamin Disraeli
"Love is not in our choice but in our fate." – John Dryden
"Live for love. Without love, you don't live." – Anonymous
"If a thing loves, it is infinite." – William Blake
"Grow old with me. The best is yet to be — the last of life for which the first was made." – Robert Browning
For the high school sweetheart couple:
"The word forever seems like a long time, but if you're with the person you love then forever isn't long enough." – Daniel Martinez
"We love because it's the only true adventure." – Nikki Giovanni
"Love is something you can't describe, like the look of a rose, the smell of the rain, or the feeling of forever." – Kristen Kappel
"Love is more than a feeling; it's a state of mind." – Lisa Grude
"You know you are in love when you see the world in her eyes, and her eyes everywhere in the world." – David Levesque
Using these as a jumping off point, you're ready to rock the mic in your wedding toast. Be sure to rock the sickest look too. After all, when you're delivering that toast you want to put your best foot forward, right? We've got you covered with sharp outfits for any wedding dress code.
---
---
Like What You See? There's More.
We'll send you style advice and intel for the modern man.
---