The Best Tie Colors And Fabrics To Match Every Season
Published on May 17, 2019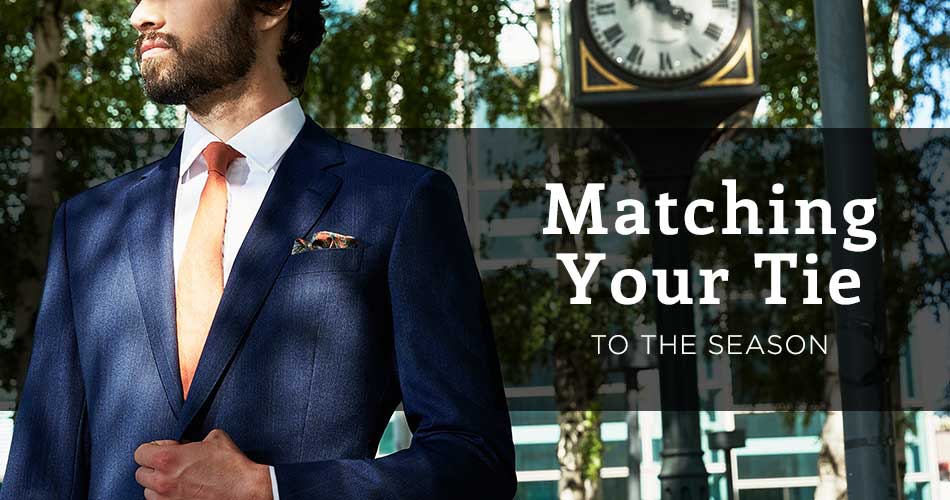 Matching Your Tie To The Season
If you're a regular reader of The Compass, you know that we love to break down the lesser-known details of menswear. After all, it's the details that matter when it comes to style.
The well-dressed man knows his suit collection must include a range of fabrics to accommodate the demands of the changing seasons. A summer suit and a fall suit, for instance, are by necessity two different animals. Understanding the differences between them ensures comfort, functionality, and style in every climate. It's common sense to dress for the seasons when dealing with a garment that covers most of your body, but just like your prized suits, your neckwear can also benefit from a seasonal rotation plan.
Tie Color and Fabric Choice Matters
Matching your tie to the season comes down to two important factors.
The fabric choice. Spring and summer weather calls for lightweight and breathable fabrics. Fall and winter are all about heavier textures. Mixing these two up is not only a style faux-pas but it can leave you uncomfortably dressed for the climate, particularly if you don a heavier tie in the summer.

The second consideration is aesthetics; this is where tie color and pattern choices come into play. Colors, patterns, and prints breathe life into your ties and allow you to express your sartorial personality. It's this attention to detail that separates the dapper from the drab, and there are different tie colors and patterns that match certain seasons better than others.
Let's break down what tie colors and fabrics are best for each season.
---
Spring Ties & Summer Ties
The weather is warming up and that means it's time to fend off sweat at all costs. These are the seasons when your suits get lighter, both in weight and in color, so your spring ties and summer ties should follow suit (pun intended).
Tie Fabric
Warm weather demands fabrics that don't trap heat. That means lighter material like cotton and linen tie fabrics are what you need to tackle the rising mercury and reflect the laid-back vibe of the spring and summer seasons. Cotton and linen ties do come with one potential downside in that they are more susceptible to creasing, so be mindful and gentle.
Tie Colors
Spring and summer tie colors embrace the natural vibrancy of the seasons. Look for bolder, brighter hues and inviting pastels.
Ties that come in pink, lavender, yellow, green, and light blue are all perfect during the balmy months. When you need a neutral, opt for its lighter iteration – lighter gray over charcoal, royal blue over navy, khaki over brown. Prints and patterns can be more playful than their winter counterparts. Think broad stripes, florals, paisley, polka dots, multi-hue checks, and gingham.
---
Fall Ties & Winter Ties
As the temperature drops and the wind picks up, it's time to bring texture, dark colors and heavier weights back into your wardrobe with fall ties and winter ties.
Tie Fabric
The name of the game in the cold-weather seasons is staying warm and stylish at the same time. Piling on technical gear like you're leading an expedition to the Arctic isn't going to cut it at the office. Instead, focus on picking tie fabrics that are naturally warm and durable. While a tie isn't going to make much of a difference insulation-wise, it can complement the garments that do, and again, it's the little details that matter. Wool, cashmere, and knit ties of any material, including silk, balance out the heavier, thicker fabrics and more rugged textures of fall and winter suits.
Tie Colors
Where tie color is concerned, the cool seasons call for subdued and deeper shades. Ties that come in dark green, maroon, and burnt orange. Just as well, black, brown, navy and dark gray keep you covered for most pairings.
Fall and winter tie patterns should reflect the season's go-to suiting cloths. Classic cool weather patterns like plaids, fine checks, fine stripes, herringbones, and houndsteeth look just as smart around your neck as they do in the rest of your wardrobe.
---
All Season Ties
Seasonality aside, there are tie fabrics and patterns that work no matter the time of year.
The Best All-Seasonal Tie Colors and Fabric
Woven silk ties are the year-round necktie staple that works across a range of seasons and occasions. Silk is the most popular necktie fabric for good reason. It's a natural fiber, it's durable, it retains its shape well, it drapes well,  it's pleasing to the eye and to the touch, and it hits a sweet spot in terms of weight and warmth.  For tie color, a neutral shade of navy or gray can never do you wrong. 
To summarize: When in doubt, a neutral colored silk tie will always get you through the day — cold or warm.
---
Tie-ing It Together
Rain or shine, sleet or snow, we hope this helped clear the air on the role tie fabrics and tie colors can play when it comes to your seasonal wardrobe. Remember that in the end, incorporating your style and dressing yourself up should be enjoyable, especially when it comes to your accessories. We suggest a ratio of 3 to 5 ties for every suit you own so there's plenty of room for experimentation. And although these details matter, remember to have some fun along the way.
Have any questions about ties, suits, or anything in between? Drop a comment below and we'll get back to you with an answer!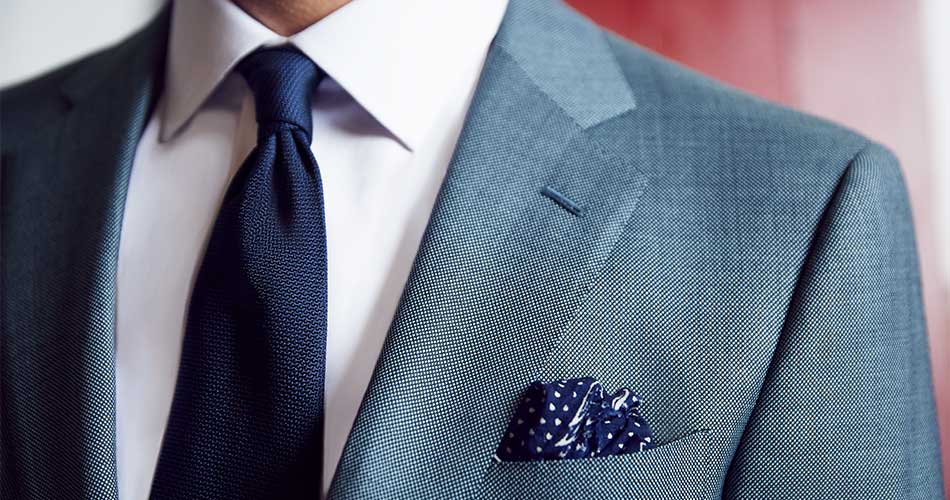 ---
Like What You See? There's More.
We'll send you style advice and intel for the modern man.
---