Fall Suit Fabrics: The Flannel Suit And More
Published on September 7, 2018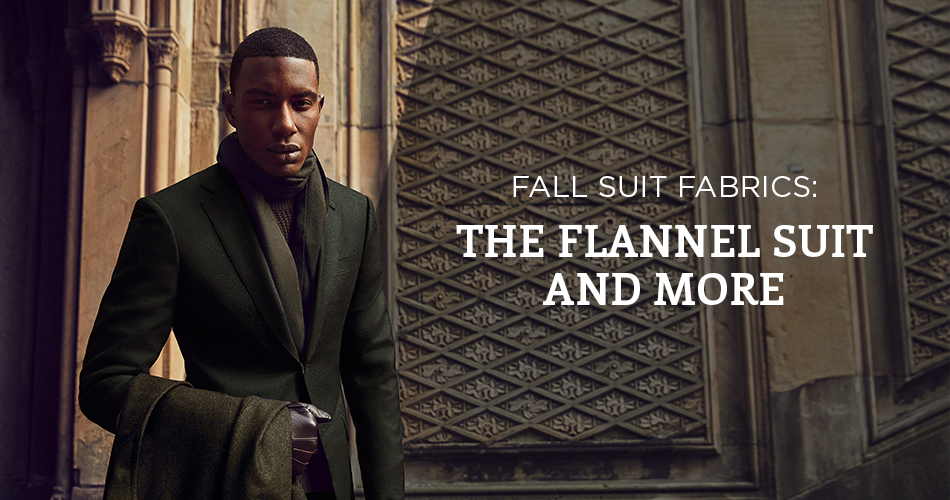 The Best Fall Suit Fabrics
Suit fabric options run the gamut from sturdy to cheap (please, don't wear polyester suits), and deciding which to choose is a head-scratcher for a lot of men, particularly when considering seasonality as well as personal taste, but learning to navigate the whims of changing weather is a vital stop on the road to sartorial mastery.
Summer has its upsides; the days are long, the nights are warm. Shoelaces and socks are optional, and you'll have chowed down on enough barbecue to put Guy Fieri to shame. But after months of ankle-bearing fun, both you and Mother Earth are ready for a change of pace. Soon, summer's relentless stickiness will fade and you'll pack away your breezy linen and fresco suits. The air will take on a crisp note, and with each breath, you'll feel like you're starring in a late 90s gum commercial. Is your suit collection ready for the chill?
Dressing for transitional seasons is notoriously tricky. The suit fabric and pattern you choose make all the difference when the mercury begins to drop. The best suit fabrics for fall are warmer, darker, heavier and more textured than their balmy-weather brethren. Read on and we'll show you the key cold weather suit fabrics and patterns that are fall-ready and won't put a dent in your pride like your pumpkin spiced latte habit.
---
Fall Suit Fabrics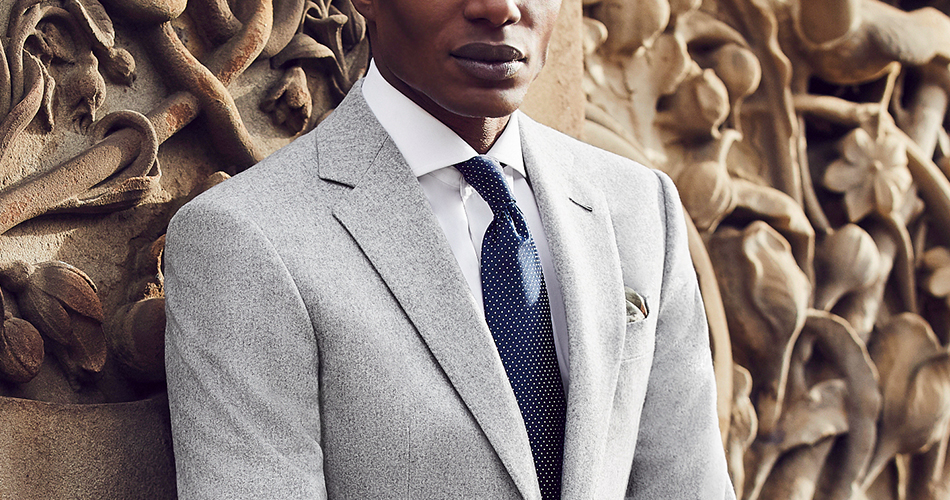 Ash Gray Flannel Suit by Black Lapel
---
Disclaimer:
Before we name off our suit fabric picks, it's important to understand that although there are alternative materials such as silk or polyester, the majority of cold-weather suits are made from 100% wool. The following fabrics are a result of alternative ways wool can be milled and woven to create different textures and aesthetics.
---
Worsted Wool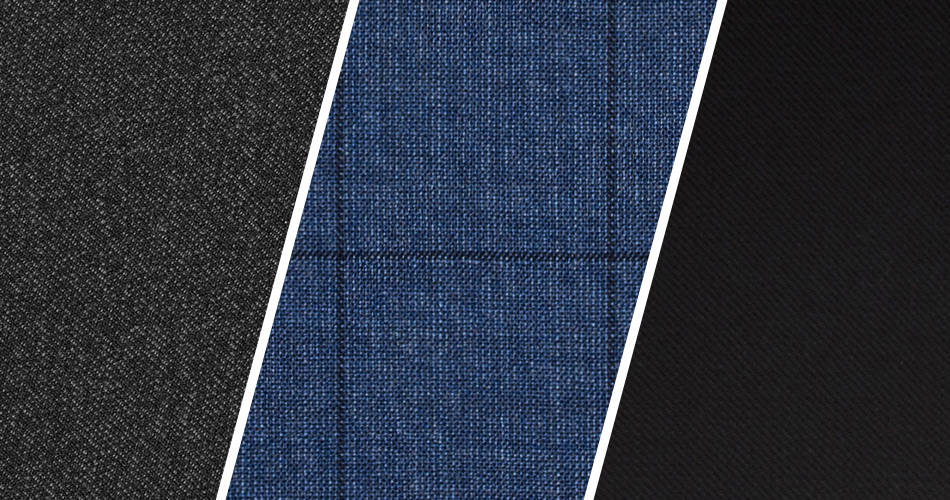 'Worsted' refers to wool that is combed and pressed, meaning yarns are more consistent in length, resulting in a finer fabric that is more pleasing to the touch. We'll be the first to admit that worsted wool is not a groundbreaking choice. In fact, you'd be hard-pressed to find a suit fabric more mainstream — it's a staunch favorite for a reason. Worsted wool suits are good for happy hour outings, weddings and most anything in between. It's an extremely versatile suit fabric that's natural, durable, dyes easily, holds its shape, blends well, absorbs moisture, insulates, and comes in a variety of weights to suit different seasons. For fall, you'll want to avoid lighter weights like summer wools and open weaves like frescos.
---
Wool Flannel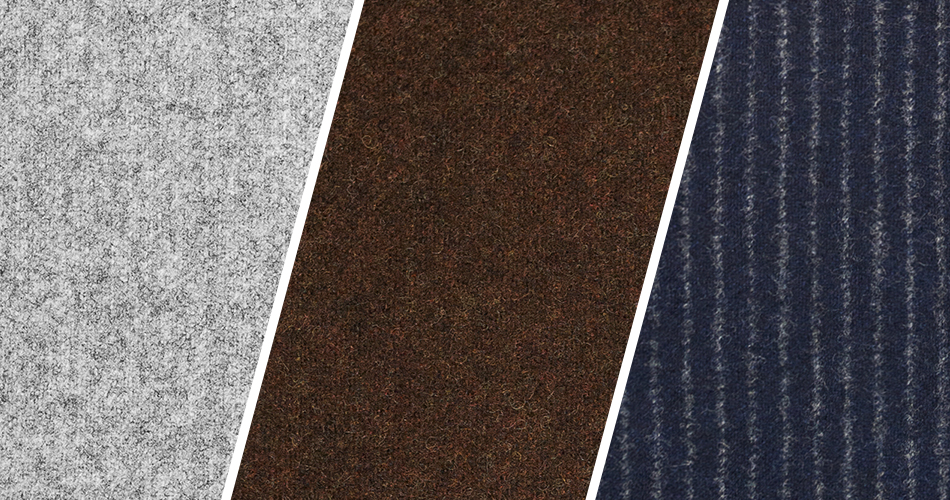 Finer quality wool flannels that are appropriate for suiting (meaning jackets and pants) are also made from worsted wool. However, after woven into cloth, the fabric surface is brushed to create the raised and textured surface (called nap) that feels soft to the touch. The raised nap from this process also allows the wool flannel fabric to better protect you from cold weather.
And, before we go any further, let's establish one thing: wool flannel fabric does not equal plaid. Rather, plaid is a pattern that is created by using fabric, often flannel, to form a distinct pattern.
Wool flannel suits are perfect for fall, they tend to be slightly heavier which means they provide a better drape and better insulation as mentioned above. A gray flannel suit is the godfather of the genre, armed with the ability to mix-and-match with almost anything in your wardrobe, this suit is easy on the eyes, and even easier to wear.
---
Tweed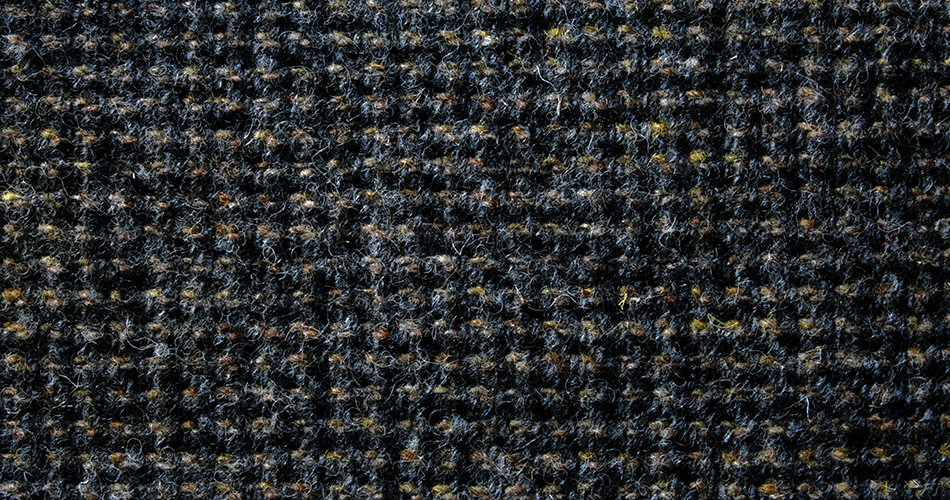 Tweed is made from carded wool instead of combed wool. Carded wool, also known as woolens, is thicker and consists of uneven, uncombed yarns. This makes for a fabric that is more raised, flexible, and warmer, but not as smooth and fine to the touch as your worsted or wool flannel suit fabrics.
Tweed is deeply rooted in the heritage of 1800's England, Ireland, and Scotland, where gentlemen engaged in outdoorsy and athletic pursuits embraced it for its superb resistance to cold air, wind and water. In fact, it was considered a performance fabric in its heyday. Though it's not as popular in modern times, mills like Harris Tweed has kept the tradition alive. More importantly, suits made from tweed will indeed keep you warm in cooler weather and carry with them a certain vintage sartorial charm.
---
Fall Suit Fabric Patterns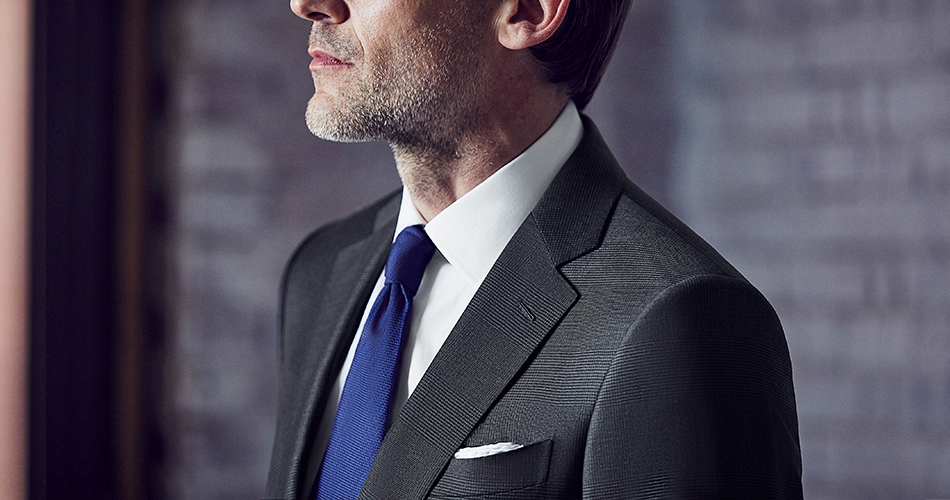 Gray Glen Plaid Suit by Black Lapel
---
Staying warm with the right fabric is one thing, looking good with the right pattern is another. Say goodbye to your sharkskin, and say hello to these fall fabric patterns.
---
Plaid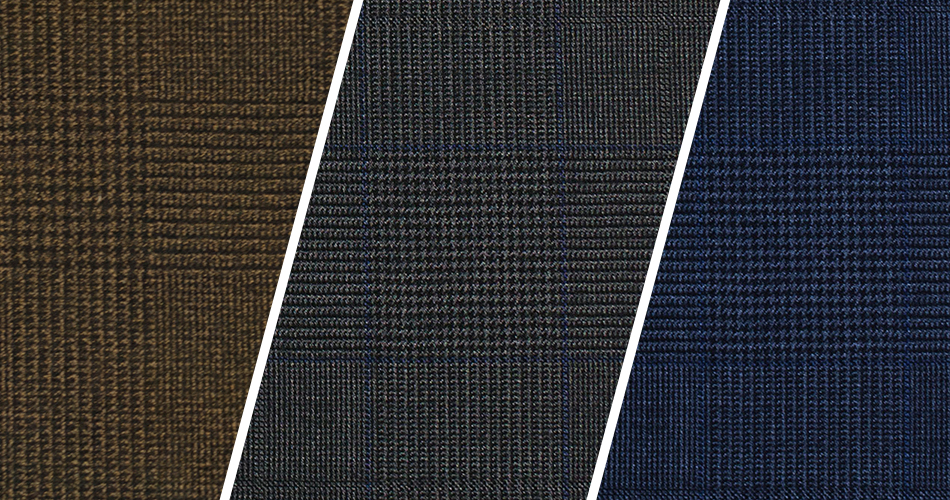 The plaid pattern (also known as tartan across the pond) is integral to the fall season. Plaid is created from multiple overlapping horizontal and vertical bands taken from a variety of colors. Because of the diverse range of available color combinations, including the use of monotone combinations, plaid can be perfect for both statement-makers and subtle guys alike. Plus, this enhanced versatility also means plaid suits can be mixed and matched for almost any dress code, and look as sharp in the office closing deals as they do while you're listening to some live jazz and downing an old-fashioned.
As a general plaid rule, bolder patterns with greater color contrast produce trendier looks while understated and more monochrome patterns give off a more classic, sophisticated aura. The glen plaid in brown is a timeless choice for your autumn wardrobe, plus, we can teach you how to wear it too.
---
Herringbone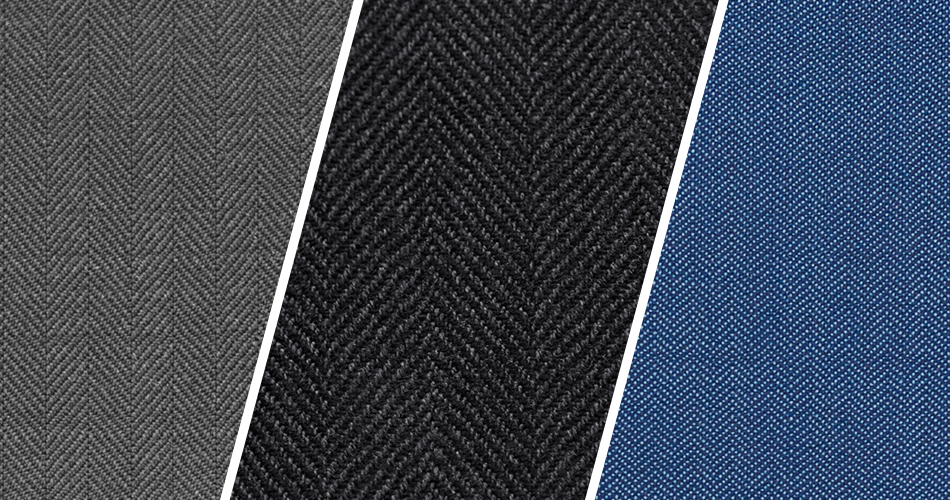 With its columns of alternating chevrons that resemble the 'V' shaped skeleton of a small fish like the herring, this pattern has been around since the Roman Empire. Then, the interlocking chevrons allowed the stone roads to better absorb and distribute impact. Following its practical application in civil engineering, its no wonder the Italians were the first to adopt this pattern into textiles.
In modern times, the herringbone pattern can be found all over the menswear world in autumn, from suits and sports coats to shirts and sweaters to hats, ties, socks and scarves. It's particularly beloved given its approachability as a pattern; up close, you get a dose of sophistication and from afar, it can play the part of a solid. Its inherent charm is so apparent, you'll find it making regular appearances on 007 himself, from Connery to Craig.
---
Houndstooth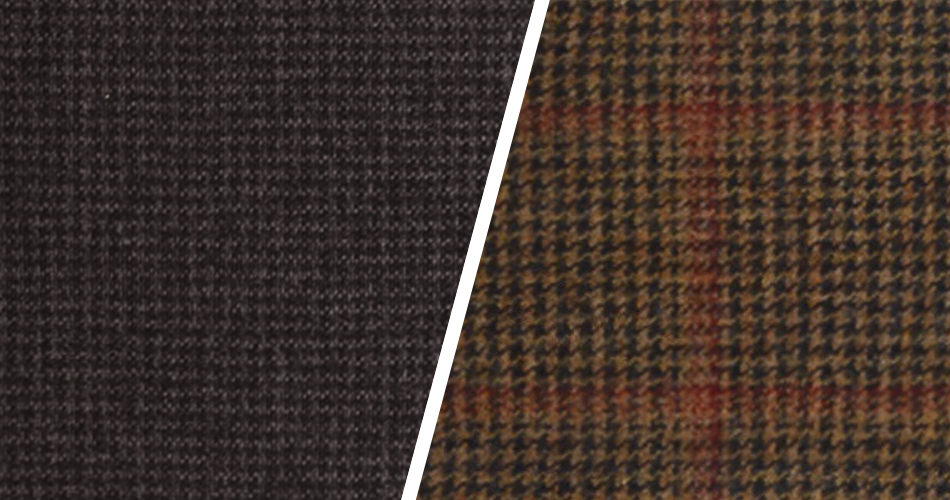 Another fall-favorite suit fabric pattern inspired by nature, the houndstooth is characterized by a two-toned textile pattern made up of jagged shapes in a tessellated pattern (meaning there are no overlaps or gaps). This pattern is often found on dark and earth-toned fabrics, which makes it a perfect complement to the fall season.
Choose a large-scale houndstooth or a high-contrast color scheme to stand out. For a more modest look, opt for a small-scale "puppytooth" (yes, it's actually called that) and less color variation (e.g. black with charcoal or blue with navy). Either way, stick to a slim, custom fit so you can breathe new life into this classic pattern.
---
Fall Suit Fabric Aficionado
You've mastered the plaid, finessed the flannel and tamed the houndstooth. Now it's time to get out there and put your fall suiting knowledge to practice.
---
Have a suit fabric question you need answered?
We'd be happy to weave an answer for you below.
---
Like What You See? There's More.
We'll send you style advice and intel for the modern man.
---