The 8 Best Suit Accessories To Add To Your Wardrobe
Published on April 19, 2019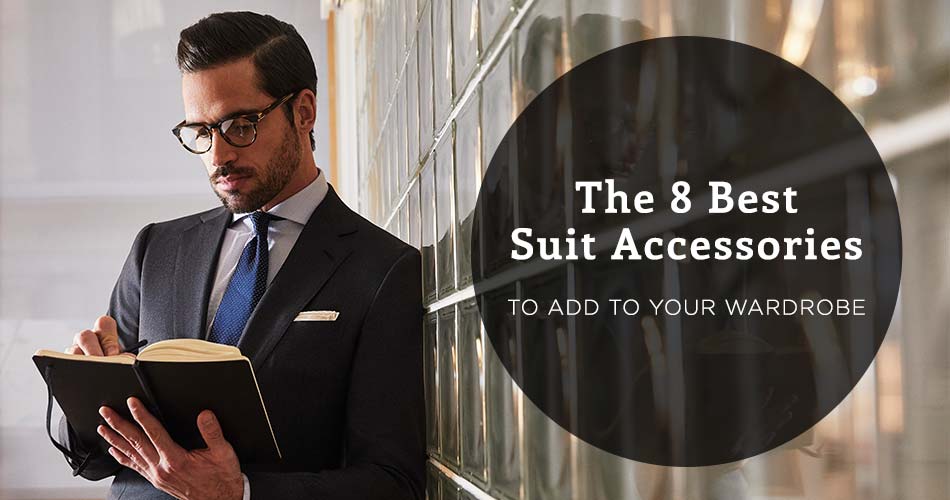 Master These Essential Suit Accessories For Men
Looking your absolute best when wearing your suit is both a science – made up of precisely measured shoulders, sleeves, waists, inseams, etc – and an art. First and foremost, your suit needs to fit you perfectly; the latter is where the finishing touches matter. Once you've nailed the foundations of your suit wardrobe, you're ready to learn the creative details that launch you into the next echelon of style — we're talkin' accessories.
The right suit accessories can add personality, break up the monotony of your daily office attire, and elevate your style to a whole new level. For the budget-conscious buyer, suit accessories are also a great way to affordably level up your wardrobe game.
The 8 Best Suit Accessories For Men
Before we dive into our men's suit accessories guide, engrave this one essential rule into the fashion-conscious lobe of your brain: never try to wear them all at the same time. It isn't dashing, bold, nor considered "maximalism.". It's a hot mess. When in doubt, always run with the less is more mindset and make sure the ones you do sport spark joy (God bless you, Marie Kondo). Without further ado, here are the suit accessories men should have in their style-arsenal.
(Note: If you want to learn more about each accessory, click the supplemental link provided in each section to view their own in-depth guides.)
---
1. Tie Clip
Despite being one of the smallest and simplest pieces in your suit accessories collection, a tie bar can add volumes of classic style to your look and serve a functional purpose as well.
There are several considerations to juggle when adding this suit accessory to your outfit:
Tie clips are a functional item, meant to secure your tie to your dress shirt. Don't wear a tie clip if you have a vest or sweater on as it's no longer needed.

There are several variations of style, size, and colors to choose from. Make the right decision based on the rest of your look.

Tie clips should never be wider than your tie.

Tie clips should generally be placed between the third and fourth buttons of your dress shirt.
---
2. Lapel Pin and Lapel Flower
A lapel pin brings a dash of old-world suave to a modern suit, but beware of straying into the territory of "novelty" suit accessories. Your lapel pin should be a subtle enhancement that expresses your personal style without distracting or detracting from the overall ensemble (in other words, that squirting clown flower is out of the question).
Long-stem lapel pins are a popular modern variation that are fastened with a stick pin attachment and fashioned into all manner of decorative metallic designs: geometric shapes, arrows, instruments, you name it.
A boutonniere is a formal lapel accessory made with a live flower, modern lapel faux flowers can also be fashioned from fabrics like wool or silk. Don't wear a boutonniere to the office, save this suit accessory for formal celebratory occasions: formal dances, weddings, holiday parties.
Badge pins are another variation often styled to indicate affiliation with something, like a national flag, a family crest, or a military insignia. Wear your pin of choice through the buttonhole on your left lapel. If your jacket does not have a buttonhole, pin it directly through the fabric. Position it higher than your pocket or pocket square at an angle that matches the angle of the lapel.
---
3. Cufflinks
How could a suit accessory so small stump so many staunch men? When it comes to adding polish and sophistication to an outfit, there's nothing quite like a set of cufflinks. At the same time, when it comes to confusing men everywhere, there's nothing like a set of cufflinks.
Master the five Ws of cufflinks and you'll be wearing them like a pro in no time.
What

?

Cufflinks are a formalwear accessory that serves both functional and decorative purposes. Like buttons, they come in many styles, shapes, sizes, and materials.

When

?

Traditionally, cufflinks are associated with formal eveningwear (black tie or white tie) when a dress shirt with French cuffs is worn. You'll also spot them in business settings from time to time.

Where

?

On the cuffs of your dress shirts, of course – specifically, through the buttonholes.

Why

?

To hold the cuffs closed, when the shirt is not made with buttons sewn directly onto the cuffs.

Who

?

You, now that we have demystified their purpose.
---
4. Watch
When it comes to your suit accessories, watches are one of the easiest and best-looking pieces to add. Sure, we don't really need them to know what time it is anymore, but their aesthetic value and classic style are hard to pass up. Really, there comes a time in every man's life when he should invest in a watch. What "invest" means will depend on your budget. There's no shame in an affordable watch if it looks good and you've styled it well, but having a good looking timepiece to go with your suit is essential.
Ideally, you will own more than one so you have options when selecting the appropriate watch to complement your outfit and the formality of the occasion.
---
5. Tie
This men's suit accessory may seem like a no-brainer. We don't need to sell you on the necessity of a good tie collection. Between choosing the color, the fabric, the width, the knot, and the shirt pairing, your tie offers a plethora of opportunities to customize your look alongside a dress shirt and suit. Plus, considering you're already expected to wear a tie in so many settings, this may be the single easiest way to flex your accessorizing chops.
---
Being stylish takes work.
We can help with that.
Stay in the know with style tips, how-to's, and so much more with our weekly newsletter.
6. Belt
The first question to address is: to belt or not to belt? Suit-wearers have debated this question for decades — we have the answer.
At its most basic, a belt is a tool for holding up your dress pants. If the fit is not perfect, a belt is necessary to keep your dress pants at the right height and the dreaded plumber's crack at bay. If you're wearing a custom suit or even just custom dress pants that have been made to your measurements, a belt is not required because the dress pants will fit flawlessly.
But a belt isn't just a practical item. When you're rockin' a tucked in shirt and opened up blazer, your belt is front-and-center. This is just one scenario, but many more exist where your belt will be seen, so make sure to understand that belts can both help and hurt your outfit.
---
7. Suspenders
Looking for a reason to skip that belt? Suspenders are a great option that is making a serious come back amongst men — for good reason too.  Steve Urkel may have made suspenders a symbol of 90s nerdiness, but in the pantheon of suit accessories for men, they are a classic and classy choice provided you know what you're doing.
There are three big decisions you'll need to make when buying suspenders:
The shape (Y for more formal occasions, X for more casual occasions).

The fastener (button or clip, more formal and less formal respectively).

The width of the straps (thin for a trendy look, thicker for more conservative contexts).
Coordinate the color of the straps with the colors of your shirt and tie, since they'll be viewed together as one pastiche if you remove your jacket. Meaning, don't wear the same suspender color as your shirt as they'll blend together instead of creating contrast.
---
8. Pocket Square
Last but certainly not least, for refined flair, you can't go wrong with a pop of color in your breast pocket. A pocket square is a wonderfully versatile suit accessory for men who love to add a touch of personality to their suits and blazers. In fact, at Black Lapel, we consider the pocket square to be an essential part of your look whether you're suiting up or sporting a blazer. A jacket is simply naked without at least a simple white pocket square.
A pocket square should add interest via color and/or pattern, as well as the style of the fold. It can either coordinate or contrast with the rest of your look, but the overall impression should always be harmonious. Strive for balance here. A strongly patterned suit calls for a toned down pocket square, while a solid neutral suit is an opportunity to go bold with the pocket square. For black tie events (pocket squares are a must with your tuxedo), it should always be white and made of silk.
Finally, whether you choose an old faithful or a road less traveled, remember you're dealing with the genteel cousin of the hard-working handkerchief. Don't you dare use a pocket square to blow your nose or blot a sweaty brow, it's not meant to be a tissue.
Go Forth And Wear Your Suit Accessories Confidently
Who'd have thought men had so many accessory options to choose from? While it may seem like a lot to take in, mastering the different types of suit accessories is simple if you take it one step at a time. Learn how to wear the suit accessories you like the most, find your style preferences, and enjoy looking even better than you already do in your custom suits. And, as we said, don't try and wear them all of them at once; keeping it simple with 2-3 wardrobe additions will ensure that your suit accessories are adding to your look instead of taking away from it.
---
Like What You See? There's More.
We'll send you style advice and intel for the modern man.
---