How To Wear A Windowpane Suit or Jacket
Published on August 24, 2018
If you're deciding what to pack for a trip this summer, don't leave home without your windowpane suit. We know patterns can strike anxiety into the hearts of suit wearers, but never fear; we're here to guide you. 
We've talked about the different suit styles you need to own, but now let's get specific with the men's windowpane suit. Its pattern is naturally flattering and gives it a unique character. So, read this to discover why else a windowpane suit is a must-have.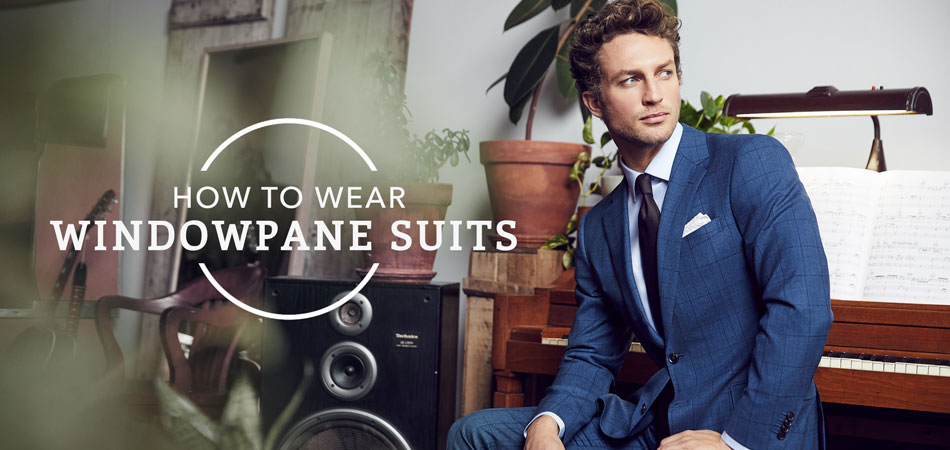 ---
How to Wear a Windowpane Suit
Windowpane patterns (you know, the ones with the slim lines that cross to make shapes like old style windowpanes) seem to make their way into every suit collection from Black Lapel lately. Call it "on trend" (if you must), but there's a much more practical reason you're seeing more windowpane suits and blazers… windowpane might just be the perfect pattern.
Windowpanes beef up the slim guy and, paradoxically, have a slimming effect for the larger man (we'll explain why below). Windowpanes offer the chromatically challenged—the guys who can't match their clothes for shit—an easy way to pair shirts and ties with their jackets.
Perhaps the main reason guys are feeling the windowpane suit is that windowpanes are straightforward. We love our suits with boasting herringbones and houndstooths and glen checks and pinstripes, but there's something simply elegant about a suit adorned only with windowpane boxes.
In a world where just the word pattern strikes fear into the hearts of many men, we present our windowpane suit guide as the antidote to pattern panic.
What is a Windowpane Suit?
A windowpane suit is a suit with a window-like plaid pattern. Although they look square, their crossing lines actually make elongated rectangles that have the effect of lengthening their wearer. 
They seem to make their way into every suit collection from Black Lapel lately and for good reason. Call it 'on trend' (if you must), but there's a much more practical reason you starting to see more windowpane suits and blazers – a windowpane might just be the most versatile suit a man can own.
---
Who Looks Good in Windowpane?
Everybody looks good in windowpanes. It is, in fact, it's forgiving/flattering nature that pushes windowpanes to the top of our list of patterns. Like actual windowpanes, the windowpane pattern in your suit is not made out of squares, but rather, slightly elongated rectangles. This has the effect of slightly elongating the wearer and that's one reason you see bigger guys wear this pattern.
Windowpane Wizardry: Windowpane patterns are slightly taller than they are wide.
Still, the pattern does include horizontal lines that can serve to bulk up the skinny guy's presence. This makes windowpane suits a great alternative to pinstripes for the slimmer gent. This slick little visual trick is what makes the windowpane suit one of the most versatile suits a man can own.
---
How To Match Your Windowpanes
Windowpane combos couldn't be easier — highlight the color of the box lines of your jacket by wearing a tie from the same color family…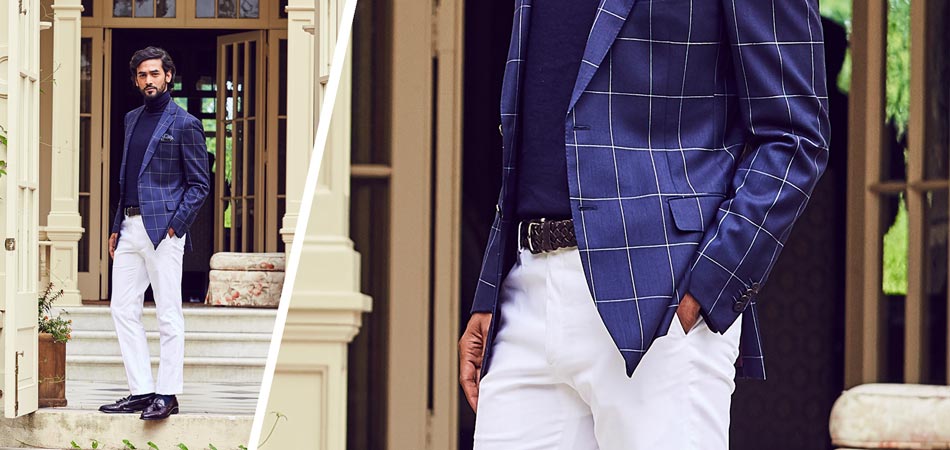 Pictured here:
Navy Windowpane Suit
by Black Lapel
…or play up the base color of the suit by recruiting a similar color pair of pants.
---
Windowpane Dos & Don'ts
Do Wear Windowpanes to…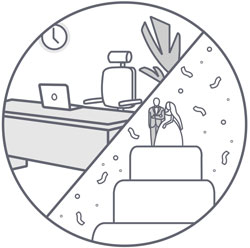 The office (Give the solids a rest to keep things interesting.)
A wedding (Windowpanes play as hard as they work.)
---
Don't Wear Windowpanes to…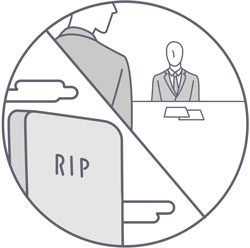 A job interview (You run the risk of showing up your interviewer.)
A funeral (Stick with somber solids. Even Chazz Reinhold knows that.)
Frequently Asked Questions
Contact us, and our customer service team will be happy to answer any of your questions. But do check out these frequently asked questions about windowpane suits:
Is a windowpane suit formal?
The cut of a suit can make a difference, but yes, they are formal if dressed up. Unlike a plain linen suit that's more laid back, a windowpane suit brings bold fashion center stage and makes a loud statement. It's a good suit for formality if accessorized well as it demands attention.
What kind of ties go well with a windowpane suit?
If you want a safe, effortless choice, go with a solid color that's a good contrast to your suit and complements your pocket square. Otherwise, try a paisley tie or one with repeated patterns on a different scale. 
Can you wear a striped shirt with a windowpane suit?
A solid-colored shirt will bring out the lines on your windowpane suit more; however, you can wear a striped shirt for a bit of quirky appeal. Go with closely spaced stripes for a better look. 
How can I dress down a windowpane suit?
Forgo the jacket and just wear a windowpane waistcoat or vest with regular fit pants. Or, you can wear the jacket with casual jeans or loose chinos. Don't go too baggy though, opt for a good fit.
More Suit Guides
From fine tailoring to packing your suits efficiently in your carry-on, know the complex world of suits!
Here are a few articles to get you started:
---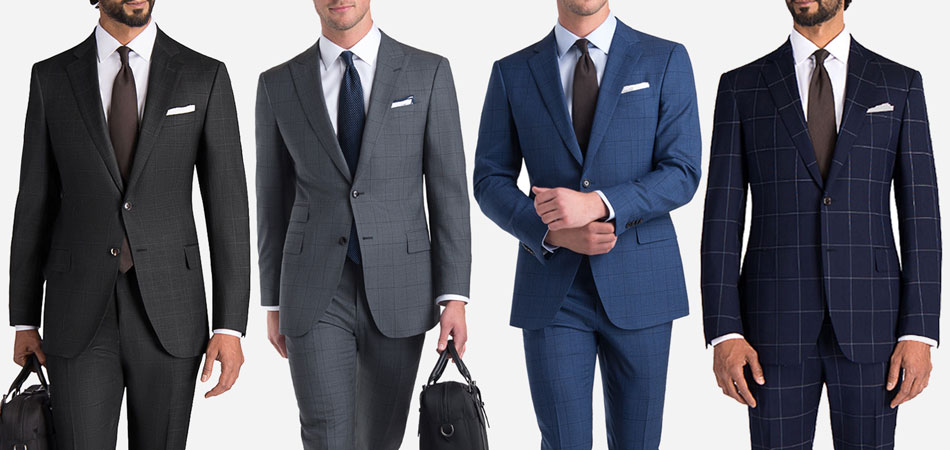 Window-Pane and Simple
Have your pattern fears been laid to rest? We hope so. After all, adding a windowpane suit to your wardrobe collection will not only make for a nice change from routine, but couldn't be easier to pull off, so, no more excuses.
---
Like What You See? There's More.
We'll send you style advice and intel for the modern man.
---