Use These Hair Products For Men For Your Best Hair Day
Published on March 14, 2013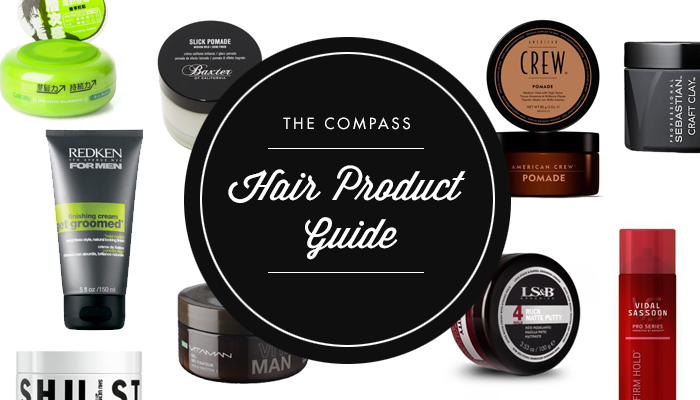 ---
Don't let a bad hair day ruin your style – Use the best hair products for men to avoid the disaster.
---
Remember when the High Top Fade was in and hair styling products used to be just gel, mousse and hairspray? Times have changed for the better…at least when it comes to hairstyles. Now, regardless of whether or not you want to pay homage to Vanilla Ice, there are a plethora of hair products ranging from the ol' faithful gel to things like pastes, clay to pomade. But if you're still using the same gel that you used back in high school, you may not be using the best hair product for your hair type or hair style. So if you want to optimize how those precious locks look, you need to choose your hair product wisely. In this post, we'll break down the overwhelming number of hair products out there so that you can minimize time spent "researching" and maximize the number of "damn my hair looks good today!" days.
Why You Should Care about Your Hair Style
The ensemble of a modern gentleman isn't complete until he's turned that mop on his head into something stylish and suave. And besides completing your dapper look, there is another reason – yes, you guessed it…the opposite sex cares. According to a recent survey of young women in their early 20s, 3 out 4 said that a man's hairstyle can be a strong indicator of dating potential upon first impression. Okay, we know you might not care if a college chick thinks you have dating potential (or you may care a lot if you're into college chicks), but nevertheless, you want to make sure you're sending the right signals.
Take for example the two hairstyles below. What assumptions automatically come to mind about these two fellows based on their hair alone? 'Nuff said.
Know Your Hair Type
Hold on just a second there Chief. Don't leave this page just yet and start Googling "David Beckam's hair" or "Best Men's Hair Styling Products" to stock up on the latest designer waxes in order to raise your dating points. To choose the best styling product for you, it's important to figure out something often overlooked: your hair type.
Do you know your hair type?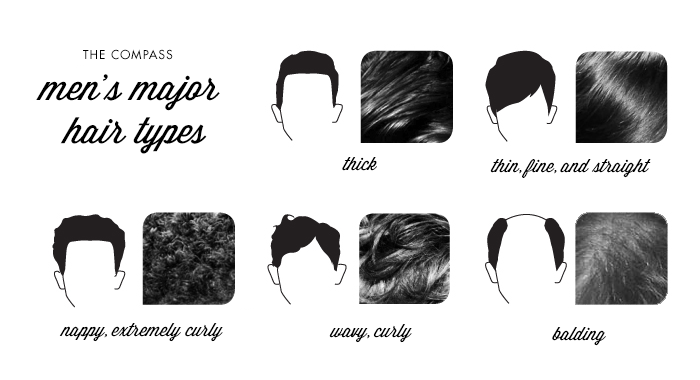 Choosing your hair products without knowing your hair type is a bit like buying shoes without knowing your foot size. You may get lucky and get close to a decent fit or you may end up looking like Homey the Clown. And we all have that one friend or co-worker whose appearance always seems to bring to mind a single thought, "dude REALLLYY needs a haircut". Don't be that dude. What's worse, choosing the wrong product for your hair can even be damaging to your hair. For example, using an ultra-strong hold product on very fine, thin hair will not only weigh down the hair but may also damage it. While the above graphic isn't all-encompassing and you might have some sort of combination of the hair types, it's a good place to start. Have an idea of what's growing out of your scalp? Good, let's move on.
[Inline Email Sign Up bg="1″]
Hair Styling Products
Once you dive deep into the rabbit hole of hair styling products, you'll realize that the sheer number of products and interchangeable terms will make it seem like the hair industry is playing one big marketing ploy on us. Sometimes a company will use terms such as "pomade" rather liberally – it can be more like a gel product at times and a wax in others. The key to pinning down the nature of the styling product is knowing what key words to look for in the descriptions. So, we've done the work for you and laid out some basic hair styling terminology you should know: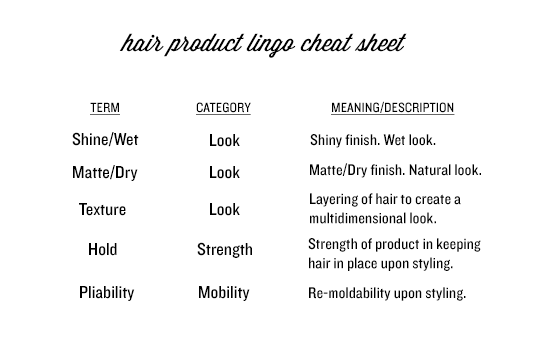 GEL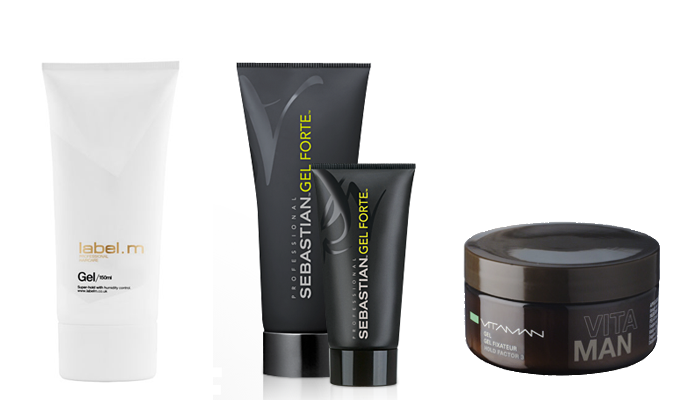 Gel has enjoyed some success in the last few decades as a go-to staple (along with hair spray). In fact, it's featured so much on the Jersey Shore, it should get its own set of credits next to The Situation and Pauly D. Though, we don't want to stigmatize this super goo because it has both functionality and versatility, ranging from lighter to maximum hold. The gel is the modern day version of hair grease, providing that slicker, wet look with stronger holds.
Use Tip: Use on damp or dry hair. Spread evenly on fingers and top of palm and run your fingers through your hair to style. Avoid touching your hair after drying as it may break the hold and/or cause flaking.
Good for these Hair Styles:
Good for these Hair Types:  Thicker hair and short-to-medium hair lengths.
Product Recommendations: Label.M Gel, Sebastian Professional Gel Forte, VitaMan Gel
POMADE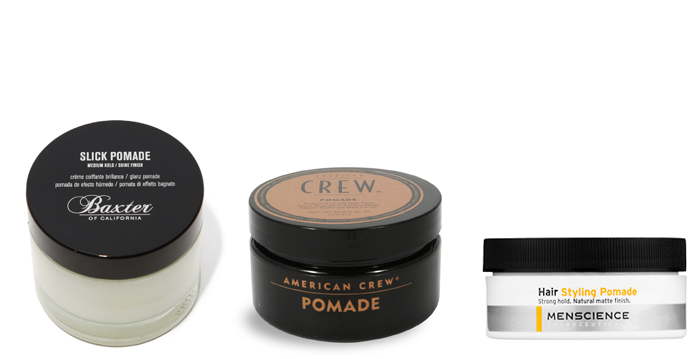 No, it's not pomegranate flavored Kool-Aid (though we wish that flavor was available when we were young 'uns). And if you thought it was, listen up because it doesn't get more granddaddy than pomade. So what is it? Pomade is a greasy or waxy substance used to style hair with a wet, shiny and slick look.
Let's take a 20 and learn some history (we're geeks like that): the name "pomade" is derived from the French word pommade, meaning "ointment" and the Latin word for apple, pomum, because the original recipe was made with mashed apples. In the early 19th century, bear fat became the common pomade ingredient, while petroleum jelly, beeswax and even lard were later used in the early 20th century. Legendary classics such as Murray's Superior Hair Dressing Pomade were staples in Don Draper's era. Recently, it's been making a comeback but under different guises—brands may label waxes or even creams, a pomade. True pomade is a blend of wax and oil (while true hair waxes will be just wax or almost all wax). Pomade can range from a light shine to a high shine, but its biggest advantage is that it'll create a more natural, wet look. So why pomade over gel? Pomade can achieve that same strong, wet and neat look without drying out or flaking like gel.
Use Tip: Rub a little bit on your palm and style on damp or close-to-dry hair.
Good for these Hair Styles:
Good for these Hair Types: Thinner hair and wavy-to-extremely curly hair. Good for all hair lengths. If you have oily hair, avoid pomade as it will make your hair greasier.
Product Recommendations: Baxter Slick Pomade, American Crew Pomade, Imperial Barber Classic Pomade
WAX

Waxes will sometimes be considered a "matte" hair product, but the legacy of a waxes rivals pomade, and thus, warrants its own category. How does it differ from the pomade? If you're looking for hold, wax is the way to go. Since true waxes don't contain the oils found in pomade, they usually won't provide that "wet" look that's characteristic of pomade, but will generally have a stronger hold instead. If you have oily hair, wax is usually a better option as oil-based products like pomade will result in even greasier hair. To avoid clumping, be sure to warm up and evenly distribute wax on your palms before using. The last thing you want is your date staring at a clump of wax stuck in your hair – if she's seen There's Something About Mary, she might think it's something else and that would be disastrous for you.
Use Tip: Wax can be used on wet or dry hair but is easier on wet hair. Warm up a small amount on the palm of your hand and distribute as needed.
Good for these Hair Styles: 
Good for these Hair Types: Thicker hair and medium hair lengths.
Product Recommendations: Bumble & Bumble Styling Wax, Redken for Men Working Wax, Gatsby Moving Rubber Wax,
MATTE PRODUCTS (Clay, Putty, Paste, Mud, Fiber, etc.)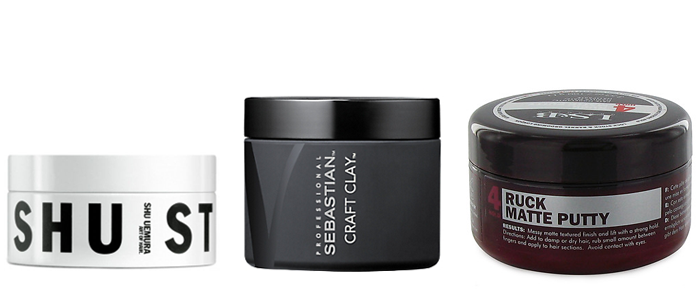 Looking for that yeah-I-just-got-of-bed-and-yeah-I-look-this-damn-good-when-I-did look? Look no further than matte products. Matte products come in many varieties such as clay, putty, paste or fiber, but all have one defining characteristic: a dry or "matte" finish as the name suggests. Matte products provide a pliable hold while adding texture to your hair without that wet shine. This makes it the perfect candidate for those messy, tousled hairstyles.
Use Tip: Rub a small amount on your palm and apply to damp-to-close-to-dry hair.
Good for these Hair Styles:
Good for these Hair Types : Thin-to-thicker hair, wavy hair and all hair lengths.
Recommended Products: Shu Uemura Art of Hair Paste, Sebastian Craft Clay, Lock Stock & Barrell Putty
STYLING CREAMS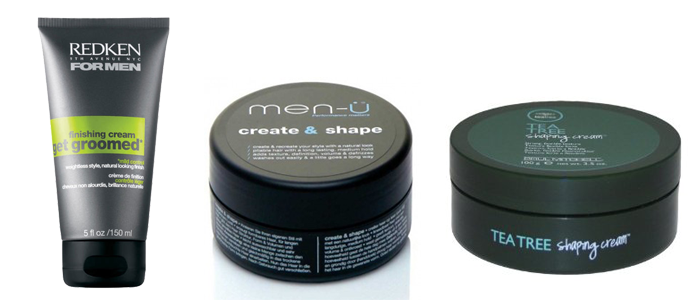 Styling creams are probably the least recognized hair product, therefore, probably aren't starters in most morning lineups. It can make some clutch appearances though, especially when you need to really tame that out-of-control "bed-head" look after a boozy night. Styling creams will usually come in the form of a soft, opaque wax, and as a result, be less "clumpy" and generally be much lighter (relative to wax) when it comes to hold. So it's a great option for those looking for that subtle control while looking like you have nothing in your hair.
Use Tip: Rub a small amount on your hands and apply as needed. If you want to get fancy, you can use it as a finishing product after your main product (wax, pomade, etc.).
Good for these Hair Styles: 
Good for these Hair Types:  Thin-to-thicker hair, wavy/curly hair and all hair lengths
Recommended Products: Redken for Men Get Groomed, Men-u Create & Shape, Paul Mitchell Tea Tree Shaping Cream
MOUSSE
Looking to add some volume to your thinner hair? Or maybe some 80's nostalgia? Hair mousse, while waning in the popularity among other men's hair products, is still an effective option for those looking to add that fuller appearance to their hair. It's foamy and will coat the hair strand with polymers that'll give it that extra volume.
Use Tip: Shake the bottle and dispense a small amount in one hand and apply with both hands to dry hair. Blow dry after application for max hold.
Good for these Hair Styles: 
Good for these Hair Types: Thin or fine hair.
Recommended Products: Royal Spa Awapuhi Mousse, Keratin Complex Styling Foam, Paul Mitchell Flexible Style Styling Foam, KMS California Add Volume Styling Foam
Finishing Products: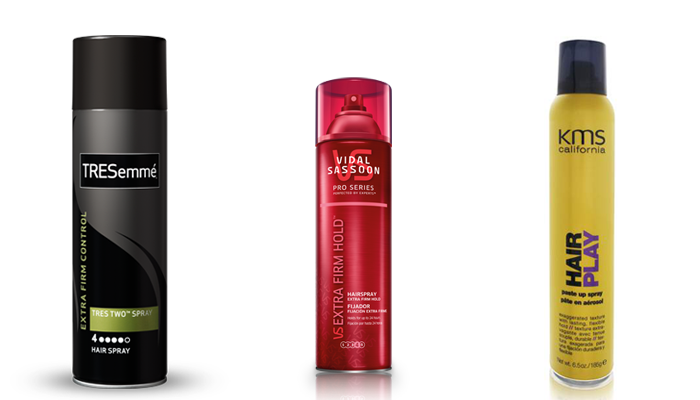 Finishing products are supplementary hair products you apply after you've already styled your hair. If you want full control over how every strand of hair looks, finishing products are good for holding those minor details in place.
HAIR SPRAY
While hair spray has lost some of its "cool" over the last few decades, it is by no means extinct. In fact, many stylists and grooming experts tout hair spray as one of the best ways to finish any style, as long as it's used in moderation. Applying a quick mist of hair spray after you're done styling can lock in your look nicely for the day. Remember, you want to avoid turning your head of hair into a hockey helmet-shaped fire hazard, so go easy on the application.
Use Tip: Use sparingly. Spray from about 8 – 12 inches from hair until your hair is covered in a fine mist.
Good for these Hair Styles:
Good for these Hair Types: All types, especially thinner hair that's likely to be weighed down by heavier products.
Recommended Products: TRESemme Extra Hold Hair Spray, Vidal Sassoon Extra Firm Hold Hair Spray, KMS California Hairplay Paste Up Spray, Fixx Volumizing Boost Spray
HAIR CLIPPERS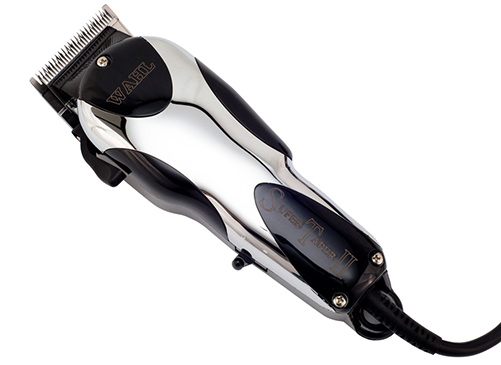 Has reading this far got you thinking, "F*CK ALL THAT NOISE!"? Yeah, well here's your solution. Get yourself an electronic hair clipper, set it on 0 and go straight to town. No more bad hair cuts, bad hair days, or spending coin for hair products. Freedom baby, freedom.
Your new-found knowledge of hair products got you feeling you a bit "metro"? We figured it may…but you can fix that – just grab a bottle of Jame-O and take a big swig to remind yourself how manly you are. More importantly, you can't control how much hair you have, how that hair grows or what type of hair it is, but you do have full control over what you do with it. Given how often people will look at your noggin, take the time to do your hair some justice.  Turned off by the cost of the products? Skip a couple rounds of espresso at Starbucks and upgrade your hair styling getup to something a little more appropriate for your hair type. Add a little more texture to your style, a little more pliability, a little more of that wet or matte look and give the ladies that well-groomed, well-dressed gent that they want a firm hold on.
---
Like What You See? There's More.
We'll send you style advice and intel for the modern man.
---