5 Casual Suit Essentials You Need
Published on March 8, 2019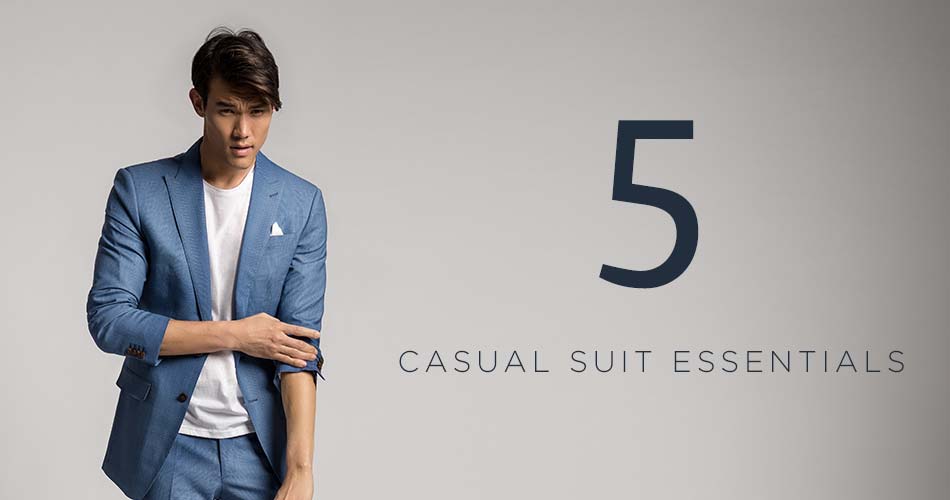 Master the Casual Suit Look
You might be thinking, 'casual suit' sounds like an oxymoron, but you know it's possible. You've seen pictures of the most dapper dudes in the world rocking a casual suit look, and now you want to join their ranks. Casual suit outfits are easy to master, too, and master them you should. After all, your suit is a high-utility garment, and it doesn't always need to be worn with a tie and collecting dust the rest of the time. Although a casual suit does have it's situational limitations, it's a perfect fit for your business casual office, or for when you're looking to step up your weekend/evening gear in order to properly fit in at that swanky restaurant or bar. Whatever the reason, it's time you mastered your own casual suit outfits.
---
The 5 Casual Suit Outfit Essentials
Rocking a casual suit means you'll need a few, or five, key wardrobe additions to complete your casual suit outfits. Luckily, these additions are so simple, you'll likely already have some of them in your arsenal — that's the beauty of the casual suit look, it oozes simplicity. In the end, so many guys get it wrong, but, with a few key pieces and a little bit of know-how, it's not that complicated. So kick back, relax, and learn how to master your casual suit the right way.
Essential #1: An Expertly Tailored Suit
To pull off the look, you need—you guessed it—a casual suit. But just because it's relaxed doesn't mean it should fit you like a sack of potatoes. A casual suit should still be a well-tailored suit that fits you impeccably.
There are a few routes to a well-tailored suit. You could get an off-the-rack suit altered to fit you better than it did in the store. Set your expectations properly, though. Even the best tailor in the world is no magician. Altering your off-the-rack suit can yield a pretty good result, but this process can be quite a hassle and still not get you a perfect fit.
A better (and easier) option is to get your suits made to measure. This way your casual suit fits you perfectly from the start, and you can save the back and forth trips to the store and the tailor. Everyone's body is different, but, with a full set of measurements, you can get an expertly tailored suit to fit your unique size and shape and make you look, and feel, amazing.
---
Being stylish takes work.
We can help with that.
Stay in the know with style tips, how-to's, and so much more with our weekly newsletter.
Essential #2: A Dressy Polo Shirt
Utilizing a polo shirt is an easy way to create a casual suit outfit by using the dress pants only. A dressy enough polo shirt should have a bit of sheen to it, partially from the weave, and partially from the fabric. A dressy polo shirt should not have a giant logo on it. A dressy polo shirt should have a collar that lays flat.
Of course, a polo shirt that fits will always look more dressy than one that doesn't. Try to hit the sweet spot on fit. It should not be so tight that it constricts your chest, but not so loose that you have any fabric flapping around your biceps. It should also fit your height so that in a test of your flexibility, a 90-degree upper body twist will not untuck your shirt.
Of course, to tuck a polo shirt in or not is a common concern. If you are just wearing the dress pants, like the photo above, then untucked is fine. But when the suit jacket is part of the outfit, tucking is preferable. That way the shirt doesn't appear below the closed button of the jacket and you present a cleaner look.
---
Essential #3: A Pair of Athleisure Sneakers
At this point, you're well aware of the fact that sneakers are a great way to dress a suit down. But there's a good and a bad way to pull off this casual suit outfit style. You know those basketball shoes with all the bells and whistles? They're way too busy looking for wearing with your suits.
Instead, go for simple, low top, sneakers. No big logos. Just one color. No scuffs. By rocking this look you're officially getting into athleisure, that means those grass-stained shoes you played touch football in on Saturday afternoon are not appropriate for wearing with a suit on Saturday night. For hopping around in the summer, socks are optional. But if you do ditch the socks and decide to bare the ankles, be sure to follow our advice and avoid the dreaded sneaker stink.
---
Essential #4: A Pair of Neutral Chinos
Your casual suit jacket can be separated from the matching pants a standalone option when paired with a different pair of casual, yet appropriate, pants. Chinos are a summer staple and easily one of the most useful, timeless elements of a man's wardrobe. Pairing them with a casual suit jacket can make for a classic laid-back look.
In the summer Casual Friday is often Getaway Day. And what says, "in my mind, I'm already at the tiki hut by the beach" like a pair of off-white chinos?
Just as with the shoes, less is more when it comes to chinos color. While we love a pair of boldly hued chinos as much as anyone, when you're wearing a casual suit jacket, stick to a more subdued color for the pants for simple matching and a more relaxed look.
---
Essential #5: A Simple Pocket Square
Yup, even when you wear a suit jacket casually, fill that chest pocket with a square. Why? By now you've probably heard that symmetry isn't all it's cracked up to be when it comes to attractiveness. This is true, not just of your face, but of your clothes as well. A little asymmetry in your appearance, created by putting a pocket square in your pocket so that the left and right sides of your chest aren't the same, keeps things interesting in a sophisticated way.
This is especially true when your version of an outfit includes a dress shirt and dress shoes, a pocket square is an essential element in finishing off the look.
Just as a white dress shirt is the most formal, a silk white pocket square can be too formal for a casual outfit. Opt for a patterned or colored square. And now's the time to experiment with more casual fabrics like cotton and linen blend pocket squares. Some of the more colorful variants out there may be a little too rugged with a silk tie and shirt on a 9-5 kind of day but just right for your chilled-out looks. If you need to, brush up on how to fold a pocket square properly.
---
King of Casual
If you follow all of the above advice, your casual suit outfits will certainly get some love from us (and everyone else around you). By adding these five simple wardrobe additions, you're well on your way to mastering your casual suit. Obviously, these aren't the only casual suit outfits you can rock, but now that you have the skillset at your disposal, the casual suit outfit combinations you can create are endless.
---
What are your favorite casual suit outfits? Let us know in the comment section below!
Or, If you have more questions on keeping your suit casual, let us know as well and we'll get back to you with even more advice to help send you on your way!
---
Like What You See? There's More.
We'll send you style advice and intel for the modern man.
---