Building the Ultimate Travel Suit
Published on July 14, 2017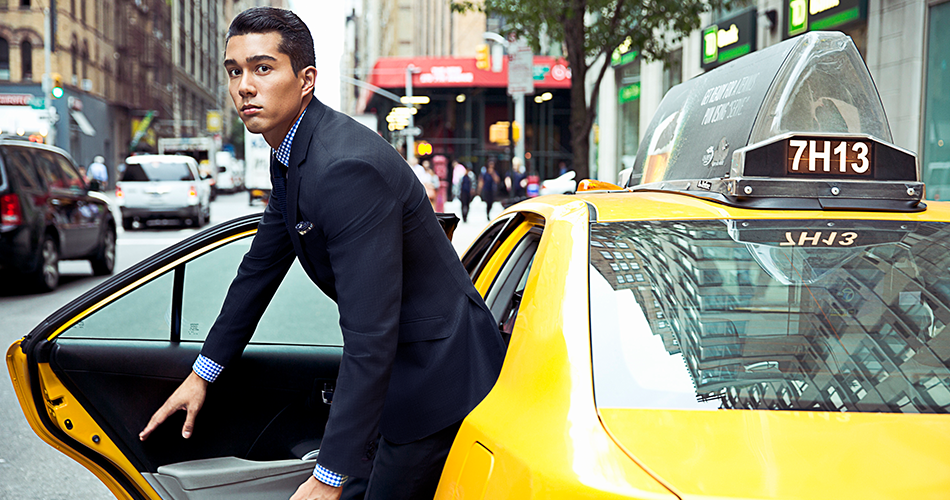 ---
What are the must-haves for a travel suit? There are really only three things you need to look for to make the ultimate travel suit.
What to Look For in a Travel Suit
---
This one's for those whose resume could read "Have suit, will travel". Those road warring, frequent flying guys who need to look presentable and professional when they travel. If you've ever wondered how to travel with a suit, how to pack a suit or how to fold a suit, we're talking to you.
Here's a quick rundown of what to look for in a travel suit:
A Versatile Color/Pattern
A Breathable Fabric
Pieces You Can Wear Separately
---
Travel Suit Must Have #1: A Versatile Color/Pattern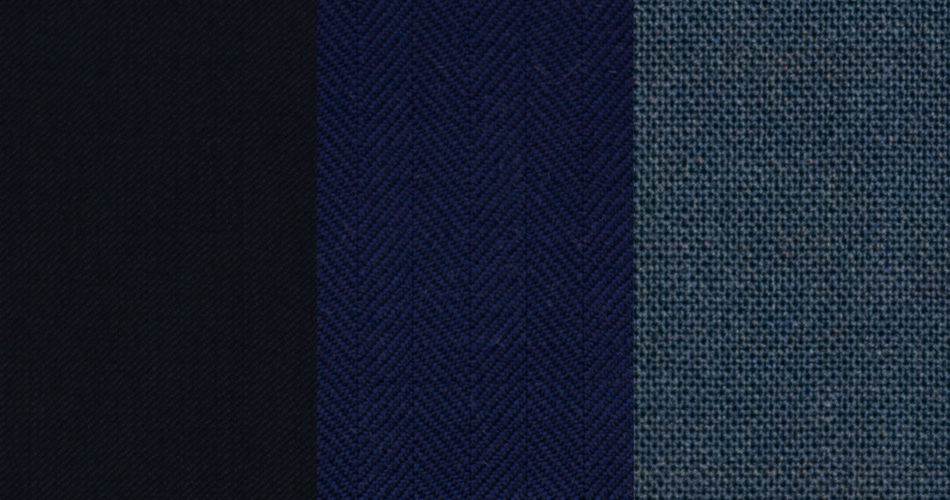 A versatile suit color is a color that you can easily wear with a lot of different shirts, ties and shoes. Our go to color for versatility is dark blue. A lot of guys hear that and immediately reach for a navy suit. That's a fine choice, but don't limit yourself to a basic navy blue suit, though.
There are tons of versatile dark blues that travel well, from the dark and brooding Midnight Blue, to blue-green tones like the Baltic Blue, to more saturated shades like Persian Blue. We always advise choosing the shade that works best with your skin tone and hair color. Even when you're choosing between different shades of the same color, how you'll look in the color (not how it looks on a model) should be the deciding factor.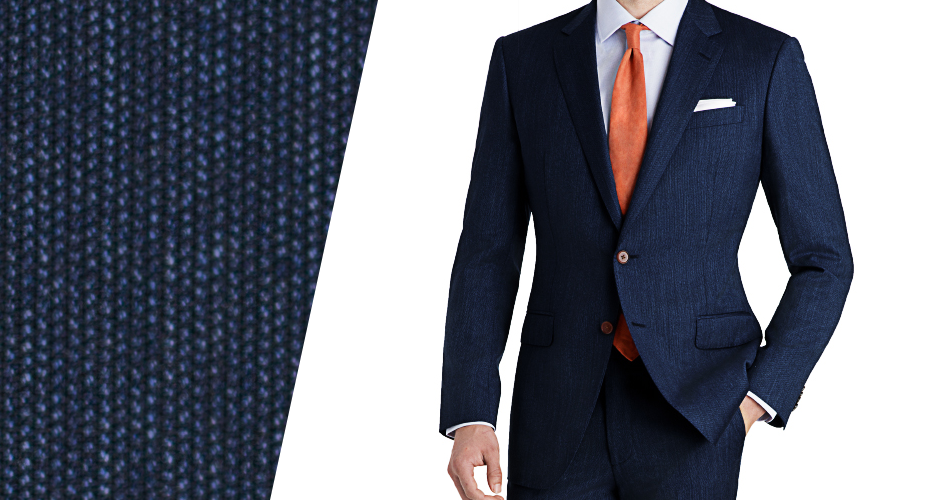 Most guys think patterns limit versatility, but subtle, small patterns, like the micro-herringbone of the Rivington Dusk Blue, can add both visual interest and depth to your outfit. Pick the right versatile suit color/pattern and the result is a suit that you can wear every day but is anything but everyday looking.
---
Travel Suit Must Have #2: A Breathable Fabric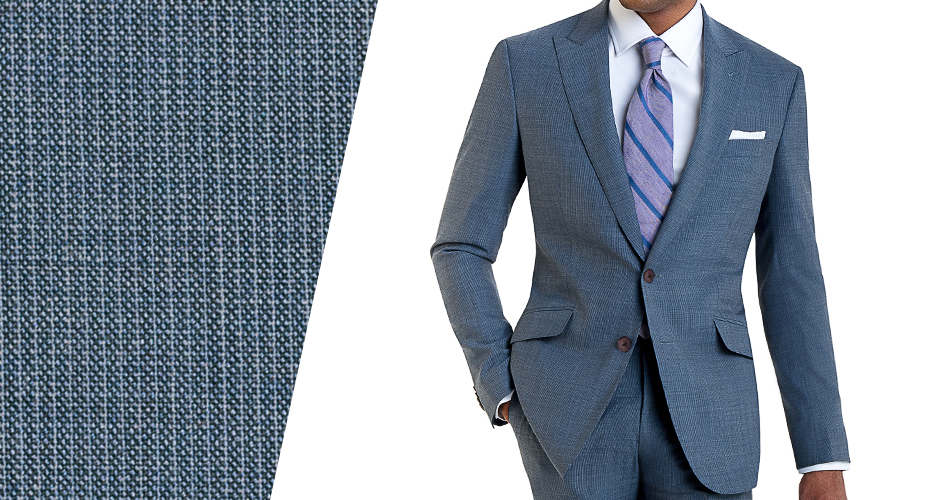 When you're hopping from one destination to another, the weather can change with your itinerary. For example the six hour trip from the muggy East Coast to the arid, sunny SoCal that of course includes the layover in who-the-hell-can-predict it Chi-town, you've got to be ready for everything.
All-seasonal fabrics are made to handle just about any temperature you throw at them. For a travel suit, we like 100% wool because wool wrinkles less and recovers well from being packed in a suitcase.
You might be thinking, what about those who run hot? You can always add a layer if the temperature drops, but when you're hustling from meeting to meeting or city to city, staying cool is a bit trickier. That's where breathability is important…
"When it comes to breathable wool,
the fresco weave is king."
When it comes to breathable wool, the fresco weave is king. This open weave lets air circulate to keep you cooler, while retaining the wrinkle resisting and draping qualities of wool. That makes us reach for the frescos when we hit the road, and so should you.
---
Travel Suit Must Have #3: Pieces You Can Wear Separately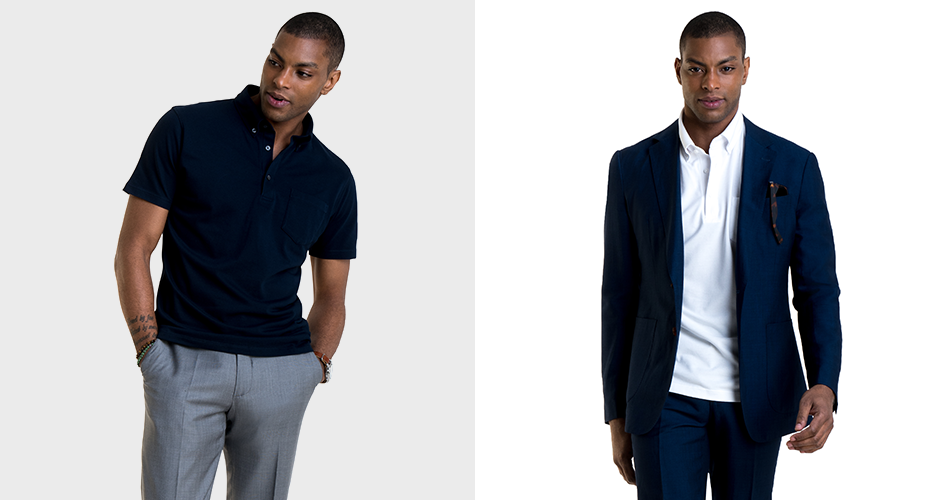 The final essential part of a travel suit? It can't be just a suit. After all, if you're going to be spending a week or two on the road with this thing, it better be a pair of dress slacks you can wear with a polo in a relaxed office setting or a blazer you can wear with an open collar when you step out for a swanky restaurant dinner.
As we've discussed in our story on breaking up suits, the key is knowing which jackets and pants not to split up (pinstripes) and understanding how to make a suit casual.
Splitting up the suit not only extends the versatility while you're on the trip, but also adds a touch of sophistication to your, otherwise, casual travel outfits.
---
Cleared for Takeoff
Being on the road is no excuse for looking sloppy. Follow the advice above and you'll look as good when you get dressed from a suitcase as you do when you get dressed at home. Ready to build your ultimate travel suit? Start here.
---
Like What You See? There's More.
We'll send you style advice and intel for the modern man.
---