Wearing Sneakers With Your Suit
Published on May 18, 2018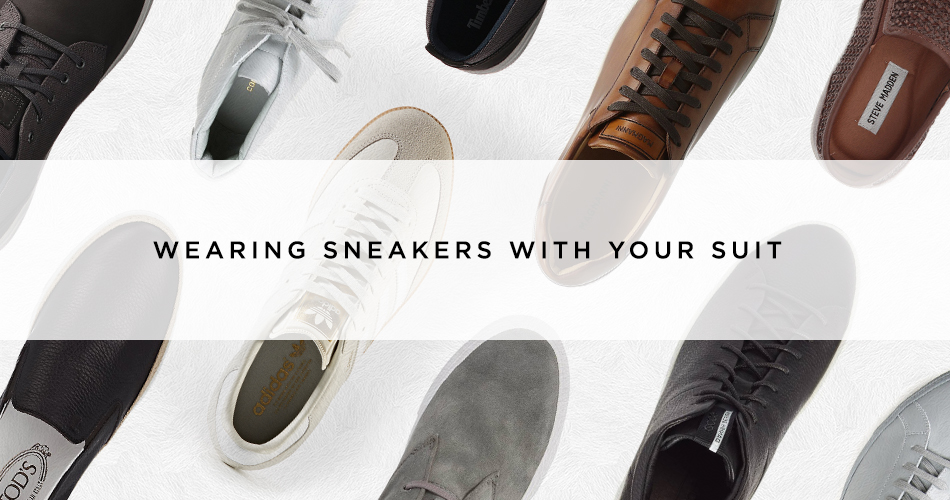 You've seen him around the office. You've seen him at happy hour. And you've definitely seen him on your commute. Effortless is his stride between desk and water cooler. Did he just sink that trash bin shot from across the room? He radiates confidence, swagger, and an air of sophistication. What does he have that you don't?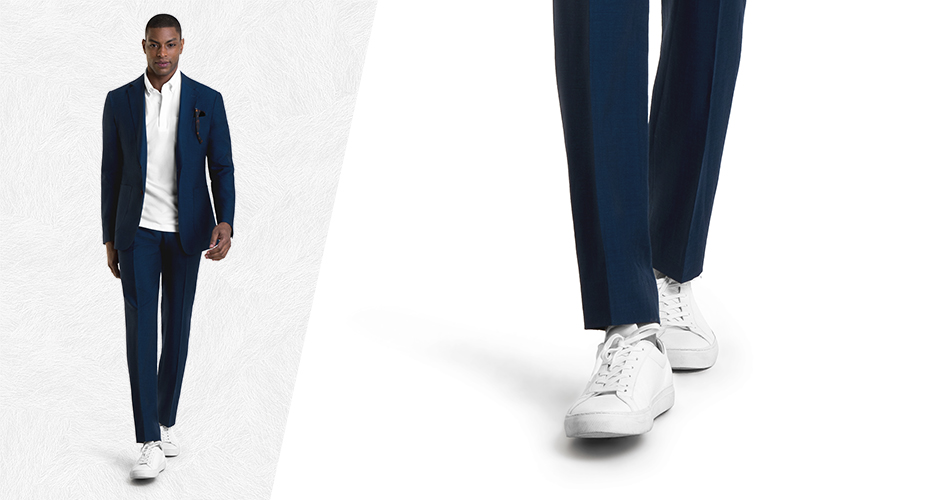 After a beat, you realize–it's gotta be the shoes. He's wearing stylish sneakers with a suit that actually puts your worn out oxfords to shame. But every time you wear sneakers with your suit, it looks like you're on your way to the gym. So how does he do it?
The key to pulling off the sneakers and suit combo is paying attention to the details. To simplify, focus on three key elements when shopping for work-appropriate sneakers: style, color, and material.
---
Low Top Game
Lowtops
Save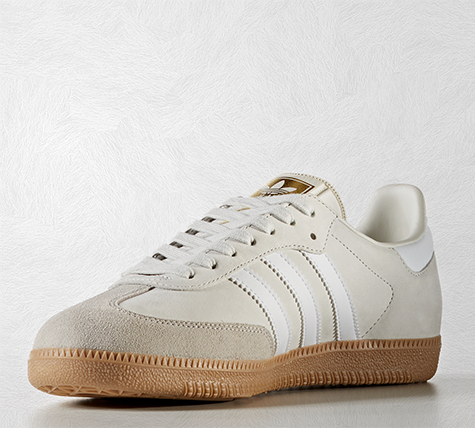 Splurge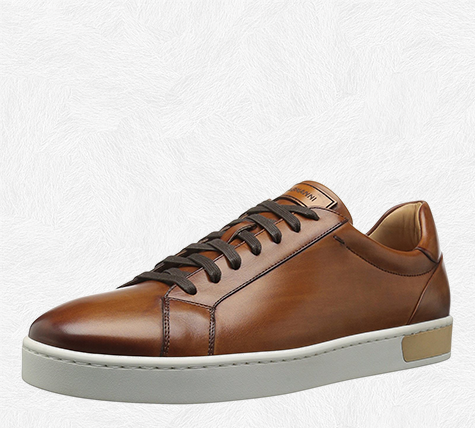 Just like with your traditional oxfords and monk straps, it's still important to thoughtfully choose your sneakers based on the rest of your outfit. If you prefer a more modern, tapered pant leg when suiting up or like to show a bit of ankle on the job, summertime is the perfect opportunity to pair your favorite suits and trousers with a low-cut sneaker. Take your pick of a rustic canvas or a luxe leather low top. Either of these materials support a flattering line for the eye to follow without getting caught on unnecessary pant breaks, colorful patterns, or the 25 eyelets on your high tops. A humble pair of no-show socks is the perfect (and necessary) way to keep this particular look clean and Compass-worthy. Because tube socks only look good when paired with roller skates at a retro-themed birthday party.
Summertime Slip-ons
If you prefer a more summer-specific sneaker, look for a refined slip-on in your favorite neutral color. Because these shoes are on every footwear website and constantly show up in your Instagram feed, you can take your pick with material and price. Consider yourself a classic man? The summertime leather sneaker has all of the functionality and comfort of your Vans, but looks 3 times as expensive. For the more adventurous, have your choice of woven, perforated, embellished, or about anything in between. This particular kind of shoe also calls for attention to color. Just remember the warmer the weather, the lighter the hue. A cream or butterscotch slip-on is the perfect complement to your classic navy and unique earth-toned suits alike this summer.
---
Jumping in Feet First
In order to truly commit to wearing your sneakers in the office, you've got to go big or go home. (Well, you can't go home… it's not 6:00 pm yet.) Since your only other option is going big, we recommend going with one of two choices when fully embracing the sneakers-and-suit look.
High Tops
Save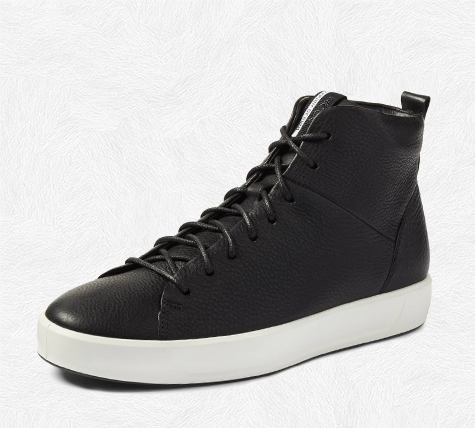 Splurge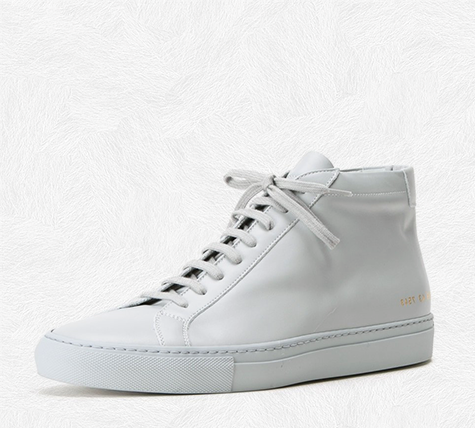 First up is the high-top sneaker. That's right — they're good for more than the basketball court. Whether you were born in the '50s or the '80s, it's likely that high tops have some sort of nostalgic place in your heart. Bring that nostalgia to life in the office by finding a pair of calf-grazing sneakers that fit into your work wardrobe. Think traditional dress shoe colors with minimal designs and sleek soles. We're talking brown, cognac, black, dark gray, even the occasional oxblood or navy. Aiming for a non-traditional spin? Keep it in the neutral family: white, cream, and olive all work here. Find one of these colors in a high top that doesn't have any bells or whistles like extra eyelets, crazy textiles, or brand names plastered along the sides. Let the ankle opening of your pant fall over the top of the sneaker without excessive bunching for the most successful look. In other words, do not tuck the pants into the sneaker openings. And unless you're sure your office is cool with it, avoid classic Chuck Taylors. They just don't fit the bill this time around.
Chukka
Splurge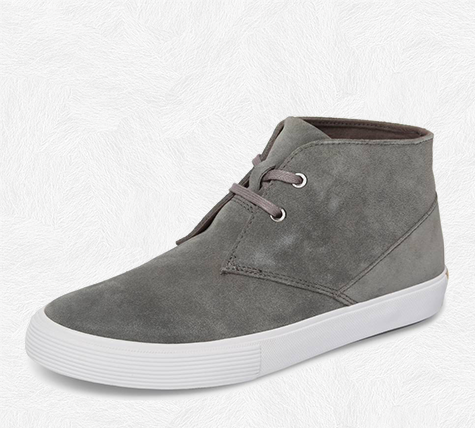 Sometimes, guys want a sneaker option that doesn't remind them of running laps. Enter: The Chukka. We're not talking about the boot, which we love in its own right. We're talking about the chukka sneaker; elegant, effortless, minimal, and arguably the most sophisticated option of the bunch. With chukka sneakers available in about every material imaginable, it's important to choose a textile that works best for the season. Espadrille soles and chukkas made with canvas offer themselves to summer wardrobes, while leather and suede work well all year round. (Just remember to stick to boots come rain or slush.) The chukka sneaker is a true statement shoe that could end up being the most versatile footwear that you own.
No matter which of these shoes tickles your fancy, the most impactful looks are created with contrast at the core. A white sneaker with a navy or charcoal suit allows the shoe to speak for itself. A dark blue, gray, brown or black sneaker, however, would create a more cohesive ensemble as a whole. Going for something in between? There's nothing wrong with a trial and error process. More often than not, your gut will not deceive you. Now go forth with this new knowledge, and activate Cool Guy Mode. Because who doesn't love being the center of attention for all the right reasons?
---
---
Like What You See? There's More.
We'll send you style advice and intel for the modern man.
---